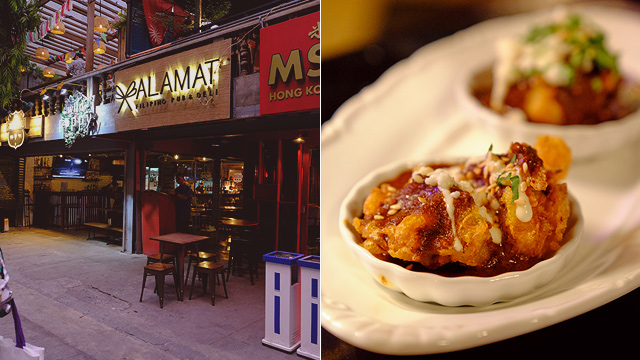 (SPOT.ph) Poblacion right now seems to be to restaurateurs what New York is to writers—their dreams begin and live and die here, and sometimes they even come true, and that only makes those that make it shine all the brighter.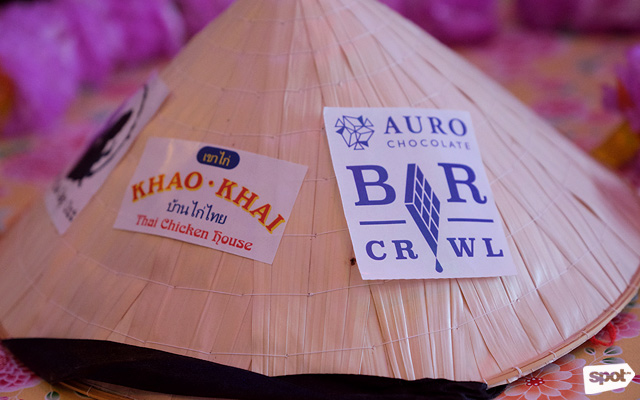 ADVERTISEMENT - CONTINUE READING BELOW
It's the only place where something as normal as a pub crawl could collide with a grown-up version of the Willy Wonka Golden Ticket experience—and that's exactly what the Auro Chocolate Bar Crawl—happening every Friday and Saturday for the foreseeable future— feels like. And at four in the afternoon on a weekend, can you honestly say you have better plans?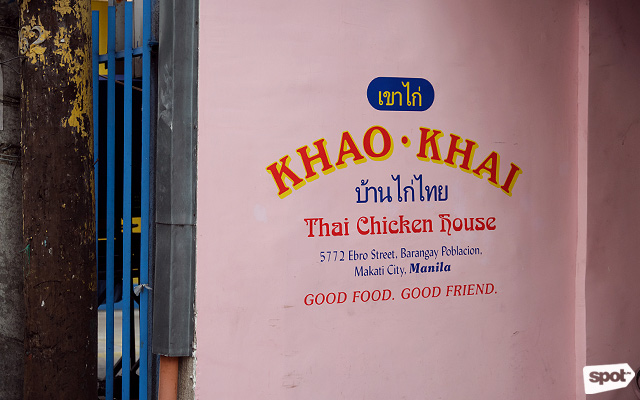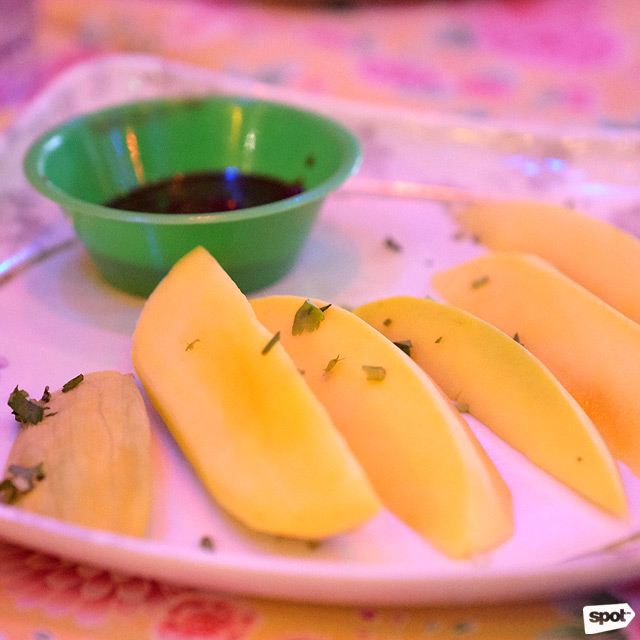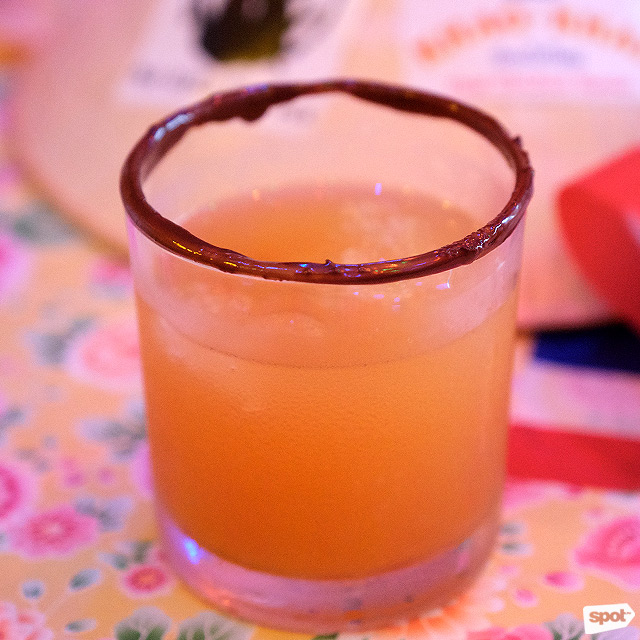 ADVERTISEMENT - CONTINUE READING BELOW
Your first stop is Khao Khai, one of the braver restaurants in that it's a Thai place without the pad thai—at least, not as you know it right now.  The crawl starts off with about the last dish you'd expect to find 77% dark chocolate, but they still manage to meet Filipino palates in the middle with a Bagoong and Green Mango starter. (There's also a vegan version available—just let them know!) The bitterness softens the deeply saline hit of the dip, which slides into a sour-sweetness in the end. As if to set the tone for the evening ahead, the rum-based, chocolate-rimmed Bangkok Fire wakes you up with a spicy-sweet kick.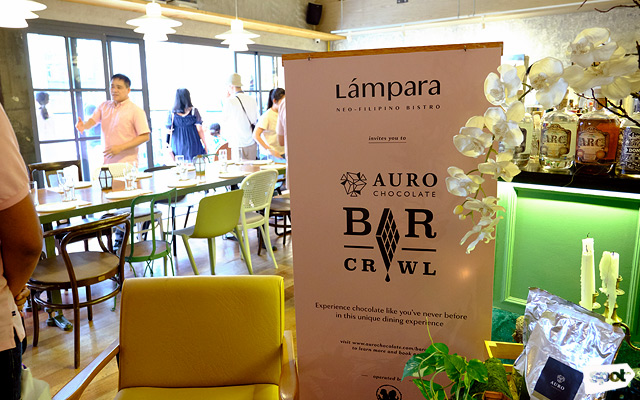 ADVERTISEMENT - CONTINUE READING BELOW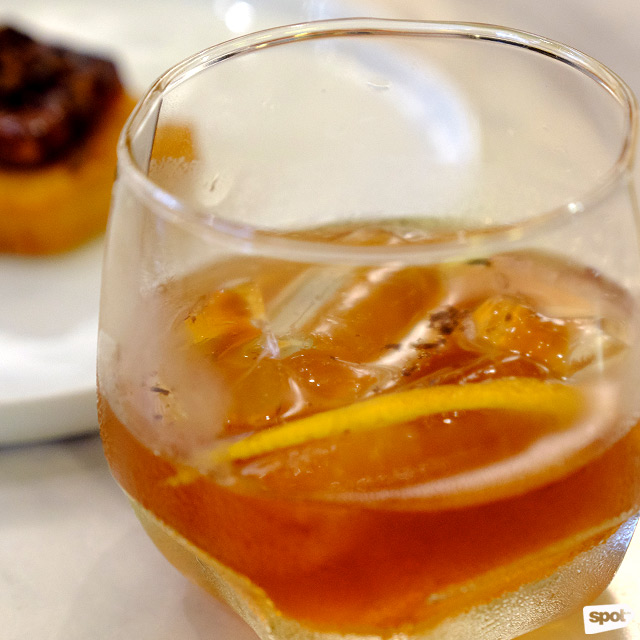 ADVERTISEMENT - CONTINUE READING BELOW
And just like that, you're at Lampara, where they lean more modern in their methods. The sous vide Slow-Cooked Pork Belly is topped with Auro cacao nibs, and once paired with a chocolate-infused Negroni, it comes full circle; you basically have the flavors of a complete chocolate bar, presented in just about the most extra way possible. For the vegetarians, Lampara has the Surpresa, sprinkling the cacao over a ball of bean sprouts, tofu, and roasted peanuts instead.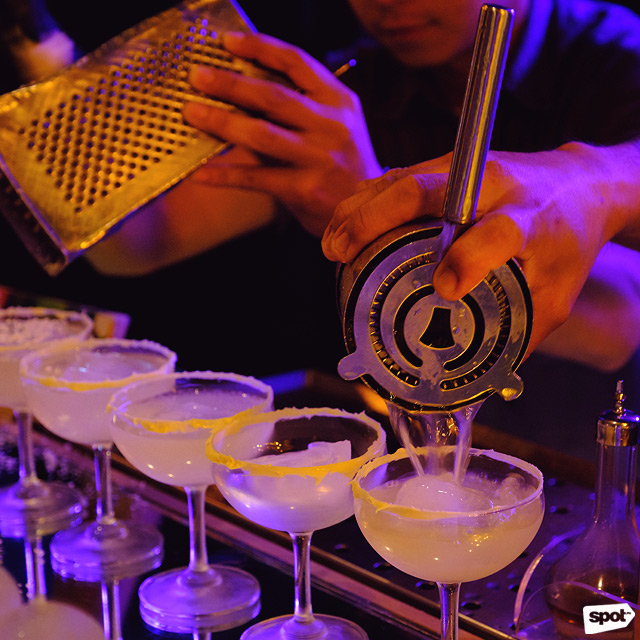 ADVERTISEMENT - CONTINUE READING BELOW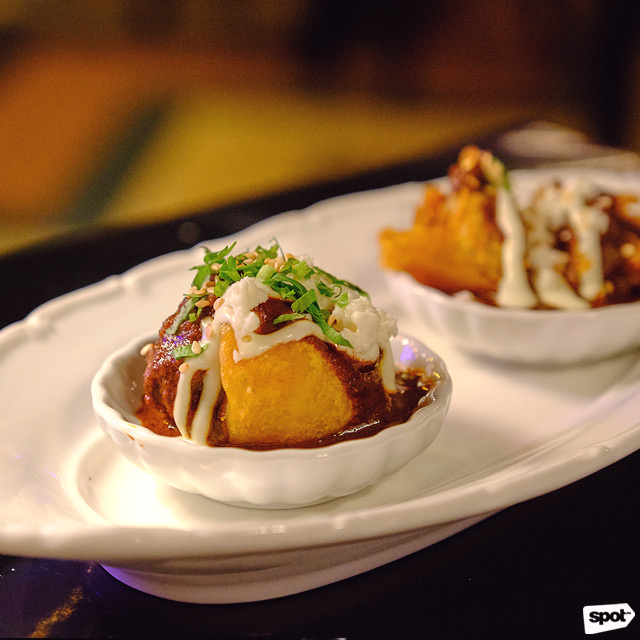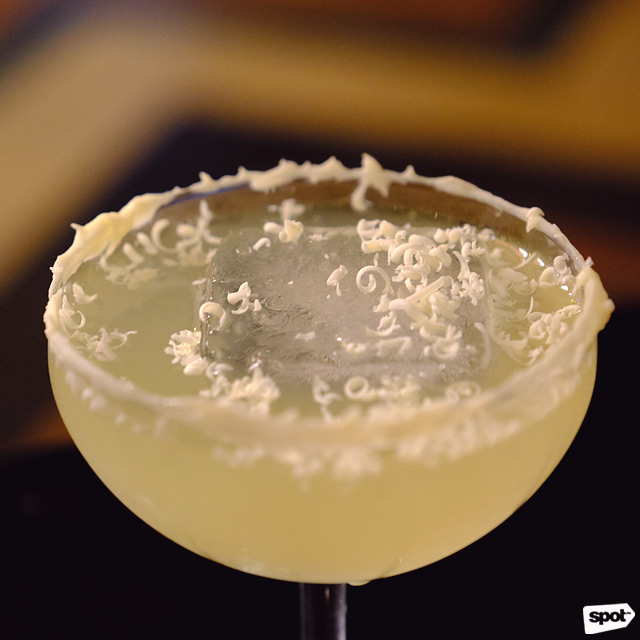 ADVERTISEMENT - CONTINUE READING BELOW
We've talked about Polilya's fried Hainanese chicken before—and by "talked about," we mean "gushed over"—but for this crawl, the nuggets are back with a vengeance, which is probably a sentence nobody saw coming. If you've never had molé (a savory chocolate sauce common in Mexico) then this is your chance: while the veggie option is crispy and satisfying, this stuff was practically made to have with the Zen Chicken Nuggets. The twist is in the kesong puti, which adds another level of creaminess to the tender chicken. Polilya is unafraid of stark contrasts, as shown in the White Chocolate Margarita: a sour-sharp jolt and a sugary nibble all at once.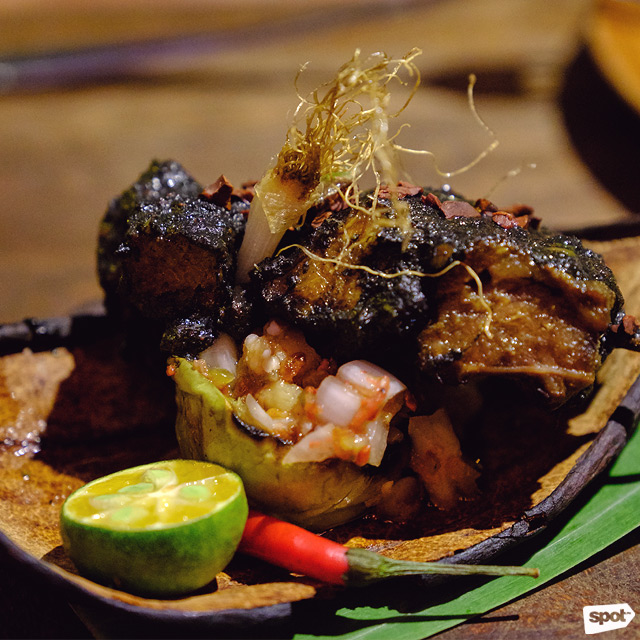 ADVERTISEMENT - CONTINUE READING BELOW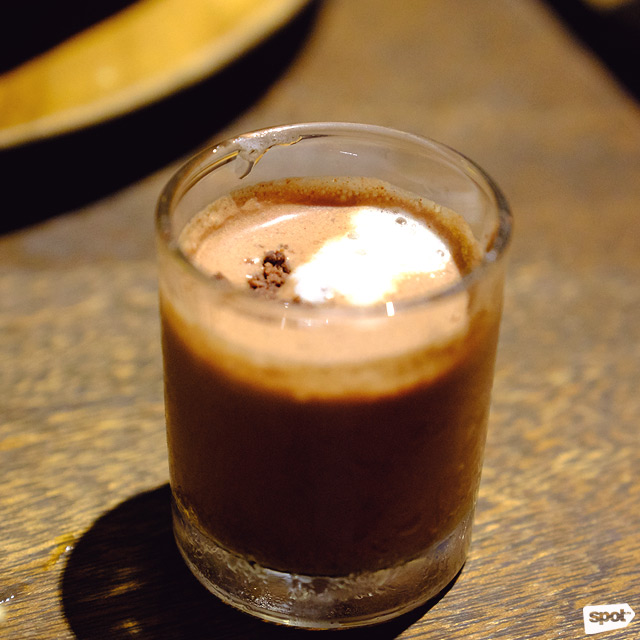 Alamat's contribution to the crawl is basically the stuff of myths—if not myths, then really good stories of barbecue parties of old. Tiyula sa Itum is a braised rib finger, covered in torched coconut and tablea over ensaladang adlai and eggplant, served in a dried cocoa shell. Sweet, soft, and almost receptive to your bite, the only thing missing from this dish is about four more servings and a scoop or two of garlic rice. The same could probably be said of the vegetable variant, with a pinakbet salsa in a special Auro Chocolate vinaigrette, served with laing. The dessert-drink is the Auro Plata, made with gin, pandan, white rum, and cacao liquor, topped with chocolate sauce—because why not?
ADVERTISEMENT - CONTINUE READING BELOW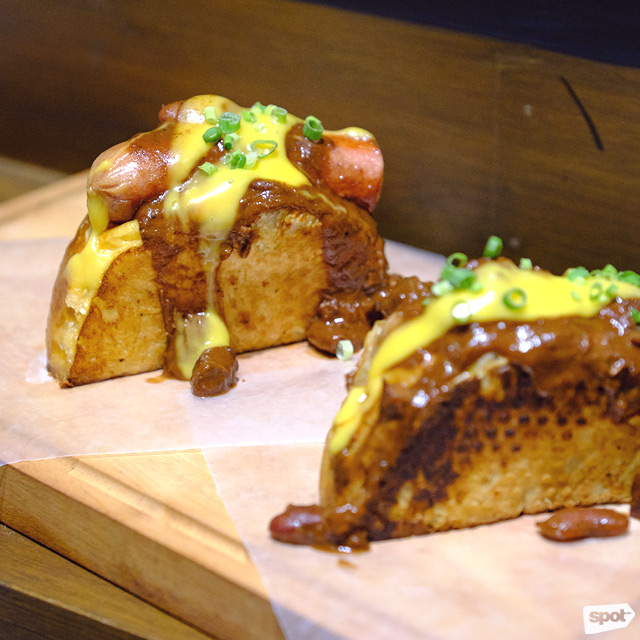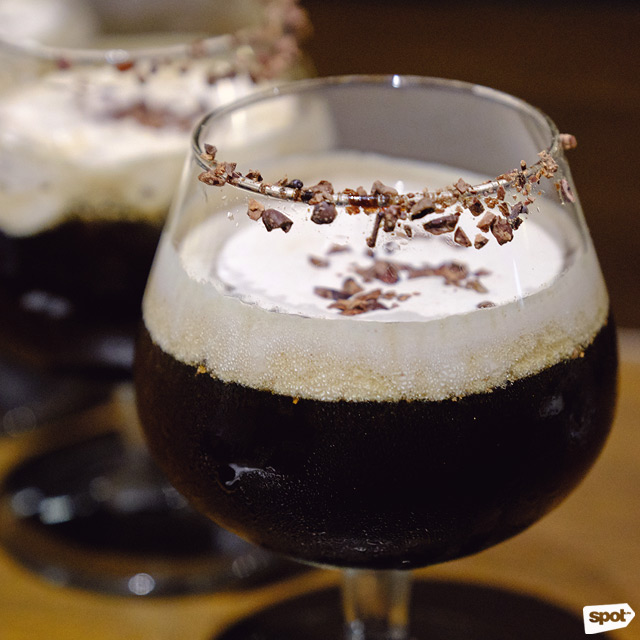 ADVERTISEMENT - CONTINUE READING BELOW
Things wind down over at Pedro Tap House with an Auro Midnight Stout and, of all things, a Chocolate Chili Cheese Dog—do not knock it until you've tried it! A buttery brioche bun cushions the subtle chocolate flavor in the chili (not too far off from a molé) and the slightly sharp melted cheddar, while its texture complements the snap of the cheese sausage. An equally comforting Red Bean Chocolate Chili Shepherd's Pie awaits those who would rather skip the meat. And as for the stout? There are about a hundred ways to down it. We suggest swirling the drink to incorporate the whipped topping a little better, then sipping it like a wine. This way, the bourbon and dark chocolate can really shine.
Listen, when you're being led around by a crew called Fat Girls Day Out, there's no way you're not going to have a good time. It's best you start booking now because there are only 30 tickets per crawl. Put on your walking shoes and your stretchy pants—you're in for a ride.
ADVERTISEMENT - CONTINUE READING BELOW
The Auro Chocolate Bar Crawl is priced at P2,500 per person. Book your slot now through their official website.
Share this story with your friends!
---
Help us make Spot.ph better!
Take the short survey
More Videos You Can Watch
Load More Stories