Manu Mano and the Art of Freshly Handmade Bread
This Quezon City bakery's pan de sal will ruin all other kinds of bread for you.
(SPOT.ph) Something that could get your Pinoy card revoked: saying you prefer bread over rice. But it's something Chef Alexa Versoza isn't afraid to share. "Super hilig ko talaga sa bread," shares Chef Alexa, "ever since bata pa ko."
It's no surprise, then, that Chef Alexa—and four of her friends (Samantha Gonzales, Madeleine dela Torre, Cyril Cabotage, and Chef Richie Manapat)—decided to open Manu Mano, a new gourmet bakery in Banawe, Quezon City. "It really started when I staged (unpaid internship for chefs) for Chef Richie at Panaderya Toyo," shares Versoza. "He wanted to expand his mission to spread good bread."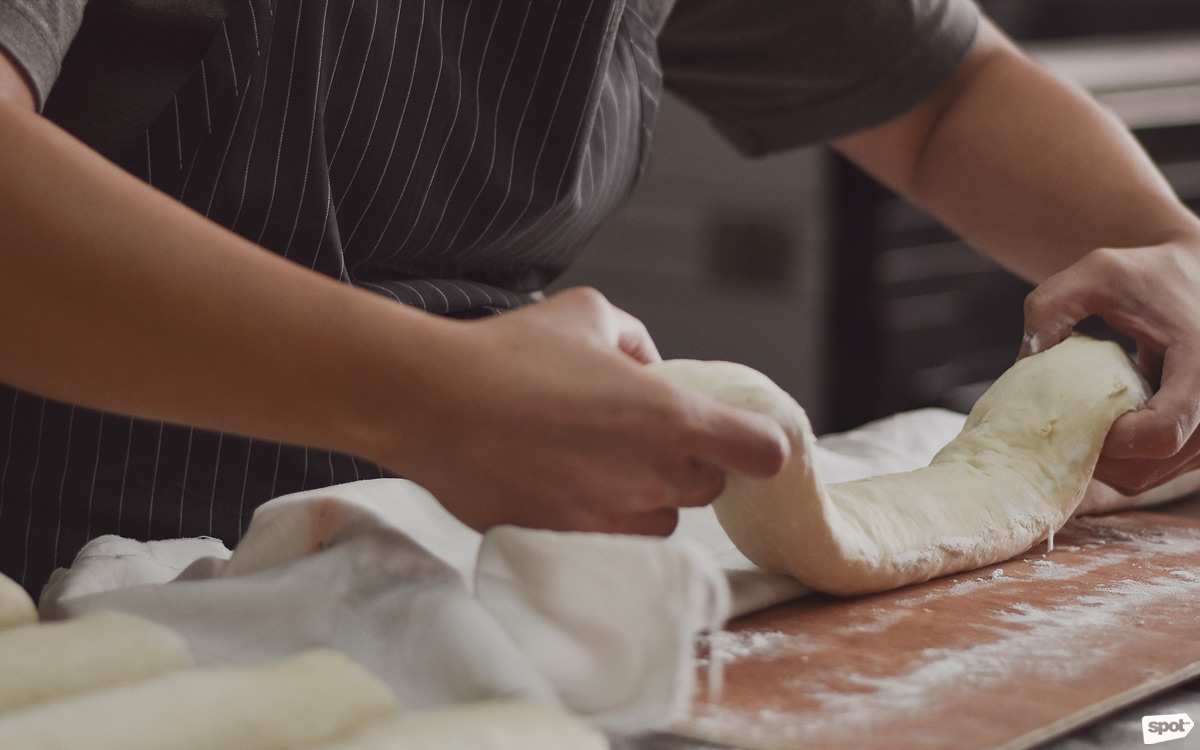 At Manu Mano, they put emphasis on doing everything by hand.
PHOTO:

Marikit Singson
Art, Science, and a Little Bit of Prayer
The philosophy of Manu Mano is similar to that of Chef Richie's for Panaderya Toyo: to spread the word about good bread. "Chef Richie was aiming for something not exactly the same as Panaderya Toyo but similar," shares Versoza. "And at a price point na medyo abot ng masa because admittedly, Panderya [Toyo] can be pricey.
ADVERTISEMENT - CONTINUE READING BELOW
CONTINUE READING BELOW
Recommended Videos
But what exactly is good bread? For co-owner and brand manager Gonzales, the process involves "art, science and a bit of prayer." Manu Mano believes in making everything by hand—hence, the name. "Unang-una ko kasing natutunan kay Chef Richie noong nag-stage ako was when it comes to bread making, everything has to be made by hand," says Versoza. "Yes, you have all the technical stuff, and dapat accurate 'yong pag-measure and temperature but it's still about the feel. You have to feel the dough kung tama ba siya or hindi."
Aside from the good ingredients we use, there's a difference when it's handmade and made by people who love what they're doing.
Aside from this emphasis on doing things by hand, Manu Mano also believes in using only unprocessed ingredients to make their bread. "Parang nasanay na 'yong mga tao with commercialized products," explains Versoza. "'Yong ingredients na gamit nila, it's commercialized [and] it's full of chemicals. So we wanted to stay away from that and bumalik sa traditional way of doing bread." 
ADVERTISEMENT - CONTINUE READING BELOW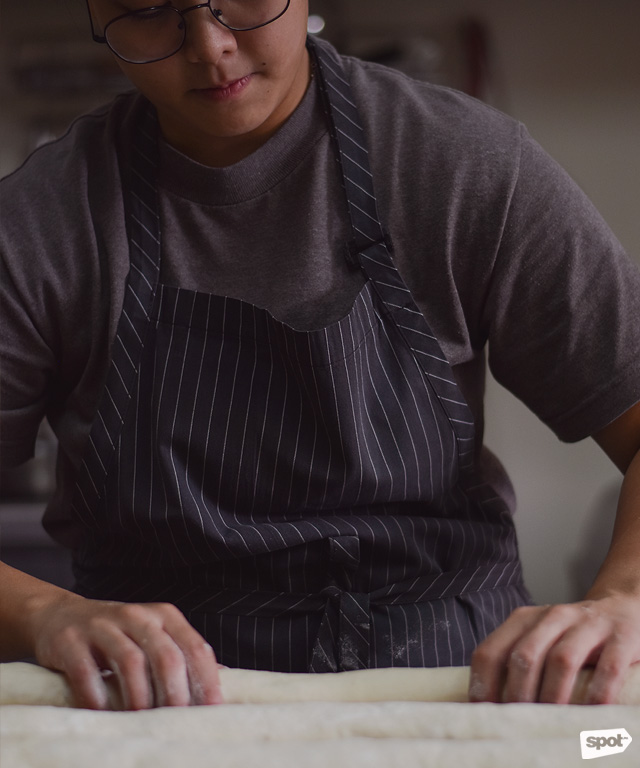 Chef Alexa insists on using only unbleached flour, which means it takes the flour up to two weeks to bleach and age naturally without additional chemicals. Everything in the baking process is also manual, beginning with a first mix, a second mix, folding, pre-shape, final shape, and then proofing.
ADVERTISEMENT - CONTINUE READING BELOW
As expected, the process can take hours, which means a day at Manu Mano starts at the crack of dawn. Versoza shares, "When we have our baker trained, papasok siya dito mga 3 a.m. or 4 a.m."
But this meticulousness does pay off—and it's not just from a baker's perspective, either. "The manu-mano part—the gawang-kamay part—it's so important to the process," shares Gonzales. "You can really taste the difference. Aside from the good ingredients we use, there's a difference when it's handmade and made by people who love what they're doing."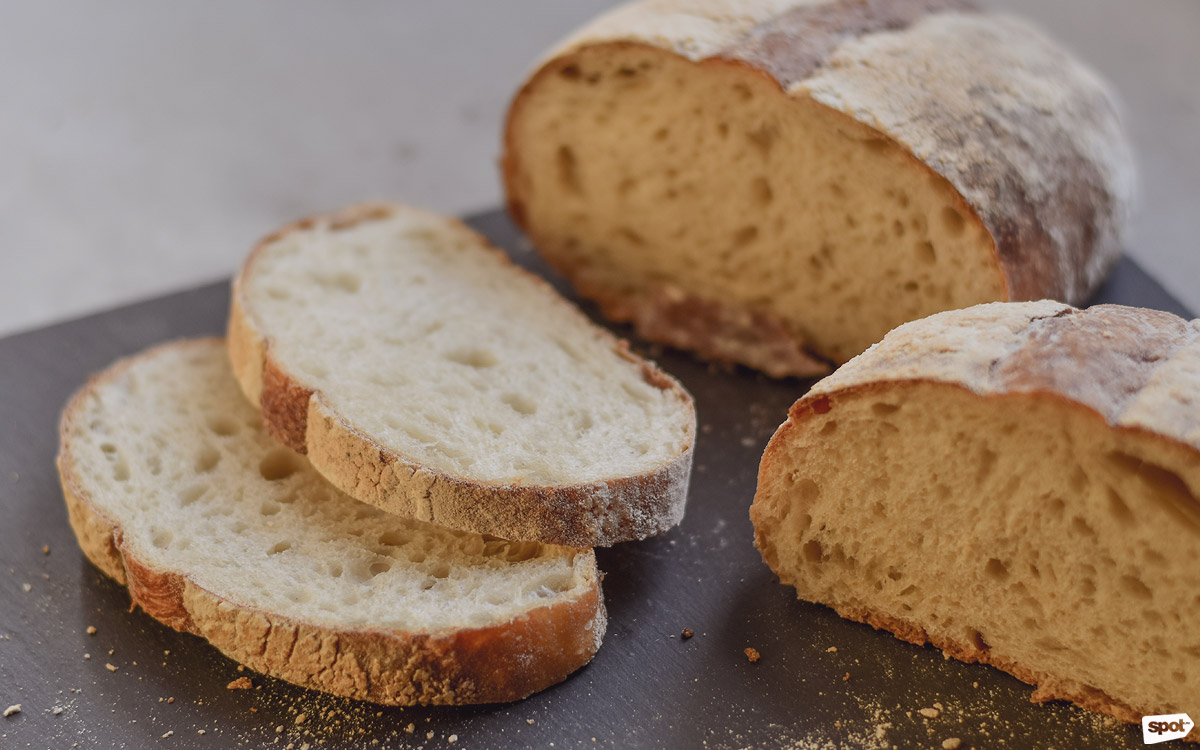 The Banawe Base is their sourdough loaf.
PHOTO:

Marikit Singson
Bread That'll Change Your Life
Once the idea and philosophy—as well as recipes—were all set, all the team needed was a place to set up their bakery. Luckily for them, opportunity arrived in the form of an empty two-storey space in Banawe. "Barkada ko kasi si [Madeleine dela Torre, also co-owner of Manu Mano]," shares Chef Alexa. "And 'yong mom niya was into baking din. So she offered the space to us. Wala namang gumagamit ng second floor, and 'yong space sa baba was empty so pwede raw namin gamitin. Sakto nag-stage ako at Panaderya Toyo."
ADVERTISEMENT - CONTINUE READING BELOW
While you could say it was mostly chance that brought them to Quezon City, Gonzales sees this as a blessing, especially when their goal is to spread the gospel of great bread all over the Metro. "We really wanted to bring our bread to Quezon City," she shares. "A lot of the nice bakeries are in Makati or nearby areas, but it was important for me, at least, to bring it to a more accessible neighborhood for people like me looking for good bread in the area."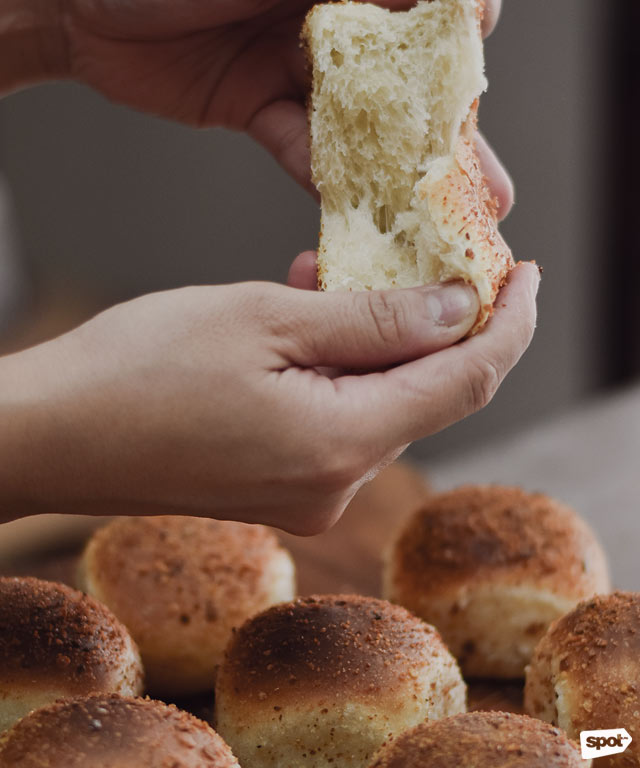 ADVERTISEMENT - CONTINUE READING BELOW
Currently, Manu Mano offers three kinds of bread plus churros. They began with their Hybrid Pandesal (P10/piece), a type of pan de sal Chef Alexa makes using a special sourdough blend. "This was our first recipe," says Versoza. "Panaderya Toyo kasi is known for their knotted pan de sal, but most people are not accustomed to sourdough so we wanted to have another version that still has sourdough but is not too sour."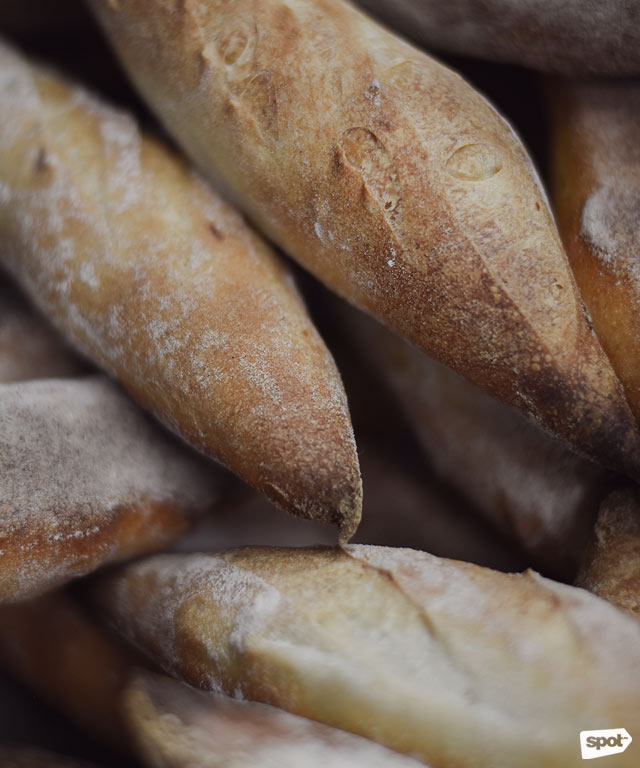 ADVERTISEMENT - CONTINUE READING BELOW
For Chef Alexa, the perfect bread is the crusty kind. "It has to have a good crunch," she explains, then adds, "Tapos when you pull the bread apart, it should be stretchy." This doesn't get more apparent than in their pan de sal. Manu Mano's version doesn't have the strong tang you'd expect from sourdough bread—which is a plus for a lot of people. Instead, their pan de sal, crusty on the outside, has a subtle buttery richness and an incredibly pillow-soft inside. The bread pairs well with any spread—they offer Auro's White Chocolate & Cashew Spread—but also does well on its own.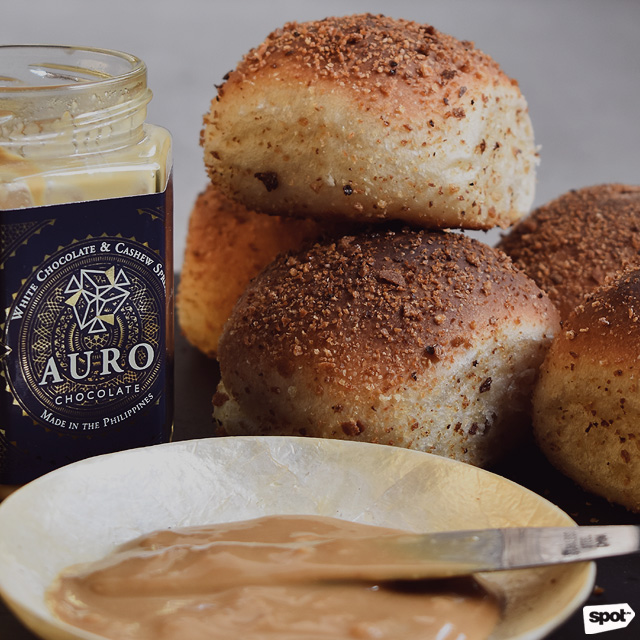 ADVERTISEMENT - CONTINUE READING BELOW
While the initial plan was to only offer pan de sal and churros, Manu Mano has since expanded their lineup. Aside from the Hybrid Pan de Sal, which is already shaping up to be their signature bread, Manu Mano also offers Banawe Base (P200), which is a sourdough loaf, Hybrid Baguettes (P90), and Churros (P65) paired with your choice between a chocolate dip they make themselves and cinnamon sugar. They've also partnered with restaurants to supply them with good bread, like Metronome in Makati, where Chef Alexa also works as a pastry chef.
Manu Mano is opening their physical store on August 3, and Gonzalez says that folks can just "buy literally any amount of bread they want." For those who find going to Banawe a bit of a drive, they also offer weekly courier pick-ups for bread pre-ordered online. "You can also book your own couriers and have them pick up your bread," she shares.
ADVERTISEMENT - CONTINUE READING BELOW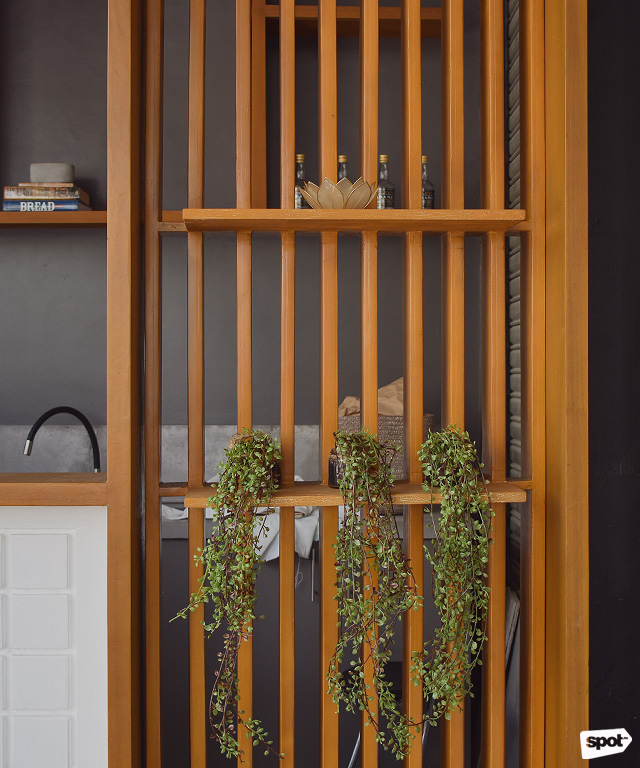 Gonzales sees more collaborations with local brands that go beyond just supplying bread. "Right now we have a collaboration with a brand that we're hoping to release some time this year. It's going to be a Filipino dessert," she spills. "We're really taking care of what kind of partners we work with, and we want to work with those who think like us—who also champion Filipino skills and ingredients. We're also planning to release some more spreads now that you can enjoy with our bread."
ADVERTISEMENT - CONTINUE READING BELOW
But right now, their focus is on their bread. "[Our bread] has changed my life; it's ruined my taste for bread. I only want good bread now," says Gonzalez. With their gourmet sourdough pan de sal going for only P10 a pop—way less than what you'd expect—we're seeing life-changing bread in more folks' futures. 
Manu Mano is at Banawe Street corner Scout Alcaraz Street, Quezon City. It is open from 6 a.m. to 6 p.m. (Monday to Saturday).
Photos by Marikit Singson