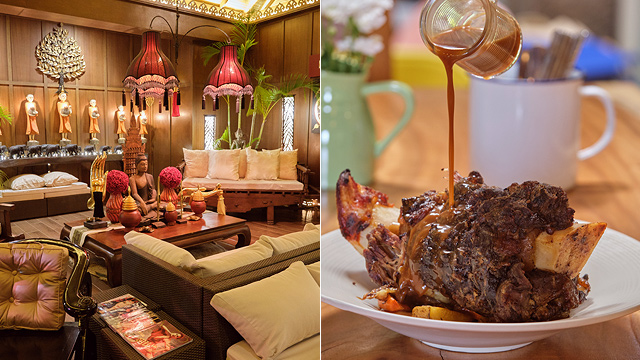 (SPOT.ph) Whether or not Tagaytay is your regular getaway location, it must be said that it's a beautiful place to be. The considerably cooler weather doesn't hurt, but if you don't live there half the year, it can be a little hard to navigate. It doesn't seem like it, but there's something new popping up all the time—not unlike Metro Manila, we should say—to complement the dining staples that people have loved for years. We say "complement" because the Tagaytay dining scene doesn't really seem to be one of competition, but one of community. Sit down in one place and you'll hear the chef say, "If you like my food, you should go over to [insert other chef here]'s place as well."
ADVERTISEMENT - CONTINUE READING BELOW
So if you're already planning your next long weekend or just want to eat somewhere your friends haven't gotten married in, allow us to make a few suggestions. We round up just a few of the loveliest places to eat in Tagaytay, arranged in the order you'd encounter them while driving southward from Manila—and back. 
Also read:
These Relaxing Resorts in Tagaytay Are Worth the Drive
10 Romantic Resturants That Are Worth the Drive
10 Best Places to Stay in Tagaytay
Here are 10 great places to eat in Tagaytay:
Pamana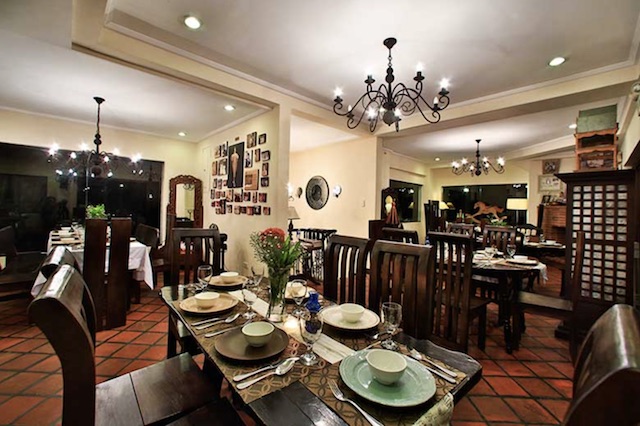 Why not begin with Filipino cuisine? At Pamana, you have the option of dining inside or getting a nipa hut out in the garden, where the view is. There's something ancestral about the place, and that's half the fun for some. Since Happy Ongpauco Tiu knows her Filipino favorites, you can trust that the familiar taste of their Kare Kare (P435) and even the wince-inducing sourness of their Kansi (P375/small, P750/large) will embolden you to continue your journey south. After all, you've got a vacation to be on. (But don't forget to stop by Tsokolateria for dessert, if you're so inclined.)
ADVERTISEMENT - CONTINUE READING BELOW
Pamana is at 1315 Aguinaldo Highway, Silang Crossing East, Tagaytay City.
Balay Dako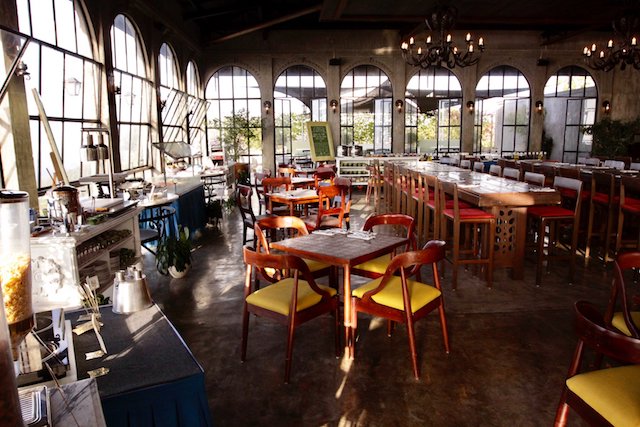 ADVERTISEMENT - CONTINUE READING BELOW
When speaking of Tagaytay staples, Balay Dako almost always comes up in conversation. Actually, you could probably walk from Pamana if, for some reason, you still had room. The massive windows give diners a stunning view of the lake, but the range of their menu is almost as impressive—which makes sense, since Filipino food is such a marvelous mishmash of subculture. You'll see almost anything from Ilonggo classics like Kadyos (P390) to Spanish-influenced Pastel de Lengua (P745), and fairly new items like their Spring Duck with Pineapple Sambal and Liver Rice. There's even a bar upstairs that's great for catching the sunset!
Balay Dako is at 4120 Tagaytay-Nasugbu Highway, Tagaytay City.
Charito by Bag of Beans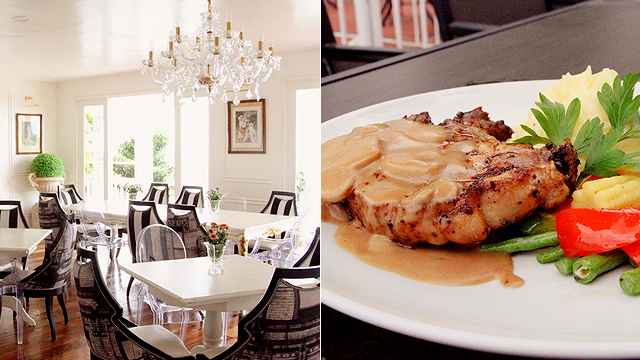 ADVERTISEMENT - CONTINUE READING BELOW
You didn't think we'd make a list like this without mentioning this place, did you? Bag of Beans' many iterations are scattered throughout the area, but this one's not far from the previous two restaurants, so you've got several great options without having to move the car if you've already parked it. Considered the more elegant sister of the different branches, they've got a distinctly European touch to the décor and the food. It doesn't get much better than the Grilled Salmon in White Wine and Dill Cream Sauce (P560) or the Grilled Ribeye Steak (P1,450)—especially with that view of Taal.
Charito by Bag of Beans is at 150 Emilio Aguinaldo Highway, Tagaytay City.
Fire Lake Grill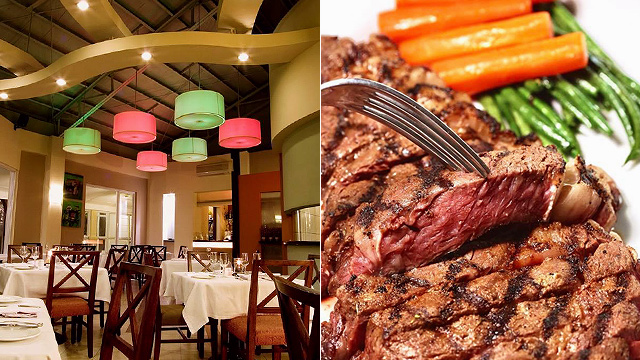 ADVERTISEMENT - CONTINUE READING BELOW
A good, hefty steak—an Angus Ribeye (P1,250/220 grams, P1,900/350 grams, P2,700/500grams), no less—in this province is easier to procure than many assume, and here, you get a good look at the volcano to go with it. That is, if you're not going for the Grilled Prawns (P750) or—gasp—the Pan-Seared Foie Gras (P950). The ambience is pretty standard and flexible, so it's a great option whether you're with friends or with a date. 
Fire Lake Grill is at Unit 3 Cliffhouse, General Emilio Aguinaldo Highway, Tagaytay City.
Kapeng Mainit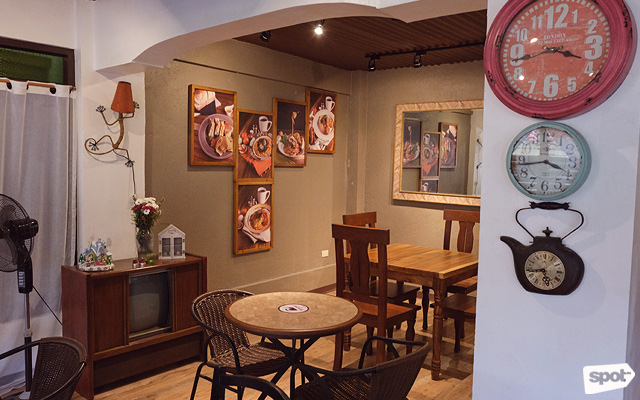 ADVERTISEMENT - CONTINUE READING BELOW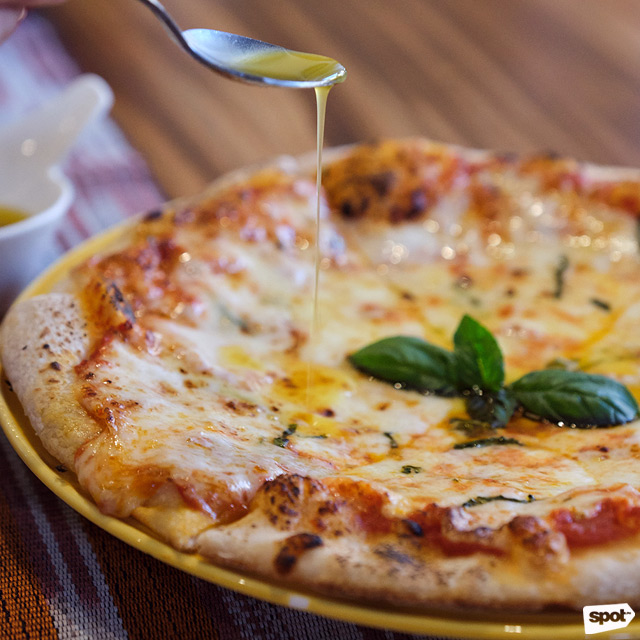 The sister branch in BF Parañaque might not have quite the same oomph that this one has, but that might just be the weather. After all, you can have Spam Musubi (P150) or a good rice bowl anywhere, right? Well, Chef Bryan Francisco would beg to differ. Said Spam dish is made with sinigang rice—we said sinigang, not sinangag—and the kimchi rice is so subtle, you'll almost miss the spicy-sour kick for a few seconds. The Grilled Cheese Sandwich (P220) and the Cheese Pizza (P299) will remind you of those from your childhood, and we don't even have to know you well to say that: Everyone has an answer for what they taste like. Kapeng Mainit is your best bet for home-away-from-home goodness.
ADVERTISEMENT - CONTINUE READING BELOW
Kapeng Mainit is at Mahogany Avenue corner A. Cruz Herrera, Maharlika East, Tagaytay City.
Deli de San Honore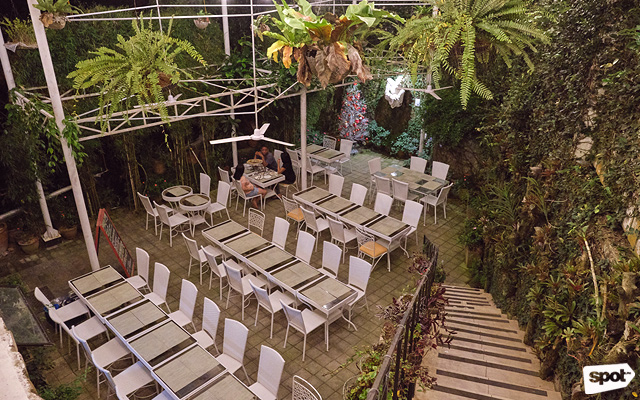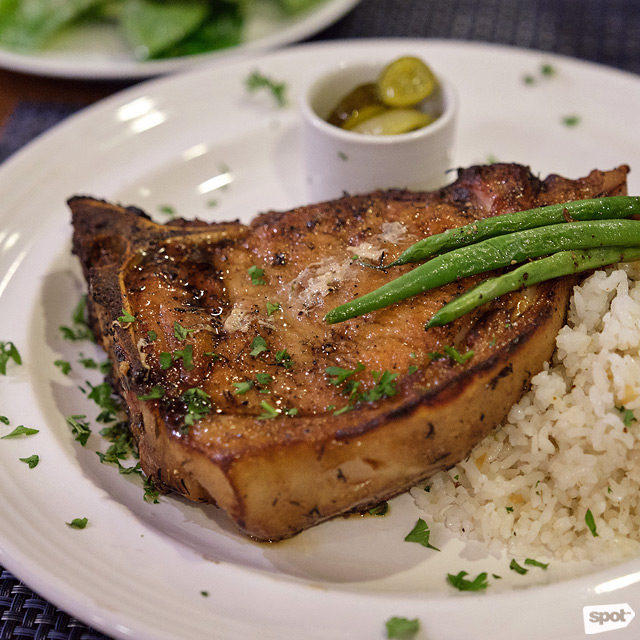 ADVERTISEMENT - CONTINUE READING BELOW
This place is like the TARDIS—tiny on the outside, but roomier inside by far. The placement along Zambal (so you'll have to turn off the main road) catches the wind just right, adding a pleasant chill to the heartwarming goodness the Deli serves. There's no question that Chef Jeremy Joson knows exactly what he's doing; the Charcoal Fired Brick Oven Pizzas (P580), from the tip of the slice to end of the crust, are pretty much perfect, and the Herb de Provence Pork Chop (P395) is a thing of wonder with all of Joson's open secrets. It's thicc, as the kids say. Plus, if you make a reservation and get in early enough, you may be able to get a serving of the catch of the day, but that stuff goes fast.
Deli de San Honore is at 9060 Zambal Road, Baranggay Neogan, Tagaytay City.
ADVERTISEMENT - CONTINUE READING BELOW
Breakfast at Antonio's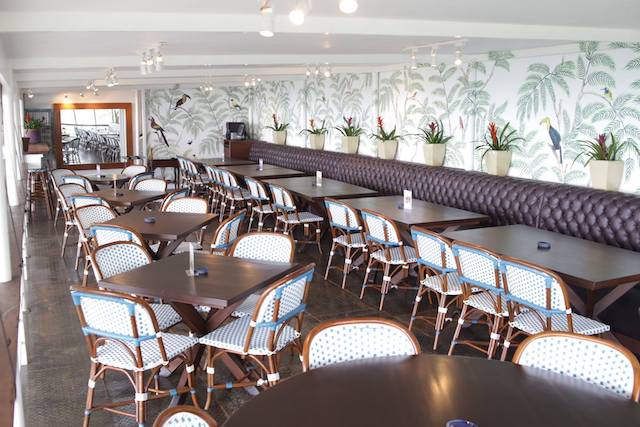 ADVERTISEMENT - CONTINUE READING BELOW
Antonio's has built a reputation that does, indeed, precede them, and you'll hardly have a friend who's been to Tagaytay who doesn't have at least one Instagram post at this place. This is back on the main road, so it's fairly easy to find. The Bread Basket alone is a carb-lover's dream, but you can hardly call it breakfast if you don't have their Fried Rice Omelettes at the very least. Sticking to a resolution? The Garden Crepe is no less tasty.
Breakfast at Antonio's is at Emilio Aguinaldo Highway, Bagong Tubig, Tagaytay City.
Lime & Basil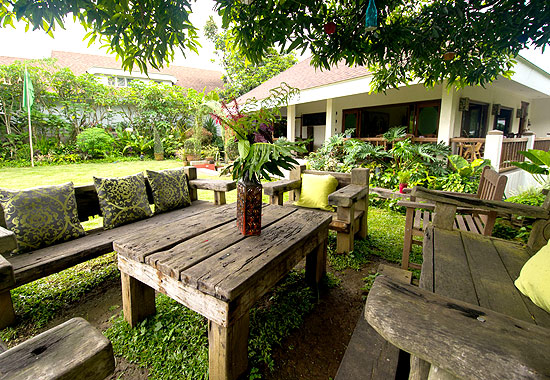 ADVERTISEMENT - CONTINUE READING BELOW
Airy, well-lit, and surrounded by greenery that they use in kitchen, Lime & Basil has stayed fresh in terms of both their atmosphere and their food. The Yam Som O (P380) is a great starter with the sweet-tang of the pomelo and the burst of chili to really open up the palate. The Kaeng Deng Kha Mao (P770)—basically crispy pata, so you don't want to miss out—is brought to life with the kick of the red curry sauce, essentially begging you to order extra rice.
ADVERTISEMENT - CONTINUE READING BELOW
Lime & Basil is at 9014 J. Rizal Street, Sikat, Tagaytay City.
The Fatted Calf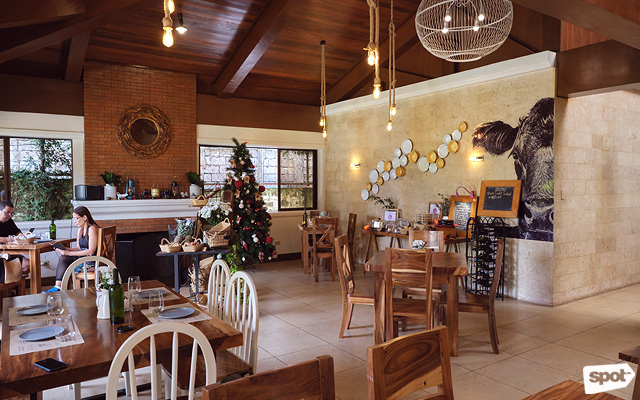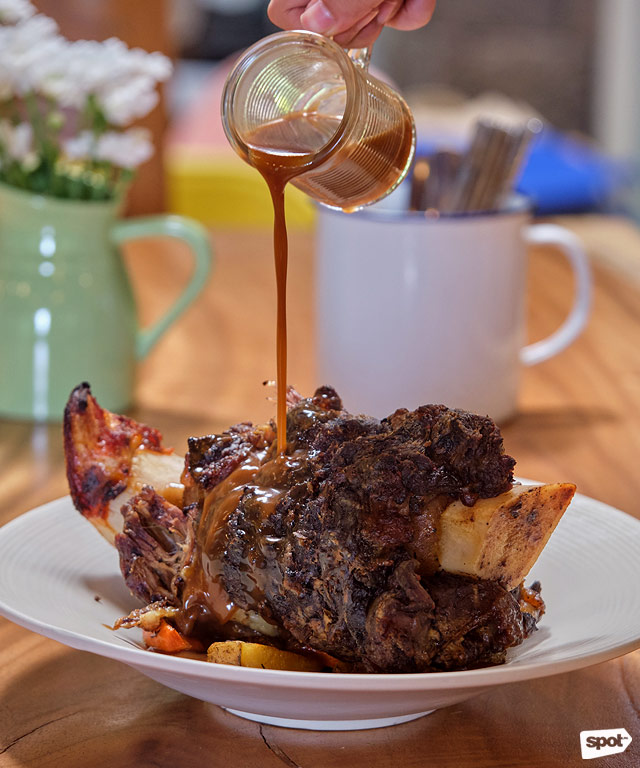 ADVERTISEMENT - CONTINUE READING BELOW
The high ceilings of the bungalow that is The Fatted Calf make it sit rather comfortably between homey and elegant, but it's the mascot that'll draw you in. (Her name is Donut and she is a very, very good dog.) You'll definitely stay for the food and the company, though—husband and wife duo Jay Jay SyCip and Rhea Castro-SyCip are the actual most ambitious crossover (thank you very much, Endgame). The Vegan Glow Salad (P420), with spiced and roasted squash in this is to die for, and the Terrine Board (P365) are excellent places to start, and main dishes like the Whole Roasted Leg of Beef (P1,995) will take your mouth to places it's never been, but it's the Rhum Cake (P340) and Strawberry Doughnuts by their sister company Flour Pot that make for a strong finish. Whether you drop by The Fatted Calf at the start of your trip or at the end of it, it's worth every minute you lose there.
ADVERTISEMENT - CONTINUE READING BELOW
The Fatted Calf is at 23 V. Belarmino Street, Silang, Cavite.
Ayutthaya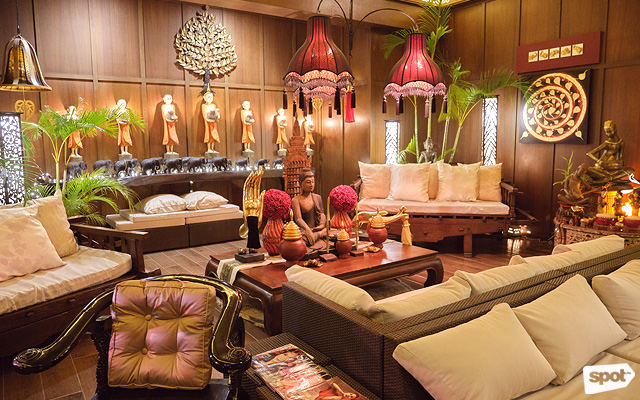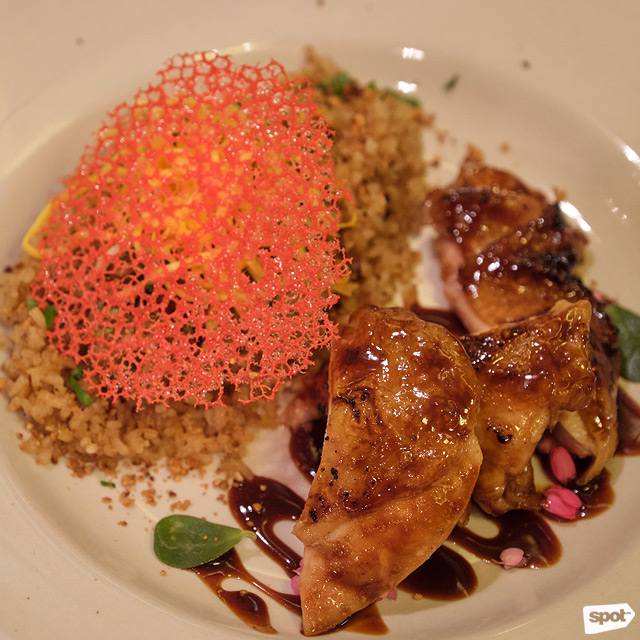 ADVERTISEMENT - CONTINUE READING BELOW
This one's the most out of the way, if we're being honest, but believe us when we say you won't be sorry. Chef Kevin Villarica is one-third of the dream team behind Hapag Private Dining in Quezon City, so the last place you'd think to find him is in some secluded wedding venue cooking Thai food, but we're big fans of good surprises. There's a bit of his other restaurant here, too, in the fact that it's a tasting menu, though an unusually generous one. One bite of the first course (the Fish Curry and Tapioca Pearl Crispies) will convince you the off-roading was worth every inch—and every penny, at P3,800.
Ayutthaya is at EP Beauty Farm Wellness and Events, Barangay Cerca II, Anuling Mendez, Cavite.
Share this story with your friends!
---
Help us make Spot.ph better!
Take the short survey
More Videos You Can Watch
Load More Stories