Hello Stranger Is Private Dining at Its Most Chill
The 28-year-old chef whips up restaurant-worthy meals in your own kitchen.
(SPOT.ph) Chef Ellie Estrada is busy chopping up beef. She gives instructions to her brother and "on-call sous chef" Fael, who goes on to mash potatoes while Ellie looks up to find us at the door. We introduce ourselves while she pulls up chairs for us to sit—and though the two are busy in the middle of kitchen prep, she motions to us to feel free to feel at home. "We're just chill here, go ahead!" It's our first time to meet—but her enthusiasm makes you feel like you've known her forever.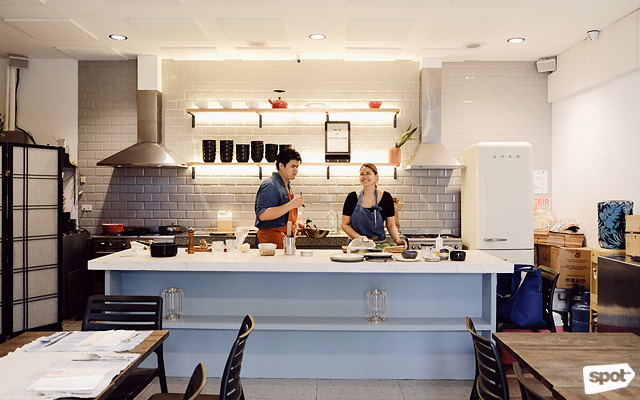 Hello Stranger is Estrada's private dining venture, the name stemming from the idea of "letting a stranger into your home," as she does when she hosts private dinners (P2,200 and above/guest) that you can book and enjoy from the comfort of your own kitchen. You can also catch Hello Stranger at pop-up events, one recent one she's done being a Valentine's Day collaboration with Hapag Private Dining. Estrada shows off her culinary prowess using local and seasonal ingredients to create dishes inspired by her experiences in San Francisco.
ADVERTISEMENT - CONTINUE READING BELOW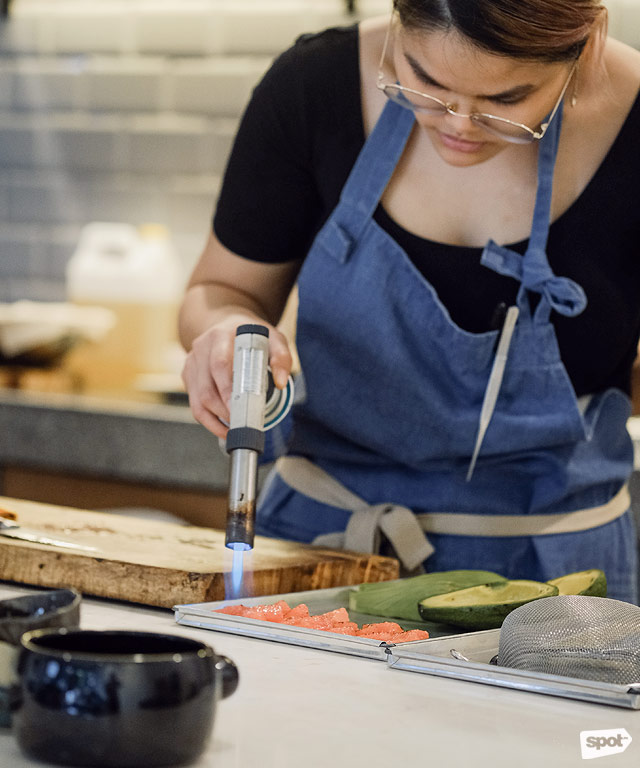 CONTINUE READING BELOW
Recommended Videos
The budding chef admits she put up Hello Stranger out of "crippling self-doubt." She's had a fair amount of experience in the U.S., spending six years in San Francisco, studying at Le Cordon Bleu and the Art Institute of California—during which time she'd go to work after school. She has helped open a Spanish restaurant called Bellota, and has even trained under the likes of Chefs Michael Mina, Michael Tusk, and Dominique Crenn. But as she returned home to the Philippines, she found herself facing rejection after rejection after sending out her resume to different establishments. "Three months of doing that you're really like, 'am I really not that good?'" she laments. "[But] my family was just like, 'just do your own thing'"—and with their support, that's exactly what she set out to do.
ADVERTISEMENT - CONTINUE READING BELOW
Dominique Crenn, in particular, has influenced Estrada's philosophy—especially with how she heralds seasonality, but also approaches it with a high level of technique. She focuses on taking local ingredients at their freshest and at their best, sourcing from markets and small, family-owned farms whenever possible (including her family's own), but also doesn't shy away from playing around with them in the kitchen. "You can't just put it on a plate," she explains. "You want to incorporate something else that makes it worth people's while." But she does so in such a way that still allows the ingredients to shine—and shine, they do.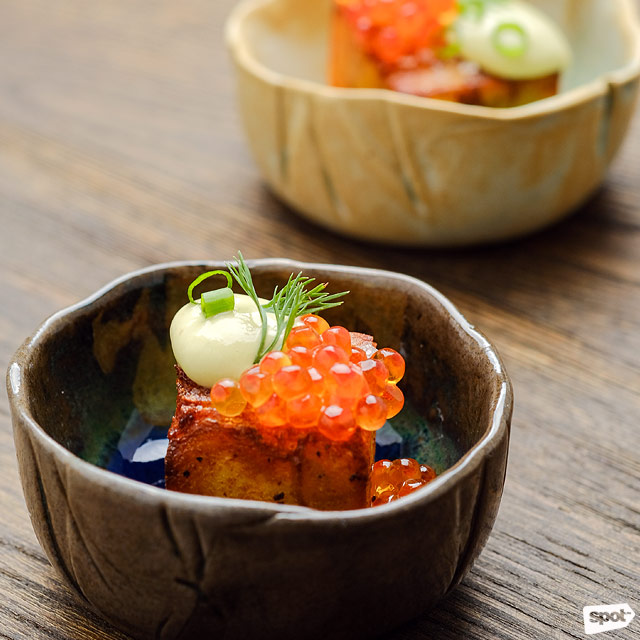 The Pommes Pave is a small but impactful starter where potatoes are sliced paper-thin, marinated in garlic cream, then layered to form cubes and baked. Place it in the mouth and it unfolds into sheets of potato that are individually buttery, given a Scandinavian-inspired character with its avocado cream and trout roe toppings.
ADVERTISEMENT - CONTINUE READING BELOW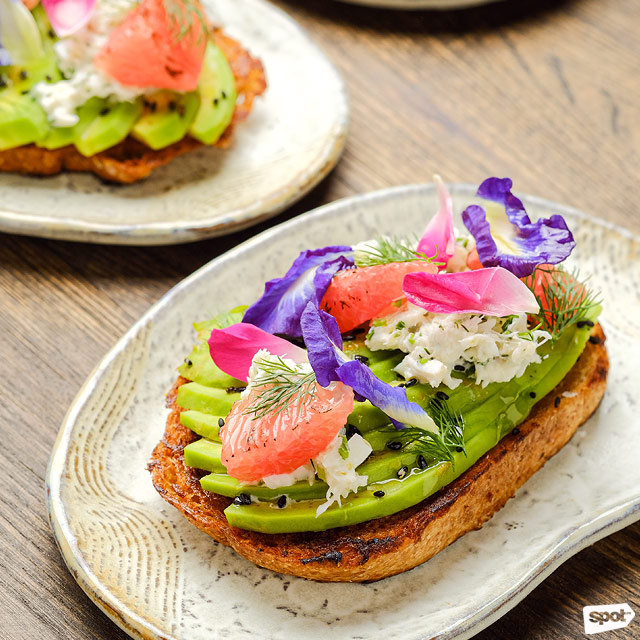 In the Ode to California, Estrada highlights local butter avocados (which she describes to be more on the sweet side versus Western Hass avocados) in the form of a simple but stellar avocado toast. Perched atop buttered sourdough and dollops of a crab gribiche, the avocado's ultra-creamy character underlines the gribiche's savoriness, while its mild sweetness rounds out all the other flavors.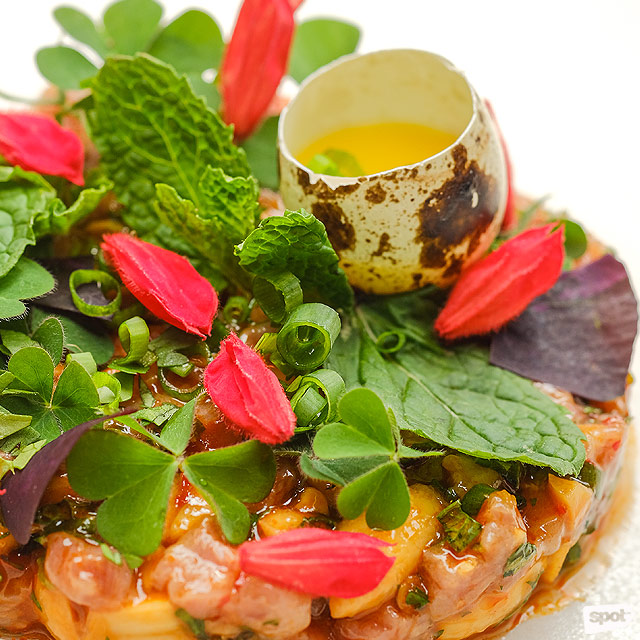 ADVERTISEMENT - CONTINUE READING BELOW
Though Hello Stranger does not necessarily adhere to any single cuisine, Estrada happily takes inspiration from flavors found all over the world. Her take on Steak Tartare, for instance, takes a page from Vietnamese cuisine, with chunks of Wagyu tossed with a perky chili-lime dressing, peanuts, mint, and cilantro. More fresh herbs and edible flowers—a mix of mint, cilantro, wood sorrel, shiso, and nasturium flowers—dress the top, not simply for its looks, but for the flavors they contribute. Nasturium flowers, in particular, have a peppery profile that brings out the best of the beef. The tartare is served with a quail-egg yolk you can stir in for extra richness; and kropek, onto which you can spoon dollops of the tartare mix. Whichever way you choose to eat it, what you get is a punchy mix that erupts with sour, savory, zesty, and herby flavors as the meat melts in your mouth.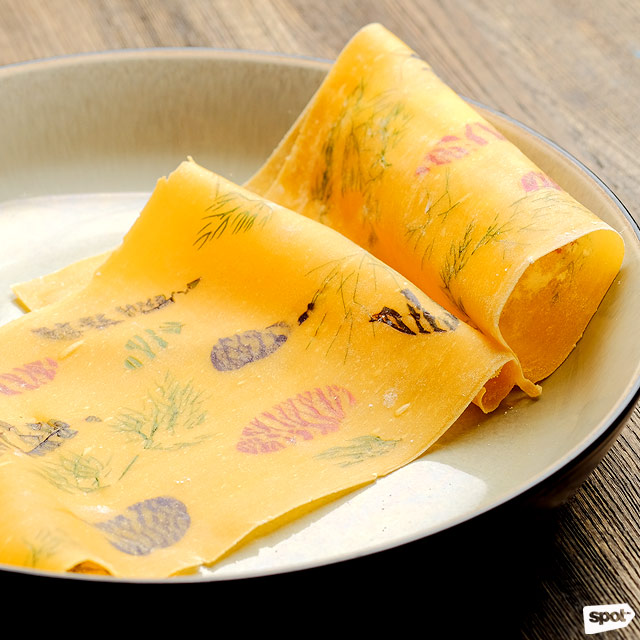 ADVERTISEMENT - CONTINUE READING BELOW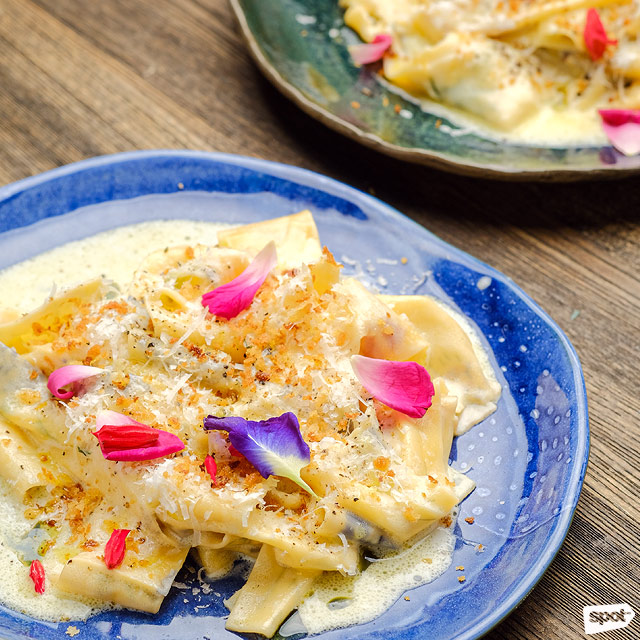 Her penchant for herbs especially radiates in the Fleur de Liz Pappardelle, a creation named after and inspired by her flower-obsessed grandmother. The dish highlights handmade papardelle pasta with herbs and flowers (dill, fennel fronds, nasturium, rose petals, and grated lemon zest) embedded, contributing not just a funky appearance, but also pops of flavor against the subtle but aromatic truffle butter and grana padano that dresses it.
ADVERTISEMENT - CONTINUE READING BELOW
And while Estrada pays respect to tradition, she also does not shy away from finding ways to refine it where applicable. Take, for instance, her Bouffe Bourguignonne: her version of the classic French beef stew uses Angus rib-eye that's cut into palm-sized hunks, seared and braised in Cabernet Sauvignon wine and meat jus. The result is beef that's as mighty meaty in flavor as it is supremely tender, accompanied by shallots, brussels sprouts, and shimeji mushrooms on hearty truffle pommes.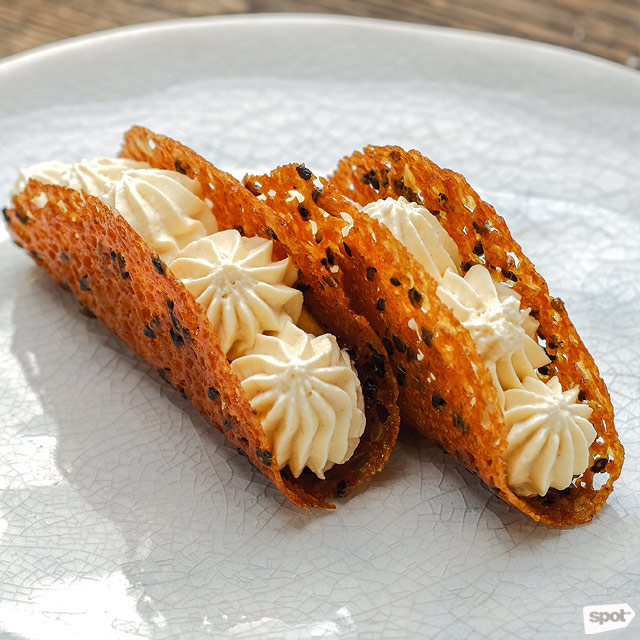 While the meal concludes with the Turron Taco—a makeshift "taco" inspired by the Filipino street snack, made with a folded black sesame tuile filled with saba bananas and a caramel creme diplomat—we talk more about our experiences. Estrada has loved food and enjoyed cooking from an early age, and her passion is evident in the way she lights up when she shares tales of her many culinary adventures. It is especially evident in her soul-filled cooking, each dish of hers bearing a story that tells you a little more about Estrada as a person.
ADVERTISEMENT - CONTINUE READING BELOW
Food, in this case, is more than just a means for fuel; it is also Estrada's means for connection and of building relationships with her audience. You may start out as strangers, but—with great stories and great eats—you definitely won't leave that way.
Photos by Majoy Siason
Share this story with your friends!
---
Help us make Spot.ph better!
Take the short survey
Load More Stories