Bar Pintxos Is Now in Cebu, and There's More to Love Than Just the Foie
It's their first branch outside Metro Manila.
Bar Pintxos Cebu
Unit 1 101-B OITC-1 Oakridge Business Park, AS Fortuna Street, Mandaue City, Cebu
Open from 12 a.m to. 11 p.m. (Sunday to Thursday) and 12 p.m. to 12 a.m. (Friday and Saturday)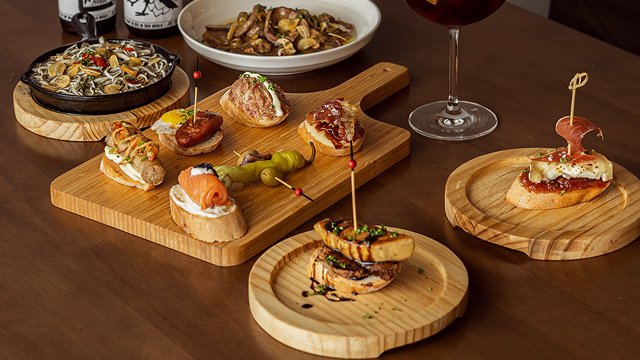 (SPOT.ph) Selina Selma-Romualdez spends the first few minutes of our photoshoot excusing herself to check in on the kitchen, and to stop by tables to talk to guests. It's just two weeks into operations at Bar Pintxos Cebu—lunch hour is over, but half of the restaurant is still occupied by diners lingering over their tapas and daytime sangrias.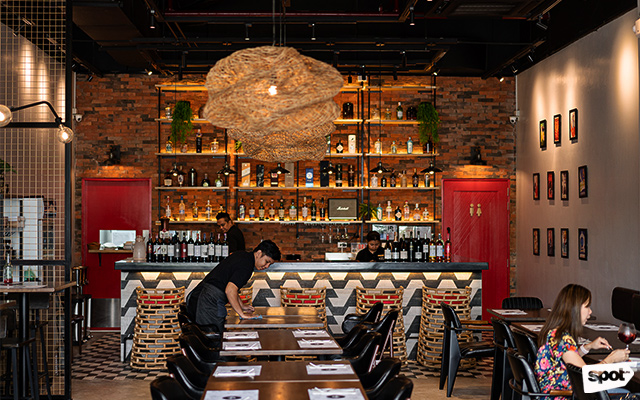 ADVERTISEMENT - CONTINUE READING BELOW
In fact, the anticipation that came with the Bar Pintxos Cebu debut was at a level Selma-Romualdez and the other local partners—her husband Justin, and Maricar Quisumbing—hadn't even expected.
"We'd just registered the phone number on Google, and we got a call at 1 a.m.," Selma-Romualdez recalls with a laugh. It turned out to be an over-excited would-be customer, exclaiming over and over about how excited she was about them opening in Cebu. "She never left her name, but I hope she introduces herself when she comes over—I am totally going to feed her!"
CONTINUE READING BELOW
Recommended Videos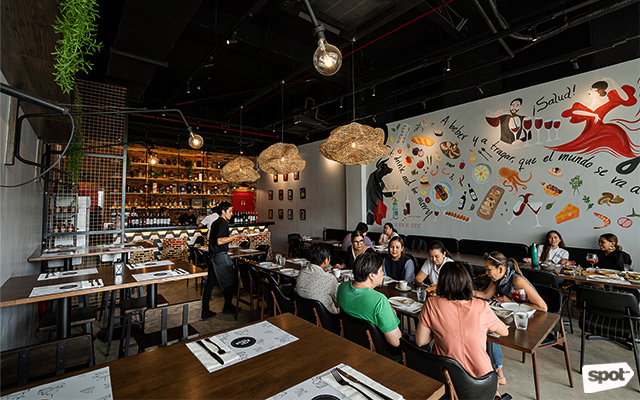 The early-morning phone call is just one of the amazing stories Selma-Romualdez has from the last few weeks—someone drove two hours to the restaurant because they saw an Instagram story; a couple dined there practically every day the first week they opened. The positive reception only proves that it was high time Bar Pintxos arrived in Cebu.
ADVERTISEMENT - CONTINUE READING BELOW
"We thought it was a great idea to bring the Bar Pintxos experience to diners here. We have many customers from Cebu who frequent Bar Pintxos when they come to Manila," says co-owner Miguel Vecin about why they decided to bring the concept to Cebu.
When it came to looking for local partners, Vecin and Tinchu Gonzalez decided to work with people who were a natural fit. "We got to know them through our partners in Manila, and we trust them to bring the same quality and fun of Bar Pintxos Manila to our friends in Cebu," Vecin shares. "We have a common passion for creating casual, carefree dining experiences that Cebuanos love."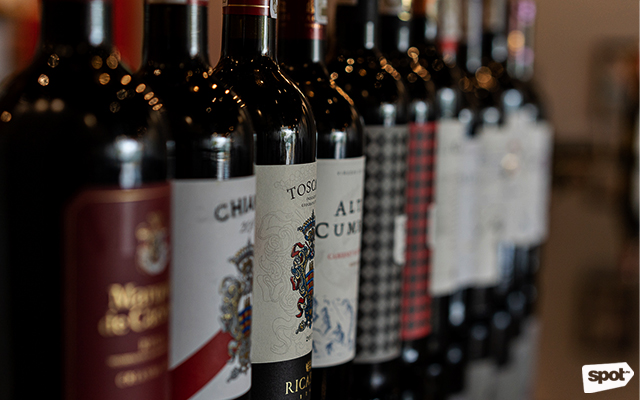 The story of Bar Pintxos started in 2003 with Tierra de España, a Spanish delicatessen brand. A serendipitous chain of events led them to open the restaurant in Alabang in 2015. From there, they created a series of restaurants that offered high-quality Spanish flavors in a laid-back atmosphere, perfect for enjoying their selection of wines, craft beers and sangria.
ADVERTISEMENT - CONTINUE READING BELOW
"We hope to bring our traditional Spanish cuisine to Cebu, and that they have the same experience as if they were in Spain, having tapas and pintxos in San Sebastián," Vecin says. And although the menu in Cebu is the same as the offerings in Manila, we could see some special variations in the future. "The Cebu team also plans to introduce exclusive pintxos dishes that make use of local flavors and ingredients."
For now, the local flavor is infused in the restaurant's interiors. Considering Justin and Selma-Romualdez run the furniture brand Obra Cebuana, they naturally had a lot of ideas when it came to the design.
ADVERTISEMENT - CONTINUE READING BELOW
The row of chandeliers running down the center of the dining room are Selma-Romualdez's own creation, and something that will soon be a Bar Pintxos staple—as "they're going to put it in all Bar Pintxos restaurants." Another Obra Cebuano addition are the stools at the black and white bar. "The original Bar Pintxos had black and white floors, so we wanted to do something similar."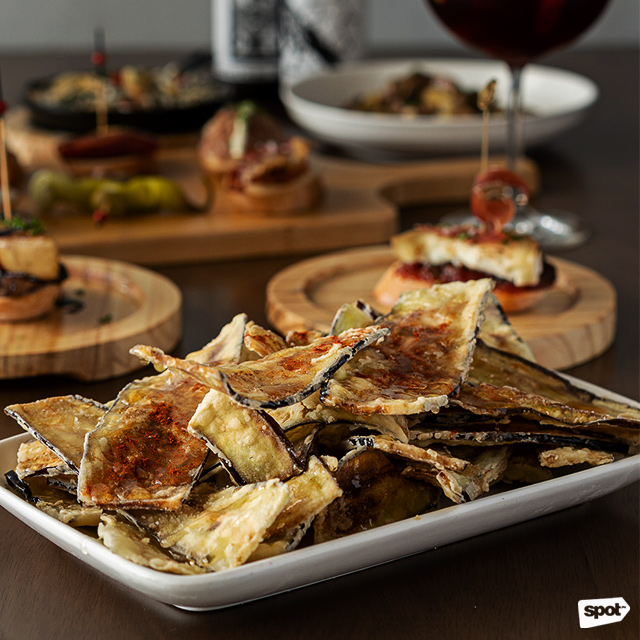 As much as the interiors set the mood, it's the food that takes centerstage. We started off with the Berenjenas (P135)—fried eggplant drizzled with honey and topped with pimenton, which our photographer described as, "the best eggplant I've ever had."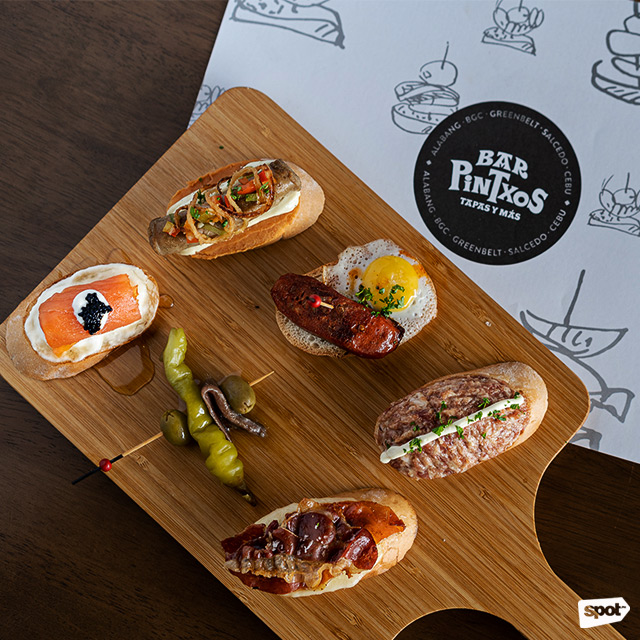 ADVERTISEMENT - CONTINUE READING BELOW
For first-timers, Selma-Romualdez recommends the Pintxos Platter (P700) to get a taste of the best-selling variations. The Jamon Allioli (P130/a la carte) is an easy favorite—made with shredded jamon serrano pounded into a garlic and olive oil emulsion, the creamy consistency is bursting with flavor from the salty jamon and the distinctive garlic flavor. The Salmon (P220) is another choice for first timers for its familiar flavors of goat's cheese and honey, although an added indulgence comes in the form of the caviar topping.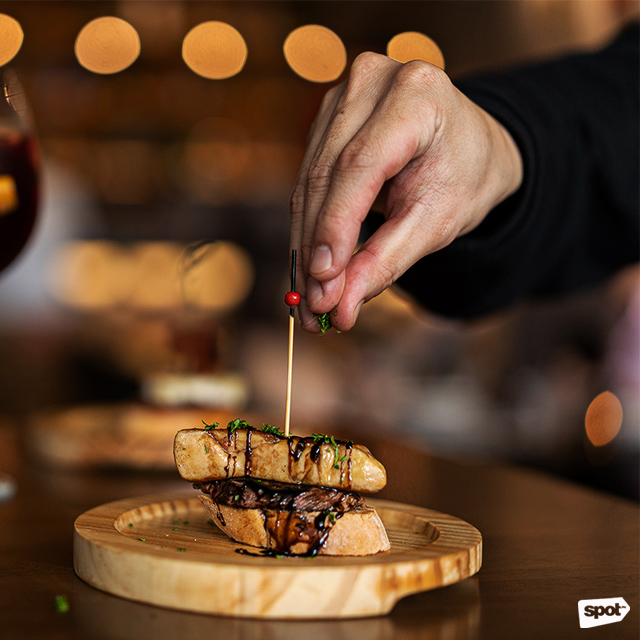 ADVERTISEMENT - CONTINUE READING BELOW
Separate from the platter, another item high on the list of must-tries is the Regatta (P165), named so because it's shaped like a sailboat. The bread is topped with sweet tomato jam, which complements the richness of the seared goat's cheese. The crispy jamon serrano on top seals the deal, adding a bit of saltiness that cuts through the rest of the flavors.
The sure star on any table, though, would be the Ternera y Foie (P530). The heaping serving of foie gras is rich and buttery, and grounded by the slice of beef tenderloin it rests on. It's then topped with a PX reduction, made from a Spanish dessert sherry, which adds sweetness and acidity to that bite.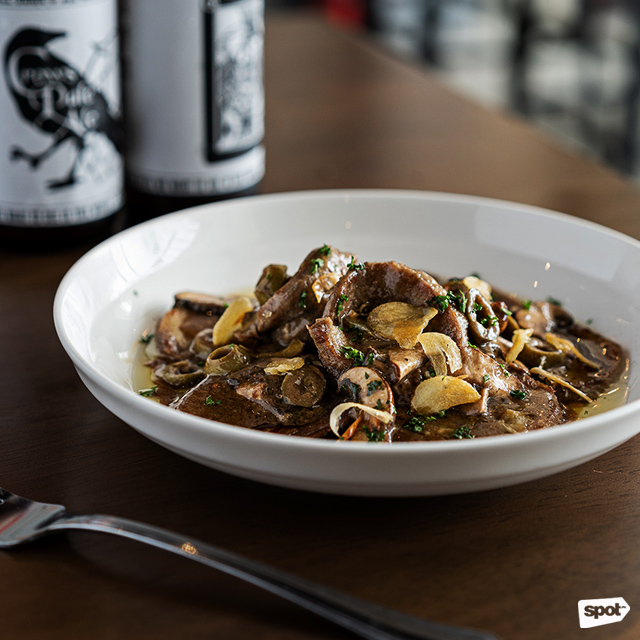 ADVERTISEMENT - CONTINUE READING BELOW
When it came to the more hearty tapas, we couldn't stop singing praises for the Lengua (P520). Made with ox tongue, Lengua is hardly a new dish to the Filipino palate, but Bar Pintxos definitely elevates the old favorite—the meat is perfectly tender, and infused with the flavors of the olive oil and garlic from its sauce. It was hard not to order a serving of rice on the side.
The meal ended with a round of satisfied sighs and expanded bellies, and Selma-Romualdez's stories from the beginning of our meal didn't seem all that far-fetched anymore—with flavors like this, it was really only inevitable. Bar Pintxos Cebu's opening has elicited a lot of ecstatic reactions, and for good reason. You might not end up calling the owner at 1 a.m. to talk about it, but you would likely find yourself coming back.
Photos by Nath Ybañez
Share this story with your friends!
---
Help us make Spot.ph better!
Take the short survey
Load More Stories