Get a Classic Burger and the Full Speakeasy Feel at This New QC Joint
Their take on the weng-weng is not for the faint of heart.
19P
2/F Torres Building, Katipunan Avenue, Quezon City
Open 4:30 p.m. to 2 a.m. (Monday to Saturday)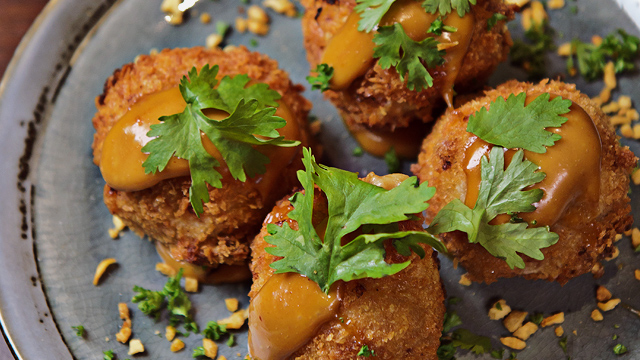 (SPOT.ph) Maybe the easiest place to start is at the beginning—when we come to the end, as the Mad Hatter once said, we'll stop. There is actually an element of madness to this dive bar along Katipunan, not least because the space used to house a salon; 19P was just a crazy little "one day, man, one day" dream between two college roommates less than a decade ago. In their case, that "one day" is today, although only half as private as their dorm was back then; the door takes a little finding, and the bar proper is up a flight of stairs.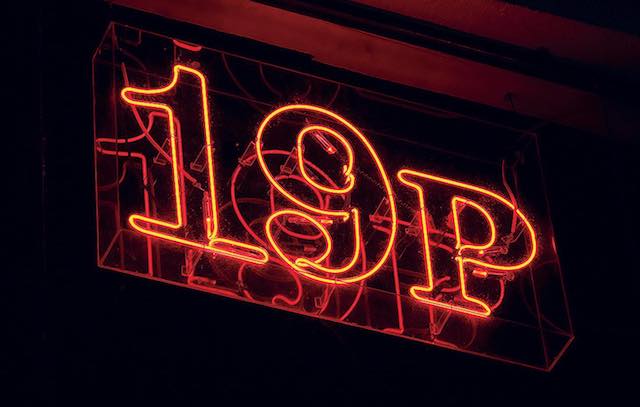 ADVERTISEMENT - CONTINUE READING BELOW
We'd wager that most ideas of a similar nature fizzle out in a few years, but for this dream, the road was just a little long and a tad winding—not unlike the hunt for a good pub, we must say. Marco Limcaoco and Mari Ascaño got there, eventually—both quitting jobs that paid well, but didn't quite fit. "To hell with it," says Ascaño, a former accounts manager, "I'll cook for a living."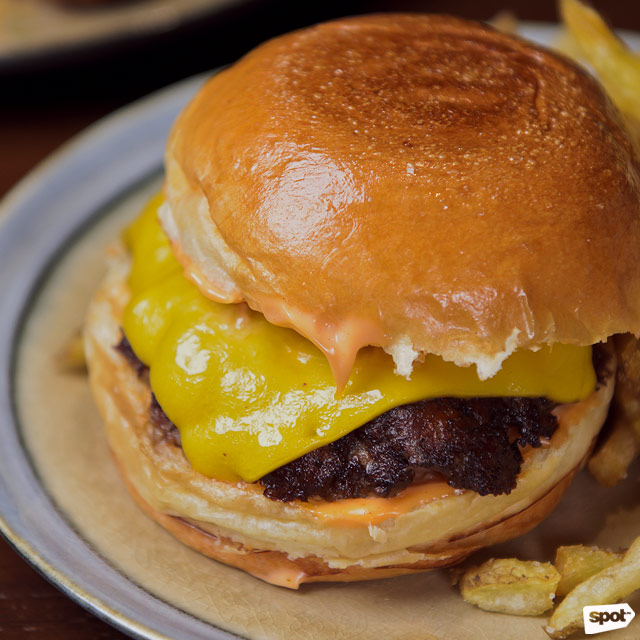 CONTINUE READING BELOW
Recommended Videos
And it seems as though he's found his calling, because that Classic Cheeseburger (P185) they serve is exactly that—classic. We know that it's tempting, especially for younger cooks, to try and stand out by throwing in any number of frills and trappings; by keeping it simple, Ascaño shows both courage and craft—this burger is pretty damn good. There's nothing to hide behind—a little ironic, for a speakeasy—there's only pure beef, American cheddar, a buttery brioche bun, and the tang of ketchup and pickles that, somehow, remind you of what it's like to be young. You're probably thinking, "Where was this bar when I was in college?"
ADVERTISEMENT - CONTINUE READING BELOW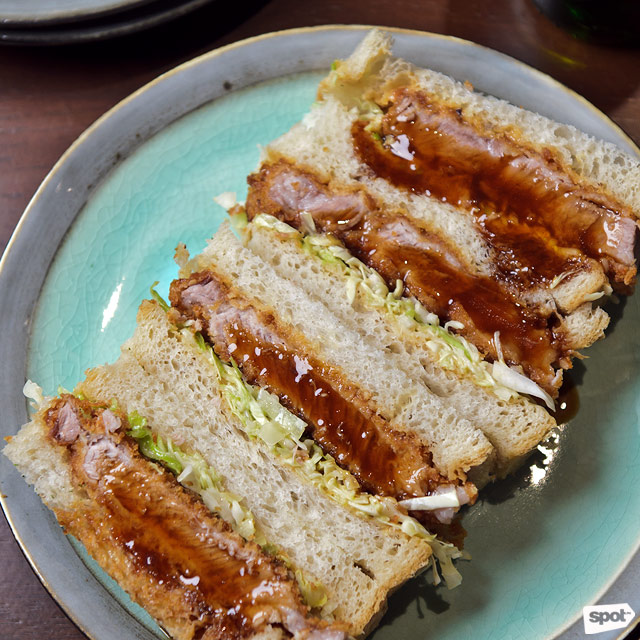 Equally impressive is the Katsu Sando (P160). Here's the thing: Katsu is great—heck, we love it so much we made a list—and sandwiches are great. Put them together, you'd think you'd have a beautiful partnership—er, well, about that. A fried pork cutlet in between bread has the tendency to fight with you, in a sense. Clean bites can be a little elusive… but not here. It's still crispy, but the meat tears away like it wants nothing better than to be split by your teeth; the bread is only lightly toasted, so it's about as soft as the pork itself; the mild tang of the in-house tonkatsu sauce cuts through the textures just right.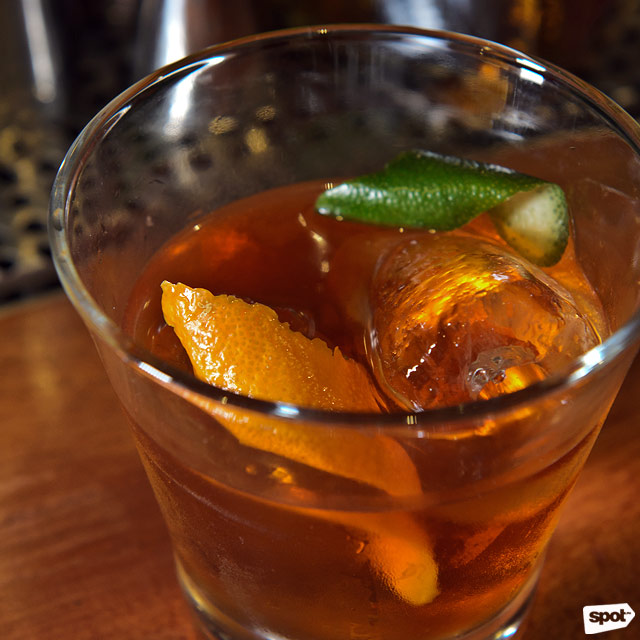 ADVERTISEMENT - CONTINUE READING BELOW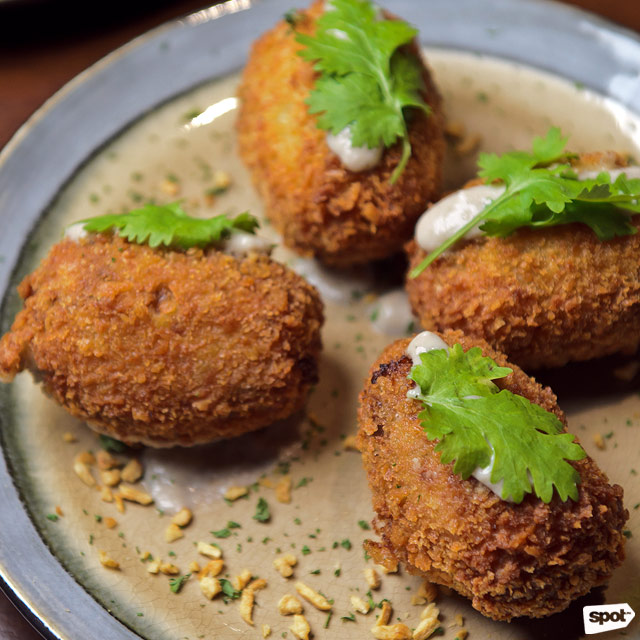 But this is a bar, and we know what you're really here for. They have plenty of well-executed classics, which Limcaoco feels are important for the younger generation to explore. "I think there's room for the kind of drinking that isn't for the sake of getting wasted," he explains, "and we want 19P to be a safe, neutral place where people can learn what it is they like without being judged."
In that way, we suppose, 19P truly is a modern tavern—the alcohol may no longer be illcitly sold and bought, but no one's about to admit they don't know anything about the stuff. Here, drinkers both experienced and not can still learn a thing or two. You'd be surprised how many young folks order the Old Fashioned (P180) and end up genuinely preferring it, but that's the kind of barrier that this speakeasy is out to break. Pair this with the Mushroom Croquettas (P140) to slice right through that creamy-umami mouthful; it's glorious.
ADVERTISEMENT - CONTINUE READING BELOW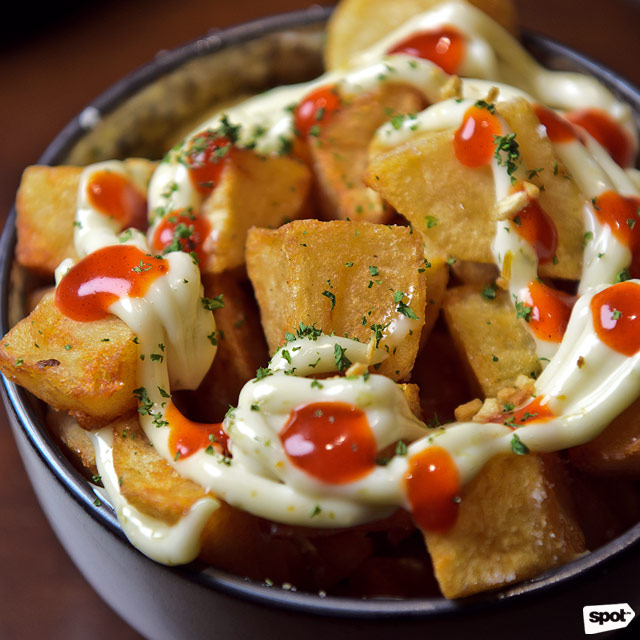 The Bramble (P180) is Limcaoco's personal favorite, and it's easy to see why. Stir it up to really bring out the blackberry liqueur, balanced out with a healthy squeeze of lemon, swimming in gin—it tastes like what an enchanted forest looks like. (The good kind, obviously.) This needs no pairing, but if you really don't want it to dance alone, the Bravas (P135) is a bowl of confit potatoes with a citrusy yuzu aioli—to go with the lemon, of course—and a curry-laced ketchup. Yeah, you're welcome.
ADVERTISEMENT - CONTINUE READING BELOW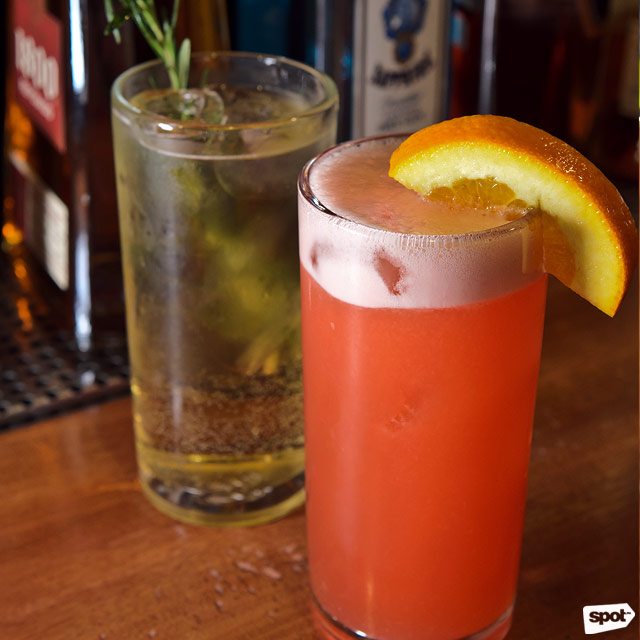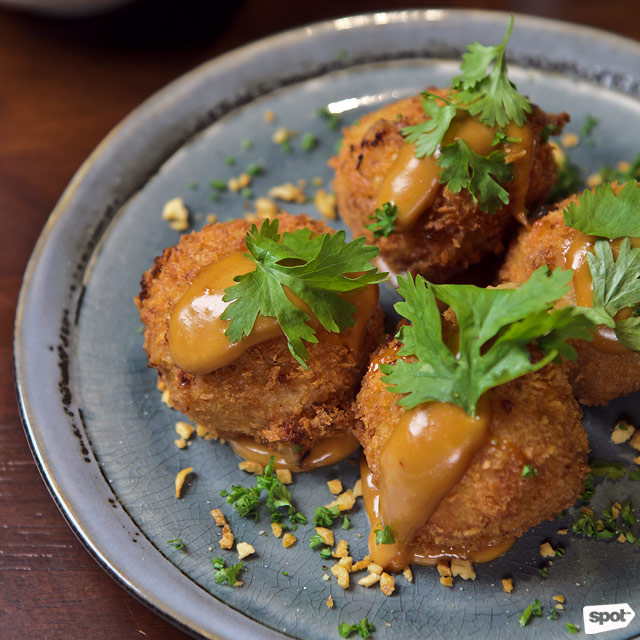 Taller orders—literally—come in the form of the 19P Highball (P150) and the Weng-Weng 2.0 (P180). The former's a refreshing ginger ale number that goes with the indulgent, Asian-influenced Pork Croquettas (P140); the latter, you want to watch out for. It reads like juice—the mark of a traitor—but has sent many a weakling to the bathroom, carried by two very concerned friends. Word to the wise: Line your stomach. If you're used to wilder nights, however, you'll be just fine.
ADVERTISEMENT - CONTINUE READING BELOW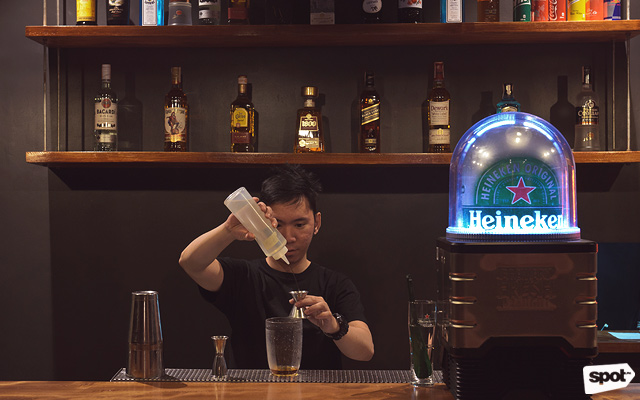 It's a little hard to believe a bunch of kids (who named their first venture into the F&B business after their dorm-room number, no less) could produce what one could call the ideal watering hole—accessible, yet perfectly hidden away—but we suppose stranger things have happened. One can walk in a stranger to one's own drink preferences, but 19P's crowd isn't the kind to scoff; if anything, every newbie would walk out knowing their new favorite glass of something-or-other. Judging from that attitude, plus the lineup—from the tunes to the highballs to the sandwiches—we can safely say that the kids are alright.
Photos by Kai Huang
Share this story with your friends!
---
Help us make Spot.ph better!
Take the short survey
Load More Stories