Found: Your One-Stop Shop for Cebuano Street-Food Favorites
Including pork brain gravy a.k.a. the dish featured on that Netflix series.
Street Food by Sugbo Mercado
Garden Area, near Active Zone, Ayala Center Cebu, Cebu Business Park, Cebu City
Open daily from 12 p.m. to 12 a.m.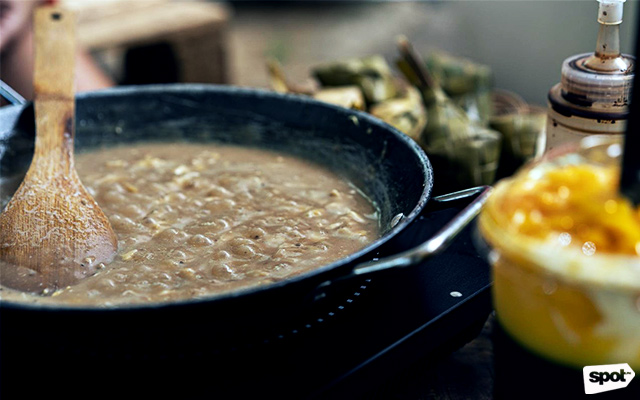 (SPOT.ph) Yes, your read that right—pork brain gravy, or tuslob buwa, is a Cebuano delicacy that, admittedly, can cause wariness in first-timers.
Although it recently gained mainstream popularity with a feature in Netflix's Street Food series a while back, tuslob buwa has always been a fixture in downtown Cebu. Pork brains and liver are sauteed with onions, garlic and shrimp paste, then left to reduce into a bubbly stew, which you can then dip your puso (hanging rice) in—hence the name, which literally means to dip in bubbles.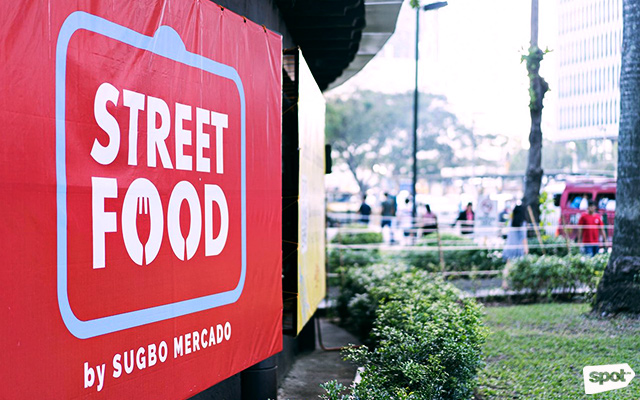 ADVERTISEMENT - CONTINUE READING BELOW
It's also the first dish Michael Karlo Lim, one of the partners behind Sugbo Mercado and the group's marketing director, insisted the team try on our visit to Street Food by Sugbo. He nods excitedly as we talked about how we'd never gotten the chance to try tuslob buwa before. "That's why we're here," he says.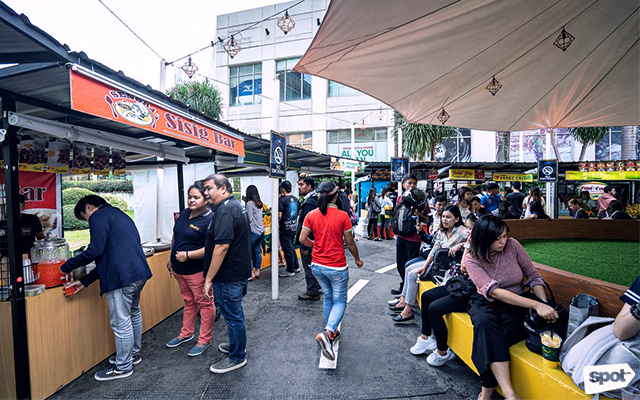 CONTINUE READING BELOW
Recommended Videos
Therein lies the appeal of Street Food by Sugbo—all the dishes you would have otherwise had to scour different parts of the city for, are now all in one place. Since it launched in January, it has become a go-to spot for locals looking for familiar flavors, and tourists who want to sample Cebu's offerings in a convenient and sanitary spot.
ADVERTISEMENT - CONTINUE READING BELOW
Of course, the strategic location also helps. Street Food by Sugbo enjoys a prime area on a path between Ayala Center Cebu, prime office buildings, and the public transportation terminals. In fact, the high pedestrian traffic was what inspired the team to go with a street-food concept.
"We wanted this market to have quick-serve, more pocket-friendly but ultimately satisfying items, and thought it would be a great avenue to showcase the local street food culture," Lim explains.
The result is a wide offering of culinary experiences, in a laid-back environment that makes it all about the food. The rotunda-style set-up is decorated with street signs, painted lanes on the floors, and wooden pallets converted into tables.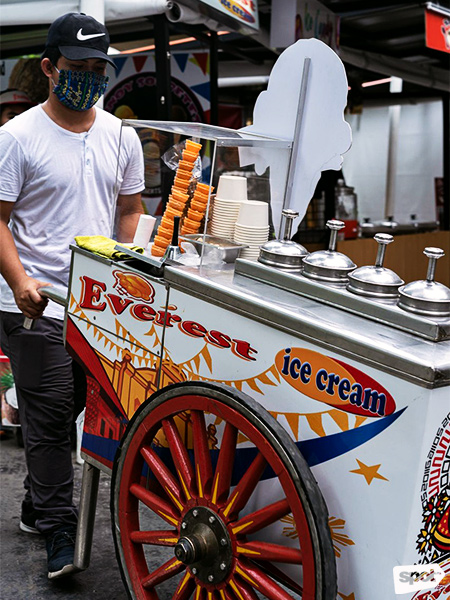 "We really set it up so diners can just eat and go, and to create the feeling that you're actually having street food," Lim explains. And to be fair, it does—the steady influx of people created an exciting buzz in the air, while carts that sold staples like fish balls and ice cream were parked in their own corners.
ADVERTISEMENT - CONTINUE READING BELOW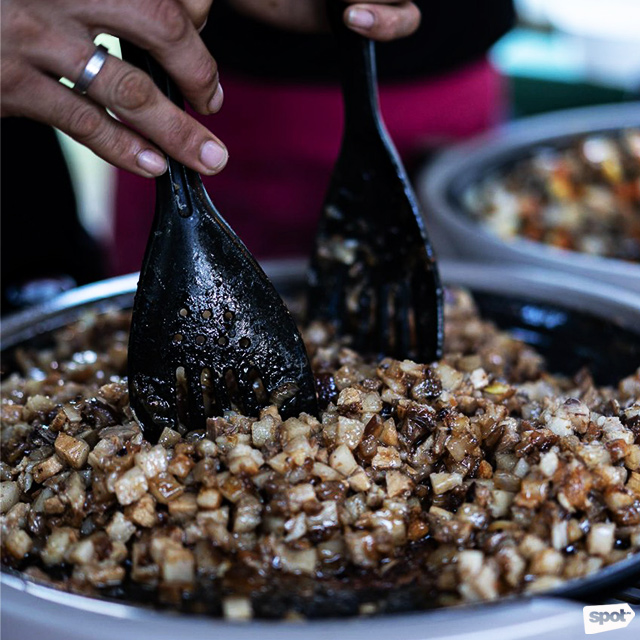 "Our current vendor lineup is composed of either handpicked invitees, or respondents to calls for specific street food items, all of which have gone through our company's screening procedures," Lim continues. Sugbo Mercado is certainly no stranger to the food market business—since they launched as a weekend market in 2015, they've grown to four locations with almost daily operations, the most recent being this one.
When it comes to picking a place to start at Street Food by Sugbo, it's easy to feel overwhelmed by the bevy of options. We strongly recommend you try the refreshing Ally Mango. One of the more popular names from Sugbo Mercado's other locations, they offer only one thing—mango shake, topped with slices of mango—which brings a pleasant play on texture to an already amazing favorite.
ADVERTISEMENT - CONTINUE READING BELOW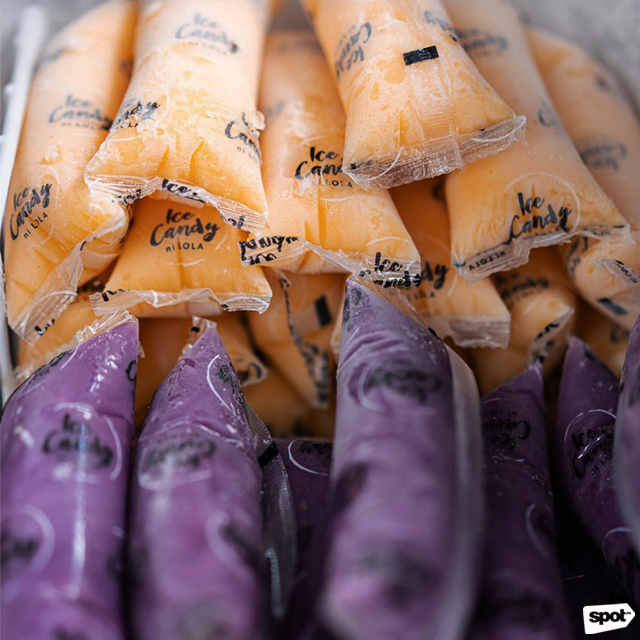 From there, you can choose from a number of options, depending on your cravings. Get the eponymous bowl from The Lamaw Guys, which has egg, rice, chicharon, sauce, and Siomai sa Tisa, from a neighborhood home to many local dim sum hotspots. Melton's Halo-Halo isn't just a great choice for the icy dessert—they also serve Mom's Pizza, the thick-crust childhood staple that's bound to bring on the nostalgia.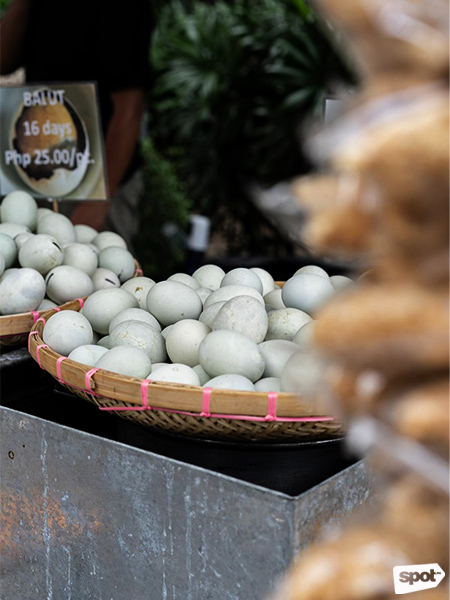 ADVERTISEMENT - CONTINUE READING BELOW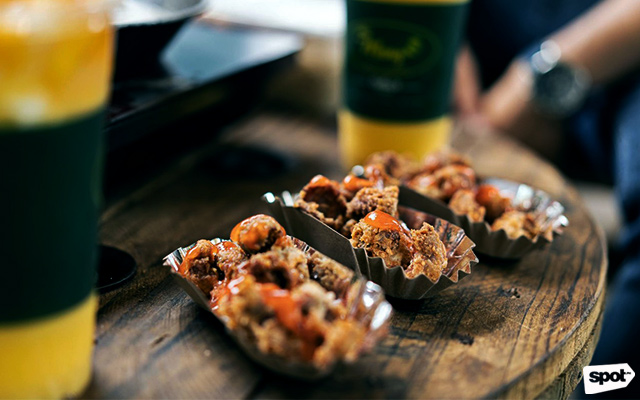 From there, go ahead and sample the more exotic choices. The balut or duck embryo will always be an exotic street food staple, but if you want to try something new, order the chicken proven. Actually originating from Cagayan de Oro, chicken proven is short for proventriculus—the bird's glandular stomach, which connects the esophagus and the gizzard. It's coated in batter and deep-fried, curling up into crispy chicken nuggets that actually taste more like chicken skin than chicharon bulaklak. Dip it in spicy vinegar or sweet chili sauce for best flavor.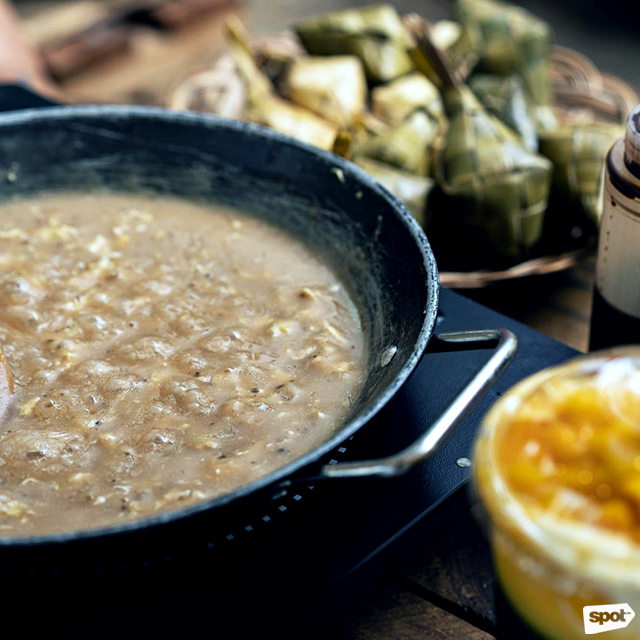 ADVERTISEMENT - CONTINUE READING BELOW
The highlight of the tour, though, had to be tuslob buwa by Azul—the actual establishment featured in the Netflix series. Each serving comes with your own induction cooker, toppings like onions, crispy garlic and chicharon, and 10 pieces of puso (hanging rice). You cook the broth yourself, watching it thicken into a stew, so you can dive in and enjoy while it's hot. The broth tastes like an intensely savory version of a popular chicken chain's gravy, which is then grounded by the rice. There's also a slight aftertaste that usually comes with eating innards, but then again that could just be the cholesterol talking.
Whether you're up for a culinary adventure or just want to savor the comfort of the staples, Street Food by Sugbo offers everything at a single location so the choice is entirely up to you—and they might not stop there. "The items we have in the venue right now are what are prevalent in Cebu, but we will be accommodating street food from all over the world after showcasing our own," Lim shares. "That would definitely enrich the overall experience and dynamics."
Lim continues, "We're also looking to expanding to other key locations in Cebu, and to other hub cities around the archipelago," meaning tuslob buwa might soon be coming to a city near you. For now, though, it's nice to know that the only street you need to visit to sample the flavors of Cebu is this one. 
ADVERTISEMENT - CONTINUE READING BELOW
Share this story with your friends!
---
Help us make Spot.ph better!
Take the short survey
Load More Stories