The Savage x Hapag Collab and the Genius of Grilled Pig Face, Taco-Style
We're still thinking of the Warek-Warek.
(SPOT.ph) Hapag Private Dining and Savage are two homegrown restaurants that may appear to have nothing in common. The former is a modern Filipino establishment from Quezon City, while the latter is pre-industrial restaurant from BGC. But the the best of both worlds collided last weekend as they collaborated on a special dinner dubbed Savage x Hapag, which were held on March 7 and 8 at Savage.
Savage's Chef Josh Boutwood and Hapag's Chefs Thirdy Dolatre, John Kevin "Nav" Navoa, and Kevin Paolo Villarica admit they had not tried each others' cooking before they started planning for the collaboration itself. The menu planning happened quickly and spontaneously—in "10 minutes", they joke—with a number of dishes by each individual party and two dishes where they directly collaborated together. The trio of Hapag also admit they struggled with the limited equipment at Savage (which doesn't use any gas or electricity—that means no modern stoves or blenders!). Still, the resulting lineup proves they all managed to work through those challenges successfully.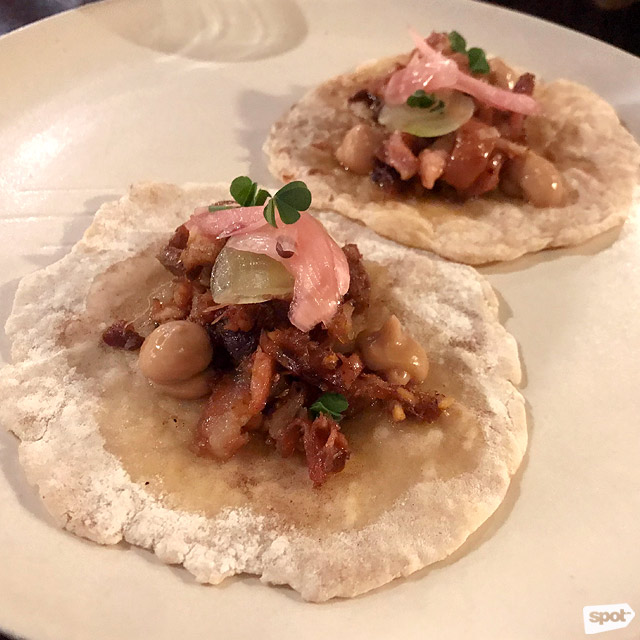 ADVERTISEMENT - CONTINUE READING BELOW
The dinner began with a collaboration dish: the Warek-Warek, which had the Ilocano dish served with a taco-style twist. The filling—grilled pig face and goat, an adobo aioli, and pickles—came via Hapag (they serve a similar dish at their restaurant, but on rice crackers), while the fermented potato bread it's served on came via Savage. It was a strong start to the meal, with tons of savory, tart, and spicy flavors from the meat filling coming through the soft flatbread.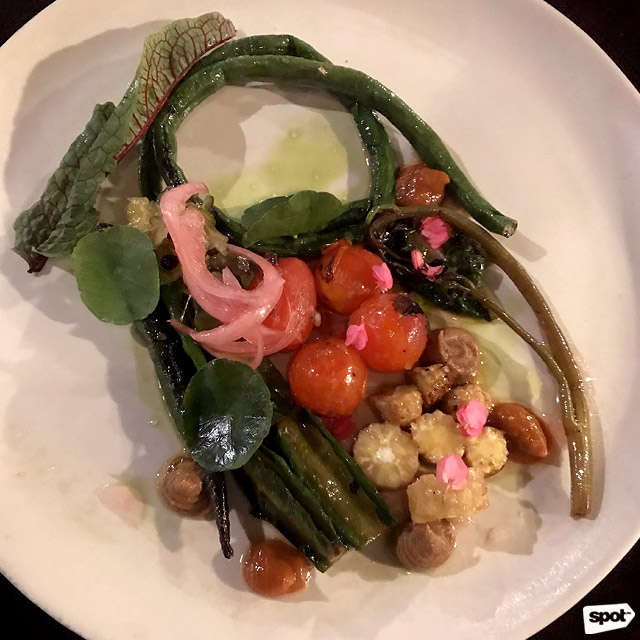 CONTINUE READING BELOW
Recommended Videos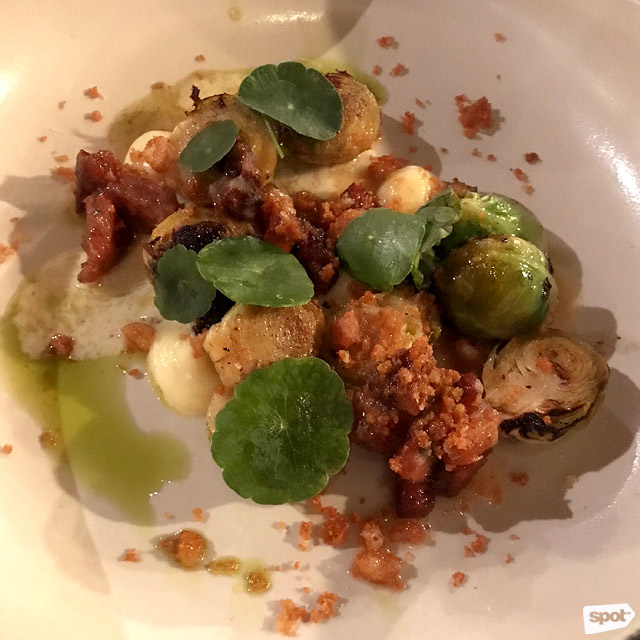 ADVERTISEMENT - CONTINUE READING BELOW
Picking up from there, Hapag and Savage each served vegetable courses. From Hapag's end came the Inihaw na Gulay, a simple but stellar dish of grilled native vegetables in a tart and refreshing pinakbet vinaigrette. Crispy dulong, a smoked eggplant puree, and pickled ampalaya added layers of flavor and texture to the nostalgia-inducing dish. From Savage, on the other hand, came the Charred Brussels Sprouts—a decidedly brawny, smoky dish of charred brussels sprouts in a butter emulsion, served with parmesan custard and bits of smoked pork shoulder.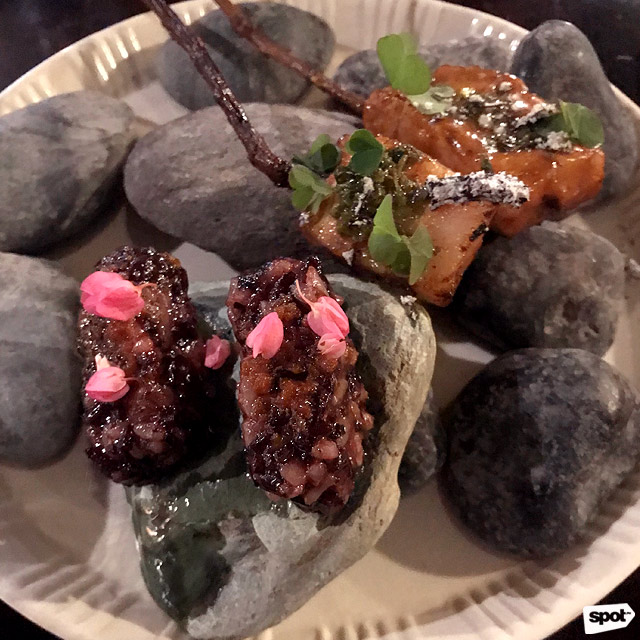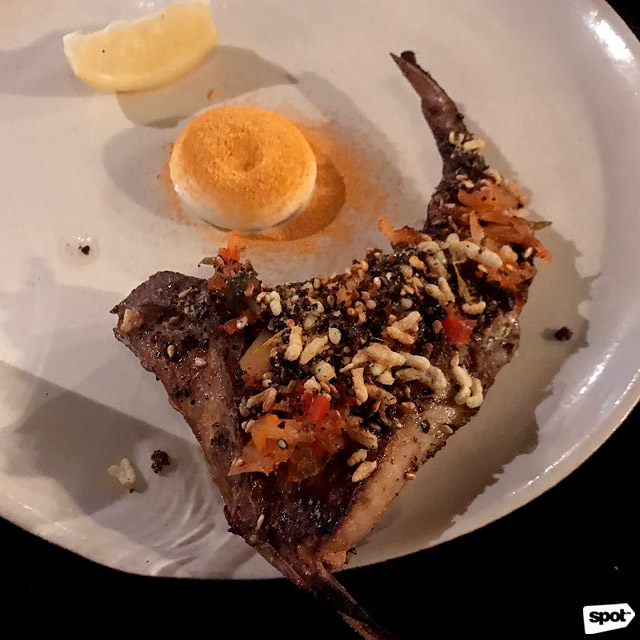 ADVERTISEMENT - CONTINUE READING BELOW
Two meatier options then followed: Hapag brought forward the Kanin Baboy, which had some of the most tender grilled pork belly around, flavored with the savory-sweet combo of homemade banana ketchup and betel salsa verde mixed with Savage's chimichurri. Accompanying it were grilled rice cakes with a deep umami from being flavored with a two-year-old miso. Savage, on the other hand, went the seafood route with their Amberjack Collar, which had the said fish cut topped with fermented cabbage and a crisp and nutty wild rice furikake. A tangy soybean emulsion is served alongside, balancing out the slight char of the fish.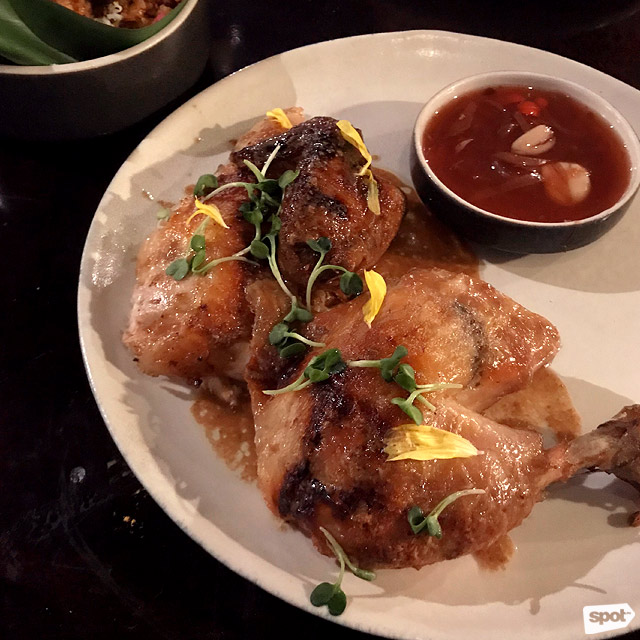 From there, the second collaboration dish was placed on our table. Dubbed the Tinupig na Litson Manok, the dish had free-range chicken that's cooked in coconut milk then roasted the old-fashioned way—over charcoal, "Andok's-style." Flavored with a slightly sweet latik glaze, it was as tender as it was smoky and full-flavored—right down to the bone. The chicken was served with spicy sinamak vinegar and a small platter of bringhe, their take on the paella-like local rice dish of the same name. It was homey, it was filling—a far cry from the typically teensy-portioned courses of most degustations—and it went down well with the Jelly Coolers, a gulaman-like cocktail spiked with rum.
ADVERTISEMENT - CONTINUE READING BELOW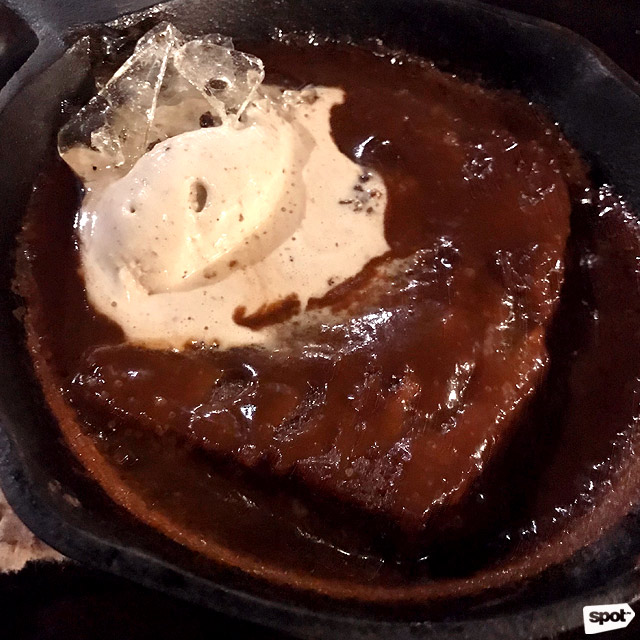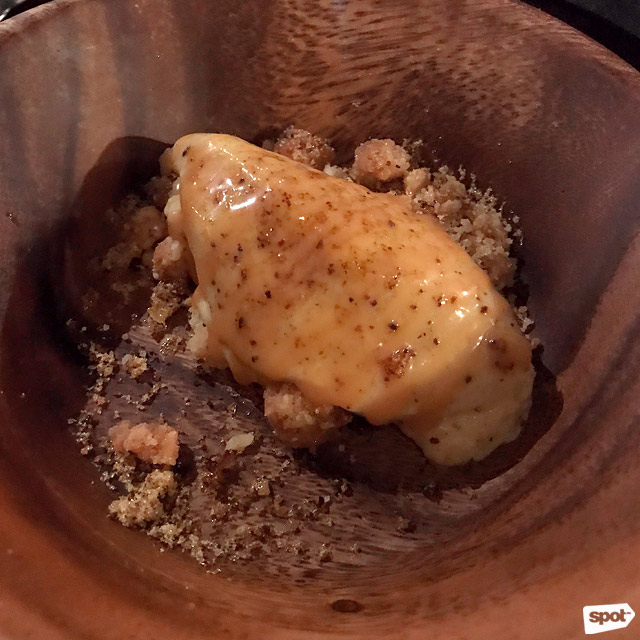 No proper meal is without a sweet ending of course, and Hapag delivered on the decadence with the Banana Bread Pudding. Served in a skillet, it had banana bread (made with fermented bananas) swimming in a generous amount of sweet, sticky banana dulce de lata. A topping of peppercorn ice cream added a contrasting touch of cold which was great against the warm dulce, plus a peppery bite that surprisingly worked, helping take the edge off the banana bread's sweetness. Savage, on the other hand, served the ingenious Sourdough Mousse—a dollop of mousse made from their leftover sourdough bread, whose crumbs are steeped in hot water for 24 hours; the resulting liquid is then reduced and mixed with white chocolate, egg yolks, and cream for a creamy concoction with a concentrated sourdough flavor. It's topped with a slightly savory patis caramel (whose umami works with the slight tang of the mousse) and pili nut crumble for a dessert that's as intriguing as it is surprisingly delicious.
ADVERTISEMENT - CONTINUE READING BELOW
With Hapag's contemporary takes on Filipino food and Savage's back-to-basics cooking, the dinner was a great showcase of what both parties can do individually—and the great chemistry they have cooking together. We can't wait to see what's coming next.
Hapag Private Dining is at 201 Katipunan Avenue, Project 4, Quezon City. For more information, check out Hapag MNL's Facebook page. Savage is at G/F The Plaza, Arya Residences, McKinley Parkway, Bonifacio Global City. For more information, check out Savage's Facebook page.
Share this story with your friends!
---
Help us make Spot.ph better!
Take the short survey
Load More Stories