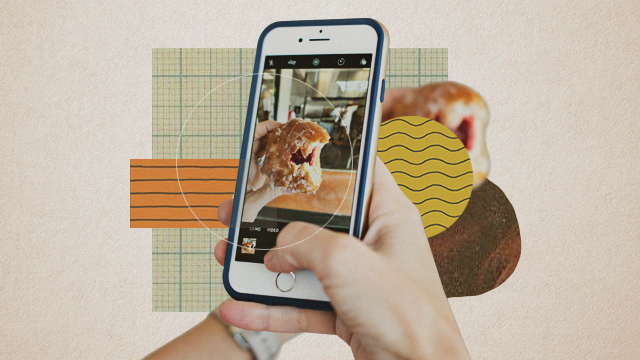 (SPOT.ph) How many times in a day do you catch yourself checking your Facebook, Twitter, or Instagram feeds? Some of us might check first thing in the morning, in between working on presentations at your job, or in the midst of a long, winding commute home. Social media is a powerful tool—we use it not only to entertain ourselves with pictures of cats, but also to check out what's happening outside our immediate surroundings, whether it's about what your friends think of the new John Lloyd movie, or just ideas on where to head for lunch.
ADVERTISEMENT - CONTINUE READING BELOW
And while you're likely following people you know in person, chances are, you're also following other public figures. Aside from celebrities, you're likely following influencers. You might not necessarily know them in real life, but they give you a guide to what's hip and happening in the present—the best cities to fly to or the coolest lipstick shades to check out now—through their OOTDs, travel posts, and Instagram stories, enjoying multi-course meals from the newest restaurants around.
One local food influencer recently became the talk of the town, for reasons that are less than ideal. The influencer, whose identity is hinted at but not fully revealed—and is referred to as Palaging Gutom or PG in Facebook posts dated May 20—allegedly begs brands (including small home-based businesses in light of the quarantine) for free food in excessive quantities. He also supposedly uses a group chat to teach "minions" his "dirty tricks" for getting free stuff. There's more, but you get the idea.
ADVERTISEMENT - CONTINUE READING BELOW
Recommended Videos
One has to ask: How should restaurants and businesses deal when faced with the PGs of the industry as they come? What should you do if one of these bad apples approaches you, asking (or demanding) for freebies, or even threatening to badmouth your business if you don't comply?
The Rise of the Influencer
Brands, restaurants, and a variety of other businesses began approaching influencers in the mid-2010s, arguably linked to the rise of Instagram. The idea was to market their products through sponsored content posted by individuals who appeared to have established their credibility, in exchange for said products or gift certificates or even cash. Sometimes, a brand would even invite influencers to events like product launches or openings. This is done in hopes of gaining recognition in the social media sphere, which may translate to real-life sales—somewhat comparable to traditional advertising, with the advantage of the influencer being seen as more trustworthy and having a more focused audience. Sounds like a win-win, in an ideal world.
ADVERTISEMENT - CONTINUE READING BELOW
In one infamous case, a self-proclaimed "social media influencer" requested free accommodation from an Irish hotel with a notoriously aggressive owner, in exchange for a feature in their social media channels. The exchange did not go well—the hotel owner posted and ranted about the influencer's proposal on their Facebook page (and went on to ban all bloggers from entering his establishment), while the influencer outed herself by relaying her experience in a now-deleted YouTube video. And then there's the time when a Yelper demanded a discount from an Italian restaurant. The Yelper, who boasts having "11 thousand followers" on Instagram, gave the restaurant a one-star rating, all because they weren't granted any discounts after telling the owner they would post about them—even after saying their food was "very delicious." 
"Since I handle some clients' social media accounts, I'm no stranger to 'collab' invites," shares freelance lifestyle writer and social media manager Ching Dee.  "Collab" here refers to deals where the brand sends free items and the influencer posts about it in return. "I get around two to three invites a week, even during the pandemic. They're not entitled per se, but I was hoping more of these 'influencers' would be more sensitive nowadays, since businesses are trying to survive with very little margin [or] profits."
ADVERTISEMENT - CONTINUE READING BELOW
While this shouldn't be generalized as characteristic of influencers as a whole, influencers like this do exist. But there are ways to make sure the person you're working with is legit. 
Numbers Don't Always Tell the Whole Story
There is such a thing as fake influencers—so-called "influencers" who actually have fake followers. These followers are basically bots in disguise, created using fake email addresses, and wannabe-influencers may opt to buy these to up their follower count or to leave fake comments—thus appearing more influential than they actually are.
It's worth examining the ratio of followers and engagement—if the former is high but the latter is low, that could be a red flag. But influencers can also buy fake likes and comments, so you'll have to sort through the actual quality of these comments, too. Are they repetitive or generic comments such as "nice", "great shot!", and the like? Chances are, they're fake.
ADVERTISEMENT - CONTINUE READING BELOW
Freebies or Favors?
Giving out food should never be an obligation—nobody has the right to demand free food. Not for themselves, not even for situations like special occasions or paying it forward. Full disclosure: Brands and PR firms send SPOT.ph free stuff, too—but it's always made clear that features are subject to editorial discretion.
"You can ask for interviews, but never free stuff," advises Dee. "Real influencers are not swayed by freebies, they actually spend money to buy the product and give their honest reviews."
Don't Be Afraid to Say No
The customer isn't always right—and this also applies to the influencer. You will, almost inevitably, come across self-serving and entitled people at some point. Just because they're influencers doesn't mean they have any power over you. If they're abusive, it might be better to let them go.
Abba Napa, co-founder of The Moment Group, shares this tip: "It is good to do your research—more than the quantity, it's the quality of the posts and engagement. If something doesn't sound or feel right to you, there is no shame in declining, as politely and professionally as you can. Having said that, F&B is a public business so people have the right to have an opinion about what you do. But you also have the right to respectfully defend yourself, as well as call out wrong practices."
ADVERTISEMENT - CONTINUE READING BELOW
Be respectful about it, but be firm. And if they continue to bug you even when you've said no, then you're probably way better off without them.
Boundaries Are Your Friend
So maybe you thought it might be worth partnering with a certain influencer. You propose to send them a dozen pieces of your signature pan de sal, but they demand quantities that could feed a barangay. Or perhaps you invite them to an event, and they suddenly tell you they'll be bringing extra people—oh, just 20 of their closest friends.
Know that you have every right to reject the proposal. If you must, ask for what purposes they'll be needing that much food—is it for the sake of capturing better photos, or do they have some hidden motive behind closed doors? You have every right to dictate how much of your product you're sending over, how many extra people can accompany the influencer at your event, and so on.
ADVERTISEMENT - CONTINUE READING BELOW
Successful partnerships require the participation and consideration of both parties—in this case, both the business, and the influencer. And really: ultimately, good food is the best marketing there is.
Share this story with your friends!
---
Help us make Spot.ph better!
Take the short survey
Load More Stories