This Native-Chicken Restaurant in Cebu Has Been Around for Decades, for Good Reason
Conching's has been serving Cebuanos since 1968.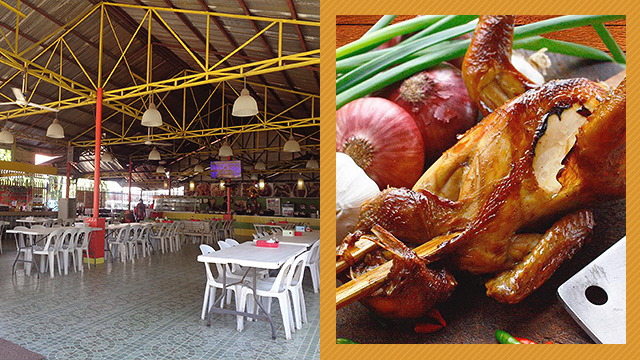 (SPOT.ph) They say home is where you can find the best cooking. Many take it up a notch and seek out restaurants with the taste and feel of home. In Cebu, there are quite a few native restaurants that provide comfort food reminiscent of home. One of the most popular ones is Conching's Native Chicken, the city's longest-running restaurant serving the legendary Manok Bisaya. This humble resto has been around for years, and yet many still flock to its unassuming facade. This made us wonder: What does this restaurant have that it's still so sought-after, even with so many culinary choices popping up everywhere in Cebu?
Also read:
This Popular 50-Year-Old Fried Chicken Chain Isn't Actually From Cebu
Conching's and The Native Chicken Difference
ADVERTISEMENT - CONTINUE READING BELOW
Conching's is famous for one thing: its charcoal-grilled native chicken. Ask anyone who has ever tasted this type of chicken and they'll tell you that the taste is superb and distinctive. Many will argue that it tastes better than the usual chicken one can find in fast-food chains and stalls, which typically use hybrid or commercial chickens.
Native chickens are more commonly raised in rural areas, typically roaming free in the backyards of local farmers' households. It's comparably smaller than "regular" stocks. The small size is owed to the organic diet of the chickens, which are raised without boosters. They're not from a farm production line designed to yield the maximum output. Both its size and diet contribute to its unique and more natural taste. 
CONTINUE READING BELOW
Recommended Videos
Many locals and visitors in Cebu have heard of the wonders of the native chicken, which is why a lot of people continue to flock to places such as Conching's Native Chicken.
Local Energy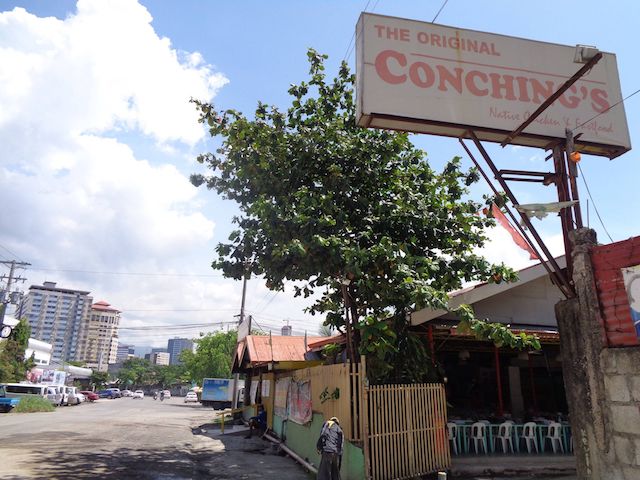 ADVERTISEMENT - CONTINUE READING BELOW
The main branch of Conching's Native Chicken is just a stone's throw away from SM Cebu. The place almost has a run-down look owing to its washed-out exterior. It's really an inato kind of resto and doesn't try to be fancy at all. It's very unpretentious and laid-back with the plastic chairs and tables and the grill out front.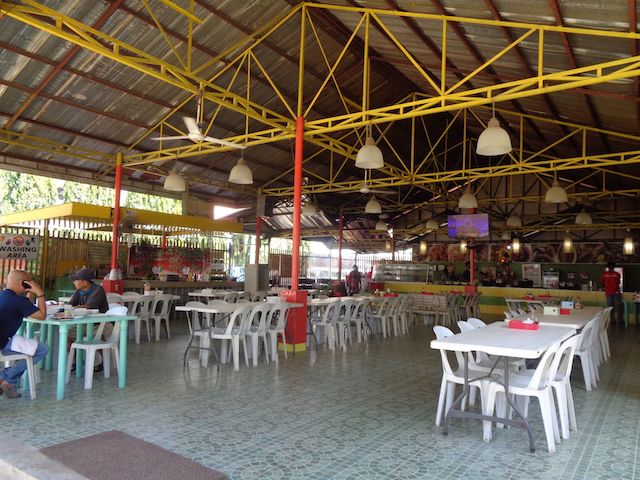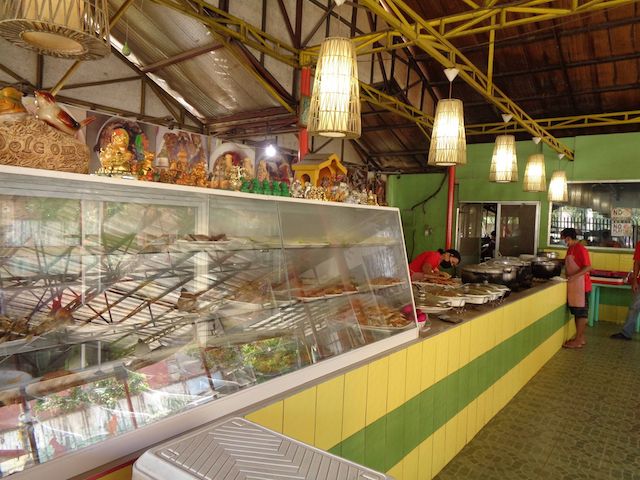 ADVERTISEMENT - CONTINUE READING BELOW
The place has the ambience of any of the carenderias or eateries that you can find elsewhere in the city. There are even ready-to-eat dishes on display along the counter, where you can check out the different viands available and place your order. Because of this casual atmosphere, you feel like you can just pop in anytime, whenever you feel like it, and presumably why loyal patrons are drawn to Conching's. You don't feel like you have to dress up just to eat here; some even say that they like to eat with their hands to really feel at home. 
Conching's Humble Beginnings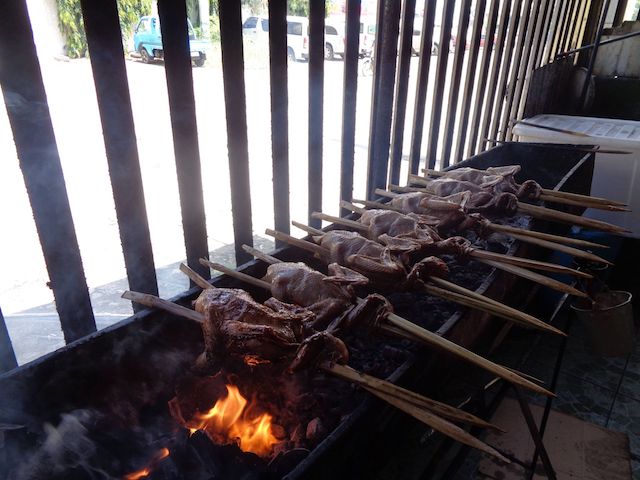 Conching's was established in 1968, starting with a humble sugbahan (ihaw-ihaw) stall in Taboan, a public market in Cebu City made popular by its stocks of dried fish and seafood. The business served chicken and pork barbeque. However, the native chicken has such an exceptional taste that once Conching's began serving it, there was no going back.
ADVERTISEMENT - CONTINUE READING BELOW
The restaurant is named after the owner, Concepcion Pia "Conching" Layam. Now in her 80s, Layam continues to be at the helm of the restaurant, which helps it retain its humble and family-friendly atmosphere. Layam operated the business right from her home, selling her food to the nearby buwangan (cockfighting den). In time, she was able to acquire her first loyal customers who were Chinese businesspeople around Taboan. The chicken barbeque became their favorite and she used to deliver it right to their doorstep.
Since then, the business has grown. It has been franchised with more branches opening in Mandaue City and Davao. The restaurant's popularity has grown so much that apart from locals, tourists and celebrities alike make a stop to sample the famous bird.
When asked about the secret of the chicken recipe, Conching Layam replies that they always use native chicken, which is already half of the mystery. "The rest is our family's trade secret," she adds with a warm smile. What is known is that the chickens used by the restaurant are carefully handpicked—they have to meet specific requirements, such as the size. "It has to be 800 grams," Layam says. This helps keep the flavor contained and is also a key factor when keeping to a specific roasting technique. 
The restaurant is still very much a family business, with Layam's daughter Leticia taking over managing and cooking. Meanwhile, Conching herself still helps clear away and clean tables, even now at her age. Her granddaughter, Princess, also helps with the place. The restaurant doesn't want to forget its roots, either: one wall is dedicated to framed pictures of Conching's history, right down to photos of family members and employees, famous visitors, and news clippings over the years.
ADVERTISEMENT - CONTINUE READING BELOW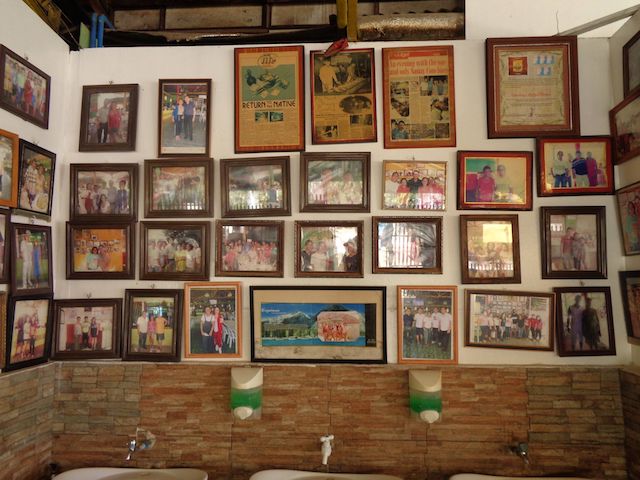 Even after successfully running the business for many years, Layam believes in not slacking off. When asked if she has any advice for those looking to get into business, she imparts, "Dapat ikaw jud ang mangunay, kay kung dili, wa ka'y kalibutan unsa'y nahitabo. Dapat ikaw mismo ang mubuhat . (You have to take charge, otherwise you will not know what is happening. You have to do it yourself.)" With such dedication and work ethic, she was able to ensure that the restaurant continues to enjoy a place in the hearts of Cebuanos.
Layam says her only vice in life is playing mahjong, joking that it helps to lengthen life, and even then she always practices self-control.
On the other hand, Leticia Layam says that the secret to the success of her mother's business is hard work, prayer, and the dedication of the family members themselves. Referencing her mother's ingenuity at operating a business as a housewife, she also adds, "Be original. Don't just copy everyone else."
ADVERTISEMENT - CONTINUE READING BELOW
What to Try at Conching's Native Chicken
From the coal grill out front, you can already take in a good whiff of the distinct, flavorful aroma of the roasted native chicken. Conching's roasted chickens are priced at P350 per order. When served, you can see a variety of greens and spices stuffed in the bird.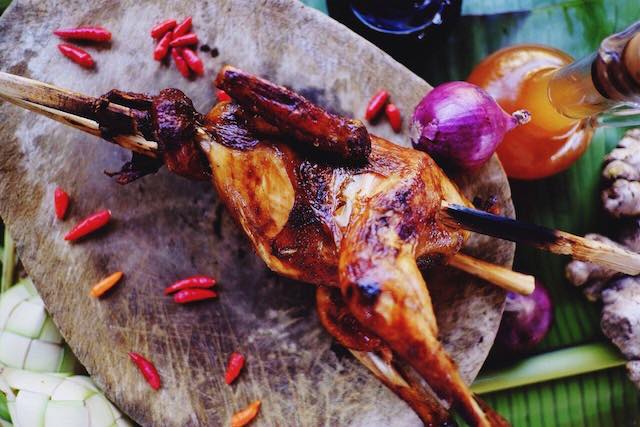 Don't be put off by the skinny appearance of the chicken, though! The meat is more stringy than the usual roasted chicken, and it has a very natural flavor, with just the right hint of sweetness and tanginess. The texture is rougher than what you're probably used to, but once you dig in, you'll forget your love for any other roasted chicken. It also doesn't have the usual oily taste and feel you'll probably get with other grilled chicken.
Aside from native chicken barbeque, Conching's also offers native chicken tinola. There are also a variety of other local fare, such as balbacua (a slow-cooked beef stew with various spices), pochero (beef shank soup with corn, bamboo shoots, and green veggies—no bananas!), kinilaw (kilawin), grilled pork belly, humba, bam-i (a dry noodle dish with both sotanghon and pancit canton). Seafood lovers can satisfy themselves with such offers as crabmeat (tortang crab), grilled squid, and tinolang isda. Some dishes are cooked with firewood for an authentic native taste. To top things off, you can choose among a variety of fresh fruit shakes for dessert.
ADVERTISEMENT - CONTINUE READING BELOW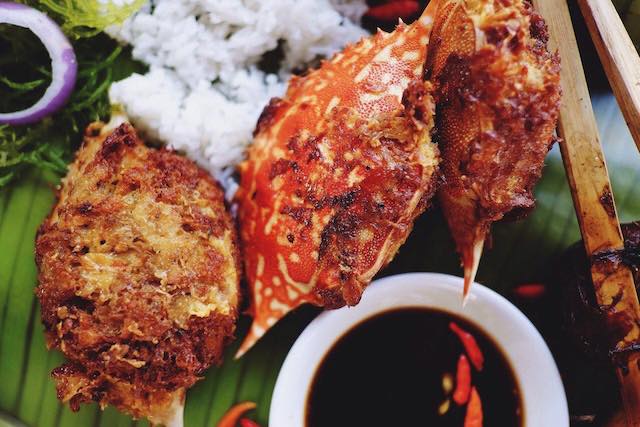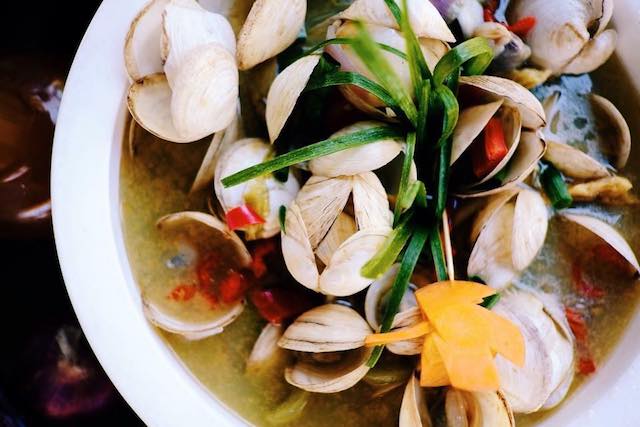 The availability of the dishes may depend on what's available for the day, but you can be sure to find the famous native chicken any day of the week.
ADVERTISEMENT - CONTINUE READING BELOW
What's Next for Conching's?
Conching's has continued to be open to the public throughout the pandemic. However, like many restaurants, the business has also taken a blow, with the closure of their Times Square 2 franchise branch in Mandaue City. But with its over 50 years of existence, the restaurant endures like any purely Cebuano establishment.
These days, you can head out to Conching's with your family or friends to enjoy a heaping serving of native chicken. The restaurant now also does deliveries if you feel like enjoying life's celebrations or simple occasions right at home. Booking orders online can also be done via the Couch Potato app.
The main branch of Conching's Native Chicken is open Mondays to Sundays from 8.a.m. to 11 p.m. It is at A. Soriano Avenue, Cebu City, near Honda Cars Cebu. For more information or for orders, call (032) 322-9273 or visit their Facebook page.
Conching's Native Chicken's Basak food stall is open Mondays to Sundays from 10 a.m. to 9 pm. It is at G/F Abadiano Building, Basak Pardo, near USJ-R Basak Campus Cebu. For more information, call 0947-132-2151.
Hey, Spotters! Check us out on Viber to join our Community and subscribe to our Chatbot.
We are now on Quento! Download the app and enjoy more articles and videos from SPOT.ph and other Summit Media websites.
Share this story with your friends!
---
Help us make Spot.ph better!
Take the short survey
Load More Stories