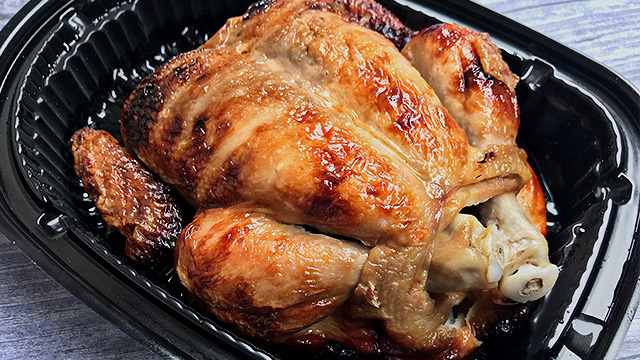 (SPOT.ph) There's just something about the sight and smell of a roast chicken that paints a mental picture of a cozy family gathering. But wherever you go, there are about a million takes on it, not unlike the great turkey debate that Thanksgiving observers love to have (at least) once a year. Various brines and marinades and methods of heat distribution can result in completely different birds; it seems only right we give them all their dues.
Whether roast chicken (or, in our neck of the woods, litsong manok) makes you think of a long, gussied-up la mesa or an aquamarine monoblock table—both precious places that have provided any number and all sorts of people immeasurable comfort—we've lined up the ones that you can take anywhere, and they'd be welcome. Rankings are based on the balance of flavor, carb versatility (potatoes vs. rice vs. both, naturally), moisture, and availability.
ADVERTISEMENT - CONTINUE READING BELOW
All SPOT.ph Top 10 lists are researched, paid for, tested, and selected by the writers and editors. They are discreetly conducted without any notice made to the restaurants of their owners.
Here are the 10 best spots for roast chicken in Metro Manila right now:
10. Whole Chicken from Ang Lechon Manok ni Sr. Pedro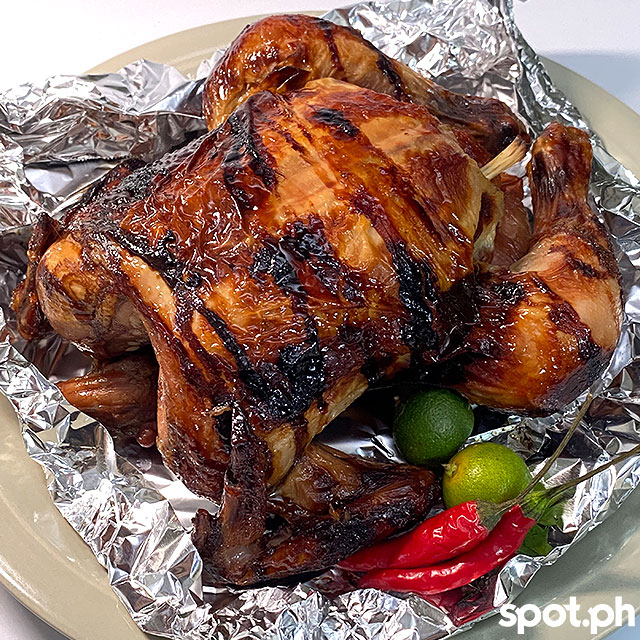 For staunch fans of this franchise, it can be a little shocking to see Sr. Pedro in 10th place after topping our 2018 list. The charred exterior of their Whole Chicken (P260) makes up for the usual faults of roast chicken skin, and the general savoriness of the meat gives you no choice but to have it with rice—not that we intended to go about this meal any differently. Overall, it proves that as long as you've got a good amount of moisture, some smokiness, and some spicy soy sauce, you've got a good thing going.
Ang Lechon Manok ni Sr. Pedro has branches at A. Arnaiz Avenue, Libertad, Pasay City and 980 Del Monte Avenue, San Francisco del Monte, Quezon City. See a list of Ang Lechon Manok ni Sr. Pedro branches.
9. Smoked Spring Chicken from Homestyle by RACKS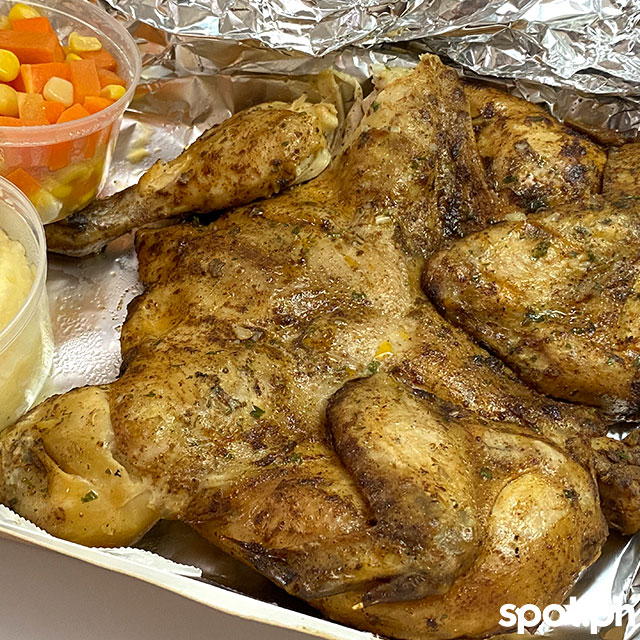 Right off the bat, there's something the Smoked Spring Chicken (P645) gives off a particularly RACKS vibe. You'll know if you've ever eaten at this chain that there's a bit of a common undertone to whatever they marinade and/or baste everything in, which serves to unify their menu, making everything go with nearly everything else—for lack of a better term, they've put a brand on their food.
In the case of their roast chicken, you get a truly succulent bird whose meat easily falls off the bone. It's slightly more herbal than the rest, but we suspect that that's because it has to balance out the smoky-sweet signature sauce the restaurant is known for. Some might make the case that the sauce is the real hero, but we think it's good when a restaurant knows their strengths and plays to them; the combination just works. It's not any less impressive for it, as its juiciness is still good enough to land it in ninth place.
ADVERTISEMENT - CONTINUE READING BELOW
RACKS has branches at G/F Robinsons Place Manila, Ermita, Manila and L/2 Trinoma, Mindanao Avenue, North EDSA, Quezon City. See a list of RACKS branches.
8. Roasted Whole Chicken from Landers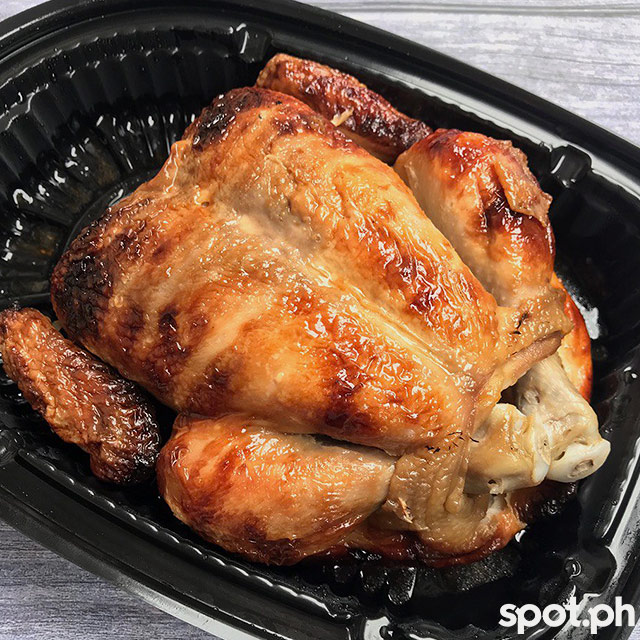 This chicken (P258) from Landers boasts a good 50/50 in terms of flavor—savory and sweet seem to arrive in equal amounts, with a hint of what we suspect to be garlic in there for an aromatic offset. Well-seasoned, tender skin and meat make any sauce almost unnecessary, but that's ultimately down to personal preference. This roast chicken feels most suited to rice, and you'll resort to eating with your hands.
Landers has branches at Arcovia City, Barangay Ugong, Pasig City and 1890 Paz Guazon Street, Paco, Manila. See a list of Landers branches.
7. Whole Chicken from Señor Pollo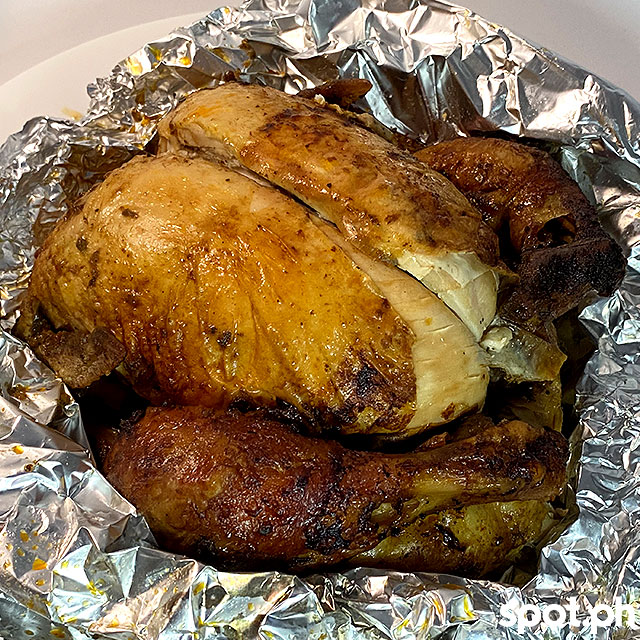 Señor Pollo's Whole Chicken (P260) is a bit of a dark horse here, but hear us out: This little hen (it's quite compact) packs a hefty punch both in terms of the amount of meat there actually is and in terms of taste. This is one of those rare cases when you don't need the sauce, but you'll get it anyway—or, when it comes to the chicken-centric restaurant with Poblacion roots, you'll get all the sauces. It goes well with the cilantro rice, which lends a zestiness that sets this apart your average roast-chicken plate. While each thing is great on its own, they come together to form much, much more than the sum of their parts.
Señor Pollo has branches at F7 Building, Scout Rallos Street Corner Tomas Morato Avenue, Laging Handa, Quezon City and 5767 Ebro Street, Poblacion, Makati City. See a list of Señor Pollo branches.
ADVERTISEMENT - CONTINUE READING BELOW
6. Litson Manok from Andok's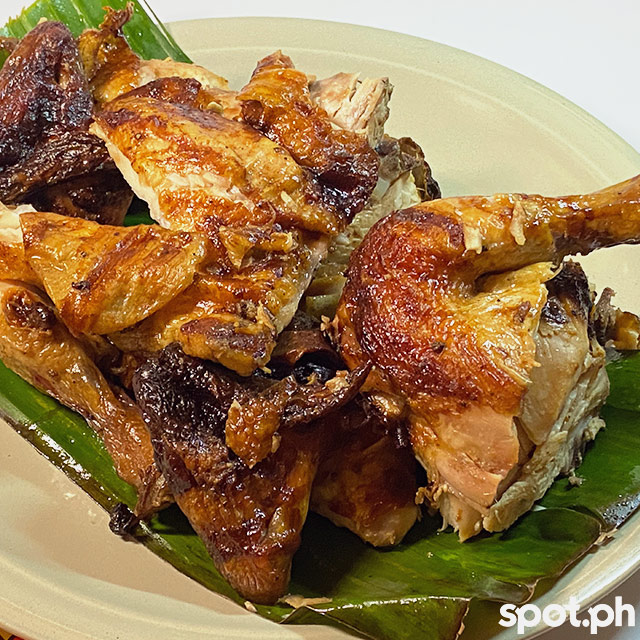 Andok's Litson Manok (P344) has earned bragging rights for their purely smoky skin, which lends itself to sauce-dipping and fluffy white rice. There's a clear difference between light and dark meat; the latter is slightly drier but not stringy in the least. The chicken leans towards a salty profile than any sweetness or tang, but the wings are fun to munch on because of the deep char; they're more resistant to a bite than some of the other candidates. You get a vinegar and liver sauce with every order, but we recommend the former for how its acidity makes the flavors of the actual roast stand out more.
Andok's has branches at Rizal Avenue corner Doroteo Jose Street, Santa Cruz, Manila and 8298 Anza Street corner Makati Avenue, Poblacion, Makati City. See a list of Andok's branches.
5. Herb Roasted Chicken from Liam & Louis' Gourmet Café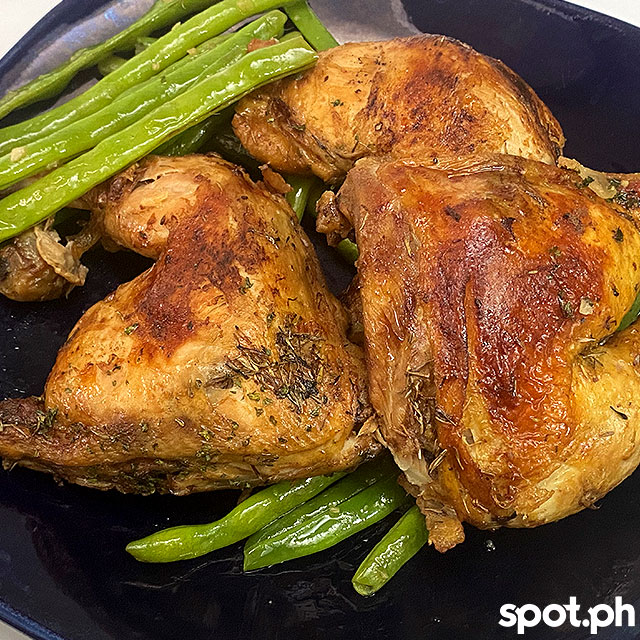 At P1,243, this doesn't come cheap, and it might just be the only thing keeping it in fifth place. No, it's not technically a whole chicken, but, yes, this tray is made of all the most coveted pieces—can you say, "Thigh part, po?" This gourmet restaurant is one of those places where you get home-cooked comfort taken up to professional heights—and for as long as this place has been open, they've not once lost their warm touch. This shows in their roast chicken: It's seasoned just enough to bring out peak flavor—that full, rounded, natural umami of good chicken, moisture in the meat, and the gravy is nothing short of divine; in terms of accompanying starch, rice trumps potatoes by the tiniest margin. Order ASAP.
Industria at Circulo Verde, Calle Industria, Libis, Quezon City
ADVERTISEMENT - CONTINUE READING BELOW
4. Roast Chicken from S&R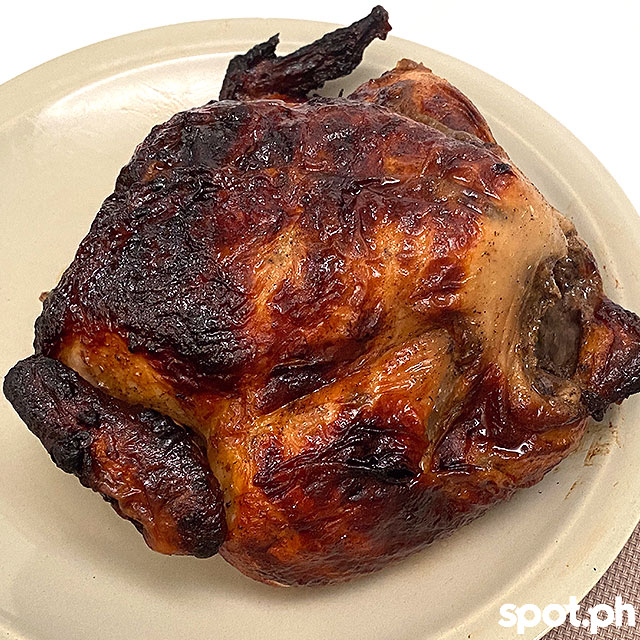 Sporting some seriously syrupy-smoky skin, you can barely tell the textural difference between light and dark meat in S&R's Roast Chicken (P256). The meat is almost marshmallow-soft and barely needs accompaniment, having taken on enough of the same sweet near-burn of the skin. Carb versatility is four out of five, but the way this roast is so satisfying on its own, you might actually get a salad instead. (Something nice and tart, maybe a lemon-arugula affair.) And when it comes to cost, it can definitely spin on a rotisserie stick with the best of them.
S&R has branches at 32nd Street, 5th Avenue, Bonifacio Global City and 30 Congressional Avenue, Ramon Magsaysay, Bago Bantay, Quezon City. See a list of S&R branches.
3. Roast Chicken from The Marketplace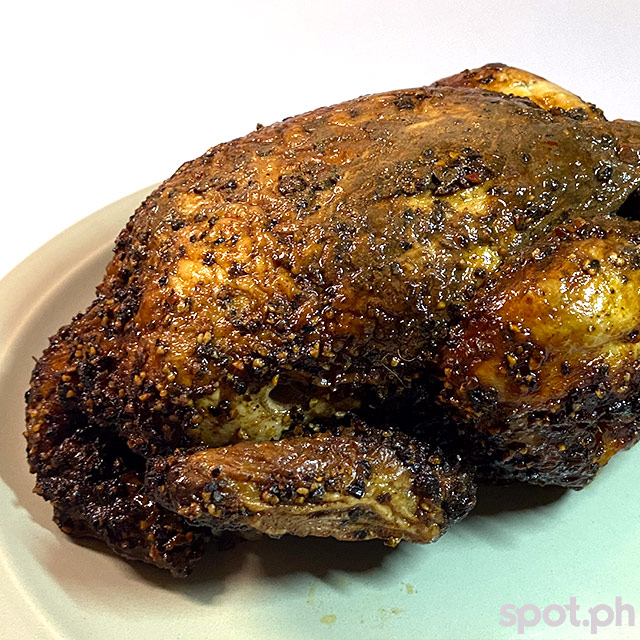 If you're a fan of peppery chicken skin, this supermarket's Roast Chicken (P360) is the one for you. We're talking clumps of pepper opening up your sinuses little by little until you have to pause and eat some mashed potato, which is our ideal starch for this one. There's also a degree of the abundant black pepper that sinks into the actual meat. Stuffed with half a lemon, there's a citrusy tang that permeates the breast meat, but you can have it all over if you take out the fruit and smear the wilted, caramelized segments everywhere.
The Marketplace has branches at 2/F Three Central Building Valero Street, Makati City and The Clubhouse, Corinthian Hills, Temple Drive, Ugong Norte, Quezon City. See a list of The Marketplace branches.
2. Whole Organic Rotisserie Chicken from Wildflour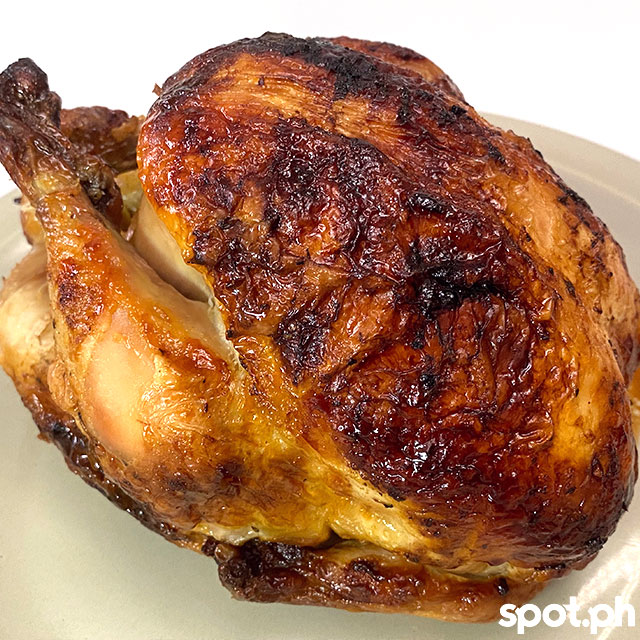 ADVERTISEMENT - CONTINUE READING BELOW
We've accepted that we can't marry a restaurant. Mostly. Because that would entail not ordering from any others anymore, and we believe in freedom. If not for the hefty tag and limited locations, Wildflour's Whole Organic Rotisserie Chicken (P995) would have ranked higher; it goes with any sauce (we chose Wildflour's BBQ) and almost any side dish, and we only say "almost" because we haven't tried them all. It's homey—an odd word to describe a chicken, we know—and just this side of charred. It's not too salty, with no glaring sweetness nor even an edge of heat or spice—it is entirely the natural savoriness of chicken, but set to 100. The meat isn't quite fall-off-the-bone, but it's near enough that you'd be impressed, without the whole chicken coming apart.
Wildflour has branches at G/F O-Square Wilson Street corner Ortigas Avenue, Greenhills Shopping Center, San Juan City and V Corporate Center, Salcedo Village, G/F 125 L.P. Leviste Street, Makati. See a list of Wildflour branches.
1. Manok (Whole) from Baliwag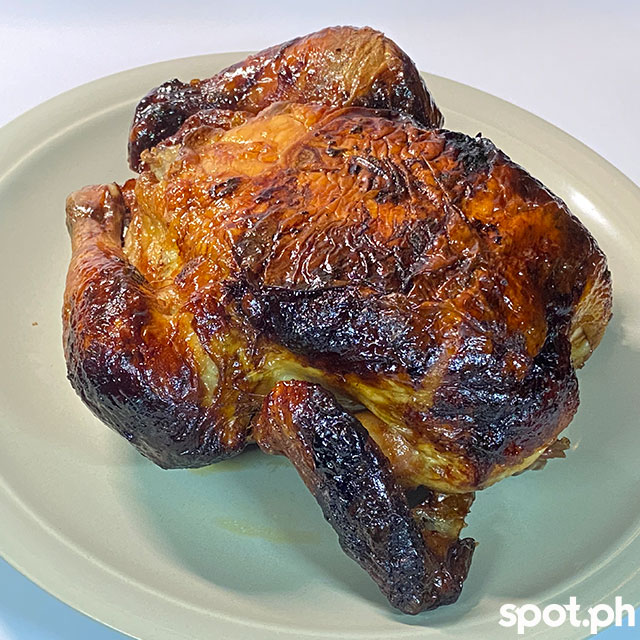 Baliwag's Whole Manok (P381.25) seems to be an amalgam of all the best parts of most of the other contenders. The skin is smoky-sweet and charred (perfect with rice), the price is affordable for what it is, and the difference between the dark and light meat is almost negligible with the accompanying sauce. It's so flavorful that you hardly need the sauce—if you have to, go with vinegar or store-bought liver sauce. It sure doesn't hurt that for you can find a Baliwag stall about once every five streets; and for all that intensity, you don't have to pay much at all. It's the chicken for every day, or near enough, and if we can say that after having eaten through this whole list, you know it's true.
Baliwag has branches at Quirino Avenue, San Dionisio, Paranaque City and Hi Top Supermarket, Aurora Boulevard, Project 4, Quezon City. See a list of Baliwag branches.
Hey, Spotters! Check us out on Viber to join our Community and subscribe to our Chatbot.
Your guide to thriving in
this
strange new world.
Share this story with your friends!
---
Help us make Spot.ph better!
Take the short survey
More Videos You Can Watch
Load More Stories