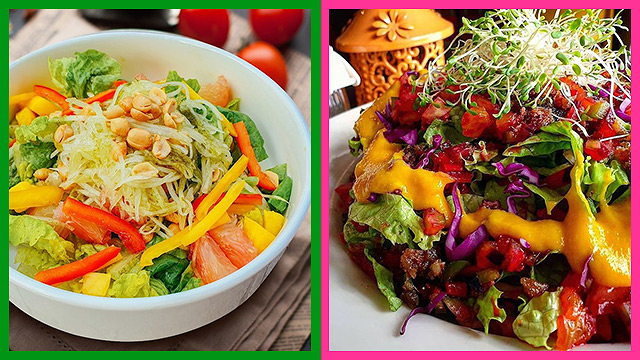 (SPOT.ph) Vegan, vegetarian, and plant-based eats didn't always have the best rep here in the Philippines, with many Filipinos being huge meat eaters and veggies relegated to being mere accompaniments or sides to meaty mains. But it's 2022, and it's about time we thought of meat-free cooking in a new light—after all, foregoing meat and/or other animal products forces you to think creatively and out of the box, and when done properly it can make for spectacular results that are totally crave-worthy in their own right (and not just for a meatless take!). We're more than happy to see the rise of more of these plant-forward options and restaurants around the Metro—these spots prove you don't necessarily have to rely on meat, dairy, and/or other animal products to make your food taste great. Better yet, you can get your fix right thru your phone as there are a number of excellent restos available on GrabFood and/or Foodpanda. Just note that delivery availability depends on your location, too.
ADVERTISEMENT - CONTINUE READING BELOW
Get your fix of vegetarian and vegan food in Manila from these restaurants:
Pipino Vegetarian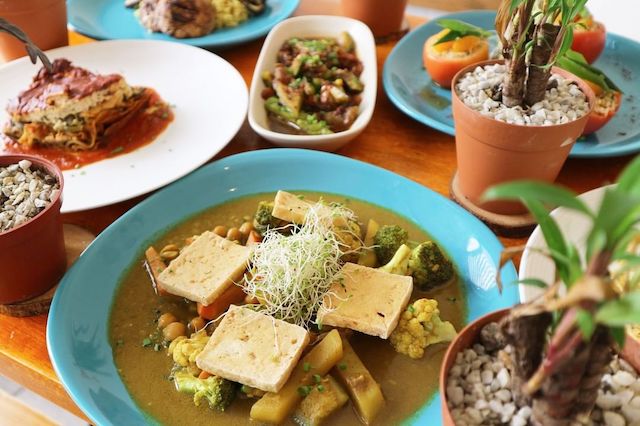 Hailing from the same team that brought us fellow Teacher's Village establishment Pino, Pipino Vegetarian reimagines Filipino eats in more vibrant, revitalizing ways, with clever substitutes for animal products that go beyond the usual mock meats. In the Veg Longsilog (P195), for example, they use tofu and mushrooms for a meaty texture, plus seasons it well such that you get deeply savory and subtly spiced bites; in the Mushroom Salpicao (P245), mixed mushrooms make for a pleasant chew and deep, earthy flavor. Meanwhile, their take on Callos (P245) employs chickpeas that just about melt into the thick sauce; and they even make "fish" out of cauliflower and nori in their Cauli Bangus (P265). Can't decide? You can't go wrong with the Veg Kare-Kare (P195)—their plant-based and vegetable-forward take on sibling resto Pino's famous version, with a rich sauce you'll be mopping up every last drop of.
ADVERTISEMENT - CONTINUE READING BELOW
Recommended Videos
Available on GrabFood and Foodpanda.
Green Bar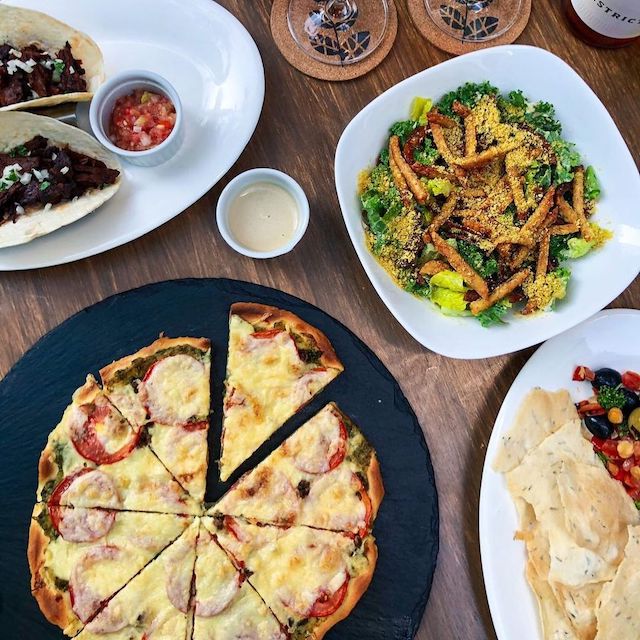 If you're looking to nosh on a dish that delivers the nostalgia of Western-style fare, given plant-based (but by no means less satisfying) interpretations, Green Bar's got your back. Your hunger's bound to be sated as they've got hefty burgers and wraps filed under the "handhelds" section of their menu—just some of our faves are the Big Beyond Burger (P742) with a Beyond Meat patty, pepperjack cheese, and veggies; and the Red Burrito (P402) with their own chipotle-simmered seitan strips, rice, beans, guacamole, pepperjack cheese, and red bell peppers. Should you be looking for a lighter bite, you can also go for one of their vibrant bowls, like the Hollywood Bowl (P447) that's a real flavor fest as it's got mixed greens, quinoa, chickpeas, kidney beans, seitan, purple cabbage, tomatoes, sunflower seeds, and their coconut "bacon". Whatever you do, don't skip dessert—their moist and dark Chocolate Hill Cupcake (P97) and Filled Donuts (P103) are well worth saving room for.
ADVERTISEMENT - CONTINUE READING BELOW
Available on GrabFood and Foodpanda.
Urban Fresh Vegetarian Kitchen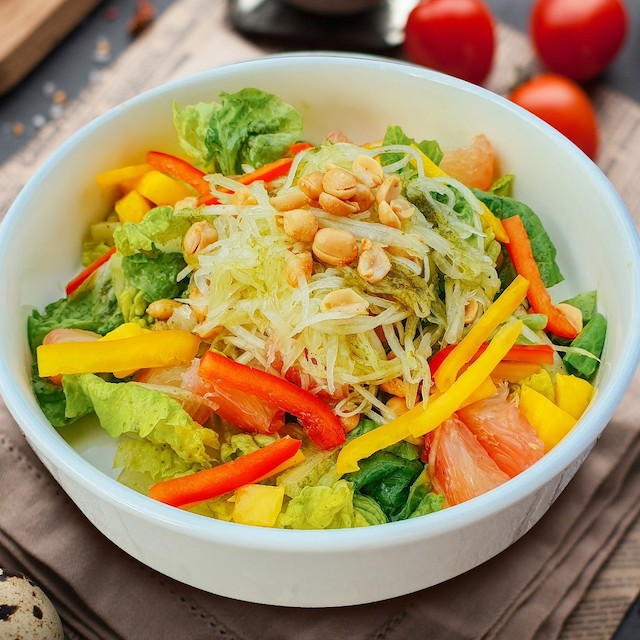 There's something for every craving at Urban Fresh Vegetarian Kitchen as their selection spans different cuisines and genres. Go Filipino with the ingenious Nori Relleno (P290) made with non-GMO tofu, or have a Chinese-style meal with the Stewed Tofu Skin (P290) with tofu skin and wheat protein cooked with shiitake mushrooms, eggplant, and taro. Looking for Mediterranean fare? Their pasta dishes like the Garlic & Wild Tomatoes (P285) will definitely satisfy; there's also the more Middle-Eastern leaning Falafel Pita Sandwich (P280) with falafel, hummus, veggies, and tahini. And don't miss the BBQ Mushroom Cheeseburger (P280) either if you're looking for good ol' American comfort.
ADVERTISEMENT - CONTINUE READING BELOW
Available on GrabFood.
Cosmic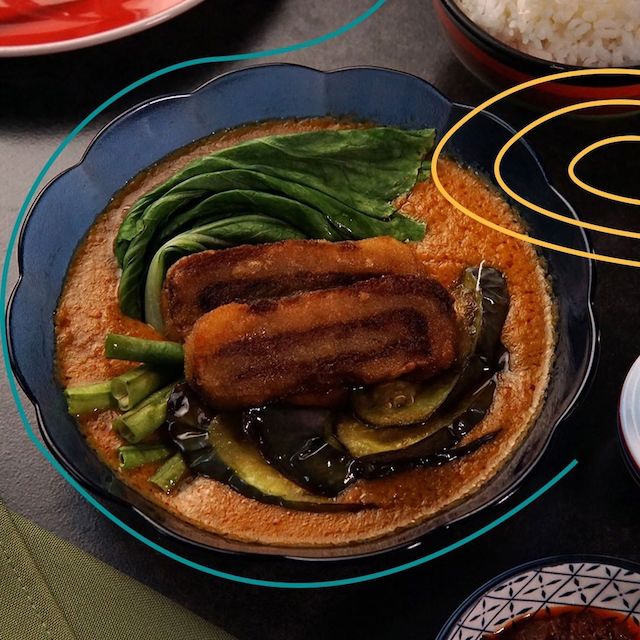 Most folks think Filipino food is inherently meat-centric—and, sure, traditionally that would be the case. But then there are spots like Cosmic that prove you can do Filipino sans meat, and it can be pretty dang good its own right! Expect dishes like the properly punchy Sisig with Bagnet (P220) which has seitan and tofu, the hearty and soothing Miso Mushroom Sinigang (P215), and the stick-to-your-ribs Kare-Kare with Bagnet (P220)—that have all the full flavors of the original dishes they're based on, sans the animal products.
ADVERTISEMENT - CONTINUE READING BELOW
Available on GrabFood and Foodpanda.
Pizza Plant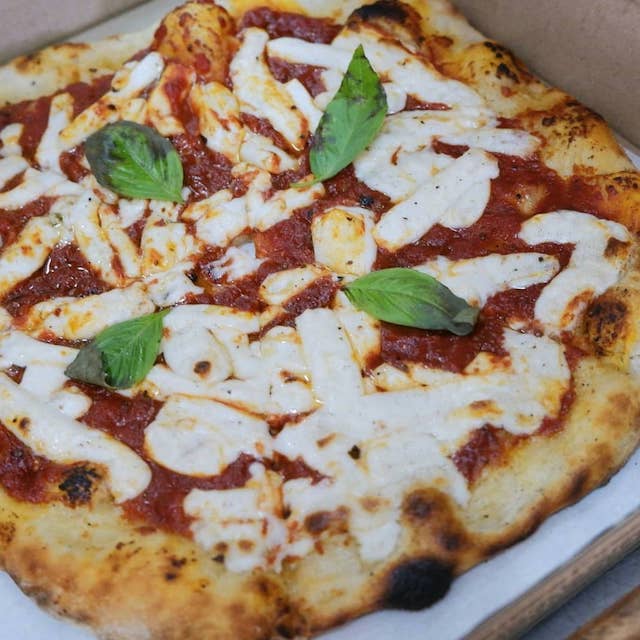 Pizza, anyone? You're in for a good time at Pizza Plant as they craft up excellent pies with a rustic sourdough crust and hearty toppings—and yup, it's all vegan, "cheese" and other toppings included! Flavors-wise, you'll find everything from the classic Margherita (P350) and ingenious Potatoroni (P380) made with potatoes as "pepperoni", to the more elaborate Wild Mushroom with Onion Marmalade (P400) and feisty Chorizo Jalapeno (P500). The best part? Their pies are served with a vegan spicy bee-friendly "honey" that you're free to drizzle over for a sweet-spicy kick.
ADVERTISEMENT - CONTINUE READING BELOW
Available on GrabFood and Foodpanda.
Corner Tree Cafe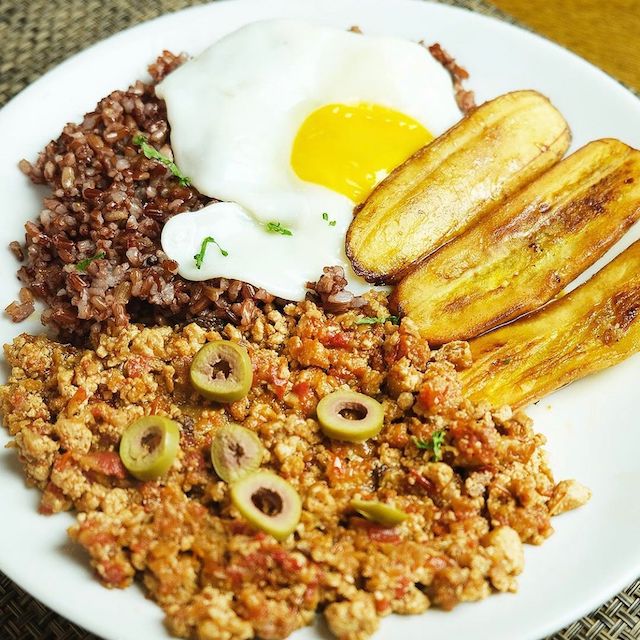 A long-standing OG in the local vegetarian scene, Corner Tree Cafe cooks up excellent meat-free versions of popular dishes from around the globe. Their famous Arroz a la Cubana with Fried Egg (P289) delivers the spunky flavors of the original sans much of the grease (it's got tofu instead of pork), while the Thai Veg Curry (P385) has veggies in a most flavorful curry sauce that we could just about drink from a bowl. The North African Vegetable Stew (P415) soothes the soul on a Morrocan-style note, while the Veg Nut Roast (P385)—their nut-based take on a meatloaf—evokes the festive flavors of the holidays. Our own Filipino fare gets a good amount of representation as well; try the rich and properly spicy Veg Laing (P245) and don't be surprised if you find yourself going for second helpings of (red) rice. Plus, you've always got reasons to go back as they've got monthly specials on offer; as of writing, the selection includes the Indian Platter (P315) with an eggplant curry and lentil dhal plus biryani rice, crisp papaddums, and chutney.
ADVERTISEMENT - CONTINUE READING BELOW
Available on GrabFood and Foodpanda.
The Plant-Based Project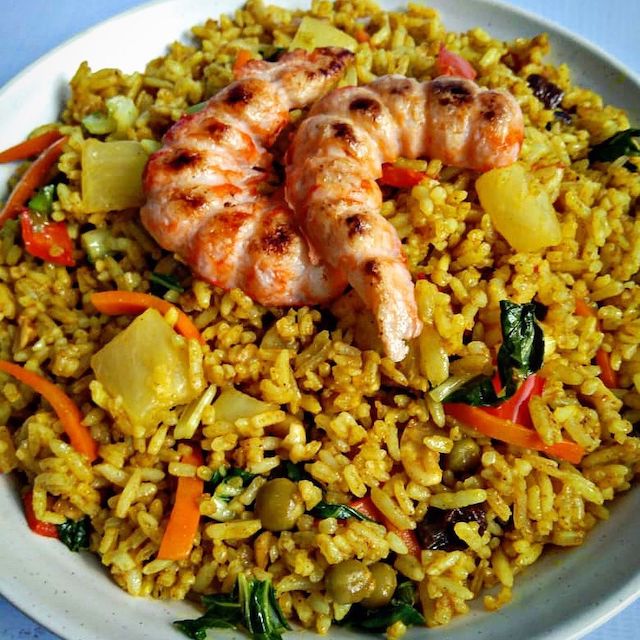 It's all about vegan takes on good ol' Filipino, Asian, and Western grub at The Plant-Based Project. Rice monsters are in for a treat with their rice-topping dishes like the Kimchi Rice with Soy Garlic Tofu (P219), while you can slay those burger cravings with sandwiches like the Vegan Big Mac (P468). Looking for your Pinoy faves? Try their plant-based takes on Dinuguan (P275) and Beef Steak (P320).
ADVERTISEMENT - CONTINUE READING BELOW
Available on GrabFood and Foodpanda.
Greens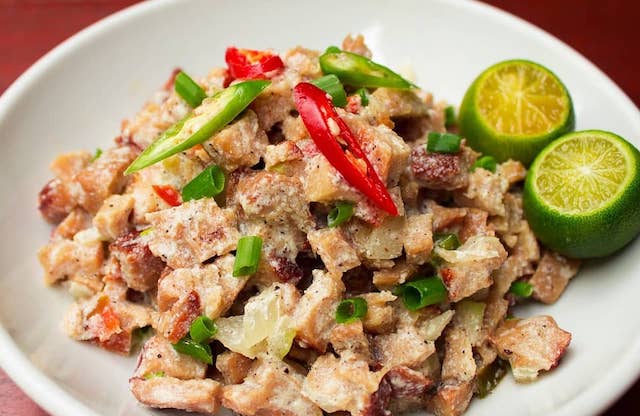 This plant-based spot in Quezon City has been around since 2001, yet remains a fave to this day—for good reason. They take Filipino classics out for vegetarian- and/or vegan-friendly spins by employing alternative proteins like seitan, tofu, tempeh, mushrooms, and more—and notably without letting them lose sight of their identity. Their Sisig (P215) is a bestseller for a reason, as their use of a mix of their homemade seitan and silk tofu makes for a creamy-meaty bite with a good amount of piquancy; their take on Adobo (P200) goes for fried tofu and mushrooms in a savory-sweet soy sauce that'll have you hooked. We're also fans of their sandwiches, like the nutty-umami Organic Quinoa Tempeh Burger (P210).
ADVERTISEMENT - CONTINUE READING BELOW
Available on GrabFood.
Honest Café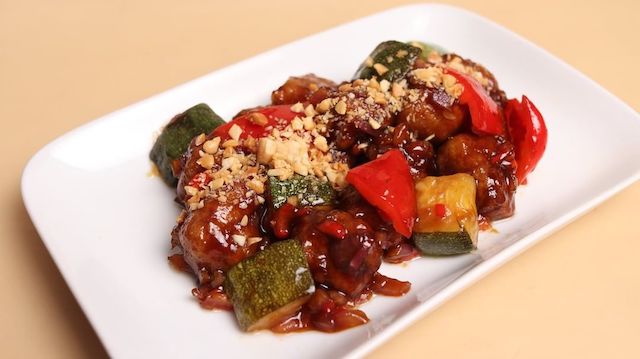 Nostalgic faves go vegan at Honest Café, and we're all for it. This Ortigas-based eatery use tofu, mushrooms, meat substitutes, and more to craft up their own takes on crowd-pleasers, some of which are the Tortang Talong (P426), Spicy Sesame Cauliflower (P519), Bicol Express (P439) with tofu, and Vegan Orange "Chicken" (P439).
ADVERTISEMENT - CONTINUE READING BELOW
Available on GrabFood and Foodpanda.
Veggie Guys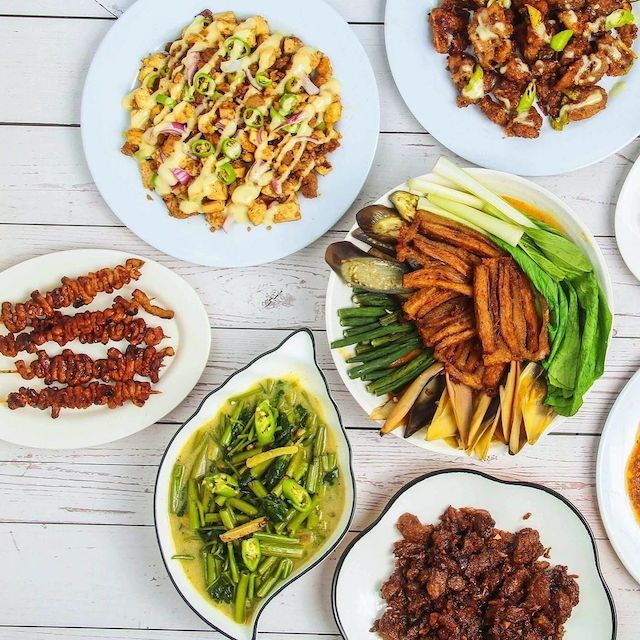 Meat-free isaw might sound like an oxymoron, but it exists and you can get your fix from Quezon City-based Veggie Guys! Served in plates of five sticks (P130), their take gives you the addictive chew and sweet-savory flavor profile of the original—trust us when we say one order ain't enough. You can also get vegan versions of other Pinoy classics, like Crispy Vege Pata (P413/good for two to three), Bistek Tagalog (P194), and Caldereta (P204).
ADVERTISEMENT - CONTINUE READING BELOW
Available on GrabFood and Foodpanda.
The Vegetarian Kitchen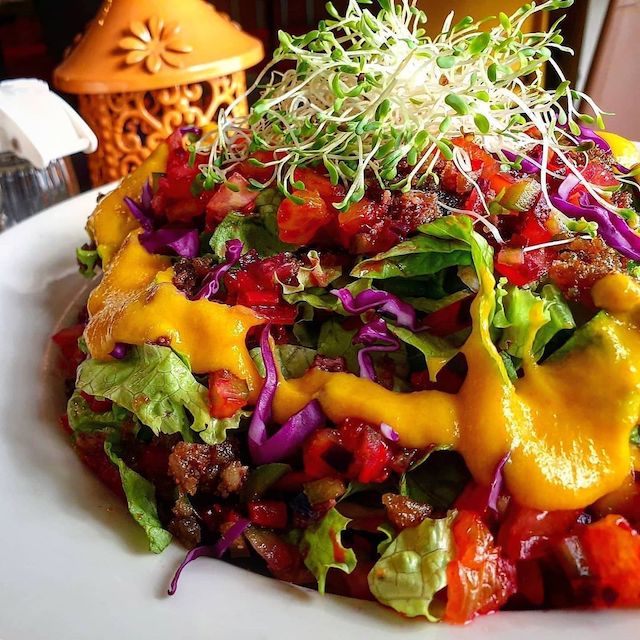 As the name implies, The Vegetarian Kitchen cooks up vegetarian and/or vegan versions of both local and international dishes, making them a great one-stop spot for whatever hankering may hit you. They make a vegan-friendly Tocino (P245), for one, with cured soy protein and even a tofu "egg' plus fried brown rice; you can also go Korean with the Chaesig Bibimbap (P261) with soy shredded "bulgogi", an array of veggies, and their own tofu mayo on gochujang-spiced brown rice. And if it's a briny, Mediterranean bite you seek, try the Olive Oil and Sardine Pasta (P265), made with vegan "sardines" plus capers, olives, and tomatoes.
ADVERTISEMENT - CONTINUE READING BELOW
Available on Foodpanda.
Bonus: The Real Happy Cow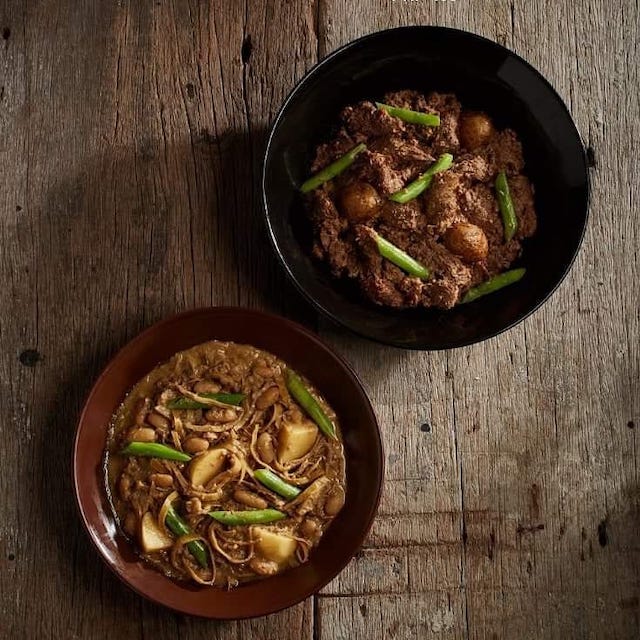 A favorite among the local vegan community, The Real Happy Cow is famed for their flavor-packed plant-based viands that can be ordered in frozen, ready-to-heat packs on GrabFood. The Vegan Beef Rendang is a favorite; you can go for the regular version (P400) with plant-based meat, or the gluten-free, whole-food version (P370/pack) that employs jackfruit. They also ingeniously make non-dairy "cheese" with nuts and other ingredients; try the Pimiento Cashew Cheese Spread (P340) on your morning pan de sal and you'll see how cashews and pimiento come together for a creamy-earthy whole.
ADVERTISEMENT - CONTINUE READING BELOW
Available on GrabFood.
Hey, Spotters! Check us out on Viber to join our Community and subscribe to our Chatbot.
Your guide to thriving in
this
strange new world.
Share this story with your friends!
---
Help us make Spot.ph better!
Take the short survey
Load More Stories