Sa May Silang
Silang, Cavite
Instagram: www.instagram.com/silanghouse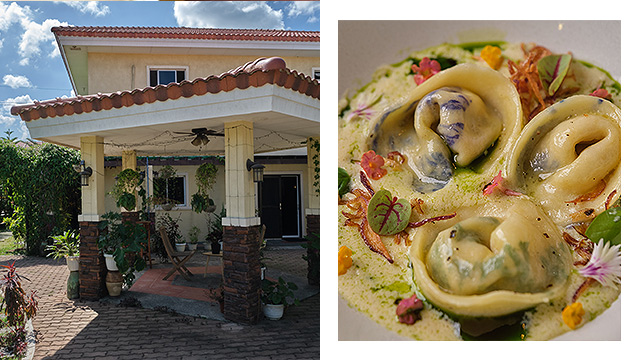 (SPOT.ph) It's a sunny Thursday, and while much of the adult population in the Metro are likely hunched over their laptops at home or in the office—a reality for the author herself on literally all other days of the week, we assure you—this day was different. We are out for a drive, and not just within the comfort zone that is Metro Manila. We make it past the toll gate, and soon, a village gate—not too long after which we reach Sa May Silang, a field-to-table, private fine-dining spot in Cavite that's been the talk of food-loving folks in the Metro in recent months.
Also read: 10 Best Tasting Menus in Manila Right Now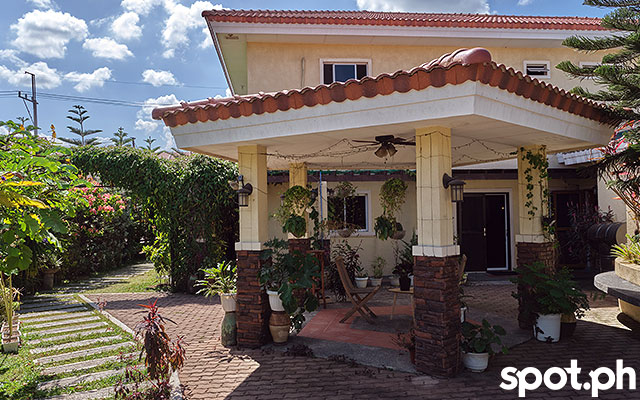 ADVERTISEMENT - CONTINUE READING BELOW
Bookmark this private dining spot near Manila for hearty dishes starring local produce:
You'd think convenience is the name of the game for most people; we like things fast, easy, and near us. So the rise of private dining spots—in particular, those situated out of town—is a curious phenomenon. You can't just drop by anytime you fancy, and it entails making plans weeks (at times even months) ahead of time. But we get it: we're all dying to go out now, given the length of time we all spent indoors over the course of the pandemic. And when you've got a truly special team taking charge of the kitchen—as is the case with Chef Mil Crespo and the Sa May Silang team who we'll be introducing shortly—that two-hour drive becomes so, so worth it.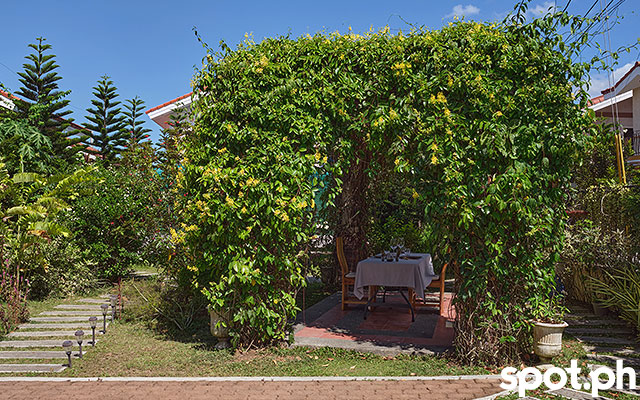 CONTINUE READING BELOW
Recommended Videos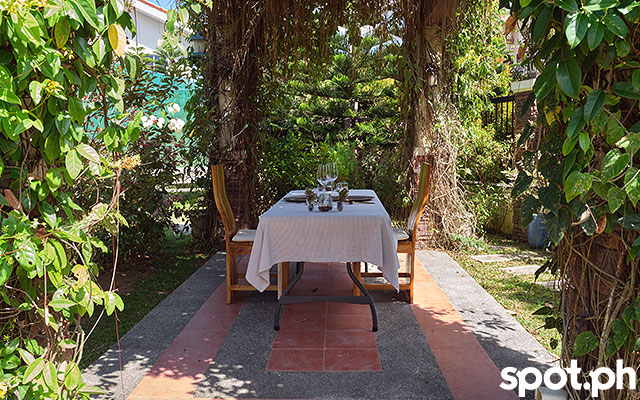 Sa May Silang is situated in a home—literally the Silang abode of Crespo's own mom, who had it built five years ago as a retirement house. Likewise, it feels just like you're driving out to visit relatives, with the chef himself welcoming us in and ushering us into the waiting area with couches and laid-back tunes to keep us company. Past our initial introductions, we're taken out for a tour of the extensive garden area, where you'll also find a greenhouse.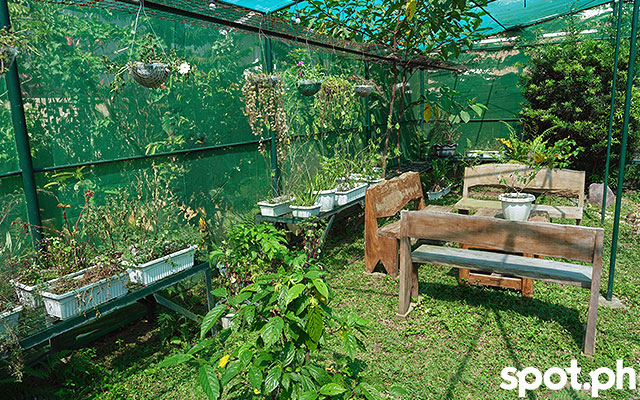 ADVERTISEMENT - CONTINUE READING BELOW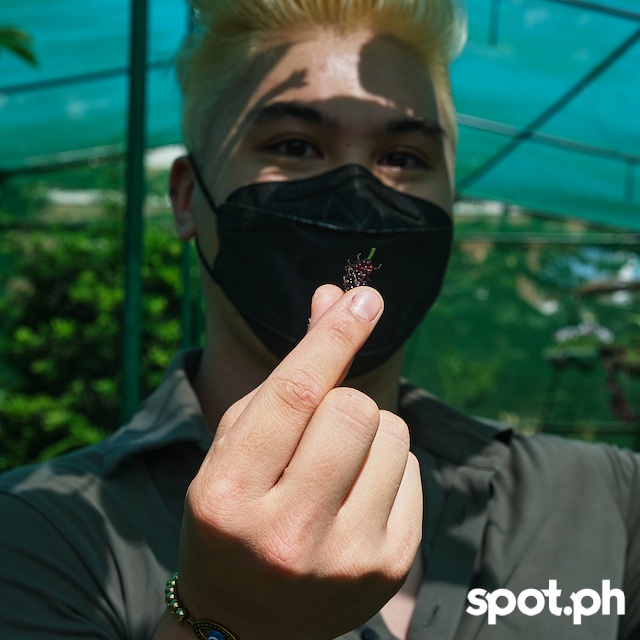 The young chef was a competitive dancer and even used to compete abroad, but tore his ACL and had to get rehab, forcing him to take a hiatus from the craft. "[So] then I went to food because that's always been my passion," he relays. Crespo shares that he's been cooking since he was six years old, and while he admits he was a "picky eater", he always knew "in some way or another... I'm gonna have a restaurant or be in the restaurant industry." In college, Crespo initially took up Communications Technology at the Ateneo, upon the urging of his mom; he also began a private-dining venture called Mil Cooks, where he would concoct small, modestly priced tasting menus as "raket" and to express his creativity.
ADVERTISEMENT - CONTINUE READING BELOW
Amazingly, Crespo hadn't had any formal cooking training at that point—but to level up his skills he enrolled in short courses in Enderun College. Eventually he got to the opportunity to intern at New York's Loring Place restaurant, famed for their focus on market-driven dishes and local and seasonal ingredients—and this is evident in how he and the team approach food at Sa May Silang: by emphasizing seasonality and availability, and adapting to what nature has to offer.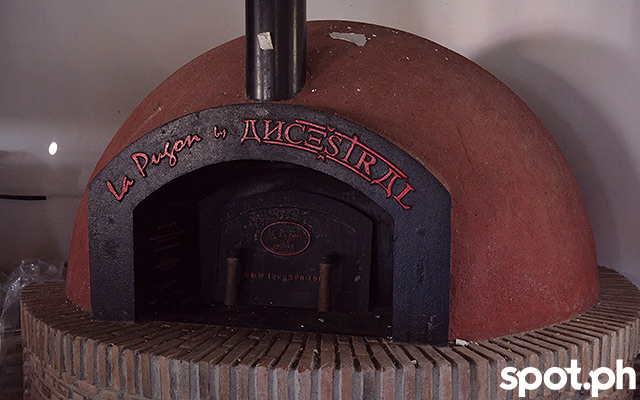 In line with Sa May Silang's field-to-table core, Crespo—a self-confessed "OG Plantito" who's long loved growing plants and eating vegetables—connects his audience to the natural landscape by touring them around the greenhouse and introducing them to the organic produce they grow and use in their cooking. "The outside, that's full of ornamental plants because [my mom] really wanted to be like grazing outdoor thing, but we started planting… mga papaya and everything that can eat and use in the restaurant," he shares. His eyes light up as we approach the different potted herbs, fruits, and veg, all of which he explains more about and lets us sample where applicable. Think freshly picked mulberries that are juicy and sweet, tender-crisp talinum (Philippine spinach), peppery-fragrant lavender, earthy-sweet mugwort (the stuff used to make absinthe as well as kusa mochi in Japan), and even fennel (which we try and are taken aback with given its surprising natural sweetness!).
ADVERTISEMENT - CONTINUE READING BELOW
Beyond their use of these star ingredients, behind the magic of Sa May Silang's food is the young team behind the kitchen. Head Chef and Founder Crespo is joined by friends and fellow cooking mavens who were also his batchmates at Enderun: Front-of-House and Beverage Director Julia Casal, Heads of Patisserie-Boulangerie Rachel Diego and Martin Visbal; Sous Chef Allysa Primicias; and Chef de Partie Regie Dysico—all 20-somethings who each have their own area of specialty (Crespo refers to Diego as the Kombucha Queen and Dysico as their Pasta Nonna), yet have visible chemistry as they join forces in the kitchen. "It's nice that we're playful in the kitchen, and we support each other by having different perspectives on how to tackle it," Crespo relays. "I really respect all their skill level and work."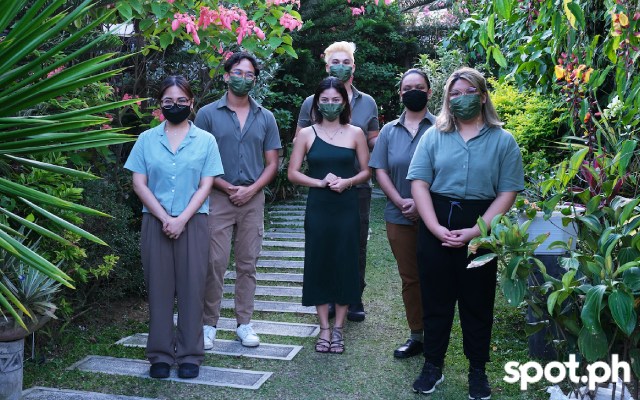 ADVERTISEMENT - CONTINUE READING BELOW
Crespo also shares how they'd had experiences of working or interning abroad (apart from Crespo in New York, Visbal also trained in Spain, Diego in France, Dysico in San Francisco, and Primicias in Japan)—and though everyone has a "strong foothold" in French training, the Sa May Silang team doesn't limit themselves to sticking to one single cuisine or genre. Rather, they aim to highlight local ingredients either from their own garden or sourced from farmers around the province—which is the case for almost all the ingredients they use, save for a number of exceptions like the kind of beef they use or the occasional use of more luxe ingredients like caviar. "The rest is freestyle, I guess," says Crespo. The team then whips up multi-course menus that change up every few weeks (note that the menu may have changed by the time you're reading this), and uses these ingredients to compose simple yet spectacular dishes that bring out the best of their raw materials.

We head back to the indoor dining area and sit at their wide wooden table—where a special Bread Basket is laid out for us. Their house baguette makes a proper crackly sound as we break a piece with our fingers and sink our teeth in, while squares of their focaccia have a proper soft yet chewy crumb full of air pockets. Keeping the breads company are a selection of their scratch-made spreads: a fruity sweet-tomato jam, savory-sweet bacon jam, a surprising sourdough romesco, and compound butters—one tinged with squid ink and black garlic for a subtle dose of umami, another turned Provence-esque with lavender and rosemary.
ADVERTISEMENT - CONTINUE READING BELOW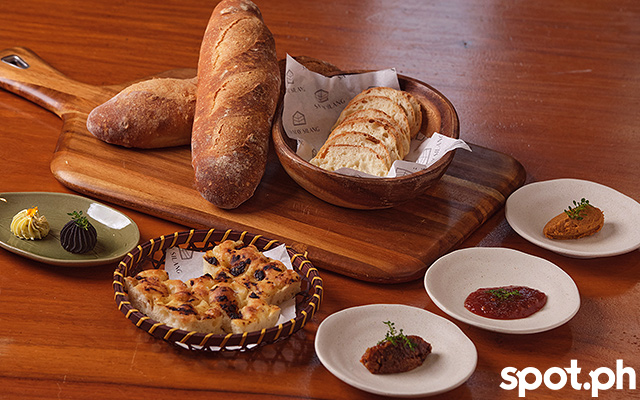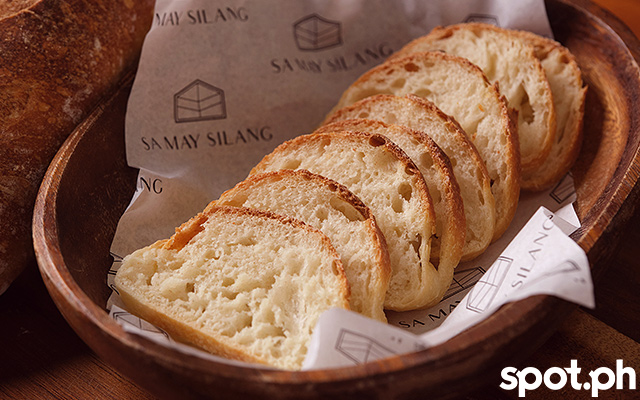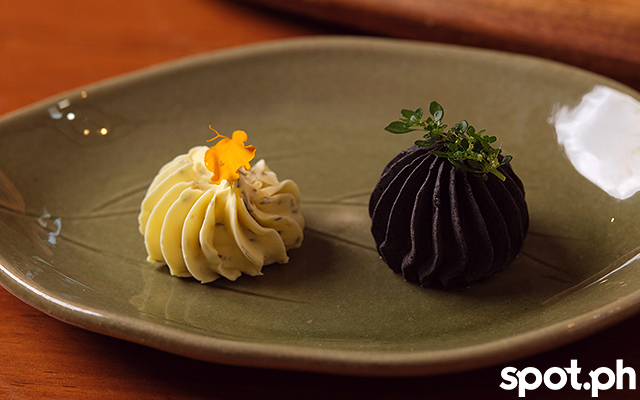 ADVERTISEMENT - CONTINUE READING BELOW
The first course dubbed the Onion arrives at our table, illustrating Sa May Silang's penchant for using simple ingredients in extraordinary ways. In it is onion leather—the vegetable dehydrated into a thin sheet—that Sa May Silang folds into a triangle hugging a wad of smoky, earthy eggplant puree. And right beside it you'll find a bed of rosemary crumble topped with sphere of carabao yogurt—which gushes out with the tangy, creamy dairy as you poke through with a fork.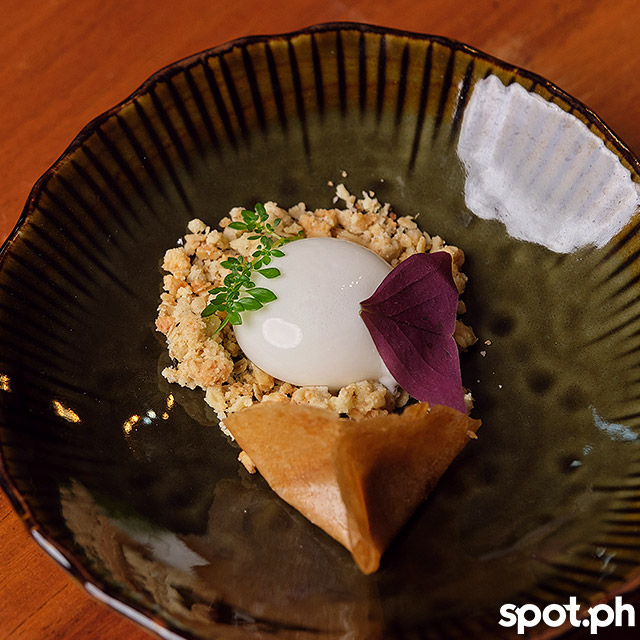 You'll see the Sa May Silang team take inspiration from classic combos, as is the case in the Caprese—which they created to shine the spotlight on green tomatoes in season. Crisp yet juicy, their natural tanginess goes beautifully with the sweeter cherry tomatoes they come in tandem with. Underneath you'll find carabao's-milk ricotta that contributes just the right amount of richness to the mix, evened out by the zestiness from drops of basil oil to round out the plate.
ADVERTISEMENT - CONTINUE READING BELOW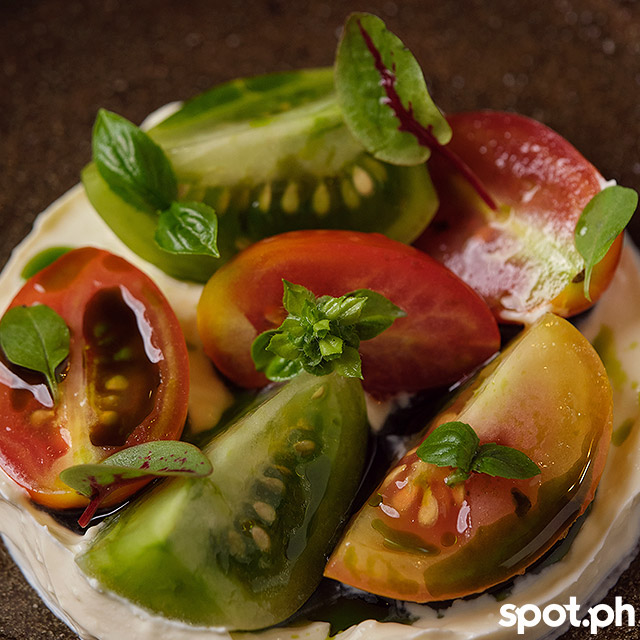 Sa May Silang's playful side especially comes out as they cook familiar ingredients in unexpected ways. Case in point? The Pomelo Jicama Salad, a staple at the private-dining spot that features jicama (a.k.a. singkamas!). Rather than serve the root vegetable raw as most of us are well-acquainted with, however, Sa May Silang braises it—rendering it slightly tender similar to a potato albeit less starchy than your average spud. Together with pomelo chunks, a fermented mango-ginger dressing, cashews, and torn strips of fresh tarragon and mint, everything comes together into vibrant-juicy forkfuls. Think sunshine on a plate.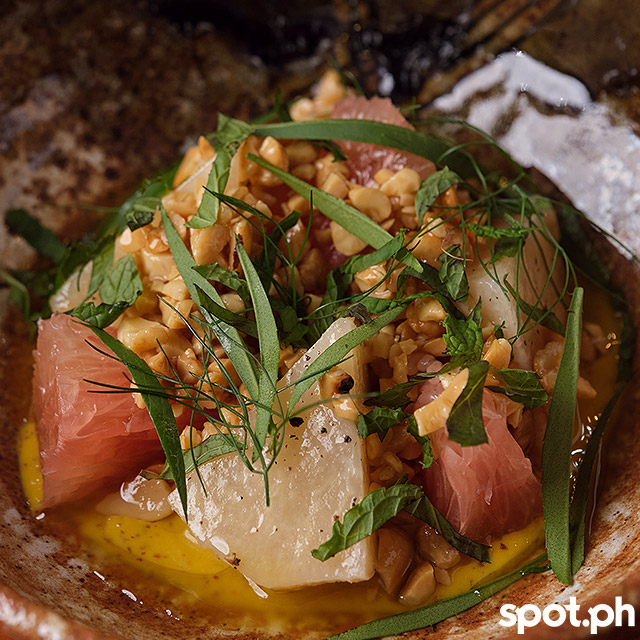 ADVERTISEMENT - CONTINUE READING BELOW
Next up in the culinary concert is the Kulawo, which they explain to be Cavite's take on kinilaw. It's similar to the latter in that it's got fish—samaral a.k.a. rabbitfish in this case—cured to bring out the succulent nature of its rich-tasting flesh, and torched to crisp up the skin ever so slightly. Cucumber slices deliver crispness, pansit-pansitan leaves add a vegetal note, and lumpfish caviar brings brininess to the equation—but what really takes things over the top is the smoked coconut cream that ties all the elements together for a smoky, sensational whole.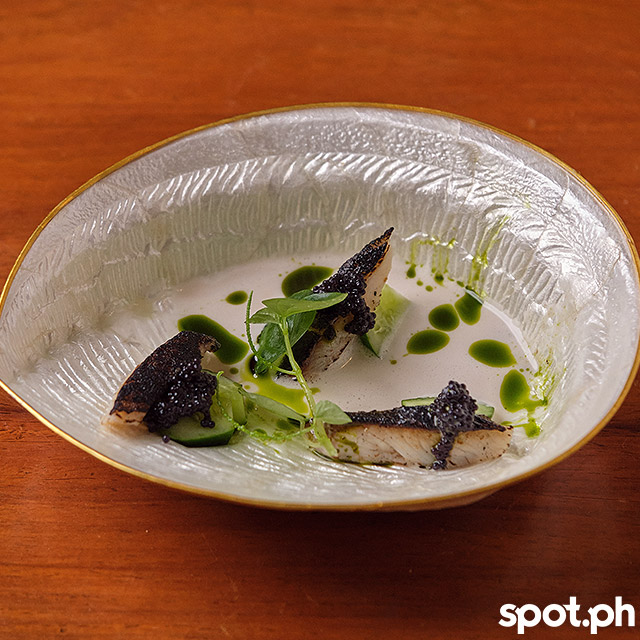 On the more Western-leaning end of the spectrum is the Garden Tortellini. Sa May Silang makes their own laminated pasta sheets with edible flowers that peek through; this is then formed into tortellini with a filling of garlic-spiked ricotta. To keep the attention on the pasta, it's dressed with a creamy yet light sauce of beurre blanc and basil oil; garnishes of fresh herbs and edible flowers also add pops of color and herbaceous flavor.
ADVERTISEMENT - CONTINUE READING BELOW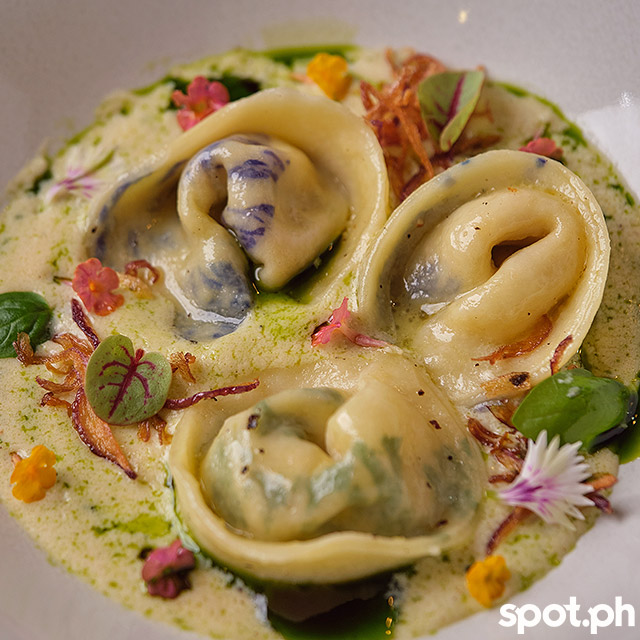 It doesn't take too long before we get to the first main course of Spring Chicken. Trust us when we say this is one of those things that sounds simple on paper, but shines by way of Sa May Silang's execution. Here, the team cooks skin-on chicken breast sous vide, rendering the meat succulent and juicy (it's hard to believe this is the breast part!) before finishing it off with a quick pan-sear for a crisp and golden-brown layer of skin. Crespo explains that the dish was created for their Mother's-day menu, but our fingers are crossed it stays on their lineup all year long. It's all about the clean taste of the chicken here, its flavors accentuated by partners-in-crime of blistered padron peppers, crisp-tender green beans, cucumbers, tomatoes, sourdough romesco, and the chicken's natural jus.
ADVERTISEMENT - CONTINUE READING BELOW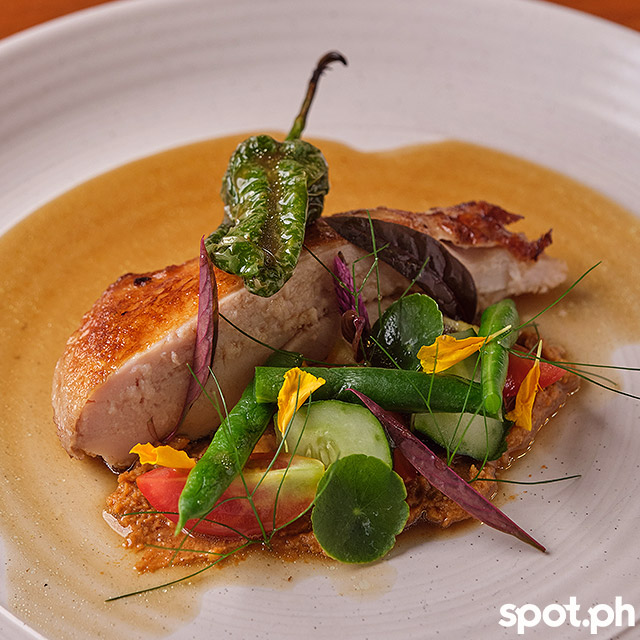 And soon, another star of the show steps up on stage—er, arrives at our table: the Tuna and Tanigue. It catches the eye with its distinct look that resembles the stained-glass windows of old cathedrals, but we're even more blown away once we take a bite. The dish features its two namesake kinds of fish, which bear a similar rich-tasting flesh given that they're cousins—but also have distinct characteristics, the tuna being stronger-tasting and the tanigue more buttery. Both are cooked mi cuit—i.e. just at the verge of being cooked but still bearing the moist succulent character associated with raw seafood—and rolled and bound together with nori  sheets before being sliced into thick rolls. If you think that all sounds familiar, given the similarity to makizushi (sushi rolls) you're quite right—especially given how the seaweed breathes its natural umami into the mix. Illuminating their ocean-y flavor are sides of a horseradish cream (which gives it a pungent element similar to wasabi), and herbed couscous for a zingy touch.
ADVERTISEMENT - CONTINUE READING BELOW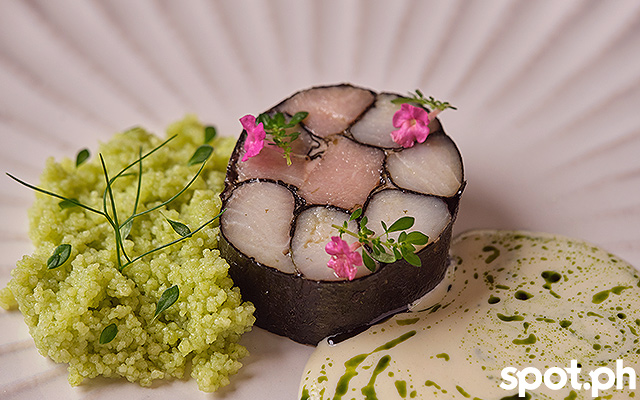 It's at this point that diners would typically relax and let the food settle while chatting with friends—and rightfully so, it's time we restore equilibrium within our systems. Sa May Silang goes the interactive route for this part of the meal, inviting diners to tour the garden with them and pick out their own herbs and flowers with which they brew up a special tisane that serves as a palate cleanser. Our brew includes—among other aromatics—pandan and butterfly pea leaves, which also infuse the hot water with its natural blue color, and turns it purple as we squeeze a lemon wedge over before drinking. It's just the thing to help warm our bellies, and ease the transition between savories and dessert.
ADVERTISEMENT - CONTINUE READING BELOW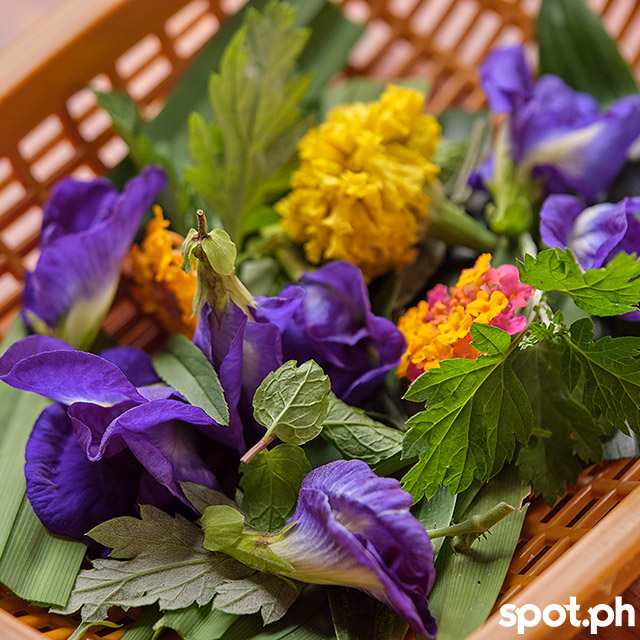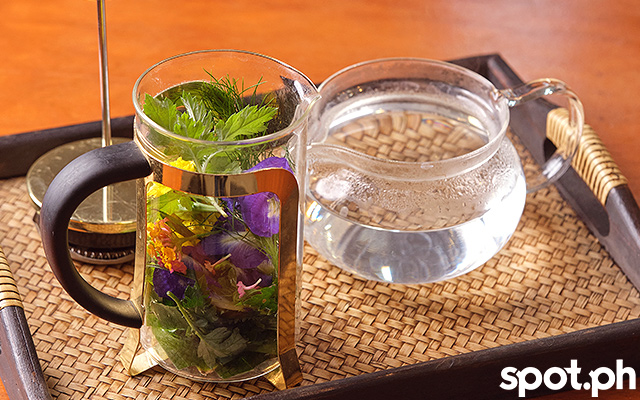 That dessert comes by way of the Mango and Passionfruit, where Sa May Silang takes its namesake fruits and turns them into a multi-textured composition of mango ice cream, coconut pearls, passionfruit meringue, mango-passionfruit compote, a mango gel, and passionfruit caviar—plus torn herbs for oomph. The Halo-Halo follows—their interpretation of the classic Filipino samalamig with ube-malted milk ice cream, sweetened beans, caramelized banana, a langka gel, leche flan cremeaux, and coconut meringue.
ADVERTISEMENT - CONTINUE READING BELOW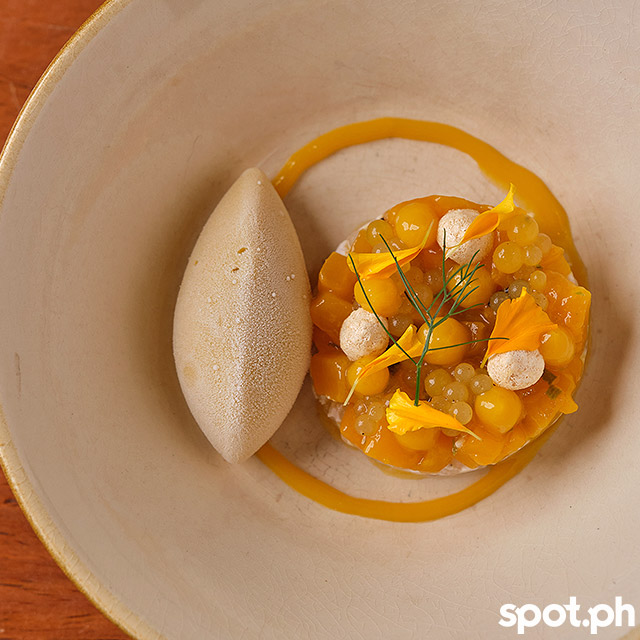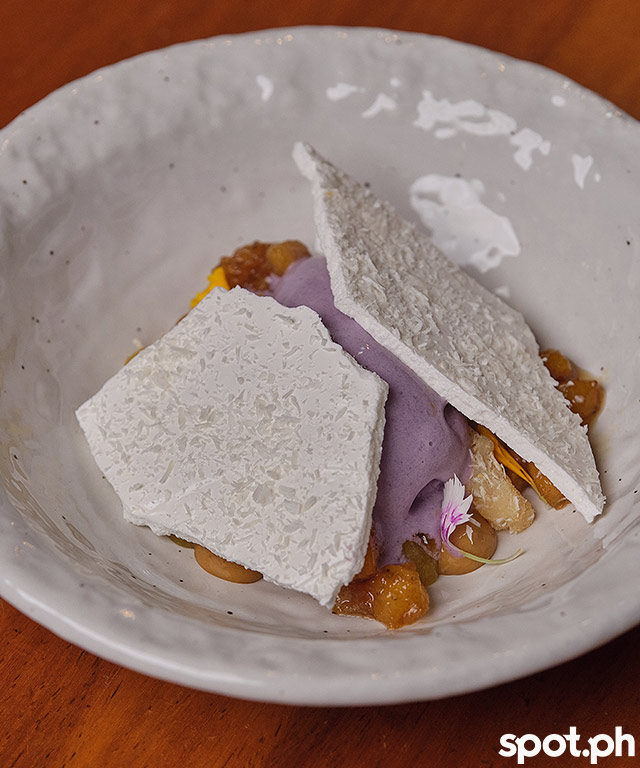 As it was the peak of mango season during our visit, the team mixes up two cocktails—one with the sunny combo of Campari, Amarula, rum, and mango; another with pineapple juice, passionfruit syrup, and rum. And with that we nibble on Mignardises—small yet impactful sweet bites, in this case Pistachio Cardamom Truffles, buttery Almond Financiers, and tangy Passionfruit Patê de Fruit—which end the meal on a dreamy note, as we chat with the team about their outlook and deep-seated passion for food.
ADVERTISEMENT - CONTINUE READING BELOW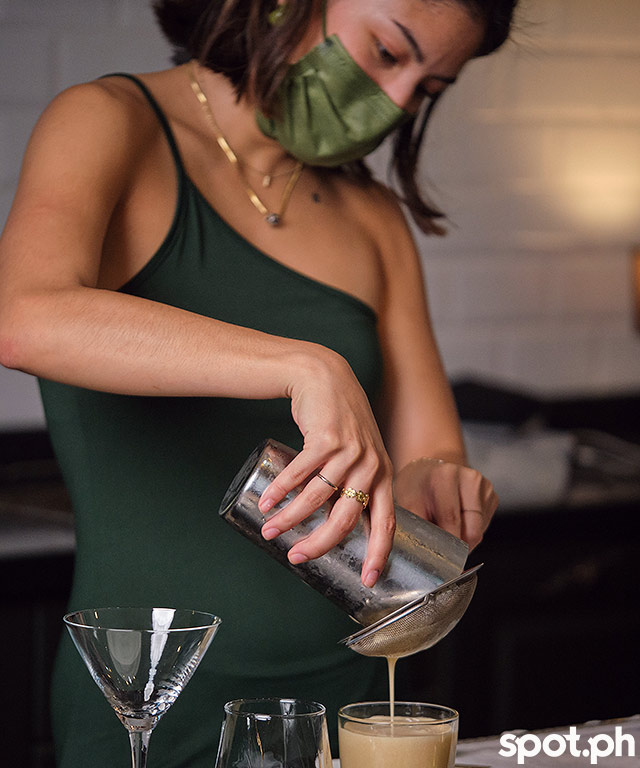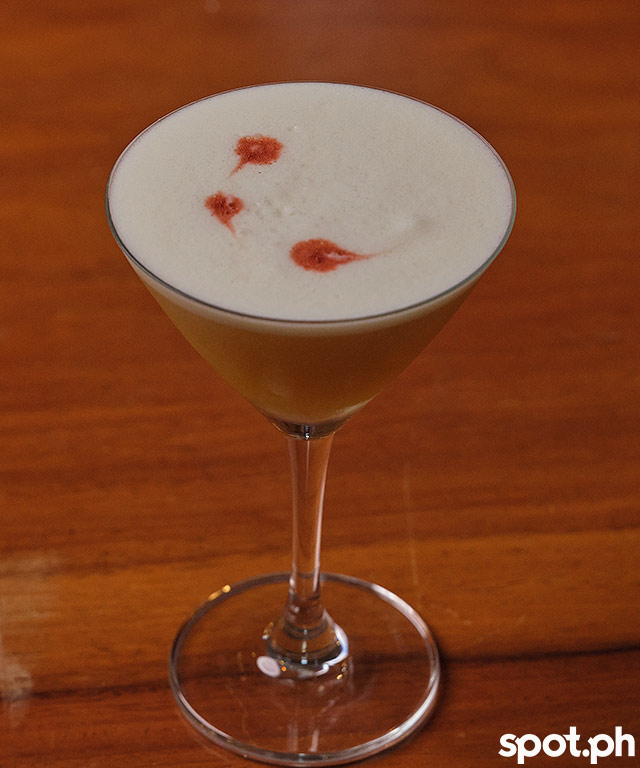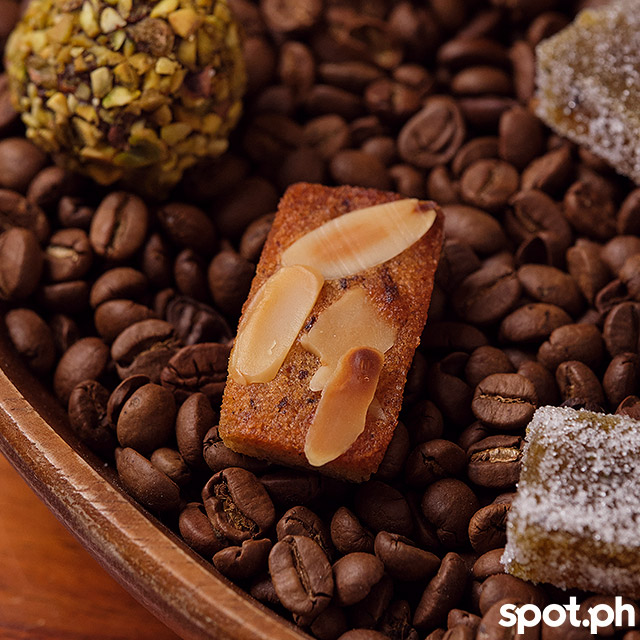 ADVERTISEMENT - CONTINUE READING BELOW
Though Sa May Silang definitely puts flavor at the forefront, Crespo shares that health is nevertheless an aspect they value. "All the food we feature has a very strong base of nutrition," he says, explaining that he wants diners to go home "[feeling] good eating what you did and also feel like it's delicious." That's exactly how we feel before heading back to Manila—not only in that their menu is plant-heavy with balanced portions, and not only given the fact that they are literally a house. It's the Sa May Silang team's way of welcoming us in, making us feel like we belong, and accepting us with open arms that ultimately makes us feel right at home.
Photos by Hans Fausto
Also read:
This Enchanting Outdoor Dining in Cavite Should Be Your Next Romantic Getaway
How Well Do You Know Your Local Leafy Greens?
Hey, Spotters! Check us out on Viber to join our Community and subscribe to our Chatbot.
We are now on Quento! Download the app and enjoy more articles and videos from SPOT.ph and other Summit Media websites.
Share this story with your friends!
---
Help us make Spot.ph better!
Take the short survey
Load More Stories