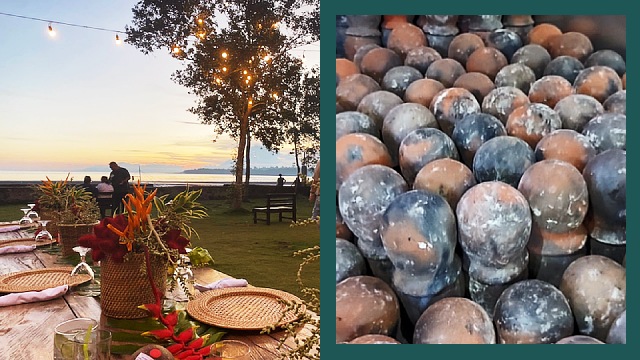 (SPOT.ph) Tourists love Bohol for different reasons. After all, there's a lot to see and experience for every kind of traveler. Nature-lovers can explore the rich flora and fauna of Bohol's forests, farms, and shores. Island-hoppers will enjoy snorkeling, paddle-boarding, and diving as offered by numerous agencies and even resorts within the area. Those who want to just relax have an assortment of upscale hotels to choose from.
All that said, Bohol is also the perfect destination for food lovers and history lovers. Bonus points if you're both! SPOT.ph recently visited the island together with the Department of Tourism, and we were able to get a glimpse—as well as a bite—of the best of Bohol, beyond the Chocolate Hills.
Also read: How Bohol Bee Farm Supports Their Community During the Pandemic
These spots make some of the best of the best Bohol delicacies:
Cecilia's Tinapay
This quaint little bakeshop lies on Oroc Street. It's actually a food stall fronting the house where the Oroc family lives and bakes their special heirloom recipes, the most famous of which is the tinapay—note, though, that this has a slightly different meaning from how we understand it in Manila.
ADVERTISEMENT - CONTINUE READING BELOW
Instead of a small round bun, the Boholano tinapay is a crunchy thin pastry that's more similar to otap. It's flaky and sugary, and goes well with strong hot drinks like sikwate (Bohol tablea) or coffee. The dough itself is made out of three layers, measured and cut evenly from one end of the table to another. Cecil Oroc and her husband, whose family used to create their own tinapay, were happy enough to show us their method.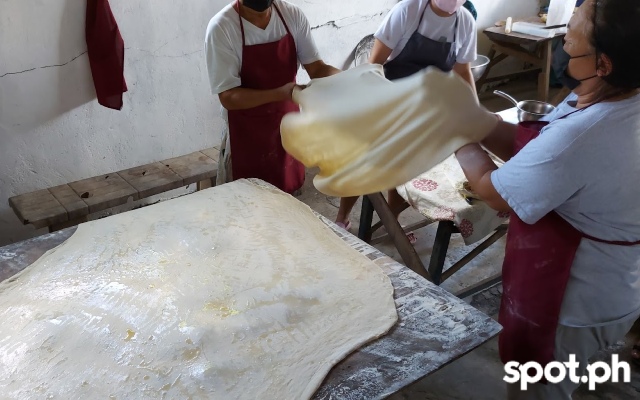 For generations, the family matriarchs mastered the art of baking tinapay with a special backyard oven that can bake up to four thousand pieces a day. Oroc was taught by her now 86-year-old mother. In turn, Oroc and her husband are passing on the torch to their daughter Lara, who explained the delicate process of tinapay baking. She mentioned that they were the only remaining family who knows the original recipe in this area.
CONTINUE READING BELOW
Recommended Videos
Aside from tinapay, Cecilia's sells old-fashioned thin cookies and torta (not a cake, but a sweet and puffy ensaymada-like pastry sprinkled with sugar).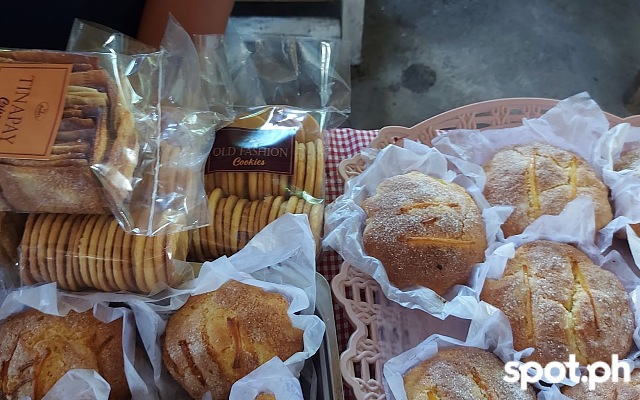 Cecilia's Tinapay is along Oroc Street, Tagbilaran City, Bohol.
Crescencia Café
For merienda, we went to Crescencia's in Baclayon. We headed straight upstairs to the museum and demonstration area, right above the café open to the public. Both floors make up the ancestral home of the Ginete family, who maintained the same ube biko recipe that they showed us. Their ube biko is made out of sticky rice and real ube, and topped with lunok (coconut gratings). The result is a rich and filling afternoon treat, with the purple yam breathing nuttiness to the mix.
It's just one of their specialties. Alongside the ube biko, they served saging na pinaypay (sweet banana cut into a fan-like shape), mango slices, and puto maya topped with grated sikwate and muscovado.
ADVERTISEMENT - CONTINUE READING BELOW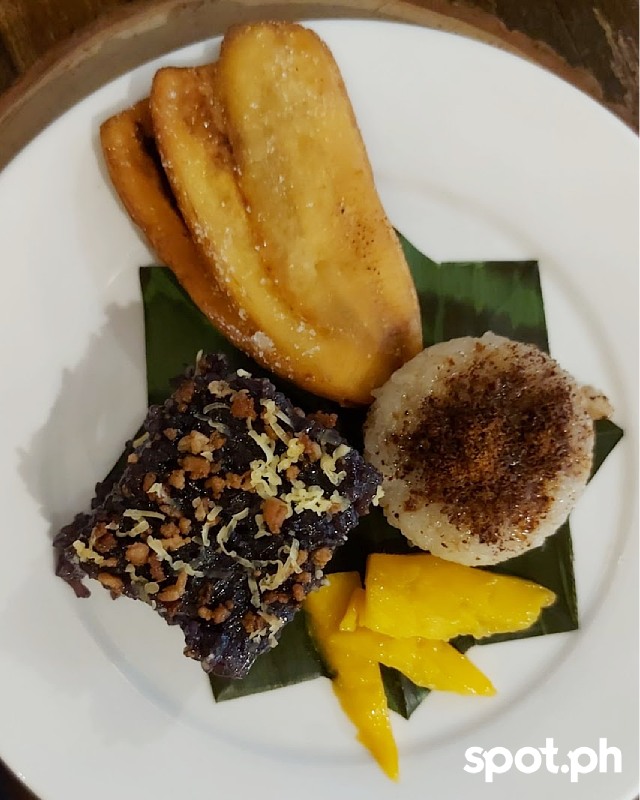 It's impossible to talk about Crescencia without mentioning the café itself. Located on the first floor, it is distinctly old-fashioned with antique furniture and decorations. Old lamps give the room a subdued, almost sepia glow. Old photographs and paintings decorate the wall. It makes customers feel like they've stepped back into time.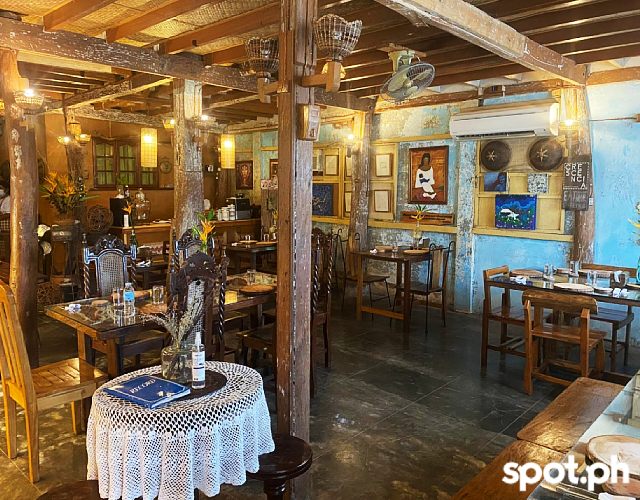 ADVERTISEMENT - CONTINUE READING BELOW
Crescencia Café is in Baclayon, Bohol.
Asinan ni Tan Inong
Located in Eastern Poblacion, the Manongas Asinan keeps its traditional salt-making method alive. Each mound of salt is kept in an egg-shaped mold. It's tastier and sharper than the kinds of salt you would find in grocery stores—and that's because it comes from the water straight out of the sea. The salt has a distinctly fresh taste that's a hit amongst artisanal product enthusiasts, particularly foreigners.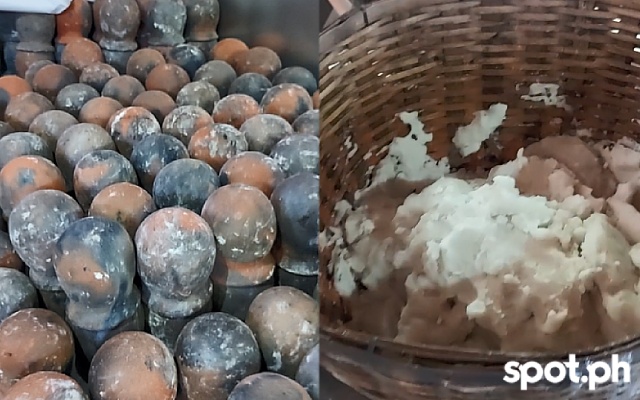 Nestor Manongas, who is 72 years old, has mastered this delicate, time-consuming art, as passed down by his family. He showed the SPOT.ph team the seawater pit where coconuts are soaked for three months before being sundried and harvested. Then it's burned to ashes, filtered through a homemade filter, and then heated again. Once hardened enough, it can fit in a small clay mold. It's attractive as it is striking in flavor, its sharp saltiness matched with a subtle smokiness.
ADVERTISEMENT - CONTINUE READING BELOW
The sad truth is that the Manongas is the only one family still upholding this tradition in Poblacion. It used to be a thriving industry with dozens of families passing on their methods and secrets to their children. But due to laws restricting the sale of non-iodized salt, many opted for more lucrative sources of income. Still, the Manongas family was able to preserve a part of their history that makes use of nature's best without harming it.
Asinan ni Tan Inong is in Eastern Poblacion, Alburquerque, Bohol.
Julio's Bed and Breakfast
Julio's Bed and Breakfast offers a lot of things. Its newly-built lodges are a stone's throw away from an exquisite shoreline with pristine waters and a calming sunset view. The stone benches facing the beachfront provide tranquil moments of solitude. Near the restaurant is an open garden where guests can enjoy sipping cocktails and listening to live performers. But the restaurant itself is the highlight. Their specialties—sikwate, siakoy, and calamay—are especially perfect for breakfast, merienda, and dessert.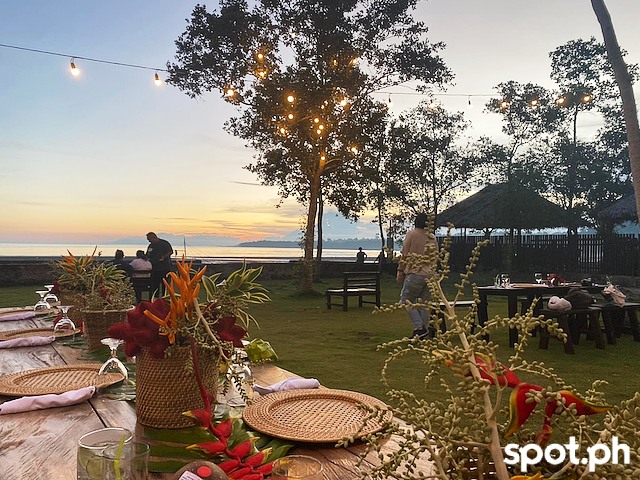 ADVERTISEMENT - CONTINUE READING BELOW
At Julio's, sikwate is best paired with their take on siakoy, a long and braided pastry that's soft, puffy, and airy, and has a similar taste to the sugary doughnuts sold on streetside bakeries. Aside from this, you can get calamay—a thick liquid delicacy made out of coconut milk and brown muscovado sugar, and it's preserved and sold in coconut shells. You can eat it on its own or turn it into a spread for bread or siakoy.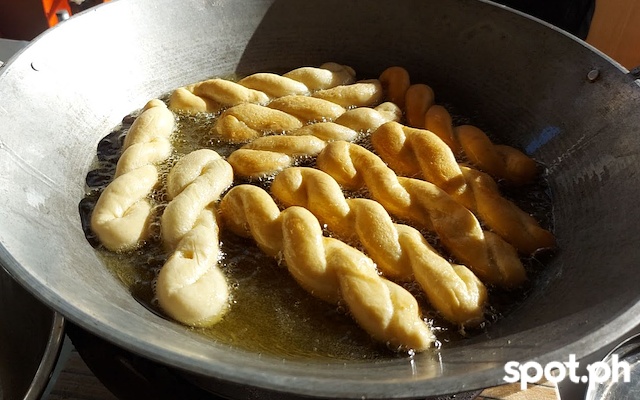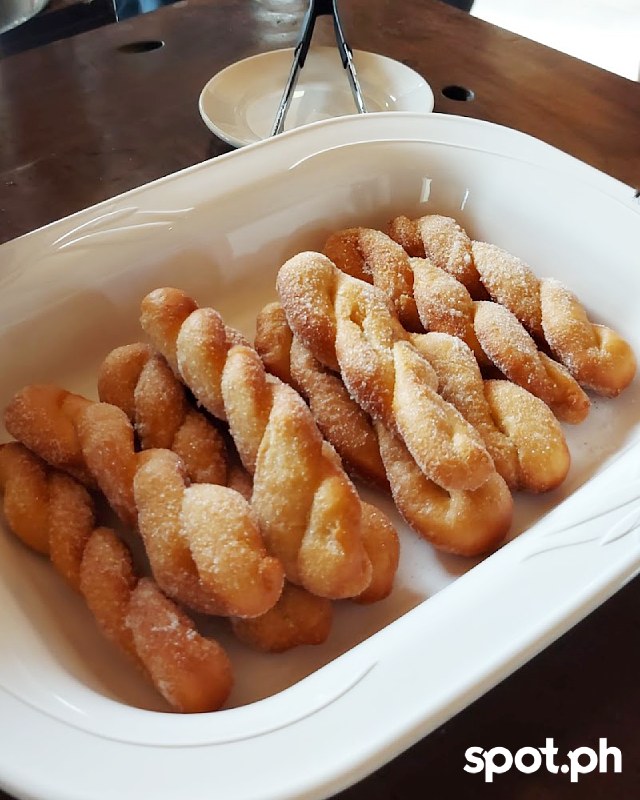 ADVERTISEMENT - CONTINUE READING BELOW
Before we ate, Julio, the eponymous bed and breakfast owner showed us how to catch the crabs they used for cooking ginataang kagang (native land crab in coconut milk with vegetables). He told us about the happy days of his childhood when he used the same handmade bamboo trap to hunt these crabs. He and his school friends would poise the mouth of their traps outside the crab holes and wait for crabs to enter and get ensnared. Each trap could fit only one crab. The process is quick and efficient, and there's no need for bait.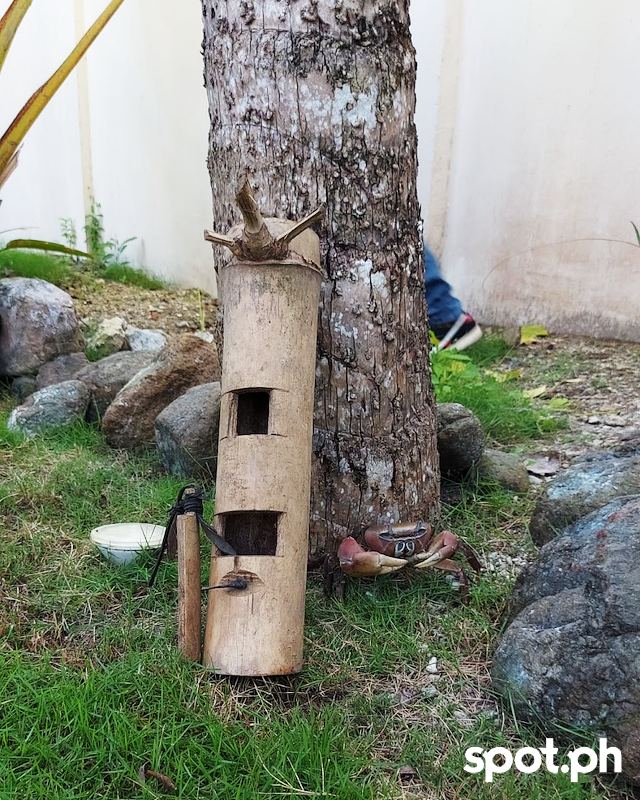 Julio's Bed and Breakfast is in Villalimpia, Loay, Bohol.
Also read:
These Are All The Pasalubong Items You Need To Get In Bohol
This Boholano Couple Wanted a Simple Rest House for Retirement. They Built a Stunning Resort-Farm Instead
ADVERTISEMENT - CONTINUE READING BELOW
Hey, Spotters! Check us out on Viber to join our Community and subscribe to our Chatbot.
We are now on Quento! Download the app and enjoy more articles and videos from SPOT.ph and other Summit Media websites.
Share this story with your friends!
---
Help us make Spot.ph better!
Take the short survey
Load More Stories