(SPOT.ph) Food, much like fashion, comes back in cycles. What's trendy one day will fall out of favor only to return a few years, or decades, down the road. We've seen this happen in different ways, such as when crowd favorites make triumphant returns to the market or when products we once loved are reincarnated in new forms. One example we're seeing now in social media and online stores is the Bazooka Bubble Gum Flavored Soda. This bottled beverage takes the classic Bazooka gum and breathes new life into it by offering it as a refresher, while maintaining its sweet and retro image. We here at SPOT.ph recognize just how powerful nostalgia can be. It's a given that products that play into mass collective memory will become popular, especially if they're done right, but does that mean it's actually good? We try out this new drink to see if it hits the spot, even without the rose-colored lens of the past.
ADVERTISEMENT - CONTINUE READING BELOW
Also read:
SPOT.ph Roadtest: Does the New White Cheddar Cheetos Puffs Live Up to the OG?SPOT.ph Roadtest: What's With All The Hype for Tealive Philippines?
SPOT.ph Roadtest: Are Lay's Truffle Potato Chips Worth a Try?
Price
A 355-ml bottle of the Bazooka Bubble Gum Flavored Soda will cost you around P135 to P180 on Shopee and Lazada sans shipping. Prices vary because there isn't an official store that sells this product. You're most likely getting it from a reseller who imported it from the U.S. 
This drink is not cheap. For context, a standard soda can is about 330 ml but only costs around P30 to P50. Heck, even limited-release flavors of colas don't go beyond the P100 mark. 
Look
All signs point to this being a Bazooka product. The drink carries the signature pink hue of the OG gum product. There's also the fact that it carries the Bazooka Bubble Gum logo, as it was seen by kids of the '80s and '90s.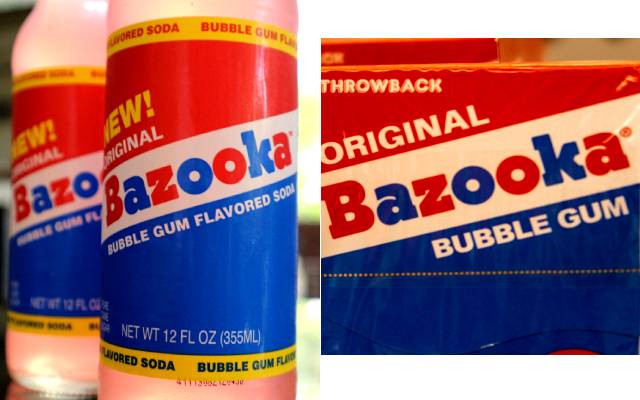 We also like that it's sold in glass bottles. This packaging gives the beverage a retro feel, like how most soft drinks were sold back in the day.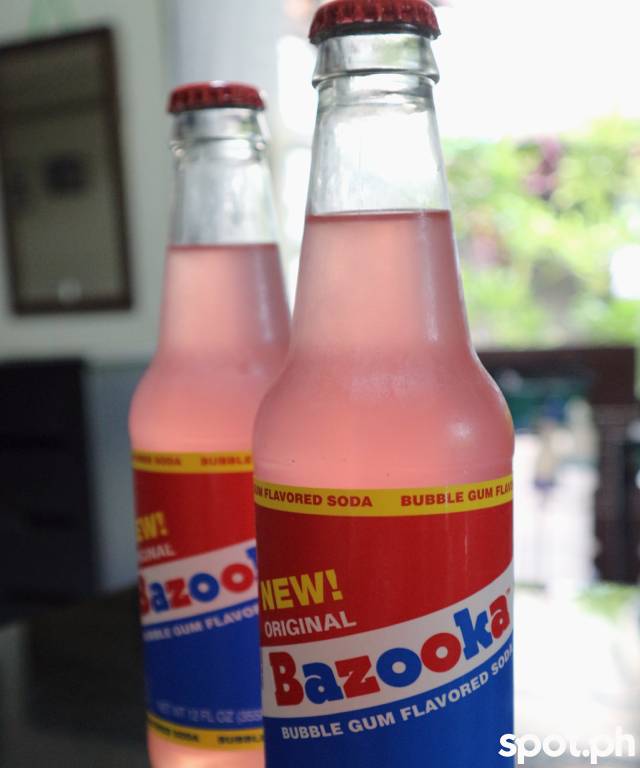 ADVERTISEMENT - CONTINUE READING BELOW
But the one question we're all asking upon getting the product is, "Where are the comics?". We're sad to report there's no free Bazooka Joe Comic with the drink. 
Taste
The moment you pop that lid off the bottle, you'll be hit with a whiff of that nostalgic strawberry bubblegum scent bazooka is known for. You could close your eyes, smell the drink, and think you're sniffing the gum.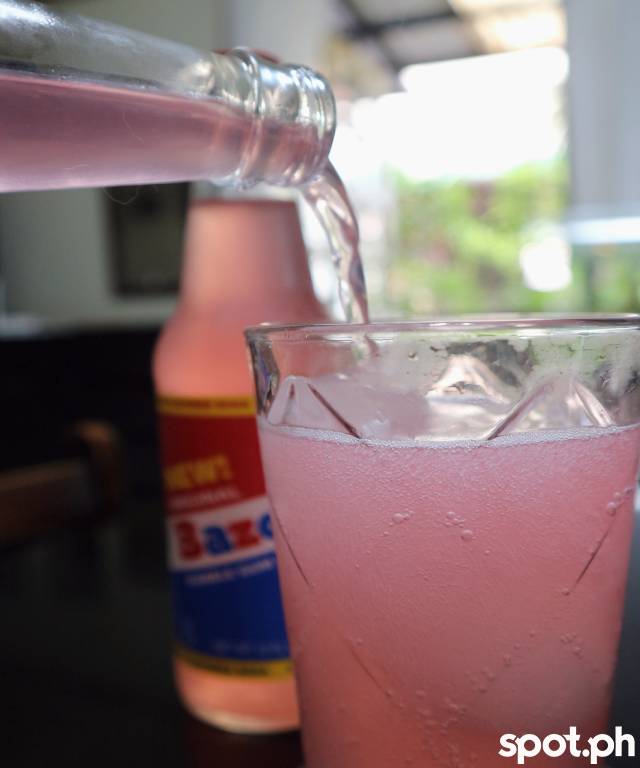 ADVERTISEMENT - CONTINUE READING BELOW
Pouring the drink into a glass will send more of the bubblegum scent flying about, but more importantly, you'll notice that the drink is quite light and fizzy, much like a glass of pink-colored Sprite. But its taste is definitely not light at all. Just a sip will send you into a massive sugar rush. Drinking the soda brings back memories of our first bites of the extensively sweet gum. It's just one-note, with sweet after sweet flavors coming at you all at once.
In our opinion, the drink vaguely reminds us of drinking sago't gulaman with extra arnibal and strawberry flavoring. Please don't even try drinking this warm or at room temperature. Instead, we recommend drinking this iced or very cold. Otherwise, it's going to be too saccharine for your liking. 
Final Verdict
While we're all suckers for the nostalgia angle, this drink is not one of our favorites. It's way too sweet for our liking and doesn't exactly refresh us nor quench our thirst. It's like drinking a watered-down version of the syrup used to flavor the gum. Plus, the fact that it's priced at over P100 from online resellers makes us want to rethink our choice of buying this in the first place. TBH, unless you're a massive fan of the gum, you can get away with not giving this drink a try.  
ADVERTISEMENT - CONTINUE READING BELOW
Share this story with your friends!
---
Help us make Spot.ph better!
Take the short survey
More Videos You Can Watch
Load More Stories