(SPOT.ph) Christmastime is here and all the happy elves of the Metro are justifiably out and about, worrying about what Christmas gifts to buy and which holiday drinks and Christmas dishes are the best ones to delve into. However, for us cine-freaks here at SPOT.ph, we say 'tis the season to be poppin'. That's right, we spent the early days of the merrymaking season revisiting the question, "What is the best cinema popcorn in the Metro?" but through a different lens.
Last time, we focused our sights on good ol' buttered popcorn, a reliable staple of the cinema that never goes out of style. This go-around, however, we took a look at the best flavor of movie house popcorn. Come on, say it with us. Say: cheese. Okay, we promise that'll be the worst of the puns. (Editor's note: It's not the worst of the puns.) Let's take a look at our cheesy contenders.
ADVERTISEMENT - CONTINUE READING BELOW
Also read: SPOT.ph Roadtest: Does the New White Cheddar Cheetos Puffs Live Up to the OG?
What Metro Manila Movie Theater has the Best Cheese Popcorn?
Let's run through the options.
Ayala Cinemas (Movie Snackbar)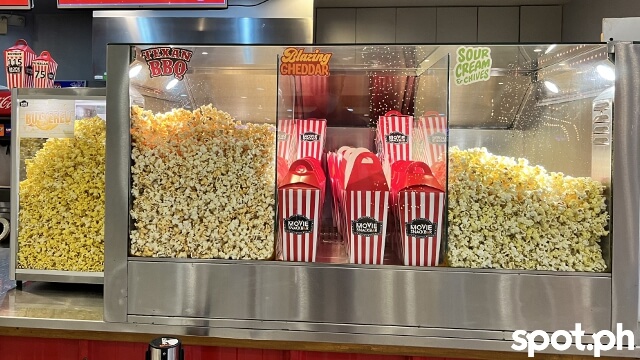 The cinemas of Ayala Malls are typically known for serving up decent flavored popcorn, with the long-running trifecta of Texan BBQ, Blazing Cheddar, and Sour Cream & Chives satisfying moviegoers for decades. On our previous list, we bid them a "butter luck next time," as their buttered popcorn wasn't available during the time of tasting. In an ironic turn of events, at the time of tasting for this list, it was their cheese popcorn that was out of stock. If we didn't know any better, we'd start to believe that we were being stood up. Alas, the search for Ayala Malls' placement on the popcorn list continues. Hopefully, the stars align on the Barbecue Popcorn Snackdown… that may or may not happen. Cheesy fingers crossed.
ADVERTISEMENT - CONTINUE READING BELOW
Recommended Videos
Rating: N/A
SM Cinemas (Snack Time)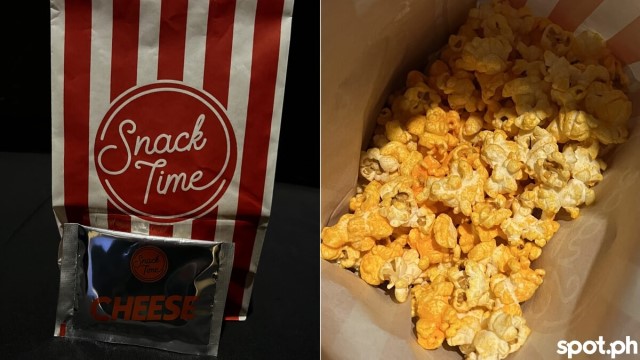 At SM Cinemas, you're given your bag of buttered popcorn and a DIY packet containing the flavored powder—whether it be cheese, barbeque, or sour cream—which you then pour into the bag and shake-shake until ready. For this reason, you'd think that the popcorn would turn out generally under-flavored or powdery on some kernels and lacking on the others. Surprisingly, no! The end result of your hard work bursts with a sweet, buttery, and tangy flavor that doesn't have a coating that's too powdery either.
ADVERTISEMENT - CONTINUE READING BELOW
Rating: 3.25 out of 5 Spots. (But we're bringing it down to 3 for the unnecessary steps.)
Gateway Mall Cinemas (Snaxx)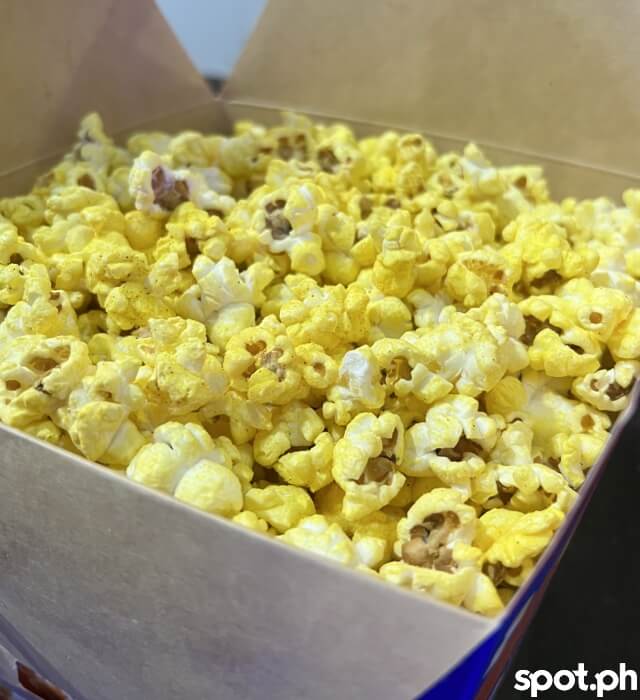 Our last list's winner in terms of popcorn packaging (but let's not talk about its actual taste) is back in the mix, looking to redeem itself with its cheese popcorn, officially labeled as "Nacho Cheddar Cheese." In some respect, they do redeem themselves, as their cheese flavor unequivocally clears their regular butter flavor. However, is it a significant improvement? Not so much. The added flavor doesn't—forgive the term—pop onto your palate. There's a gleam of peppery taste, but attempting to finish the entire bucket remains a pretty mild jaw exercise. You won't be dying to lick the cheese off your fingers in this case.
ADVERTISEMENT - CONTINUE READING BELOW
Rating: 2.5 out of 5 Spots.
Shangri-La Cinemas (Red Carpet)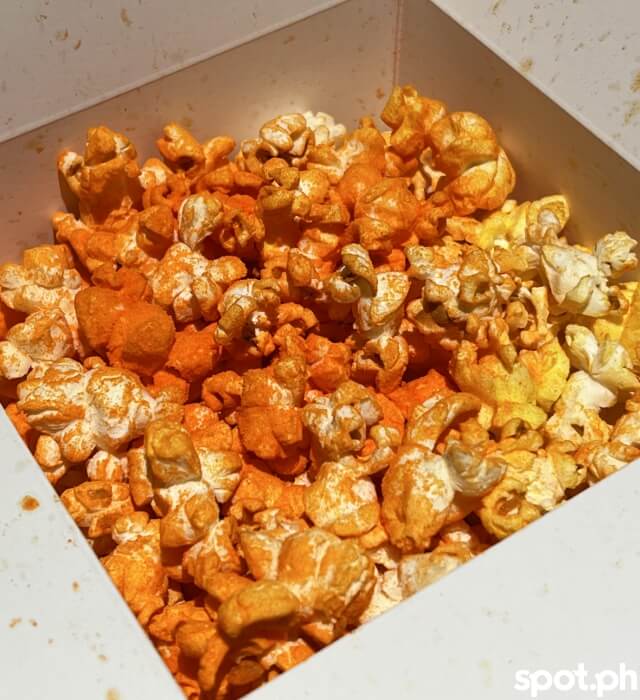 Shang's Red Carpet Cinemas never disappoints with their popcorn. The same is true for their cheese popcorn as well. Shang adopts the cheese-on-butter approach—you'll see the two heavy hitters at the end of this list do this as well—and uses it quite effectively. Its cheese coating is thick (and sticky), but not overwhelmingly so. Its sweetness ensures you'll enjoy every reach into the bag.
ADVERTISEMENT - CONTINUE READING BELOW
Rating: 3.5 out of 5 Spots.
Power Plant Mall Cinemas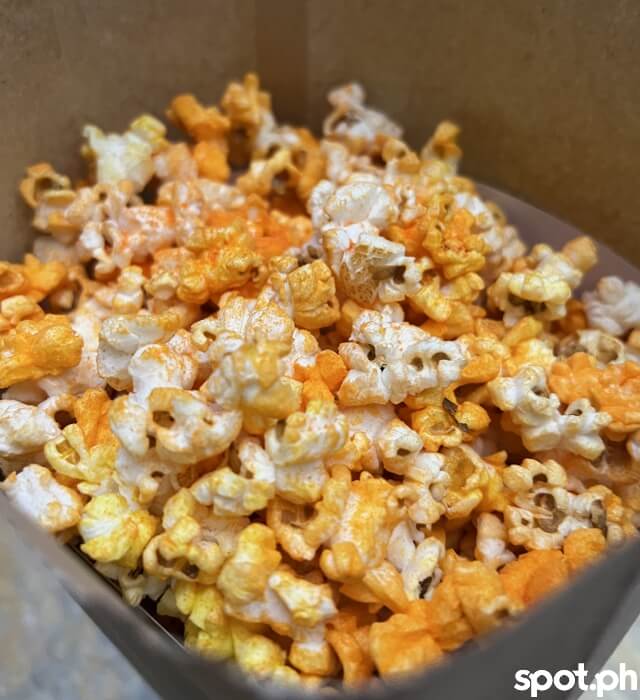 The ultimate winner of our Butter Popcorn Snackdown, Rockwell's Power Plant Cinemas is also hands-down the most powdery pick for flavored popcorn. There's no such thing as asking for extra powder at Rockwell's cinemas, unless you're a freak (hey, no judgements here). This abundance in powdered layering is justified by how excellent and well-balanced the cheese-on-butter combination is. Nothing better than devouring Rockwell's cheese popcorn all the way down to the bottom of the bag then licking your fingers afterward. It arguably is better to do this, if you don't want to risk the cheese getting everywhere.
ADVERTISEMENT - CONTINUE READING BELOW
And should you not feel like heading all the way down to Makati to get a taste of the famed popcorn, you could always hit up Santolan Town Plaza in San Juan. They're cinemas are not as packed, but they're assuredly just as poppin'.
Rating: 4 out of 5 Spots
Ultimate Winner: Greenhills Cinemas (Cine Snacks)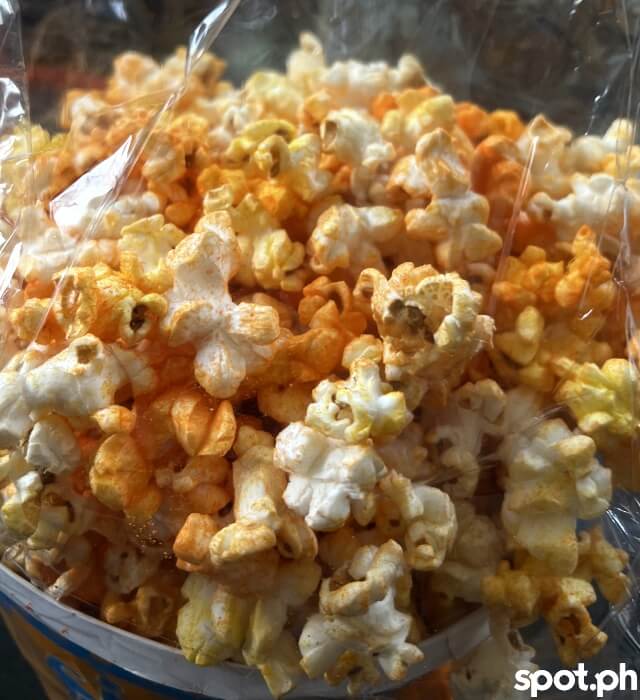 ADVERTISEMENT - CONTINUE READING BELOW
At first glance, you'd think, "The popcorn doesn't even look that cheesy. How has it topped the list?" It is true that Greenhills' cheese popcorn does give off an unassuming look, with lots of white, noticeably uncheesed spaces showing through the flavored layering. However, your first mouthful of the movie snack will change everything. Greenhills' popcorn doesn't feel artificially flavored into tastiness. You barely even feel the presence of the powder. It simply has the soft and sweet cheesy flavor. How does it have this? We can't even place our cheesy finger on it. Then again, our mind does transcend to a higher dimension when the cheese kernels melt in our mouth. Consistent, pungent, and cheesy. It's the GOAT cheese popcorn.
Rating: 4.5 out of 5 Spots
Hey, Spotters! Check us out on Viber to join our Community and subscribe to our Chatbot.
Share this story with your friends!
---
Help us make Spot.ph better!
Take the short survey
Load More Stories