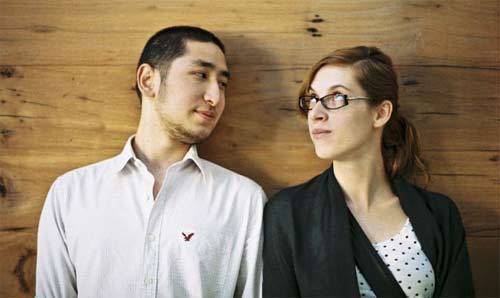 Alexis Tioseco and Nika Bohinc. Photo by Christian Yambing.
It's a gray day in September and yet again I have to put on a white blouse and my good pearls and drive to Sanctuario de San Antonio for a wake. Early Tuesday morning I woke up to learn about the senseless shooting and tragic death of film critic Alexis Tioseco and his girlfriend Nika Bohinc in their house on Times Street in Quezon City. Today I'm going to pay my respects.
ADVERTISEMENT - CONTINUE READING BELOW
I meet Carlos Celdran there and we see Quark Henares inside the small chapel. Two coffins are laid out in front and I am suddenly overwhelmed by a sense of loss that I cannot logically explain. I glance at Quark who is keeping it together for his friend; I can tell he hasn't slept. The family of Alexis arrives and we clear out of the chapel so they can have their time alone with the dead.   I can only imagine the depth of their bereavement.
The violence of the crime against Alexis and Nika seems almost unreal, as if in some awful massacre movie. Times Street is not a rough neighborhood at all; Cory Aquino lived on that street, too. Apparently the new maid let the robbers inside the house. They were looting the house when Alexis and Nika walked in. Quark tells me when the authorities arrived they didn't have body bags, they literally had to procure blankets for the bodies. At one point, they were asking for packing tape.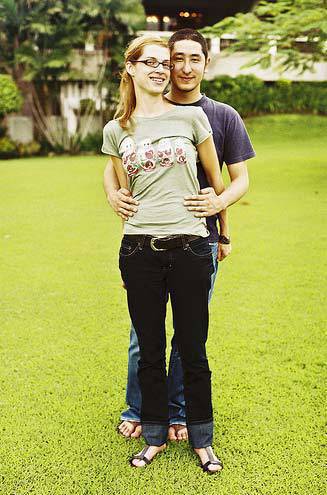 The couple during happier times. Photo by Christian Yambing.
It's so awful, and such a huge loss. Here were two young and talented people who had bright futures ahead of them. Alexis could have lived in Vancouver with the rest of his family but he chose to stay here and make his contribution to a community and industry that needs all the support it can get. He was passionate about Filipino film and championed it.
ADVERTISEMENT - CONTINUE READING BELOW
On the day Alexis Tioseco died, his friend Erwin Romulo was sitting in my apartment to use the internet. As I leafed through the 101st commemorative issue of the Philippine Free Press (Alexis wrote for them), we discussed the appearance of Alexis on the program "Media in Focus" along with Butch Dalisay and Carlo J. Caparas where they discuss the National Artist Awards controversy. I remarked on how cool, eloquent, and unfailingly polite Alexis appeared sitting next to Caparas. Erwin said "Pero yung mga sinabi niya may nilalaman di ba?"
Despite the grief of his family, friends, colleagues, and students he leaves behind a significant legacy that cannot be ignored. He stuck to his guns. He knew his shit. He did it out of love. Alexis Tioseco wrote Wishful Thinking for Philippine Cinema on his blog and ended with this:
"I wish less filmmakers compromised.
I wish more filmmakers admitted when they did.
I wish we focused our attention more on audience education, development and literacy, than on dumbing down films to pander to them.
I wish Philippine cinema all the success in the world. . ."
ADVERTISEMENT - CONTINUE READING BELOW
I wish the same thing. And I wish we didn't have to say goodbye to this brave and brilliant voice so soon.
Photos by Christian Yambing.
Share this story with your friends!
---
Help us make Spot.ph better!
Take the short survey
More Videos You Can Watch
Load More Stories