Top 10 Films to Watch for Holy Week
From the sacrilegious to the devout-a list of movies showing the best and worst of human nature in the context of Lent.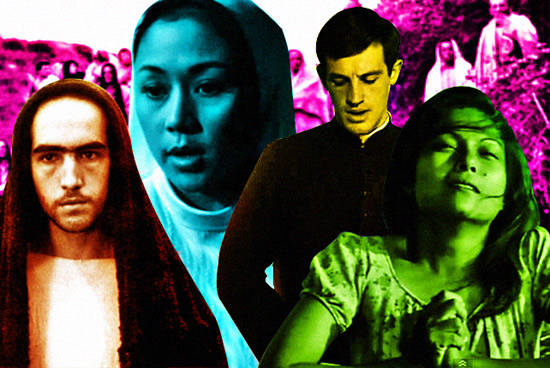 (SPOT.ph) Since it's Holy Week, we present a list of films that touch on this Christian season, for any viewer's consideration. There are many films out there that uphold this theme, not a few of them long hailed as art-house classics and reissued or rescreened by Criterion,  MUBI, and other enterprises upholding the heritage of cinema. From that global and local treasure, we pick out 10 that are by turns sacrilegious and reverential, all of them pertinent to this time of the year.
ADVERTISEMENT - CONTINUE READING BELOW
ALSO READ:
Choose Your Own Jesus: 10 Actors Who Played the Son of God
SPOT.ph's Top 50 Pinoy Sex Films You Shouldn't Watch during Holy Week
10. Dogma (1999) by Kevin Smith
God is a woman? What? Kevin Smith certainly ruffled some robes, especially with the appearance of the Buddy Christ. Although the film encourages people to have faith (and affirms the existence of a divine being), the Catholic Church felt like they were misinterpreted as backward and illogically rigid. The film also features a foul-mouthed apostle who claims that Jesus is black, the last living descendant of Jesus who is working in an abortion clinic, and fallen angels who are out to prove that God is fallible. Throw in George Carlin, an obscene agnostic, and you've got a movie that has blasphemy written all over it-despite the fact that it delivers the ultimate lesson from the heavens: love and peace and forgiveness.
ADVERTISEMENT - CONTINUE READING BELOW
9. Bad Lieutenant (1992) by Abel Ferrara
A corrupt cop (Harvey Keitel) moonlighting in the narcotics trade takes on the case of a raped nun, if he isn't too preoccupied with his systematic debauchery-indulging in drugs and alcohol, a masturbation setup involving two coerced teenagers, and an exhaustive rant at God that may well be this film's "epiphany." Controversial director Abel Ferrara was clearly tackling his deep Catholic issues in this character study, which departs from the frantic pace of his thrillers but still has its generous dose of violence. Except that the violence is the tamest part about the film. Only for the truly open-minded, who still may not appreciate Ferrara's overt sensationalism.
8. Son of God (2010) by Khavn dela Cruz and Michael Noer
Not to be confused with the newly released, ultrapolished biblical drama, this seriocomic tale of a midget touting himself as the Son of God is a must-see "mockumentary." Like Lino Brocka's Bona, this Son of God is set amid the feverish chaos of the Black Nazarene procession. You should see this startling film to believe the spontaneous following generated by the actor playing the titular character-who was plucked out of the Hobbit House bar in Ermita and dressed for this occasion like the Sto. Niño, wielding a battery-charged magic wand, escorted by a pair of stuntmen sidelining as bouncers who are also dressed garishly, like Roman gladiators. Filmmaker-poet-musician Khavn had always been bold, to say the least, in his pursuit of spiritual themes-a creative agenda that he shares with another spiritually oriented associate in cinema, Lav Diaz.
ADVERTISEMENT - CONTINUE READING BELOW
7. Sister Stella L. (1984) by Mike de Leon
If there's a Mike de Leon film that should be properly included in this list, it would be his haunting directorial debut Itim (1976)-a loose mystery set in the context of our country's folk Catholicism, and in the liturgical season of Holy Week at that. But we veer from conventional listing and include instead his politically charged masterpiece, starring Vilma Santos as a nun caught in a labor dispute that reorients her vocation. Released in the aftermath of the Aquino assassination, Sister Stella L. can be appreciated today beyond its political backdrop-as a film of sweeping compassion, and as a thriller with the urgency of a manifesto, fueled by the fiery eloquence of Pete Lacaba's screenplay. This is arguably Vilma's finest moment as an actress, and the heartbreaking restraint of her performance demonstrates spirituality as character.
ADVERTISEMENT - CONTINUE READING BELOW
6. Santa Santita (2004) by Laurice Guillen
A dashing hustler (Jericho Rosales), an alcoholic priest (the late great Johnny Delgado), and a girl-woman (Angelica Panganiban) who becomes a reluctant divine instrument lead an ensemble of similarly flawed characters in this, Laurice Guillen's reaffirmation of spirituality in the material world. The film is a bit too romanticized in its theme of redemption among the spiritually dispossessed, but it's still a full-bodied work-from the committed performances to the brilliant referencing of the films of Guillen's mentor, Lino Brocka. The Black Nazarene procession is a more palpable spectacle here than in Brocka's Bona. And Hilda Koronel, as Panganiban's mother, does a lively, at times comic take on the mother-daughter dynamic of Brocka's Insiang (where Koronel was the daughter). An elegant movie altogether-in keeping with everything Guillen has done as an actress and filmmaker.
ADVERTISEMENT - CONTINUE READING BELOW
5. Monty Python's Life of Brian (1979) by Terry Jones
Do not mess with the word of God. There was a time when altering religious text was a ticket to meeting the Lord himself (read: death), but fortunately, Life of Brian was released after that period. Still, there was much outrage from conservatives when the comedy group Monty Python presented a retelling of the New Testament. The movie tells the story of Brian, who is mistaken for the Messiah by the Magis because he was born in the stable next to Jesus. It gets sorted out, but things get confusing again, and more mockery of biblical figures ensues. Spoilers: the film ends with a mass suicide of the Judean People's Front. Not quite politically correct, then or now, but such is the nature of satire. Offensive, disruptive, and, when you get the joke, absolutely hilarious.
ADVERTISEMENT - CONTINUE READING BELOW
4. Of Gods and Men (2010) by Xavier Beauvois
French actor Lambert Wilson, the suave villain in The Matrix trilogy, takes on an entirely different persona in this moving real-life drama, as a Trappist monk leading his order in pursuing their humanitarian work amid the rampant terrorism in '90s Algeria, where they were based. The monks resist every opportunity to leave this country until the spiral of violence catches up on them. A quiet heartbreaker of a film-dignified and serene in upholding compassion in the face of brutality. And Wilson-as the scholarly monk who makes a personal vocation of translating the Koran so as to better appreciate his adopted milieu-was never more stylish in projecting the muted anguish of his doomed character.
3. Himala (1982) by Ishmael Bernal
This oft-cited masterpiece-named in a CNN poll as the greatest Asian film-really becomes distinct, alongside Bernal's largely sensual work (Salawahan, Nunal sa Tubig, Working Girls, and Nagbabagang Luha, to name a few). For a film that's widely referred to in the somber season of Holy Week, Himala is actually skeptical of the Christian faith that it portrays. The real miracle here is Nora Aunor, who was never more evocative than in this film. Her character's closing address to her crowd of believers, this movie's cathartic finale, remains an iconic moment in Philippine cinema.
ADVERTISEMENT - CONTINUE READING BELOW
2. Leon Morin, Priest (1961) by Jean-Pierre Melville
In his prime, Jean-Paul Belmondo was one of the hottest stars in French cinema. He was quite a league away from handsome Alain Delon, because there was something of a pug about Belmondo's face. But there was no mistaking his macho appeal, from his breakthrough in Jean-Luc Godard's Breathless to his other tough-guy variations. And then he played Father Leon Morin, perhaps the sexiest Catholic priest to ever grace the movies, in this parable of spirituality-versus-sensuality by renowned filmmaker Jean-Pierre Melville. Rarely has there been a film, ostensibly about religion, that was also charged with eroticism, as in this story of a dashing, erudite priest posted in a remote town dominated by women.
1. The Gospel According to St. Matthew (1964) By Pier Paolo Pasolini
In an era of overblown biblical epics from Hollywood, this refreshing take on the life of Jesus Christ, based on the Book of Matthew, generated excitement and critical notice upon its release. This movie shows what an energetic vision could do with a lean budget, a cast of nonprofessional actors, and an all-too-familiar story. The Vatican itself was full of praise for this film, which is ironic, because Pier Paolo Pasolini was an avowed communist and atheist-who actually intended to project Christ as a militant, a precursor of Che Guevara. Pasolini would bring his amoral principles to their extreme a decade later, when he made Salo, adapted from the writings of the Marquis de Sade. It's a truly repellent but difficult-to-dismiss film-and rendered all the more controversial by his still unresolved murder soon thereafter. Abel Ferrara is currently making a film on Pasolini and has tapped Willem Dafoe to play the late poet and filmmaker.
ADVERTISEMENT - CONTINUE READING BELOW
Load More Stories