(SPOT.ph) International artists love performing in the Philippines for a reason: not only is it a fan hotspot, but the crowd is generally considered one of the loudest in the world. 
Harry Styles hasn't even stepped foot at the Philippine Arena for his Love on Tour concert on March 14, but he's already well aware of just how loud Filipinos can get—we're talking decibels that not even he with a microphone can compete with.
If you've ever been to a concert before, you would know that the place is almost always bursting with sound. One Nicole Uy from the Philippines managed to stand out from the noise during a Styles concert in Bangkok on March 11, so much so that the artist called her the "loudest lady in Thailand."
Also read: Marriage Proposals, Nicole, and Bananas: What You Missed at the Harry Styles Concert
Harry Styles names Pinay fan the loudest lady in Thailand
Styles was in the middle of a speech during his one-night show in Rajamangala Stadium in Bangkok, Thailand when he was interrupted by a fan who called him by his full name.
ADVERTISEMENT - CONTINUE READING BELOW
"Harry Styles! You!"
Immediately, Styles stopped talking and looked at her in amazement. "What? How are you so loud? You're louder than me!" Styles said. He asked for her name, then proceeded to ask the crowd: "Can anyone else hear Nicole as well as I can?" 
Even with the crowd in a frenzy, he was able to ask for her full name and where she was from, to which she replied the Philippines. Uy has been a big fan of Styles since his earlier One Direction days, so it's no surprise that she's following him around for his Love on Tour shows in Asia.
"Being a fan for 12 years made me follow the tour. I don't usually do this, but I just felt the need that I had to for my teenage self," Uy told SPOT.ph. "Plus, the Bangkok show was the day I would celebrate my 12 year anniversary so I had to go all in."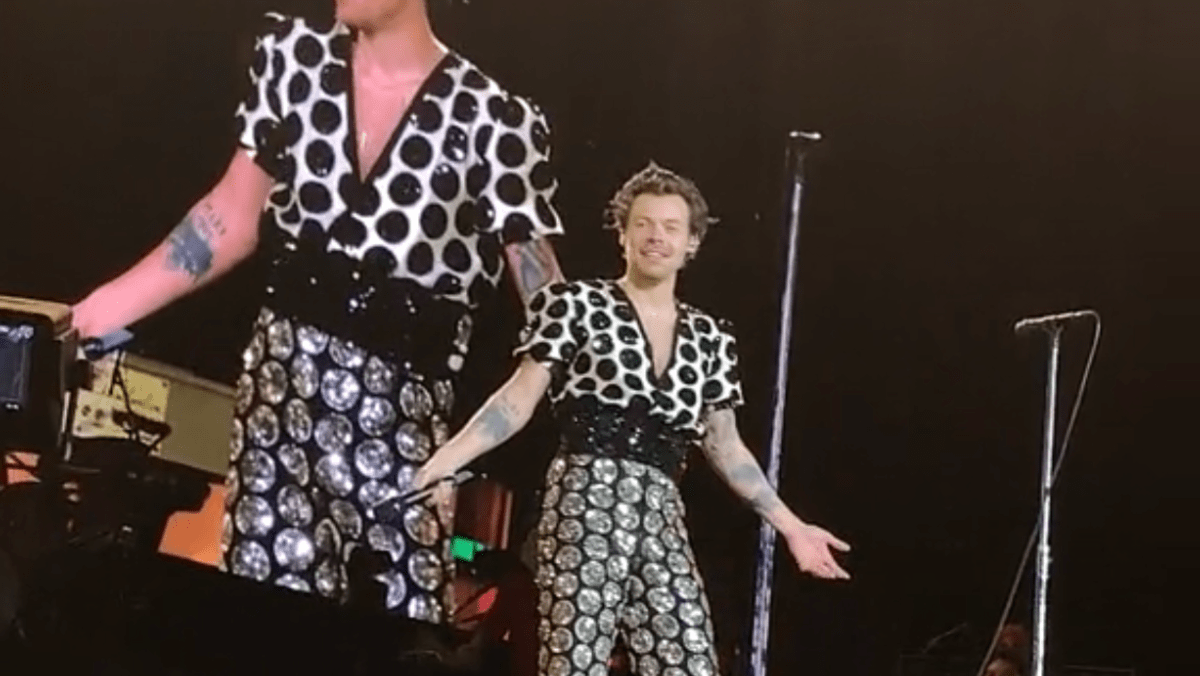 "Nicole, have you ever worked in a theatre? You're very good at projecting," Styles said. "Look at what happens when I don't have a microphone. Three rows can hear me. Three thousand people can hear you and you're all the way to the front!"
ADVERTISEMENT - CONTINUE READING BELOW
Uy had a full three-minute interaction with the superstar before he went back to performing.
"Make some noise for Nicole from the Philippines—the loudest lady in Thailand!" Styles yelled. "Until she gets back to the Philippines, then she'll be the loudest lady in the Philippines!"
Uy shared that it wasn't the first time someone had called her loud,  which had become somewhat of an insecurity for her. Styles taking fascination of this helped her accept—and even love—her loudness.
"I always hated how deep and loud my voice was, but as Harry said, I don't need to apologize," Uy told SPOT.ph. "I just need to live my truth and be myself."
To make it even sweeter, Styles didn't forget about Uy for the rest of the night, making mention of her during his encore performance of "As It Was": "Sing it out, sing it out, Nicole!"
ADVERTISEMENT - CONTINUE READING BELOW
"The experience [was] very surreal. I didn't expect he would notice me or my sign since there were only two songs left," Uy told SPOT.ph. 
Uy's TikTok video has racked up almost a million views since she posted it a day ago. You can watch the full fan interaction here below:
Styles is set to perform later today at 8 p.m. at the Philippine Arena in Bulacan. It's not the first time Styles is going to the Philippines as a solo act, having had his debut concert tour in support of his self-titled album in 2017.
You can bet the "loudest lady in Thailand" isn't missing out. Based on her Twitter account, Uy is now back in Manila for another night of Styles' music. She's also set to watch him in his Singapore show on March 17. Only time will tell if we'll be seeing more endearing interactions from the two.
ADVERTISEMENT - CONTINUE READING BELOW
Also read: Harry Styles Is Coming to Manila
Share this story with your friends!
---
Help us make Spot.ph better!
Take the short survey
More Videos You Can Watch
Load More Stories