On the Spot: Ornusa Cadness
"Anti-It" Girl Ornusa Cadness opens up about dating, modeling, Family Guy, and her love for carbs in our exclusive SPOT.ph Q&A.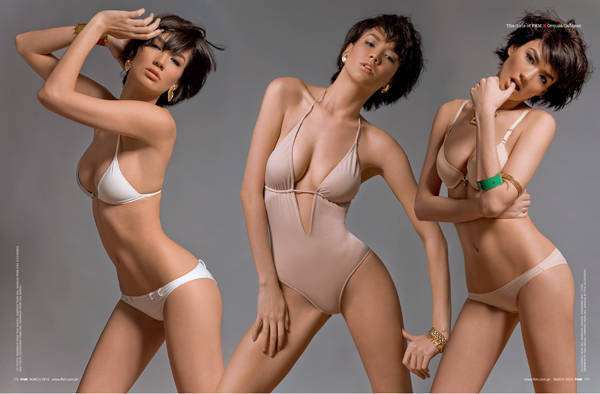 Ornusa in FHM X. Photographed by Doc Marlon Pecjo.
Foxy, fierce, and free, Ornusa Cadness is a vagabond in every sense of the word. Left in the shadows of a long-ended high profile relationship, she steps out from the media frenzy her own person–a woman molded by the heavy blows of life. A shape shifter through the lens and a goddess on the runway, this 26-year-old exudes freedom and denies being stereotyped. SPOT.ph goes beyond the beauty shots and intrigues and gets to know more about her.
ADVERTISEMENT - CONTINUE READING BELOW
In an interview, you said you were sort of forced into modeling out of circumstance. If you had your way, what profession would you have pursued?
I had to model to support myself and help pay off my college tuition and sometimes my sister's tuition as well. I wasn't really able to go to the school of my choice because of the financial situation, but had I been given the choice to go to any school and take up any course, it would have been art-related. I would have loved to become a graphic designer or an animator.
Would you ever go back to school and finish your studies?
I would definitely not go back to my old school [San Beda College Alabang]. But this time, I want to study my real interests: either cooking or fashion design.
CONTINUE READING BELOW
Recommended Videos
Cooking?
Cooking! I catered once at a fashion show. I fed all the vegetarian models for a day.
ADVERTISEMENT - CONTINUE READING BELOW
You're also an avid painter. Have you ever exhibited your work? Any plans?
I paint every now an then. I never studied art, but I did join all the art competitions I was aware of at school. I had an exhibit once. Designer Mich Dulce was nice enough to allow me to showcase my art at her store when she had one out on Shaw Boulevard in 2007. This year I'm hoping to put an exhibit together as my birthday party... that way people will have to come. No excuses!
What do you hate about modeling?
I hate waiting all day at fashion shows. But hey, that's what we get paid to do... walk and wait. There are far worse jobs than that, for sure.
Models get a lot of free clothes (at least that's what we're told), do you ever shop? Where?
Not true! I got free clothes from Maldita because I worked with them. I shop everywhere, even in department stores. You just have to look hard enough.
ADVERTISEMENT - CONTINUE READING BELOW
Out of all the shoots you've ever done, what's your favorite?
I love the shoot I did for FHM's March 2010 10th anniversary issue. That, so far, is my favorite. I've never felt more womanly. I can't believe they didn't put me on their cover! (Tee-hee, just kidding)
Do you like it when people call you the "anti-it" of the modeling industry?
It's always cool to have your own title. I don't mind at all. I like it a lot better than being known as a "party girl." Yup, definitely a lot better.
ADVERTISEMENT - CONTINUE READING BELOW
Â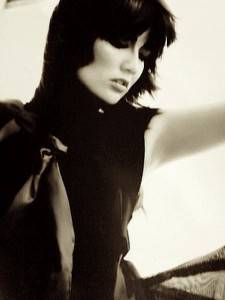 From Imagine magazine 2008.
In every photo you appear in, you always look like a different person. You really transform. What usually goes through your head when you're in front of the camera or on the runway?
It's work. So if your work requires you to be confident, you tell yourself to be confident. It's not always easy, because most of the time you are wearing things you normally wouldn't wear, your shoes will sometimes be too tight, or you'll have avant-garde makeup or hair on an on location shoot where people will stare at you, but it's all part of the job. You get used to it after a while.
ADVERTISEMENT - CONTINUE READING BELOW
What would you never ever be caught dead wearing?
Fur! I will never wear fur. Never! It's the cruelest thing humans are doing to animals. They skin them alive! Nobody should support that.
You're involved in PETA. What's your favorite animal?
My favorite animal is our pet bulldog, Murdoc. He is the most unusual dog I've ever had the pleasure of taking care of. He sleeps all day long, snores really loud, and passes gas... A LOT.
Are you still vegetarian? Where do you usually go for vegetarian food?
I am a pesco-vegetarian. I still eat a lot of seafood. If you go into any SM shopping mall and find the food court, you should try the Evergreen/Bodhi stall. It's all vegetarian and vegan dishes in a comfort food style. It's my favorite place to eat, and it's really cheap.
What kind of cuisine are you into? What's your favorite restaurant?
I can't get enough of Japanese food. Seryna is the best restaurant to have lunch at. It's a restaurant in Little Tokyo right beside Makati Cinema Square. If you ever eat there, you should try the grilled Hamachi head–best fish I've ever had.
ADVERTISEMENT - CONTINUE READING BELOW
Have you ever eaten at a turo-turo?
I have, many times, out in the province. When I went to Bacolod, I broke the rules and ate chicken. I had to try the original chicken Inasal at least once in my life. It was great. No regrets.
You once said that you love carbs, what kind? What restaurants do frequent to get your carb fix?
All carbs are my favorite, especially brown rice and couscous. You can get couscous dishes at any Mediterranean restaurant; brown rice at healthy restaurants like Corner Tree Cafe on Jupiter Street, and Healthy Kitchen at Serendra.
Where can we find you on a night out in Manila? Doing what?
I would probably be at B Side. It's a new bar on Malugay street in Makati. I like it because it's low key and has a relaxed environment with lots of space to frolic or jump around. My best friend, Sanya, is manager there, so I stop by for visits every so often.
ADVERTISEMENT - CONTINUE READING BELOW
What's your vice?
Drinking, and when I drink, I smoke. They go hand in hand. So, I need to quit drinking, in order to quit smoking.
What's your drink of choice?
Dirty Martini or a Bloody Mary.
What's the best place to meet new people in Manila?
M Cafe on a Friday night, I suppose. [There are] lots of expats.
What's your hangover remedy?
An Alka-Seltzer, lots of water, and most of the time a bowl of ramen. It used to be sinigang. Hot soup always makes me feel better.
What's the best spot in Manila to get lost in?
Divisoria, on a not so busy day. You can find just about anything there.
Â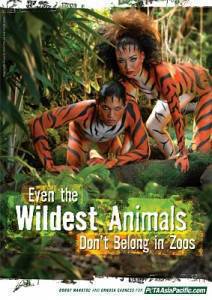 Ornusa and ex-boyfriend Borgy Manotoc growl for PETA. Photo by Xander Angeles
ADVERTISEMENT - CONTINUE READING BELOW
If you're not out, do you stay in and watch TV? What show is your guilty obsession?
I'm into a new HBO original show called Bored to Death starring Jason Schwartzman. It's a really clever show. I also watch too much Family Guy. I watch all seasons repeatedly and recite lines from the cartoon way too much. It must get on people's nerves sometimes.
Are you more of a movie person or music person? What your favorite movie or track?
Both. My top three movies would be The Royal Tenenbaums, Hitchhiker's Guide to the Galaxy, and Stranger than Fiction. I like movies with narrators. There's something extremely calming about them. My favorite music track at the moment would have to be Partysquad's Murderer (Diplo & Jayou remix).
What's the bitchiest thing you've done?
Well, I asked Borgy (when we were still dating) to have Bong Alvarez removed from Cuisine (now known as Suite) because he tried to order a bottle of scotch off of me in a very obnoxious manner. I think it was a pick up line, just delivered badly. My friends told me he got the idea from that movie Hitch starring Will Smith. Anyhow, I was just very annoyed because I was working real hard all that afternoon and night to set up that party. The last thing I wanted was some stranger insulting me.
ADVERTISEMENT - CONTINUE READING BELOW
Being in the limelight, have you ever been stalked?
We had one scary experience, but it happened to a group of us, with Bianca Valerio, Raya Manangquil, and Val de los Santos at Greenbelt once. We were at the bridal shower of Isabel Roces. Some creepy guy was staring at us from outside the restaurant the entire time. I was under the impression that he was someone's husband or boyfriend and was just waiting outside. But he was still there when it ended and he followed us around the mall when we were getting errands done. When we'd stop, he'd always loiter somewhere a few feet behind us. He was really disturbing. Luckily, we were at a very public place with security guards around every corner.
Has a politician ever hit on you?
Yes, but they are usually hitting on every girl at the bar anyway so it doesn't make me any more special. No names. I would sure like to give their wives some hugs though. Hang in there, ladies!
ADVERTISEMENT - CONTINUE READING BELOW
When you were still in the dating circuit, what was the usual deal-breaker?
I never really dated. It's strange. 95% of the men I've gotten involved with, I ended up with for a very long period of time.
You've been asked a lot of questions about your past relationship with a certain male model. What was the worst?
A female reporter once asked me if I was pregnant, which is not bad at all. I just found it funny because I replied, "No, but I think you are." Because she really was pregnant! Like 6 or 7 months. I love kids, but I don't think I'm ready to have any just yet.
You're part-New Zealander and part-Thai. Why did you choose to stay in Manila? I was born here. I grew up here. When my parents split, I still chose to stay. The Philippines has always been my home.
What's your favorite Tagalog expression?
I once heard my high school teacher yell out "anak ng tipaklong" while running after a naughty little grade school boy. I never forgot it because I asked the person next to me what  tipaklong meant, and they said it meant "grasshopper." To this day, it still makes me laugh.
ADVERTISEMENT - CONTINUE READING BELOW
What does Ornusa mean?
My mom says it means "beautiful." But she's my mom, she's biased. Hahaha. Of course, she's obliged to say that.
Photos courtesy of FHM, Doc Marlon Pecjo (FHM X spread), Niccolo Cosme (Blacksheep, Motorola, Maldita), Jeanne Young (Preview), Mark Nicdao (Rogue), Juan Caguicla (Uno), Victor Consunji (test shot), Xander Angeles (PETA, Risque), Miguel Miranda (Almost Famous), Arianne Chuidan (FHM X party), StyleBible.ph, and Ornusa Cadness.
Share this story with your friends!
---
Help us make Spot.ph better!
Take the short survey
Load More Stories