On the Spot: Tricia Gosingtian
The web sensation spills the juicy details about being sent by Tumblr to cover New York Fashion Week, her signature kawaii poses, and more.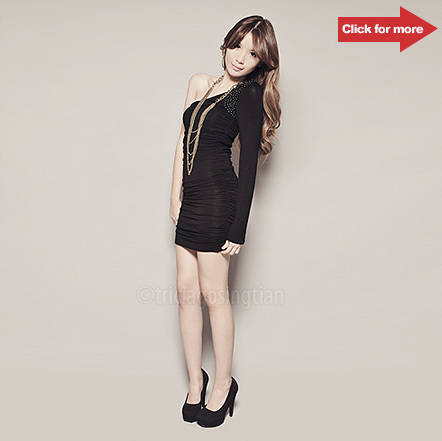 She's the Internet Sensation in SPOT.ph's Top 10 It Girls. Click for more photos from her Tumblr.
The label "Internet celebrity" makes her cringe but there's no doubt that Tricia Gosingtian, 22, is a sensation online and otherwise. This photographer, stylist, model and fashion blogger has made it to list after list: SPOT.ph's Top 10 It Girls, Lookbook.nu's Top 10 Fashion Inspirations, Preview's Creative It List, The Philippine Star's 22 Achievers Under 22, YStyle's The Fashionable 25, Go Negosyo Inspiring Young Entrepreneurs, and more.

Her biggest and most recent fashion coup was to be among the bloggers that Tumblr sent to cover the recent New York Fashion Week. Of the chosen 24, the Filipino-Chinese artist was the only blogger from Asia. There, she met fashion stalwart Oscar de la Renta and toured his studio, had brunch with Marie Claire Fashion Director Nina Garcia, and spotted the Anna Wintour. (She also had a brush with intrigue because of a certain interview; read about it on her Twitter.)

The Chictopia style icon chats with SPOT.ph about her NY Fashion Week adventure, the perks and snags of being a famous fashion blogger, and why she's never cosplayed-contrary to popular opinion.
Behind-the-scenes at a fashion shoot last year featuring Tricia Gosingtian. Styling and video editing by Gosingtian.
What is it about "Asian aesthetics and Japanese fashion, beauty and culture" you love?

I've always loved that dolled-up look they always have, as well as that knack for mixing and matching pieces together resulting in genius ensembles I can never replicate. They have so many fashion subcultures and it's amazing how they even have magazines that cater to each one. I'm an avid collector of Japanese magazines and I follow a lot of their helpful hair and makeup tutorials.

Your photos have been published in a lot of local publications and some foreign ones too. Which magazine do you aspire to get published in?

Nylon, totally. And ViVi (Japan) even if it's such a dream.

Which foreign model do you dream of working with? Why?

Karlie Kloss has been my favorite international model for a while now, and it was such a pleasure to be able to take her photos on the runway when I went to New York for Fashion Week. I'd love to work with her. But I'm glad I have a close friend who's like a Karlie clone; that's probably the closest I can get to my dream.

How would you style and photograph the Filipino models currently making waves abroad like Danica Magpantay, Charo Ronquillo and Chat Almarvez?

Off-duty models, street-style.
ADVERTISEMENT - CONTINUE READING BELOW
Behind the scenes of a photo shoot photographed and styled by Tricia Gosingtian
How did you come up with your signature poses? What do you think of people emulating you?

What's my signature pose? I never really thought any of my poses would stick but it's really fun when people just automatically do cute Asian poses when we meet for the first time.

How did you decide on your Tumblr name (Tricia Will Go Places)?

I dream big, or at least I'd like to think so. I made it so, wishing it'd really happen one day.

How did you land a spot in Tumblr's 24 who got to go to the recent New York Fashion Week?

I was personally emailed by the fashion editor of Tumblr. I don't know the reason behind it but they said it's a mix of everything from influence to the number of followers, etc.

What did you learn from the trip?

World-famous designers are famous for a reason, and it shows in all of their collections. They put an insane amount of effort to produce everything from the designs to the materials, and this is what makes gives them the right to set worldwide standards.

Quality fashion bloggers abroad have so much influence over brands and ordinary people because they make fashion friendlier and more accessible.

What were your favorite experiences?

Meeting Oscar de la Renta and being able to tour his studio-slash-office, getting first dibs on a perfume that has yet to be released, spotting celebrities in the front row and seeing world-famous fashion personalities in the flesh, spending so much time with 23 other amazing Tumblr bloggers for a week, and being able to take pictures of everything.
CONTINUE READING BELOW
Recommended Videos
ADVERTISEMENT - CONTINUE READING BELOW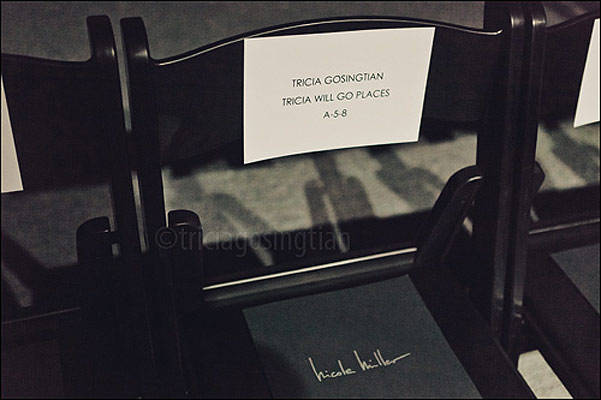 Tricia Gosingtian went to the Nicole Miller show during the recent New York Fashion Week. Photo from Gosingtian's Tumblr.
Which personality sighting were you most excited about?

Anna Wintour! I never got over seeing her each time I spotted her at a show. It's unreal especially because I loved The September Issue and, well, I saw Grace Coddington beside her too.

What do you think people would be most surprised to learn about the NY Fashion Week?

It's so hectic; it's hard to find time to properly eat!

What do you love and hate about being an Internet celebrity?

Until now, I cringe every time I hear someone call me an Internet celebrity. I've been around the Internet for a while now and I could point out real Internet celebrities worldwide. I don't even come close to what they are and what they have. Personally, I've had so many perks for being a fashion blogger (I get sent so many things that sometimes I don't even have to shop anymore) but one downside is getting judged by people who have no idea who I am and what my thoughts are.

I know I can't please everyone and I am aware that this is the world that I live in. I'm big on positive thinking. Why be unhappy and dwell on negativity when you can choose to be happy and focus on the better things in life? (All this thanks to my family and friends who inspire me so much.)

What are some of your eyebrow-raising experiences with fans? How do you deal with the particularly enthusiastic ones?

I've had quite a lot of strange encounters with followers but I know they have good intentions. I'm a pretty awkward person myself and I tend to act weird around people I admire, so I don't really want to point out any particular encounter!
ADVERTISEMENT - CONTINUE READING BELOW

You've appeared in a few music videos. Any plans to professionally act?

I can't act to save my life. True story. I've had a number of TV interviews and it's painful to watch myself talk. Music videos are a little bit better than shows because I don't have to say anything and I don't have to be immensely annoyed by my own voice!
Tricia Gosingtian co-starred in Chicosci's "What's Your Poison?" music video
What medium of art do want to branch out to?

I'd love to collaborate with production designers who'd be willing to create sets for photo shoots.

What's your advice for aspiring photographers, stylists and models?

Practice and never stop that desire to learn. Focus.

What are the products and services you endorse? What makes you decide to endorse a certain product or service?

Fashion-related things. It'd take me until who knows when to enumerate everything but it's all mostly wearable things. I don't endorse products I don't personally believe in because I feel like I'm cheating if I do.
Have you ever cosplayed? Would you ever consider it?

Never! I've only taken cosplay photographs, but contrary to popular belief, I've never cosplayed. It's cute, but just not my personal style.

Where do you like to eat out and drink in Metro Manila? What do you usually order?

I'm always lurking in different coffee shops around Metro Manila. Recently I've fallen in love with Little Tokyo. You can't go wrong with authentic Japanese food.

What do you do and where do you go to pamper yourself?

On an ideal day, I go shopping at my favorite malls, have my hair and nails done (my hairstylist Jun at Indigo Salon is my hair savior), eat my heart out at a fancy resto and sleep for more than eight hours. Of course, ideal days are incredibly rare.

If we were to raid your fridge, what would we find in it?

Lots of chocolates. Desserts are my absolute weakness.
ADVERTISEMENT - CONTINUE READING BELOW
Photos from Tricia Gosingtian's Tumblr.
Share this story with your friends!
---
Help us make Spot.ph better!
Take the short survey
Load More Stories