(SPOT.ph) Animation has come a long way since 1996, and the original Toy Story can bring back a lot of childhood memories. The viewers who first watched it have since grown up but continue to relate to the evolving storyline that the sequels carry out: Woody's desire to be the best toy for Andy, Buzz Lightyear's adjustment from being space commander to a full-time toy, Jessie's acceptance of being in a new child's room after being abandoned, and finally to learning how to say good bye and let go in Toy Story 3.
It's easy to think that's where it ends, but Toy Story 4 brings the gang back for an adventure along with a new reimagining of an old character: Bo Peep. In an interview with SPOT.ph, character designer Mara MacMahon talks about the process of reimagining Bo Peep's look to not only better suit her surroundings and change alongside the viewers, but to evolve with the storyline of Toy Story as well.
ADVERTISEMENT - CONTINUE READING BELOW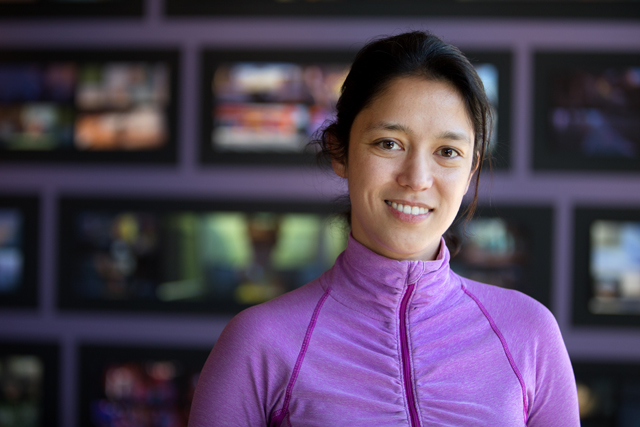 For starters, Bo Peep is the exact same doll from Andy's little sister's room, but not quite. Gone are her days of herding sheep and being the leader of the toys in her kid's room. She still has her signature blonde hair and blue eyes, but she has ditched her dress for a shirt-and-pants combo, and while the change in wardrobe seems entirely aesthetic, it's actually deeply rooted in the narrative of the latest Toy Story installment.
MacMahon, along with the team pulled together to redesign Bo Peep, didn't want to give her a complete wardrobe change. They needed to think about the story as a whole and how it would affect not only Bo Peep's personality, but also how she looks and dresses to fit in with her new environment. "We were still thinking about that original outfit," she says, as she details Woody's decision to belong to a child and serve his purpose as a toy. And while that was his choice, the same can't be said for Bo Peep. "The interesting counterpart to that is, for Bo Peep, she decided she wanted to be a lost toy," she continues. Because of Bo Peep's new lifestyle, which involves getting around and being exposed to different elements, her character's overall look, behavior, and demeanor had to change, but not too much that she was a completely unrecognizable character.
ADVERTISEMENT - CONTINUE READING BELOW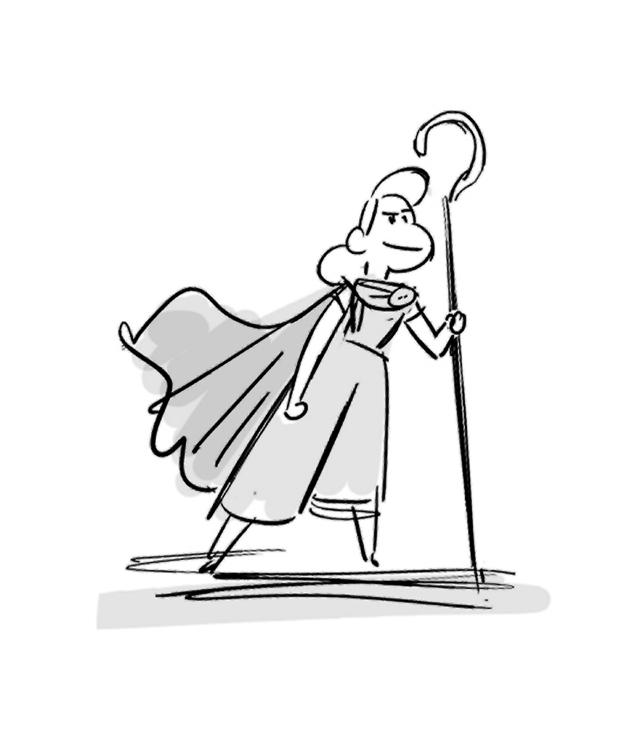 Bo Peep has changed, but that's not to say she has to choose one side of her for good. "It's not completely getting rid of the dress, it's the idea of being a little more adaptable and improvising as she goes," MacMahon clarifies. After all, going on a thrilling adventure in a dress just wasn't convenient or practical. Despite being "lost" though, she was still a toy that kids could pick up and play with, and she couldn't lose that side of her either.
ADVERTISEMENT - CONTINUE READING BELOW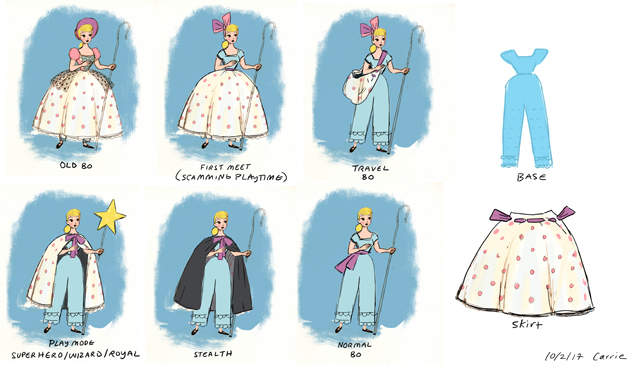 MacMahon found it challenging to redesign a character that's been there through all three previous movies. There wasn't a shortage of ideas for how Bo Peep could be or look, but the team had to step back and look at the bigger picture. Toy Story 3 sewed it all together tightly, but it presents what ifs and what abouts, and Bo Peep, who took on an entirely different path from Woody and the gang, has her own story to tell. "There were so many ideas about what Bo could've done or what she could become, but at some point, we actually got to the point where we asked 'Is she recognizable anymore?'"
ADVERTISEMENT - CONTINUE READING BELOW
Toy Story 3 capped off Woody and the gang's adventures of being the greatest toys they could be for any kid, but Toy Story 4 explores the world beyond the four walls of a child's bedroom, along with reevaluating the purpose of their existence as toys. With all of this in mind, MacMahon and the rest of the team had to do Bo Peep's character redesign and development justice, and they owed it to the overall story of Toy Story 4 as well.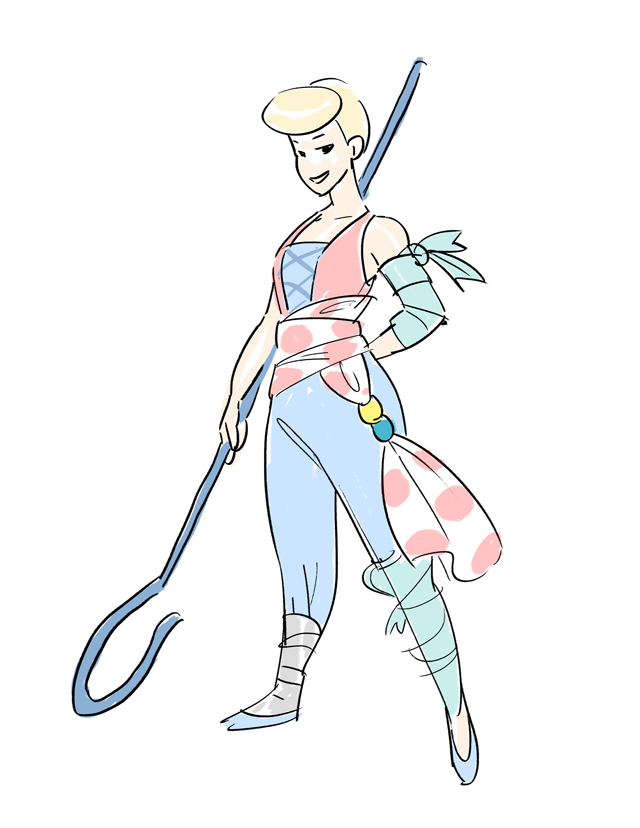 ADVERTISEMENT - CONTINUE READING BELOW
Redesigning a character is not a job meant for one person, and MacMahon credits Bo Peep's new look and story to a team of talented people. MacMahon eagerly explains how great it was to work with the team, "Everybody brings such interesting and fantastic and different ideas to the table and they're all good at what they do." She continues, "What was exciting was men and women's experiences coming to the table. We all held hands to bring the best out of this character. I love the fact that it was a mixed group, and we all brought our all to it."
Seeing their work on the big screen is nothing short of magical. "There's the sense that we hope people enjoy it and that they take it to heart. It's getting to share a little part of yourself with the world and it's really exciting and cool," she says fondly.
ADVERTISEMENT - CONTINUE READING BELOW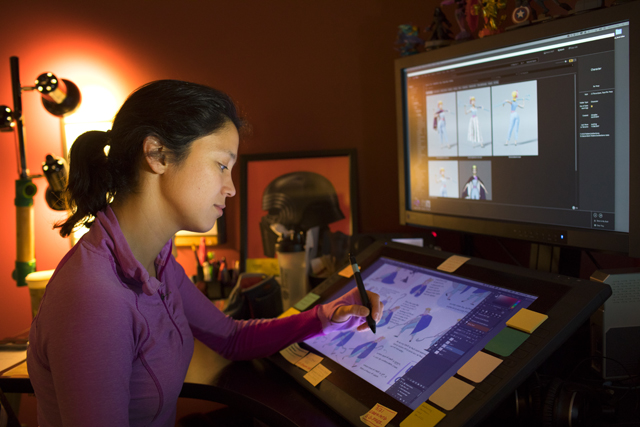 After having been separated for years, Woody encounters Bo Peep again, looking different but still feisty. She's now a headstrong independent gal who is in charge of her own life as a lost toy. It's a far cry from where Woody stands as someone's toy, but the change in Bo Peep's character sparks introspection on Woody's part. Bo Peep could have looked exactly the same after all those years, but she's also been evolving, and her decision to change her appearance is a visual representation of that.
ADVERTISEMENT - CONTINUE READING BELOW
Animated movies might be geared towards kids, but that's not to say you can't have fun at any age, and Toy Story 4 proves that there is still adventure to be had long after a happily ever after. "Have that sense of enjoyment and curiosity. I think that will get you far," MacMahon concludes.
Share this story with your friends!
---
Help us make Spot.ph better!
Take the short survey
More Videos You Can Watch
Load More Stories