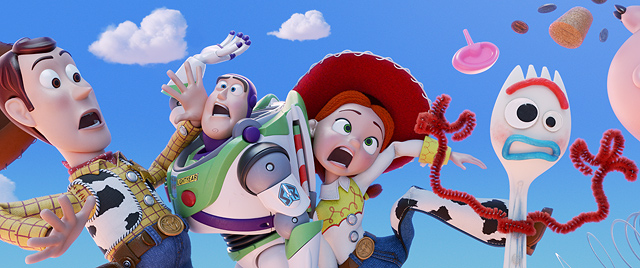 (SPOT.ph) There's almost this sigh of relief leaving the theater after seeing Toy Story 4. It's a sigh that comes from knowing that this film—a film that didn't feel like it needed to exist—is actually quite good. It seems unnecessary to tack on an extra chapter to an already perfect trilogy that began with Toy Story in 1995 and wrapped up in a most stunning way with Toy Story 3 almost a decade ago in 2010. Pixar and the Toy Story franchise turn the question on itself with this fourth (and final?) installment, forcing its beloved toy characters, as well as some newbies, question their own existence once more, but in a much deeper way than the series has ever gone before.
ADVERTISEMENT - CONTINUE READING BELOW
The film begins with a short prologue that takes viewers back to right before Toy Story 3's main story takes place, as Pixar forces us to witness the awful day that Bo Peep is taken away and separated from Woody (a moment briefly touched on in the aforementioned previous film). This is followed by a touching, nostalgic montage (and Pixar loves a good, emotional one at that) that brings us to the present. At this point, Woody (Tom Hanks, as good as he's ever been in this series) still believes he needs to be there for his kid, Andy, and lets Bo Peep go. One trash incinerator and a heartbreaking goodbye to Andy later, Toy Story 4 begins with Woody and the gang now in new kid Bonnie's room.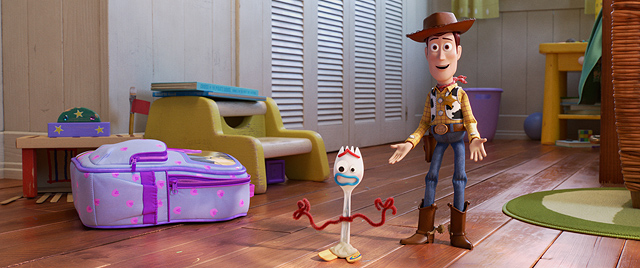 Unlike in Andy's room, though, Woody is no longer the star. Between his sheriff star being placed on Jessie and being left in the closet to collect dust bunnies with other older, forgotten toys, Woody seems to have lost his purpose. Different kids play in different ways, and Woody isn't getting chosen anymore, but he still feels the need to make sure Bonnie is happy. During Bonnie's emotional first day at kindergarten, Woody tags along and watches Bonnie make a new toy she names Forky (voiced by Tony Hale)—a created toy made up of a spork, a pipe cleaner, googly eyes, and sticks scavenged from the trash. For some reason, this made-up item gains life and is sentient, just like the other actual toys out there.
Much of the first half of the film revolves around Forky and Woody, with Woody doing what he did with Buzz all those years ago—convince another that he is a toy meant to be loved and to give love in return. Forky, however, questions his own existence from the get go. The first word that comes out of his mouth is "trash." He came from the trash, he was to be used and discarded as a spork, and that was it. A hilarious sequence follows where Forky does his best over and over to throw himself into a trash can, with Woody saving the day because Bonnie is so in love with her craft project so much, she cradles Forky in her sleep. When Forky manages to throw himself out the window of the RV van Bonnie and her family are on, Woody goes on a mission to get Forky back, for Bonnie (or so he thinks).
ADVERTISEMENT - CONTINUE READING BELOW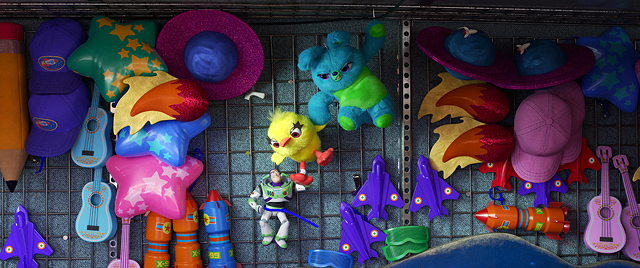 This leads to the second half of the film, which introduces brand new characters. Forky and Woody go on this wild road trip, one that brings Woody back to his dear friend Bo Peep (a splendid Annie Potts), now a "lost toy," surviving and thriving, and with a passion to see the world and not stare at the outside from a child's bedroom. This takes the cast into a couple of new locations—a bright and wild carnival with anarchic stuffed toys Ducky and Bunny (Keegan-Michael Key and Jordan Peele, respectively) and a terrifying antiques store that houses Gabby Gabby (Christina Hendricks), an unsettling 1950s doll, and her army of nightmarish ventriloquist puppets.
ADVERTISEMENT - CONTINUE READING BELOW
All this adventure-filled excitement fills the second half to the brim that it breezes so quickly, it's easy to miss that the formerly main cast of Buzz, Jessie, Rex, and the rest are pushed to the side and have very little to do with the main plot—specifically Buzz who gets locked down by a dull, repetitive C-story. The film puts a spotlight on Woody, Bo, and the new toys, especially Forky who easily steals the show, but it's really not that much of an issue that the film does so.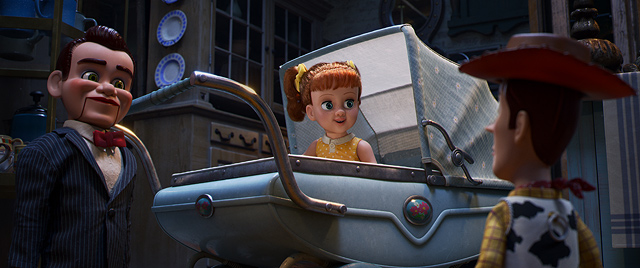 ADVERTISEMENT - CONTINUE READING BELOW
The Toy Story franchise has always been about Woody, and Toy Story 4 is very much Woody's story. What is the next step in Woody's life? As he nears "retirement" age, locked up in an antiques store not being played with seems to be the life he's headed to. Himself and Gabby Gabby, for example, both note they were "born" in the 1950s, and both are less loved than a spork with mismatched googly eyes. Pixar loves to put the mirror up on its audience through giving things feelings. Toys with feelings, cars with feelings, fish with feelings, robots with feelings, even feelings with feelings! Human emotions are mirrored by these animated characters on screen and that's what Pixar does best. This film isn't really a kids' film—it's a film for adults who have grown up with the franchise. It makes adults question what comes next and what one's purpose is now. It's Pixar at its most questioning, and maybe kids will love the bright colors, but really, this is a film that adults will watch, hoping for a fun time only to be left with an existential crisis of their own.
ADVERTISEMENT - CONTINUE READING BELOW
That's not to say Toy Story 4 isn't a good time, because it very much is. This might be the funniest Toy Story film of the four, with hilarious jokes, great visual humor, and a witty script that brings the laughs even in moments of dread. Director Josh Cooley, who had previously done Inside Out for the studio, brings his great eye for animation and his almost balletic use of action from his previous film to Toy Story 4, giving this series some semblance of a new life. Yes, the film hits some usual emotional beats you expect from Toy Story, but with new characters and new locations, it all feels fresh in a way.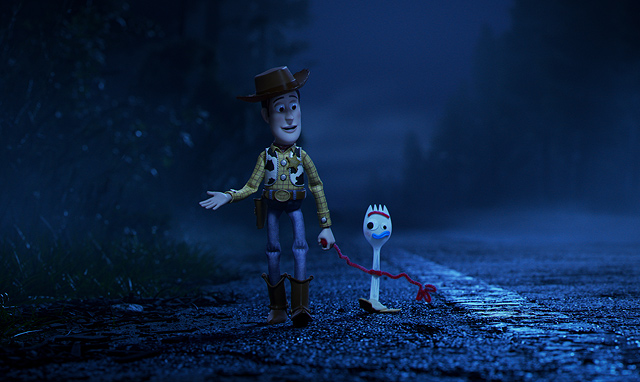 ADVERTISEMENT - CONTINUE READING BELOW
While the film does struggle with its stakes—the whole "lost toy" idea with Woody trying to save the day has just been done too many times now for it to really be that suspenseful—the emotional stuff comes from the existential crises everyone seems to be suffering from. It leads to some pretty powerful moments: moments that deal with love (Is love what makes these toys come to life? Is that what makes them love in return?), moments that deal with letting go and how important it is to do so at certain times at your life, moments that mirror the idea of a crossroads in someone's life, and that question of where to go next and making that all-important life choice.
If the first film was taking those baby steps, and the next two followed life's progression, Toy Story 4 is like that midlife crisis coming to crash in as one questions what's next. Even the film itself questions whether there is a "next" or whether this story needed this "next" step in the franchise. Thankfully, Forky and Woody make sense of it all. Toy Story 4 works because it tries its very hardest to work as an important epilogue to this series. It makes sense of its own existence, and at the same time puts that mirror up again to its audience and pushes us to find our purpose and make sense of it, too. It's all very shockingly deep the more one digs deep into the film, and that's what makes Toy Story 4 so great. If this is the start of a new era, then the next steps look as hopeful and as bright as they will ever be, but if this is the final film in the series, it's a great way to say, "So long, partner."
ADVERTISEMENT - CONTINUE READING BELOW
Rating:  4.5 out of 5 Spots
Toy Story 4 is out in theaters June 20. Photos courtesy of Disney.
Share this story with your friends!
---
Help us make Spot.ph better!
Take the short survey
More Videos You Can Watch
Load More Stories