Is This the End? Robert Downey Jr., Benedict Cumberbatch, Karen Gillan + More Answer Some Big Questions About Avengers: Infinity War
Also: What happened to Hawkeye?
(SPOT.ph) It happens with any movie series, especially one that you love: you can't help holding your breath whenever a new installment comes out, hoping that it won't suck and ruin the whole thing forever. But it seems Avengers fans can breathe easy—at least, if you want to take Tony Stark's word for it. "We might be making the movies, but we're also fans and we're also critics of our own work and always want to try to make it better, but I think this time we might've nailed it," says Robert Downey Jr., starting things off at the Southeast Asian promotional tour for Avengers: Infinity War, held April 15 in Singapore.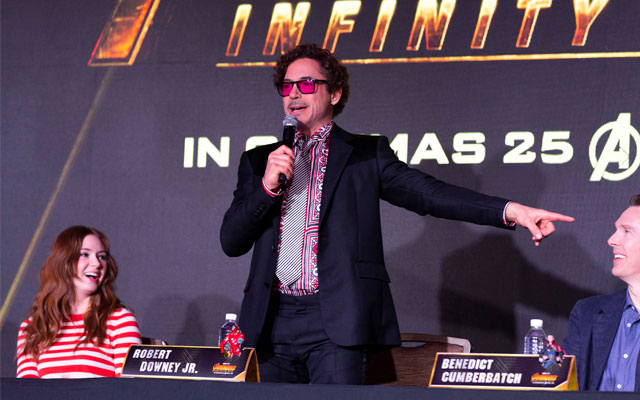 ADVERTISEMENT - CONTINUE READING BELOW
Downey—or RDJ if we're taking liberties—curtsied onto the stage after the introduction of executive producer Trinh Tran, director Joe Russo, Dr. Who's Karen Gillan who plays Nebula, and Benedict Cumberbatch, a.k.a. Doctor Strange. He also addressed something that's probably been worrying fans: what could beat that unforgettable airport scene in Civil War? "I read in some magazine that the number-one voted moment was the airport fight in Civil War because it had so many of the superheroes in it," he says. "And now that the Universe has expanded even more, I think one thing that the creators don't wanna do is a bigger repeat of something that's already worked well. So without giving anything away, I think the challenge this time was how do you top, or better, or expand something without repeating something that's already been executed well before? I call it the anti-process—usually if something works, 'We're just gonna keep doing that.'"
ADVERTISEMENT - CONTINUE READING BELOW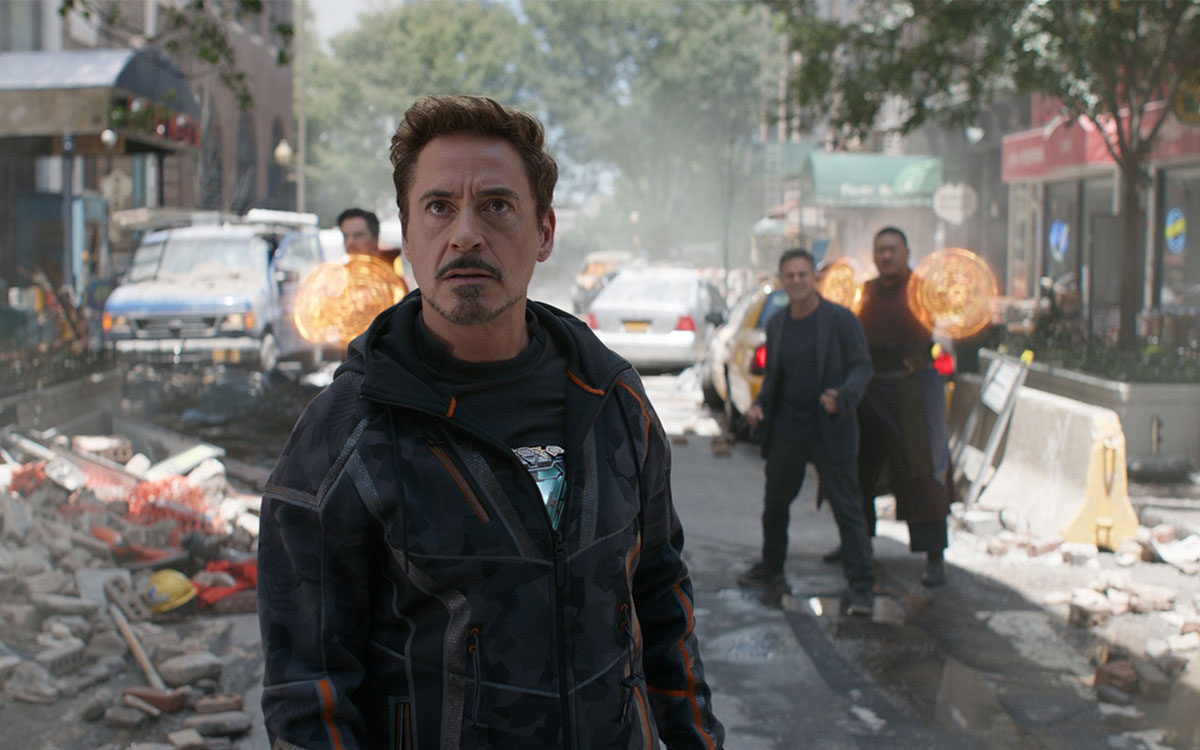 Robert Downey, Jr.
PHOTO:

Courtesy of Disney
Doing things differently seems to be something Downey has wanted to do from the beginning. "Yeah, I needed a job. Bad," he deadpans when asked to recall what it was like to be offered the role of Iron Man, then adds that even then he was a big believer in Marvel Comics as well as Iron Man director Jon Favreau. "It was like, we'll do ours and give [the audience] some counter-programming for the DC movies which were supposedly the cool ones. But you never know, it's always weird when you're part of anything even mildly historical because you lose perspective on it."
The Clash of the Egotistical, Vainglorious Goatees
Fast-forward to 10 years later, and the Marvel universe has grown so much it's attracted some pretty stellar star power, including Benedict Cumberbatch, whose Doctor Strange inevitably rubs Stark the wrong way. It's "the clash of the egotistical, vainglorious goatees," he jokes. "We have a bit of a clash and that's not a bad thing and that's something to enjoy in the film, without spoiling it. See how the relationship unfolds."
ADVERTISEMENT - CONTINUE READING BELOW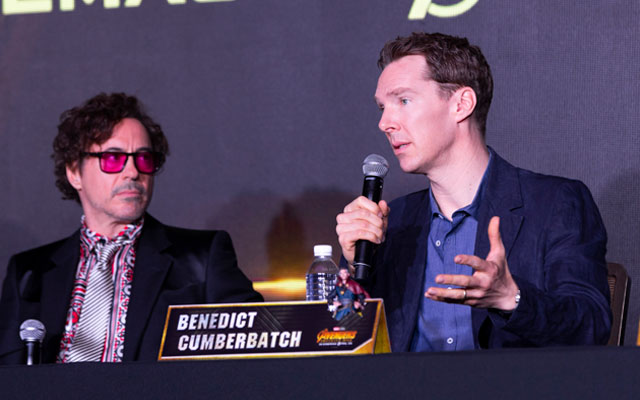 Adds Downey: "Being a big fan of the Doctor Strange standalone too, if you think about it logically, Strange is the guy who can run through all the outcomes and actually figure out what the most likely scenario is going to be and I think once Tony recognizes that, that's something that, even though he thinks it might be within his control, ultimately, there's a spiritual solution. And if someone has the ability to have that kind of intuition you can only stay at odds with him for so long."
ADVERTISEMENT - CONTINUE READING BELOW
Finding a way to work together is a key theme in any ensemble superhero movie, but it's even more important in one that revolves around "the mother of all wars," as Karen Gillan describes it. "It's definitely the most difficult battle that any Marvel character will face in [their] history. And I think it also means that no one is safe and that is kind of a scary and exciting position to be in."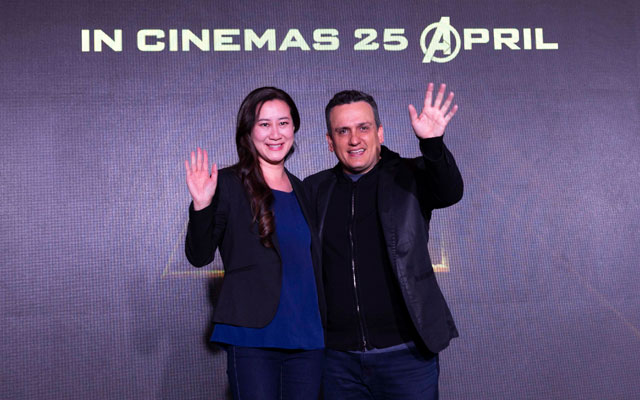 ADVERTISEMENT - CONTINUE READING BELOW
Good thing the Avengers will have plenty of backup—even if the size of the cast meant making the movie a bit tricky. Shares executive producer Trinh Tran: "We have the most characters in Infinity War than we've ever done in any of the previous Marvel movies, so the challenges of just bringing them all together for certain scenes were difficult, but very rewarding because the storylines that we've created for them I think captured the character integrations that we wanted the audience to see."
So where's Hawkeye?
With that many people, did they happen to overlook someone? "You know, it's crazy," says director Russo. "There are so many characters we're dealing with that we were halfway through shooting and I think [RDJ] said, 'Where's Renner?' And we went, 'Oh my god.' No, listen. We did not forget the twice-nominated Jeremy Renner from Infinity War. We have two movies we're working with, Avengers 3 and Avengers 4, that's a lot of story real estate; I think last week we released 22 character posters…there's only so many people you can put in one film. And we have a really interesting story cooked up for Hawkeye, and I would say that patience is a virtue, and that it's a long play, not a short play so we did not forget Hawkeye."
ADVERTISEMENT - CONTINUE READING BELOW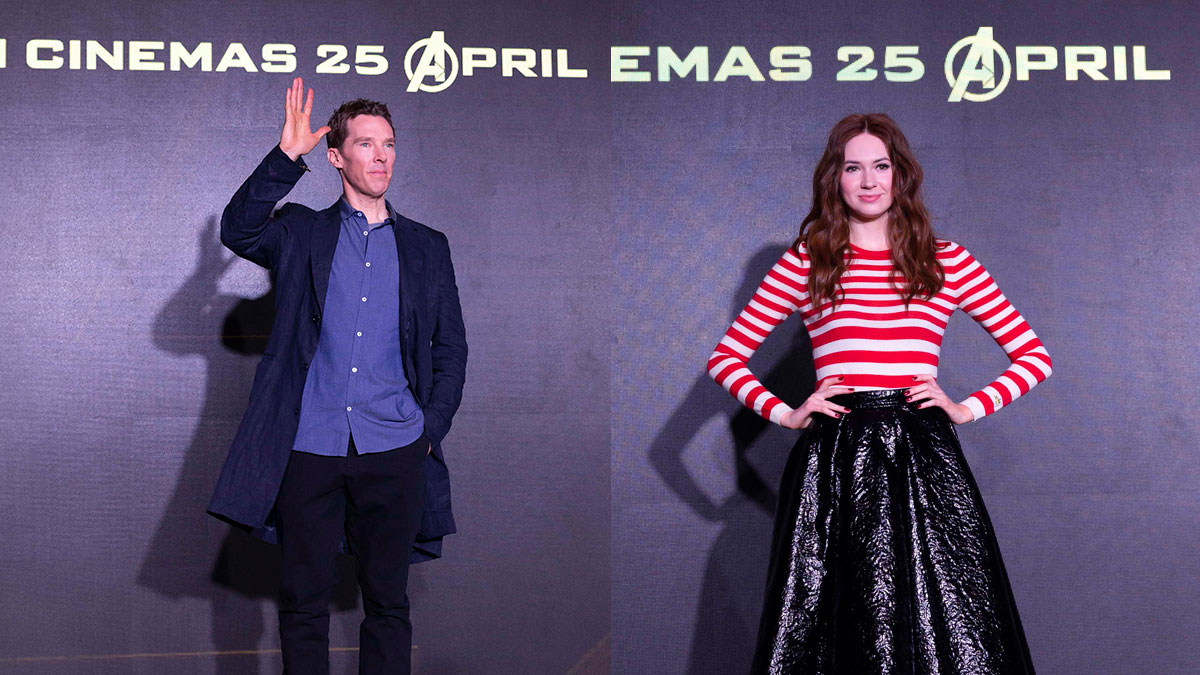 Benedict Cumberbatch and Karen Gillan
PHOTO:

Courtesy of Disney
So with so many things going on, you'd have to wonder if your favorite character will be getting enough screen time—and even the actors can't say, as we found out when Cumberbatch and Gillan were asked about the large cast during the roundtable interviews.   
BC: I'm happy to have made the roll call, to be frank. But—we're not in it enough? Goddammit.
KG: I sort of don't know how much I'm in it.
BC: Neither do I.
KG: I haven't seen the movie so I'm kind of in the same position as you guys.
BC: Yeah, ask us the question after we've seen it. Then we can get angry about it. But in all seriousness, just to be in it, and be somewhere on that poster, is pretty damn cool. This is 10 years in the making; 10 years of people's lives, 10 years of the story and the character arcs. It's very exciting to be counted amongst them.
ADVERTISEMENT - CONTINUE READING BELOW
Sassy Doctor Strange
Avengers: Infinity War may have been 10 years in the making, but that doesn't mean they're taking themselves too seriously. Gillan shares that her favorite moments on-set were the relaxed ones: "Just sitting around in between shooting and just looking around and seeing all these superheroes doing really mundane things like getting coffee. It's just utterly absurd; I'm never going to get over that, it's just so ridiculous. I looked ridiculous, I mean I had my blue makeup on and full costume!"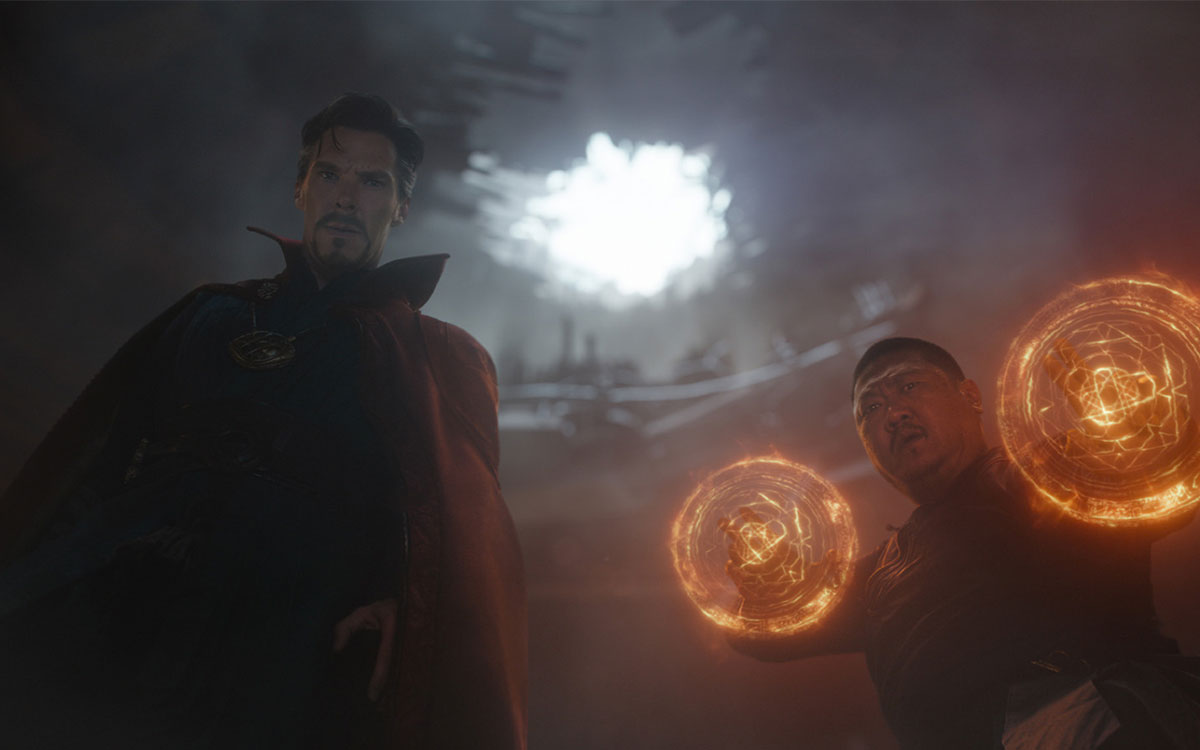 Benedict Cumberbatch as Doctor Strange
PHOTO:

Courtesy of Disney
And you can bet that cracking jokes during filming was an everyday thing. "The Russos have a great authority over the miniscule details of the character as well as the matter of the huge narrative they're trying to hold together. They can be very generous with the authority that you have with your character and that's kind of terrifying for me because I'm kind of script-bound, I'm quite English that way—you know, work from the canon, Shakespeare, et cetera," says Cumberbatch. "And yet when you're around people as brilliant as RDJ, you kind of get a taste for it—and with him, I might add—it's never the same and you always some fresh back, and it's brilliant. But it keeps you on your toes, so I guess I got a little bit sharper at doing it and I'm very pleased to say that I think [one of my best lines] is one that I came up with and everyone was like, 'Ooooh, sassy!' I just enjoyed that aspect of it. I enjoyed that this multi-billion-dollar franchise kind of boils down to a moment on set when you're allowed to be free and play. There's a structure, but within each scene it's about crafting the best possible results. They're not precious at all; they'll take any idea and you don't feel frightened to fail which is the most important thing. You can get it wrong and not feel like a complete d*ck. Excuse the word 'd*ck.'"
ADVERTISEMENT - CONTINUE READING BELOW
According to Russo, "There's a lot more humor in this film than just about any other Marvel movie, weirdly. It's also a very intense film."
But is it the end?
"That's it. That's the ending," he jokes, then adds, "If Marvel's been writing a book for the last 10 years with these movies, Infinity War is the final chapter of that book. And then there'll be a new book written. And that'll be the next phase of Marvel."
Related story: The Cast and Director of Avengers Just Surprised a Bunch of Pinoy Marvel Fans