10 New Horror Films to Watch If You're Brave Enough
Get ready to sleep with the lights on.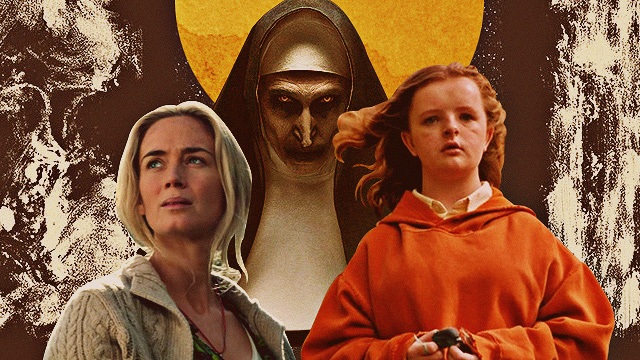 (SPOT.ph) Horror films continue to be great successes at the box office, and 2018 brings a fresh new batch of terrifying, jump-out-of-your-seat, scream-inducing films featuring new monsters and familiar (murderous) faces. People like to be scared in the cinema, and the films we list down are setting out to shake audiences not just through jump scares but also with clever and unique interpretations of the genre.
Whether it's monsters that kill on sound, demonic nuns, or predators stalking their prey, the horror films of 2018 show that there are still multiple ways to scare an audience, and audiences have a lot of nightmares to look forward to this year.
Note: This list is not ranked. Release dates subject to change.
Annihilation
Directed by: Alex Garland
Release date: March 12
Where to watch: Netflix
If you're looking for a more sci-fi tinged horror film, Alex Garland's Annihilation might be the one. Garland's follow-up to the exquisite Ex Machina is another dive into science fiction for the director, with the addition of some truly horrifying moments. The film follows a group of scientists as they cross over into a mysterious place called "The Shimmer," where the environment, and the creatures inside it, are not the most hospitable. Featuring a female-heavy cast, including Natalie Portman, Jennifer Jason Leigh, Tessa Thompson, and Gina Rodriguez, plus Oscar Isaac, Annihilation is a unique sci-fi horror experience that's sure to challenge its viewers.
ADVERTISEMENT - CONTINUE READING BELOW
Directed by: John Krasinski
Release date: April 11
Where to watch: Available for streaming on Amazon
Horror films are usually loud, screamy affairs for both the characters in peril and the audiences watching, but in A Quiet Place, that is turned upside down. Where making noise means possibly getting killed by a terrifying monster, characters in this movie use sign language and hand signals to communicate, with most of the film having no spoken dialogue. With a film this quiet, audiences followed suit, where even just munching on a tiny bit of popcorn made it seem like you were causing disruption and/or danger to all involved. A Quiet Place, starring real-life husband and wife Emily Blunt and John Krasinski (who also happens to be the director), is a one-of-a-kind theater experience that is sure to take your breath, and your voice, away.
CONTINUE READING BELOW
Recommended Videos
Directed by: Ari Aster
Release date: June 20
Where to watch: Still showing in cinemas
When it first premiered at the South by Southwest Festival back in March, critics were quick to call it a horror movie classic—some even going as far as saying it's the scariest movie in years, at least since The Exorcist. Those are massive claims, and it's up to you to decide if they are right. But the critically beloved horror film from Ari Aster is an unsettling arthouse flick that's sure to elicit big reactions, whether positive or negative. Hereditary follows a family led by Toni Collette as they are haunted and tormented after the death of their peculiar grandmother.
ADVERTISEMENT - CONTINUE READING BELOW
The First Purge
Directed by: Gerard McMurray
Release date: August 15
2013's The Purge was a shock to the system, depicting a time in which crime is legal for 12 hours and it's pretty much a free-for-all. While reality isn't quite that destructive as of yet, it is terrifying to think that something like this could happen, so a major question is, "How did it all begin?" The First Purge aims to tell how this 12-hour massacre fest first came to be. Marisa Tomei stars in this prequel to the successful dystopian horror franchise, which details how a new government tests out an experiment where crime is legal within an isolated community for 12 hours.
Directed by: Corin Hardy
Release date: September 6
In 2016, The Conjuring 2 introduced horror moviegoers to Valak, a demon taking the form of a nun haunting and possessing families in their homes. Like with the Annabelle doll, it seemed only natural (or supernatural) that the ever-expanding Conjuring storyline showed off the beginnings of Valak. Set in Romania in 1952, a nun (Conjuring star Vera Farmiga's sister Taissa Farmiga), a priest (Oscar nominee Demian Bichir) and a novice are sent by the Vatican to investigate a mysterious death in the Cârta Monastery (a real-life monastery you can visit, often said to be haunted). It's not a spoiler to say the investigators are in for the scare of their lives.
The Predator
Directed by: Shane Black
Release date: September 12
The Predator is the fourth film in the main Predator franchise, and is said to take place prior to the events of 2010's Predators (which exclusively took place on a mysterious island). In this film, a young boy with autism (Jacob Tremblay) accidentally calls the Predators, who then return to Earth. Like prior films, they begin hunting the human prey. These alien assassins go face-to-face with former soldiers (including Sterling K. Brown, Boyd Holbrook, Trevante Rhodes, and Alfie Allen) and other citizens (Olivia Munn and Keegan Michael Key) as these humans try to stop a mass invasion from happening. Fun fact: Iron Man 3 director Shane Black is coming full circle as he had a supporting role in the 1987 original that starred Arnold Schwarzenegger.
ADVERTISEMENT - CONTINUE READING BELOW
Halloween
Directed by: David Gordon Green
Release date: October 17
Forty years after her first encounter with the masked murderer Michael Myers, Laurie Strode is back to end what she should have ended decades ago. Jamie Lee Curtis returns to the iconic role that made her a Scream Queen as Laurie, who has been preparing and training for the day that Michael Myers comes back. This film is considered a direct sequel to the 1978 John Carpenter original, disregarding the several Halloween franchise films in between. Stepping in as director is David Gordon Green, who is most known for his comedies like Pineapple Express and Your Highness, so horror might be a bit out of his usual films, but with Carpenter and Curtis behind him, this film is sure to get nostalgia points.
The House With a Clock in Its Walls
Directed by: Eli Roth
Release date: October 24
Horror film maestro Eli Roth (Hostel) is trying something a bit more sophisticated in the horror genre, with a gothic fantasy film based on John Bellairs' classic children's novel, The House with a Clock in its Walls. Starring Jack Black and Cate Blanchett, House with a Clock in its Walls is about a 10-year-old orphan who moves into a strange house with his uncle. Little does he know, the house is full of secrets, waiting to reveal itself to its new houseguests. Roth might be an odd pick for a children's gothic horror film, but it's an equally interesting one.
ADVERTISEMENT - CONTINUE READING BELOW
Directed by: Luca Guadagnino
Release date: November 2 (U.S.)
Reboots and remakes continue to be all the rage, and sometimes there is that feeling of doubt when classic films are remade for the modern era. But when you have a cast and crew like the one for the Suspiria remake, it's easy to get excited. Call Me By Your Name director Luca Guadagnino directs this retelling of Dario Argento's classic 1970s Italian giallo film of the same name, this time starring Fifty Shades of Grey's Dakota Johnson as an American ballet dancer who gets caught up in something sinister while studying in a Berlin dance academy led by the mysterious Madame Blanc (Tilda Swinton).
Directed by: Mikhail Red
Release date: TBA
If Corin Hardy's Conjuring prequel The Nun is too Hollywood, Star Cinema has its own Mother Superior wreaking terror. Charo Santos-Concio plays an abusive nun at a Catholic school for girls in the Philippines. When a student dies gruesomely, the school's guidance counselor Pat (Bea Alonzo) throws herself into the investigation, while trying to help the students cope with the events. Pat discovers more than she anticipated in Mikhail Red's follow-up to the award-winning Birdshot and the QCinema film Neomanila.
---
Help us make Spot.ph better!
Take the short survey
Load More Stories