An Afternoon With Ely Buendia and Apartel
We got to attend a listening session for the band's sophomore album, Full Flood.
(SPOT.ph) It is a hot and humid Sunday morning as we make our way to MusicHaven Trading in Parañaque City. The audio store, known for selling speakers, amplifiers, vintage audio equipment, and other audiophile goodies, is the venue for OPM band Apartel's listening session for their second album, Full Flood. The motto on MusicHaven's calling card reads, "Only Good Music!" and that's exactly what we're expecting from the band's latest release.
Inside MusicHaven are a ton of speakers, amplifiers, records, and equipment. Rene Rivo, the proprietor, and his family are all inside, preparing for the upcoming session. Meanwhile, the crew from Offshore Music, Apartel's record label, has set up some tents, tables, and chairs outside. Rivo instantly greets us with a hearty handshake. His son is tinkering with the computer, making sure the audio levels are just right.
In August, "Pateros", Apartel's first single off Full Flood was made available on Spotify, Deezer, iTunes, TIDAL, and AppleMusic. Their sophomore effort will be available on digital platforms in the latter part of September. If you're a vinyl collector, you'll be pleased to know that they are printing a limited release sometime in October or November.
ADVERTISEMENT - CONTINUE READING BELOW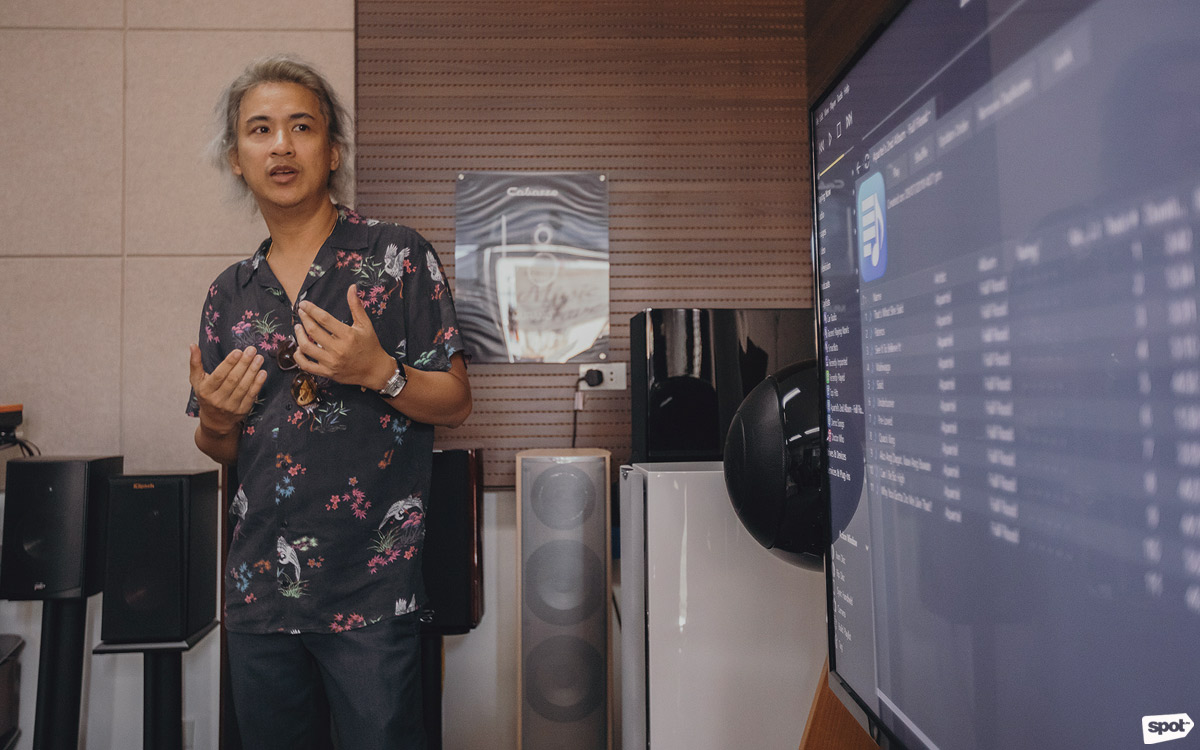 Ely Buendia kicks off the listening session with a brief introduction to their latest release.
PHOTO:

Jilson Tiu
Press Play
We get to sit down and enjoy Full Flood, the second album of Apartel. The current lineup is composed of band members Ely Buendia on vocals and guitars, Redge Concepcion and Coco Coo on guitars, Jun Lazo on bass, Ryan G on keyboards, Deej Rodriguez on percussion, Pat Sarabia on drums, and Telay Robles on backup vocals. All the members are present in the listening session, with the exception of Coo, Ryan G, and Robles.
Buendia starts off with a short intro speech to get everybody in the mood. And with a one, and a two, and a three, and a press of a keyboard, we are catapulted into the very core of Apartel's work.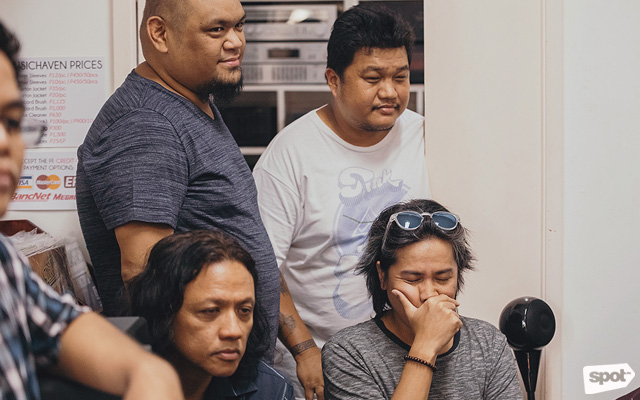 ADVERTISEMENT - CONTINUE READING BELOW
The crowd listened to each of the 11 tracks intently (and maybe a little too intensely). After every song, Buendia and the other members of Apartel would break out into short bursts of "Bravo!" or clapping, much to the enjoyment of the crowd.
If you've listened to Apartel's first album, Inner Play, you'll definitely find some of the familiar disco-rock or electro-funk style.
"We did it for us," Buendia answers, when asked about Full Flood's more eclectic mix and if this is something they did intentionally for their listeners. "The sound varies first of all because it's not just me who wrote the songs. The whole band co-wrote it with me."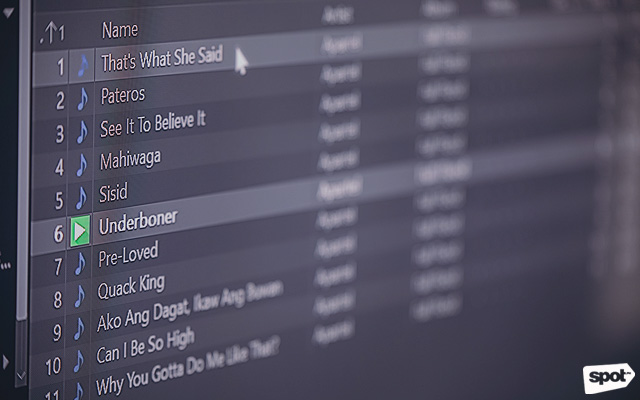 ADVERTISEMENT - CONTINUE READING BELOW
Out of all the songs, "Sisid" stands out from the rest. Buendia says that this particular track was written by one of the younger members, hence giving it a more modern rock flavor compared to the other tracks.

As for the other songs, Buendia was looking for stuff that he and others loved from the first album. "I did not want to leave that behind agad-agad. So yeah, there are those songs, that sound, that Apartel is known for," Buendia shares. "But we also try to put in new elements and vibes without losing the original sound."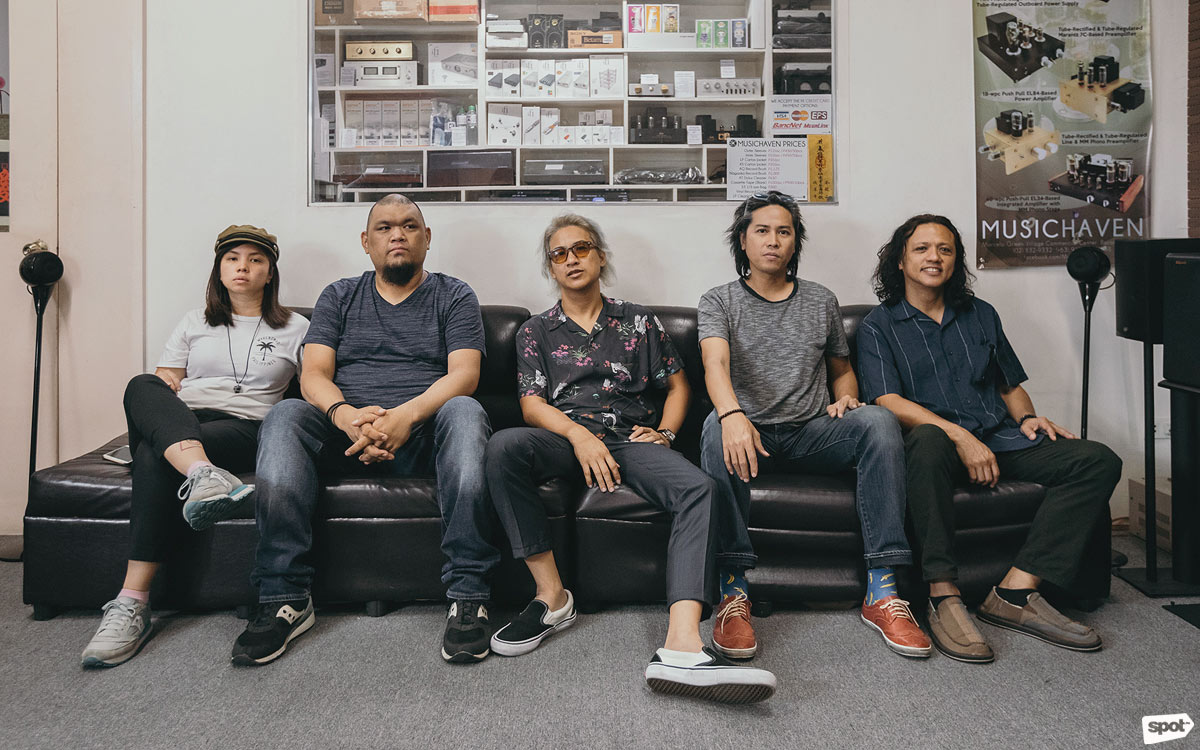 From left to right: Pat Sarabia, Deej Rodriguez, Ely Buendia, Redge Concepcion, and Jun Lazo
PHOTO:

Jilson Tiu
Apartel Is in Place
Can we expect more experimentation from Apartel in the future? "Right now, dahil 'yong members of the band are in place," says Buendia. "Not like before na it was just a 'sessionist' kind of record. Because the only constant was me and Jay Ortega, who produced the albums and wrote the songs. But now [that] the band members are in place, and I think we're getting close to an original sound."
ADVERTISEMENT - CONTINUE READING BELOW
And what a first step towards developing an original sound. Buendia clarifies that it's not Apartel breaking genres, they've always worn their Motown, soul, '70s, disco-loving selves on their sleeves, as he playfully puts it. But it's their experimentation and search for that 'Apartel sound' that he's hoping people will discover along the way with them.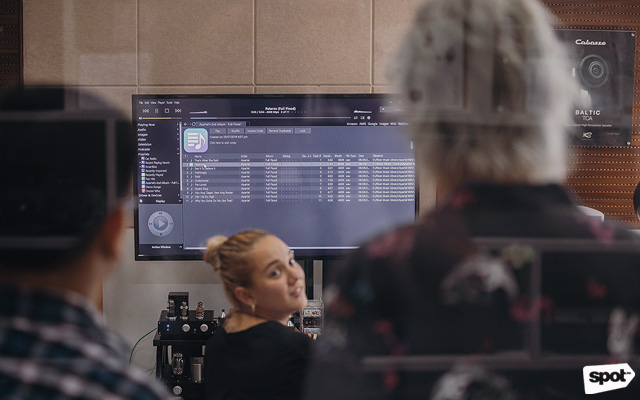 ADVERTISEMENT - CONTINUE READING BELOW
You'll definitely see that electro/rock/disco/funk in some of the songs. Does this mean it's too similar to their first album? Is it old news? No, the album is still fresh and still a great set of songs for avid fans and new listeners. Some of the standout tracks include "Sisid" for its haunting and beautiful rock melody, "Pre-Loved" for that awesome too-cool-for-school Motown vibe, "Quack King" for its irreverence, "Can I Be So High" for its fun and lively tune, and "Why You Gotta Do Me Like That?" for that soul wrenching blues beat.

Apartel didn't reinvent the musical wheel, but they did spruce up the spokes with their individual styles and tastes to make your sound trip smoother and much more enjoyable. As the listener, it's up to you if you want to plunge deep into the raging waters and be carried off with them to parts unknown, or if you stay on your roof and struggle to listen to the current. For us, we just belly-flopped right into the heart of it all.

For more information on Apartel, follow them on Facebook or Twitter.
ADVERTISEMENT - CONTINUE READING BELOW
Photos by Jilson Tiu
Special thanks to Offshore Music Philippines for the exclusive invitation. 
Update as September 19, 2018 (4:00 p.m.): A previous version of the article included RJ Pineda as part of Apartel's current lineup; he is no longer part of the band.The current lineup includes Telay Robles and Ryan G. The article has been updated to reflect these corrections.