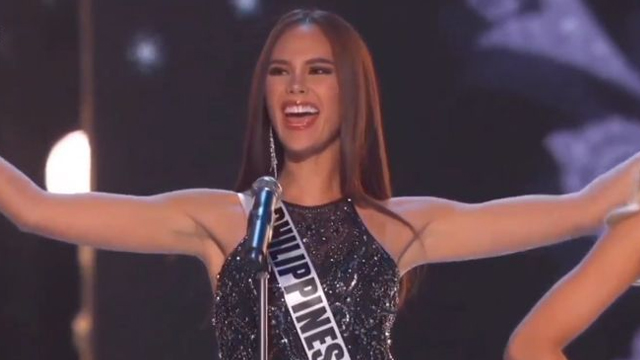 (SPOT.ph) Miss Philippines—and officially Miss Universe 2018 Catriona Gray—has proven that she's not just beauty, she's definitely brains, too. She had what seemed like half of the Philippines cheering her on every time she took on the mic. And she never fails to make it just as scene-stealing, just like her slow-mo walk down the runway.
ADVERTISEMENT - CONTINUE READING BELOW
Here's everything she said during the competition—because you just know it's what everyone will be quoting from now on:
When she was selected as one of the finalists in the Top 20, host Steve Harvey asked the singer and musician, "If you were gonna write a song about your experience here in Miss Universe, what would you call it?" Gray wasted no time in answering, "Well, you know what, Steve, as Miss Philippines, I've always felt the love and support of the Filipino people, and I think I brought half of my country here tonight and so I would name my song, 'Raise Your Flag,' because I stand here not as one, but as 104 million FIlipinos!"
When asked for her opening statement, she opens up about her experience with impoverished children, saying, "Working with some of the poorest areas in my country, I found that it was a lack of child support—not poverty—that killed their dreams. A child once told me, 'Cat, that's just not my life and those dreams aren't meant for me.' But I stand here today because someone believed in me and we owe it to our children to believe in them."
After making it to the Top 10, a pre-filmed video of Gray was played that opens with her in a studio and she talks about about growing up close with her family. "Once I started music, it was just fulfilling in a way that everything else wasn't. My mom told me that even when I was in the womb, I was dancing to music," she says with a laugh. "I'm an only child—very, very close to my parents, especially my dad. He would always say the longest journey starts with a single step. When you have a dream or an ambition, and it's so far away and so high up, it can feel overwhelming. But when you look at it as just one step at a time, one day, you're gonna look up from your feet and you'll be at your destination."
Before the evening gown segment of the night began, Gray (yup, only her!) was interviewed by host Ashley Graham about what she's currently thinking about. "I just wanna go out there and bring my best and I can feel my country right behind me! I'm so honored to be in the Top 10." 
ADVERTISEMENT - CONTINUE READING BELOW
The Top 5 finalists were asked questions that were written by their fellow contestants. Gray was first asked how she was doing, to which she answered,  "I'm good, Steve, I can't believe it's Top 5 already!" she says with a laugh. She was then asked, "Canada recently joined Uruguay as the second nation in the world to make marijuana legal. What is your opinion on the legalization of marijuana?" She answers, "I'm for it being used in a medical use but not so for recreational use. Because I think, if people were to argue, 'Well, what about alcohol and cigarettes?' Well, everything is good, but in moderation!"
The same question was asked to all Top 3 finalists: What is the most important question you've learned in your life and how would you apply it to your time as Miss Universe? Gray had just about the perfect answer, saying, "I work a lot in the slums of Tondo, Manila and the live there is very—it's poor and it's very sad. And I've always taught myself to look for the beauty in it—to look for beauty in the faces of children and to be grateful. And I would bring this aspect as a Miss Universe to see situations with a silver lining and to assess where I could give something, where I could provide something as a spokesperson. And this, I think, if I could [also] teach people to be grateful, we could have an amazing world where negativity would not grow and foster and children would have a smile on their face. Thank you!"
ADVERTISEMENT - CONTINUE READING BELOW
Share this story with your friends!
---
Help us make Spot.ph better!
Take the short survey
More Videos You Can Watch
Load More Stories