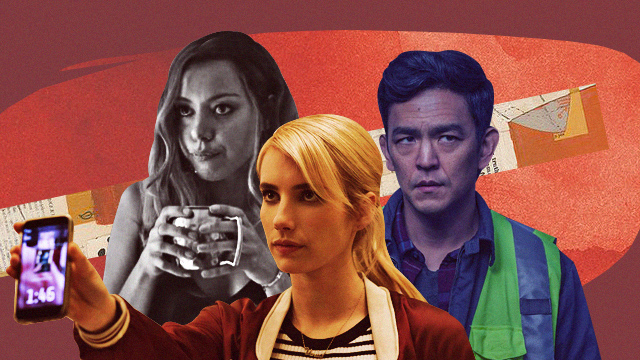 (SPOT.ph) When You first came out on Netflix, the Internet was collectively biting their fingernails, trying to keep up with Joe Goldberg (Penn Badgley) and Guinevere Beck's (Elizabeth Lail) love story gone horribly wrong. Pinoy fans got even more of a kick when Badgley himself came to the Philippines with Shay Mitchell, who also stars on the show as Peach, Beck's best friend.
If you haven't had your fill of exciting shows and films that get the adrenaline pumping through your veins, we totally get it. If you enjoyed You, you might want to put these 10 thrilling shows and movies on your must-watch list.
The Crush (1993)
Directed by: Alan Shapiro
This psychological thriller might be an oldie, but it's still a goodie. The movie stars Alicia Silverstone, Cary Elwes, and Jennifer Rubin and revolves around Elwes's character, Nick, whose new job has him renting a room in a new city. The room belongs to a couple with a 14-year-old daughter, Adrian (Silverstone), who instantly expresses her interest in the much-older Nick. It might seem like just another harmless crush, but things start to get twisted after Adrian learns of Nick's relationship with photographer Amy (Rubin).
ADVERTISEMENT - CONTINUE READING BELOW
Mr. Robot (2015 to present)
Created by: Sam Esmail
The critically acclaimed series Mr. Robot stars the talented Rami Malek as Elliot Anderson, a security engineer for a big cybersecurity company. Elliot struggles with social anxiety disorder, clinical depression, and delusions, so he often finds himself hacking into other people's profiles and computers. His vigilante actions attract the attention of a mysterious anarchist known only as Mr. Robot, who recruits him as a hacktivist. Trouble arises when Elliot realizes the hacktivist group is trying to take down his company's biggest client.
Nerve (2016)
Directed by: Ariel Schulman and Henry Joost
Nerve is an online truth-or-dare game where players are fed dares by "watchers" who pay to see the players do crazy stunts via livestream. After signing up to be a Nerve player, Vee (Emma Roberts) gets her first dare, which leads her to meet fellow player Ian (Dave Franco). The two quickly become the top players. It's all fun and games until Vee realizes that Nerve might just be more dangerous than she first believed.
Come and Find Me (2016)
Directed by: Zack Whedon
Come and Find Me follows the disappearance of Claire (Annabelle Wallis), who leaves her boyfriend, David (Aaron Paul), behind after a long-term picture-perfect love affair. Unable to let go of his love even after a year, David starts to track her down, only to find out that Claire might not be exactly who he thought.
Ingrid Goes West (2017)
Directed by: Matt Spicer
In this hilarious yet twisted tale of friendship in the age of social media and influencers, Ingrid (Aubrey Plaza), a girl with a history of being mentally unstable, switches up her life to try and befriend a social media influencer named Taylor Sloane (Elizabeth Olsen). Ingrid pulls crazy stunts—like kidnapping Taylor's dog and hanging out at the influencer's favorite hang-out spots—in order to stage a meeting. When the two are finally friends, can Ingrid keep up the façade, or will her lies catch up to her eventually?
Famous in Love (2017 to 2018)
Created by: I. Marlene King, Rebecca Sterle
This American drama series starring Bella Thorne may have only aired for two seasons, but the story of rising Hollywood starlet Paige (Thorne) had fans hooked from the first episode. In the show, she tries to balance her college education and budding acting career. Based on a novel of the same name, the series follows her relationships with family, college friends, and Hollywood co-stars, and eventually she learns that, as with anything in Hollywood, things are rarely that simple.
Searching (2018)
Directed by: Aneesh Chaganty
In this award-winning mystery thriller, single father David (John Cho) searches for his suddenly-missing daughter Margot. You'll be on the edge of your seat wondering what happened, where Margot is, trying to figure out whodunit. The entire movie is shown from the perspective of smartphones and computer screens, so you'll want to be careful about what you post online after seeing this.
A Simple Favor (2018)
Directed by: Paul Feig
This black comedy-slash-mystery thriller is sure to entertain while you watch through your fingers. Take yourself on a rollercoaster ride with Stephanie Smothers (Anna Kendrick), a mom vlogger who shares dark secrets with fellow mom and best friend Emily Nelson (Blake Lively). When Emily suddenly goes missing, Stephanie—with the help of her viewers, as well as the police—learns that Emily still has her fair share of dark secrets.
Nancy (2018)
Directed by: Christina Choe
If someone constantly makes up intricate double lives online, when does fact start to blur with fiction? That's the premise of the award-winning Nancy, where the titular character played by Andrea Riseborough becomes increasingly convinced that she's the daughter of a couple whose real daughter went missing 30 years ago. As everyone tries to uncover the truth, Nancy's willful belief far surpasses reasonable doubt.
ADVERTISEMENT - CONTINUE READING BELOW
Serenity (2019)
Directed by: Steven Knight
How far are you willing to go for your ex-family? Baker Dill (Matthew McConaughey) has to answer that question when his ex-wife Karen (Anne Hathaway) comes and finds him in the little town of Plymouth Island. She has a desperate plea for Baker: To save her and their young son from her abusive husband, he must take him on a fishing excursion and feed him to the sharks. Torn between right and wrong, Baker has to decide whether to save his old love or to leave her to suffer at the hands of her abuser.
Share this story with your friends!
---
Help us make Spot.ph better!
Take the short survey
More Videos You Can Watch
Load More Stories