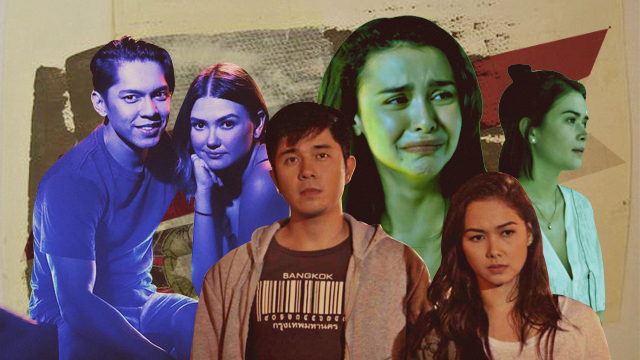 (SPOT.ph) A broken heart isn't fun. That said, being sawi still has its perks—among them, the license to wallow and indulge in movies that depict heartbreak so well that they almost convince you it's okay to feel this way a little more. So tuck in, grab your tub of ice cream, and own your pain while watching these flicks.
ADVERTISEMENT - CONTINUE READING BELOW
Also read:
10 Pinoy Indie Films for the Sawi
Camp Sawi (2016)
Directed by: Irene Villamor
For the sawi who: Needs to see as much heartache and redemption in one go
Camp Sawi's premise feels engineered in a lab somewhere to pack as much punch as possible. Yet, the film's array of brokenhearted characters and their unique predicaments each possesses a kernel of truth. So much so that whatever your sob story is, you'll most likely find something to relate to in the winning performances of Bela Padilla, Arci Muñoz, Yassi Pressman, Kim Molina, and  Andi Eigenmann.
Saving Sally (2016)
Directed by: Avid Liongoren
For the sawi who: Believes in art as a way to deal with unrequited love
Boy loves girl is a story as old as time. But Saving Sally adds a refreshing twist by depicting the way art and creativity can express love beyond what words can. Pinoy animation gets a welcome boost in the story of friendzoned Marty (Enzo Marcos) and mysterious Sally (Rhian Ramos), whose love story is as adventurous as it is timeless.
Kita Kita (2017)
Directed by: Sigrid Andrea Bernardo
For the sawi who: Wants an unconventional love story
Much has been said about how Kita Kita should not have worked. But at its core is a truly refreshing love story that is both whimsical and grounded in real-world complications. Lea (Alessandra de Rossi), an OFW in the Japanese city of Sapporo, loses her vision after a difficult breakup. Enter Tonyo (Empoy Marquez), whose home-cooked meals and friendship help her cope with her heartbreak and vision loss. What emerges is a poignant love story that oozes with charm and feeling.
My Ex and Whys (2017)
Directed by: Cathy Garcia-Molina
For the sawi who: Still obsesses about why they were cheated on
Few questions are as consuming and exhausting as wondering why you were cheated on. That sense of betrayal is the central conflict of My Ex and Whys, a LizQuen vehicle that is way funnier than its possibly overused premise suggests. Liza Soberano's Cali represents every scorned person when she asks "Am I not enough? Pangit ba ako? Kapalit-palit ba ako?" after Enrique Gil's Gio cheats on her. A group watch with other scorned people is best, as ideas on gender and stereotypes are peppered throughout.
ADVERTISEMENT - CONTINUE READING BELOW
I'm Drunk, I Love You (2017)
Directed by: JP Habac
For the sawi who: Needs a drink (or two) to express their feelings
An instant rom-com classic, I'm Drunk, I Love You gets at the heart of every friendzoned dilemma, and does so with an excellently curated OPM selection. Maja Salvador and Paulo Avelino deliver winning performances as Carson and Dio, best friends who occupy that dreaded space where one develops romantic feelings for the other. Drunkenness plays a crucial part in the narrative, both with booze and with feelings. Thoroughly modern and thrillingly ambiguous, it validates even the smallest of infatuations as a crucial step towards maturity.
Changing Partners (2017)
Directed by: Dan Villegas
For the sawi who: Knows that love wins, even if relationships fail
Changing Partners is a movie of many love stories that are on the brink of collapse. Dialogue and song are utilized to powerful effect to portray the universality of love and the breakdown of relationships across age and gender. Agot Isidro, Jojit Lorenzo, Anna Luna, and Sandino Martin deliver memorable performances as Alex and Cris in various permutations. Watching the film unfold structurally is perhaps as enjoyable as the stories it is telling, with the ultimate message that whoever you are, love has a way of building and breaking you up.
ADVERTISEMENT - CONTINUE READING BELOW
Ang Dalawang Mrs. Reyes (2018)
Directed by: Jun Lana
For the sawi who: Needs a laughter-induced bellyache
Laughter gets the job done in Ang Dalawang Mrs. Reyes, where Judy Ann Santos and Angelica Panganiban team up as the titular Mrs. Reyeses to plot against their husbands who have shacked up together. What starts out as a hilariously campy send-up of infidelity movies becomes a commentary on gender and identity politics and concludes as a powerful display of acceptance and forgiveness. Santos and Panganiban tear up the screen, while Joross Gamboa and JC de Vera as their ex-husbands emerge as funny yet sympathetic figures.
The Eternity Between Seconds (2018)
Directed by: Alec Figuracion
For the sawi who: Feels stuck and needs a push forward
Richard Linklater's Before trilogy feels like a spiritual cousin to this 2018 CineFilipino Best Film winner. The serendipitous meet-cute, the rambling conversations, the minutely observed gestures and inflections all recall Linklater's well-loved trilogy. That said, The Eternity Between Seconds also ring with a distinctly Pinoy sense of longing. Yeng Constantino's Sam and TJ Trinidad's Andres meet in an airport just as each of their lives are at the cusp of change. The result is a quiet but deeply felt story of two strangers whose sudden connection enables them to face what's next for their lives.
ADVERTISEMENT - CONTINUE READING BELOW
Exes Baggage (2018)
Directed by: Dan Villegas
For the sawi who: Plans conversations for the next time they meet their ex
Chance encounters with exes are often emotionally taxing. The anxiety and uncertainty that plague these moments are mined remarkably well in Exes Baggage, itself a cinematic reunion of famous exes Angelica Panganiban and Carlo Aquino. Successfully channeling years of history with every line reading and facial expression, the two leads portray an ex-couple who's had years to individually reflect on their relationship and its demise. For heartbroken audiences, it's a thrill to transpose one's own experiences onto the story and imagine just how their own ex encounters could play out.
Glorious (2018)
Directed by: Connie Macatuno
For the sawi who: Just needs to watch two hot people enjoy each other (then break each other's hearts)
It's an erotic May to December love affair, one whose fiery red-band trailer spurred gasps and giggles among audiences late last year. But for those willing to take the film's romance seriously, Glorious has plenty of wisdom underneath. In between the passionate love scenes is a story of a relationship painstakingly put together by its couple, the fifty-something Glory (Angel Aquino) and the 22-year-old Niko (Tony Labrusca). We watch them fall in love and deal with knotty family dynamics, judgment from society, and tricky cultural barriers. Through it all, the film teaches us that love can, indeed, be glorious.
ADVERTISEMENT - CONTINUE READING BELOW
Share this story with your friends!
---
Help us make Spot.ph better!
Take the short survey
More Videos You Can Watch
Load More Stories