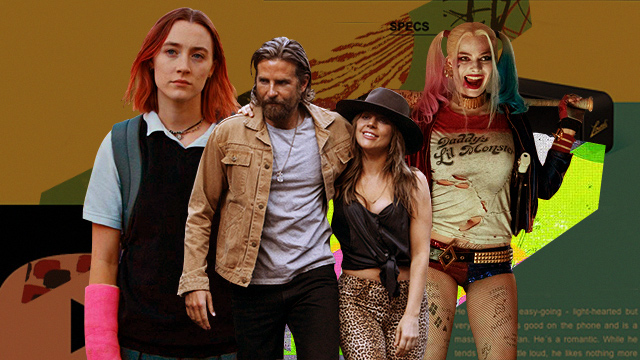 (SPOT.ph) Not sure what movie to see next? If you're scratching your head at all the choices, you can't go wrong with box-office hits. After all, there has to be a reason why people just couldn't stop talking about them—maybe it's the great story or the stellar acting, or just the fact that they were lots of fun. If you missed them when they first came out in cinemas, you can now stream some of the past couple of years' buzziest movies. Here are our picks: 
ADVERTISEMENT - CONTINUE READING BELOW
A Star Is Born (2018)
Watch it on: HOOQ
If listening to the soundtrack of A Star Is Born on repeat just doesn't cut it anymore, maybe you're due for a rewatch. The musical romantic drama starring Bradley Cooper (who doubles as director) as a veteran musician and Lady Gaga as a struggling artist was an instant hit, what with their stellar performance and incredible chemistry onscreen. The film earned over U.S. $420 million worldwide, was nominated for five Golden Globes nominations (with "Shallow" winning Best Original Song), and also received Academy Awards nominations including Best Motion Picture, Best Actor, Best Actress, and Best Original Song. You might want to give it another watch before it continues its award-winning streak—or if you haven't watched it, it might be time to find out what all the talk is about.
Pacific Rim: Uprising (2018)
Watch it on: HBO Go, YouTube Movies
It took five years for this sequel to come out, but if you're a big fan of epic fight scenes, then it was well worth the wait. Pacific Rim: Uprising is set 10 years after the events of its predecessor and this time, Star Wars' John Boyega takes the lead in this high-stakes movie executively produced by Guillermo del Toro (who directed the first installment). Strap yourself in for action-packed fights between Jaegers, giant robots controlled by human pilots, and the Kaiju, or giant monsters wreaking havoc across the world. After making U.S. $290.9 million worldwide, we're not surprised it's spawned an anime series.
ADVERTISEMENT - CONTINUE READING BELOW
Recommended Videos
The Greatest Showman (2017)
Watch it on: Fox+, YouTube Movies
Did you try learning all the words to the original songs from The Greatest Showman? Now's your chance to sing along to all of them while rewatching the film. For those who have yet to watch, you'll find out why "This is Me" bagged the Best Original Song award at the Golden Globes. The movie-musical based on the life of legendary ringmaster P.T. Barnum, portrayed by Hugh Jackman, grossed U.S. $435 million worldwide and boasts multiple nominations from the Golden Globes, Academy Awards, and Critics' Choice Awards, to name a few. 
Bad Genius (2017)
Watch it on: HOOQ
This record-breaking Thai movie puts a refreshing on thrillers—you can think of it as an intense heist film set in school. It follows the story of Lynn (
Chutimon Chuengcharoensukying), a high-school genius who makes money by creating an elaborate cheating scheme for students taking exams. It's sure to keep you on your toes and might make you wonder if you'd have been able to pull off something similar back when you were in school. It became the highest-grossing Thai film in Malaysia, Hong Kong, and other countries where it screened, and earned awards from international film groups.
ADVERTISEMENT - CONTINUE READING BELOW
Lady Bird (2017)
Watch it on: HBO Go
Lady Bird is one of the best films of 2017 according to Time Magazine, the American Film Institute, and the American National Board of Review because of its all-too-accurate depiction of the mother-daughter relationship between high-school senior Christine or "Lady Bird" (played by Saoirse Ronan) and her mother (Laurie Metcalf). The film won two awards at the Golden Globes: Best Motion Picture and Best Actress. It was also nominated for several awards from both the Academy Awards and the Golden Globes.
Suicide Squad (2016)
Watch it on: Netflix
Can you trust a team of supervillains to do a superhero's job? If you didn't get to catch Suicide Squad when it was released in cinemas, now's your chance to watch the star-studded, action-packed anti-hero movie, where villains like Harley Quinn (Margot Robbie) and Deadshot (Will Smith) are sent to do high-risk missions for the American government. The film earned nominations and awards at the Grammys, Critics' Choice Awards, People's Choice Awards, Teen Choice Awards, and Academy Awards.
ADVERTISEMENT - CONTINUE READING BELOW
Loving Vincent (2017)
Watch it on: Fox+
Get a peek into the life of the brilliant yet troubled Vincent van Gogh, as Loving Vincent traces the story behind his extraordinary works and the circumstances surrounding his death. The film makes its mark on history as the first film to be fully painted from start to finish. The entire process took four years to complete, and recruited the help of over a hundred artists to paint about 65,000 frames. Loving Vincent was nominated for several awards including Best Animated Feature at the Academy Awards, and it won the award for Best Animated Feature Film at the 30th European Film Awards.
Ralph Breaks the Internet: Wreck-It Ralph 2 (2018)
Watch it on: HOOQ
We bet you'll never see the Internet the same way again after Ralph Breaks the Internet's version of it. The highly anticipated Wreck-It Ralph sequel features your favorite Disney princesses with some pretty meta moments. You're in for adventure and heartfelt moments as you follow the story of how best friends Ralph (John C. Reilly) and Vanellope (Sarah Silverman) save her game from getting unplugged. The fun yet thought-provoking animated flick amassed critical acclaim and nominations for Best Animated Feature at the Golden Globes, Academy Awards, and Critics' Choice Awards.
ADVERTISEMENT - CONTINUE READING BELOW
Along with the Gods: The Two Worlds (2017)
Watch it on: iflix
Along with the Gods: The Two Worlds is based on a popular Korean webtoon of the same name, and has become the second-highest grossing film in South Korea to date. It stars Ju Ji-Hoon (Princess Hours, Kingdom) as one of the three grim reapers assigned to escort recently deceased firefighter (Cha Tae-hyun) into the afterlife, where he's to be put on trial to determine how he lived his life and where he ought to spend the rest of eternity. The film grossed U.S. $108.2 million at the Korean box office, and a sequel—Along with the Gods: The Last 49 Days—was released only eight months later. You'll want to add this to your must-watch list, especially if you want to see the two upcoming sequels, which are in the works this year.
Ready Player One (2018)
Watch it on: HBO Go
Based on Ernest Cline's novel of the same name, director Steven Spielberg's Ready Player One stars Tye Sheridan as orphan Wade Watts. In the film, he's known as Parzival, his avatar name in the widely popular and world-changing simulation game called the OASIS. While competing for the rights to the OASIS as well as its huge fortune, Parzival is entangled in a huge battle much bigger than he first thought. The film was praised by critics for its special effects (it was nominated for an Academy Award!), '80s pop-culture references, and mind-bending take on virtual reality and the video games you used to play as a kid. 
ADVERTISEMENT - CONTINUE READING BELOW
Your guide to thriving in
this
strange new world.
Share this story with your friends!
---
Help us make Spot.ph better!
Take the short survey
Load More Stories