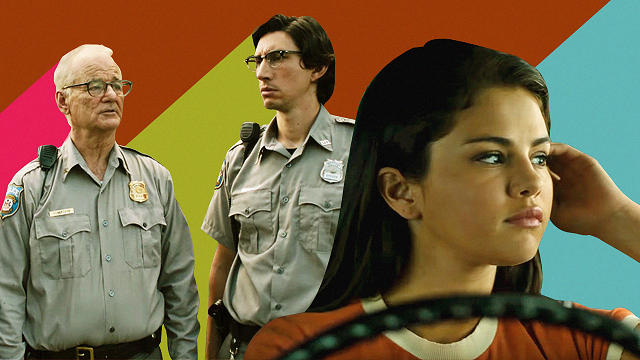 (SPOT.ph) If you're the type to avoid nightmare-inducing horror films at all costs, but are incredibly curious, maybe the gateway to straight-up scary flicks are those that tackle the subject matter in way that's a little lighter. Not a fan of gruesome zombie films? Try films that poke fun at the ideas of zombies lumbering around. Not too fond of Dracula? Enjoy a film that re-imagines the vampire lore. There is a wide variety of comedic horror films that won't keep you up at night. Instead, they'll make you laugh while also still giving you those little jolts to keep you on your toes.
ADVERTISEMENT - CONTINUE READING BELOW
Horror comedies always toe tricky lines, but when the film gets it right, it's a phenomenal experience.
Below, we've listed 10 horror-comedies for the easily scared—including a few films coming out later this 2019:
The Dead Don't Die (2019)
Directed by: Jim Jarmusch
Zombies are quite an easy target in the land of horror-comedy (as you'll see in this list). The idea of the undead might be terrifying, but in zombie horror-comedies, directors and writers usually get to flex their creative muscles at showing effective, hilarious ways to kill people who aren't exactly people. In what is dubbed "the greatest cast ever disassembled," the likes of Tilda Swinton, Adam Driver, Bill Murray, Selena Gomez, and many more fight off a zombie takeover through some deadpan humor and ridiculous small-town mischief under the direction of critically acclaimed American indie film director Jim Jarmusch.
Little Monsters (2019)
ADVERTISEMENT - CONTINUE READING BELOW
Recommended Videos
Directed by: Abe Forsythe
After haunting audiences in Jordan Peele's Us earlier in 2019, Lupita Nyong'o is back in another horror film, but this time, instead of fighting a version of herself, she is fighting a zombie invasion. The Oscar-winning Nyong'o plays a kindergarten teacher on a field trip who gets entangled in a zombie attack while she is with her very young students. Josh Gad also stars as a children's TV host in this gore-filled comedy film that includes ukulele covers of Taylor Swift and lots and lots of blood—two things you never would've thought could go together.
Zombieland (2009)
Directed by: Ruben Fleischer
In 2009, Woody Harrelson, Jesse Eisenberg, Emma Stone, and Abigail Breslin joined forces to try and survive the zombie apocalypse. The team-up resulted in a gut-busting and incredibly witty film that breathes new life into the zombie genre. It also includes a cameo from Bill Murray that ranks among the best cameos in film history. You'll get a list of rules for surviving the zombie apocalypse, like Rule #1: Cardio, Rule #10: Check the Back Seat, and Rule #2: Double Tap—which is also the title of the upcoming sequel. Yes, 10 years later, the gang is back together to fight more evolved zombies along with new cast members Zoey Deutch, Rosario Dawson, and Luke Wilson.
ADVERTISEMENT - CONTINUE READING BELOW
What We Do in the Shadows (2014)
Directed by: Jemaine Clement and Taika Waititi
Co-written and co-directed by two of New Zealand's greatest creative exports Jemaine Clement (Flight of the Concords) and Taika Waititi (Thor: Ragnarok), What We Do in the Shadows is a mockumentary that chronicles the life of a group of centuries-old vampires who live in an apartment together in Wellington, New Zealand. Waititi and Clement also star as two of the four vampire roommates (one of which is an 8,000-year-old Nosferatu-like vamp) as the film follows their daily troubles with modern technology, humans, witches, and werewolves. Hilarious and fresh, What We Do in the Shadows (which has since been spun-off into a TV show) is arguably among the best mockumentary films of all time.
Shaun of the Dead (2004)
Directed by: Edgar Wright
The first part in director Edgar Wright's hilarious "Three Flavours Cornetto trilogy," was the breakout project for many of its stars, including Simon Pegg, Nick Frost, and Wright himself. In this horror-comedy parody of famous zombie films like Dawn of the Dead, Pegg plays the title character Shaun, a directionless man whom no one really likes. When the zombie apocalypse happens, Shaun leads a group of survivors in a bloody, terrifyingly funny adventure that both pays homage and pokes fun at the zombie film genre.
ADVERTISEMENT - CONTINUE READING BELOW
Ghostbusters (1984)
Directed by: Ivan Reitman
When there's something strange in your neighborhood, you know exactly who you're gonna call thanks to that ridiculously catchy song. While sequels, TV shows, and remakes were spawned, the original is truly where you should begin. Ivan Reitman's wacky yet very funny special effects-filled film about a bunch of scientists who decide to battle the supernatural became, and continues to be, a pop-culture phenomenon, for very good reason. The cast includes comedy greats Bill Murray and Dan Aykroyd as well as Sigourney Weaver. And while ghosts might give you a fright, the team dynamics and the energizing blockbuster feel make for an awesome experience.
Evil Dead II (1987)
Directed by: Sam Raimi
Sam Raimi's Evil Dead series is a classic, and deservedly so, with its wild but engaging story, groundbreaking practical effects, and a cheer-worthy lead performance by Bruce Campbell as the chainsaw-wielding, "deadite"-killing hero Ash. While the first film is obviously worth a look, that one plays more in the horror genre than anything, with really terrifying moments and scares. Meanwhile, Evil Dead II (sometimes subtitled with Dead by Dawn) leans a bit more towards comedic ridiculousness. Raimi is a master at making you laugh and cover your eyes all at the same time (see also 2009's Drag Me to Hell), and he operates at full speed in Evil Dead II.
ADVERTISEMENT - CONTINUE READING BELOW
The Cabin in the Woods (2012)
Directed by: Drew Goddard
Having written several episodes of Buffy the Vampire Slayer and Angel, as well as the monster movie Cloverfield, Drew Goddard proves how great a talent he is with his directorial debut The Cabin in the Woods. The movie revolves around a group of college students (including Chris Hemsworth, Kristen Connolly, Anna Huchison, and Fran Kranz) who spend a weekend at a, well, cabin in the woods—only to unknowingly take part in a mysterious operation. Funny, scary, and subversive, The Cabin in the Woods takes the usual list of horror-movie rules and turns it on its head, adding its own unique flavors while also paying homage to films that came before.
ParaNorman (2013)
Directed by: Sam Fell and Chris Butler
ParaNorman is about the zombie-obsessed Norman (Kodi Smit-McPhee), who can talk to ghosts. When zombies actually come to life and attack their town, Norman, along with his friends and family (voiced by talents like Anna Kendrick and Christopher Mintz-Plasse) must find out why the dead are coming back. Beautifully crafted, funny yet riddled with genuine moments of terror, and with a heartfelt story about loneliness, bullying, and the misplaced fear of the unknown, ParaNorman is a lovely film that won't scare you too much and will instead leave you smiling.
ADVERTISEMENT - CONTINUE READING BELOW
Beetlejuice (1988)
Directed by: Tim Burton
Wild, fantastical, grotesque, and downright insane are just some descriptions of most Tim Burton films, but none fit the description more than Beetlejuice. The 1988 film is about an annoyingly obnoxious demon that terrorizes a family who's just moved in to a new home being haunted by a recently deceased young couple. Michael Keaton stars as the green-haired title character who is crude and larger than life, while Alec Baldwin and Geena Davis are the recently deceased couple getting used to haunting their old home. Winona Ryder also stars as one of the new homeowners who, no matter how bonkers and bizarre everything gets, just won't leave. It's a movie with the director working at his best, with a talented cast, incredible production design, special effects, and makeup. Don't be surprised if you end up wanting to live with Beetlejuice, too.
Share this story with your friends!
---
Help us make Spot.ph better!
Take the short survey
Load More Stories