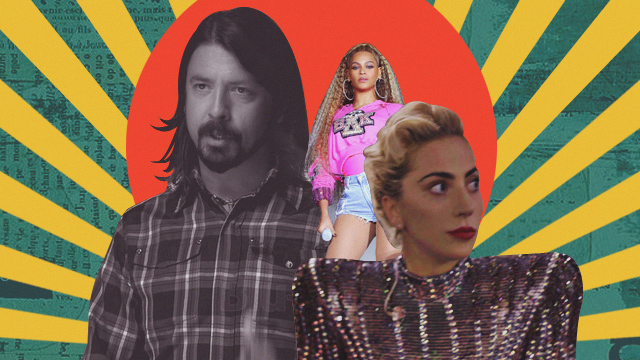 (SPOT.ph) There's something for everyone on Netflix, which is what makes it so great. Food lovers have their Chef's Table, the teens get Riverdale, and the serious types have House of Cards. For those who love music, there's also a multitude of choices on the service—from concert specials, documentaries about music, to  great films with equally great soundtracks. There are picks from different genres and unique artists all ready to share their music with the world.
ADVERTISEMENT - CONTINUE READING BELOW
Also read:
10 Things to Watch on Netflix If You're a K-Drama Fan
10 Things to Watch on Netflix If You're Into Mystery
We've compiled a list of films and TV shows for all the music lovers out there:
Homecoming (2019) 
What more do you need to know besides this being billed as "A Film By Beyoncé"? If you want to know more, Homecoming is an in-depth look at singer Beyoncé's history-making performance at the 2018 Coachella Valley Music and Arts Festival, most especially the long, tough road it took to get there after cancelling her performance in 2017 due to her pregnancy. As the first African-American woman to headline Coachella, Queen Bey didn't hold back and made powerful statements during her performance, and in Homecoming, audiences get to relive that, as well as take a rare peek at Mrs. Carter's artistic process behind the scenes.
Taylor Swift Reputation Stadium Tour (2018) 
ADVERTISEMENT - CONTINUE READING BELOW
Recommended Videos
In what Netflix calls a celebration of "a monumental night of music, memories, and visual magic," this filmed version of Taylor Swift's massive concert tour for her Reputation album isn't just for Swifties. The music, the production, and Swift herself are worth watching as she sings and performs some of her recent hits such as "...Ready for It?" and "Look What You Made Me Do." This is Swift at her most daring, musically and as a performer, and it's really incredible to see just how far she's come since those sweet country-girl days.
FYRE: The Greatest Party That Never Happened (2019)
If concert documentaries aren't what you're looking for and instead, you want something a bit more serious but still related to music, FYRE would be your best choice. FYRE focuses on a failed "luxury music festival" in the Bahamas that the likes of Kendall Jenner and Bella Hadid promoted. Co-founded by Ja Rule, the Fyre Festival seemed doomed from the start as guests arrived to terrible accommodations and even worse food after being promised a five-star stay. This mess of a festival, how it came to be, and how it crashed and burned is all detailed in this wacky documentary.
ADVERTISEMENT - CONTINUE READING BELOW
Hip-Hop Evolution (2016) 
Fans of hip-hop will love this documentary series that follows the genre's rise from the 1970s all the way up to the boom in the 1990s and more. Interviews with hip-hop names like Sean "Diddy" Combs, LL Cool J, and Grandmaster Flash are mixed in with music and features on the Notorious B.I.G., Tupac, and the Wu Tang Clan. This in-depth documentary series about one of the world's most popular music genres is led by rapper and journalist Shad as he digs deep into the history of hip hop. Once you're done with this, also seek out the Jimmy Iovine and Dr. Dre-focused documentary The Defiant Ones for more hip-hop history viewing.
Pitch Perfect (2012)
Looking for something fluffier and lighter? Anna Kendrick and Rebel Wilson bring the laughs in the first (and best) installment of the Pitch Perfect series. Listen and watch as some of your favorite songs are broken apart and sung acapella in really cool or sometimes really hilarious ways. Kendrick's version of "Cups" is legendary at this point, as well as the outstanding "riff off" scene. So if music documentaries and concerts aren't what you're looking for, you can find comfort in the shape of this really funny, really silly film about misfit acapella singers.
ADVERTISEMENT - CONTINUE READING BELOW
Gaga: Five Foot Two (2017) 
Lady Gaga lets her Little Monsters and other viewers into her life with little filter in this documentary that shows Gaga at her most vulnerable. Working through an album, preparing for her big Super Bowl performance, going through heartbreak, hilariously shopping at Walmart, dealing with Madonna, and yes, even getting the call that she will definitely be starring in Bradley Cooper's A Star is Born remake are all documented in this revealing film. The documentary notes that you've never seen Gaga like this before, and they aren't lying.
How the Beatles Changed the World (2017)
Sometimes you're going through Netflix looking for a throwback, and there's no greater throwback than following the footsteps of The Beatles. One of the biggest and most iconic musical acts in history, The Beatles have had several documentaries and projects that talk about their rise, their fame, and their music. But in this documentary, rare footage and tons of interviews focus on the cultural phenomenon that was the Fab Four. 
ADVERTISEMENT - CONTINUE READING BELOW
Foo Fighters: Back and Forth (2011) 
Producers combed over 1,000 hours of footage—both historical and new—to create this self-proclaimed "rockumentary" about one of the most popular 1990s American rock bands the Foo Fighters. Frontman Dave Grohl as well as current and former members of the band talk about the storied history of the band, how it started, and how it has evolved over the years. At the time, the band was making a "garage record" which seemed unheard of for a band of this stature but, as the documentary points out, there's a feeling of going back to their roots and exploring the Fighters' history. 
Nick and Norah's Infinite Playlist (2008)
A fake boyfriend, a missing drunk friend, and a wild night out in New York City searching for their favorite band's secret gig make up the base for this funny and frantic rom-com starring Kat Dennings and Michael Cera. Cera plays a heartbroken bass player who keeps making mixed CDs for his ex-girlfriend. Dennings plays the girl who finds these CDs and connects with Cera's taste in music. Their love for the same tunes unite them in a very 2008 but still very lovely little love story.
ADVERTISEMENT - CONTINUE READING BELOW
Whitney (2018)
Whitney Houston is such a major figure in music but her troubled life and career have been the subject of many documentaries. 2018's Whitney, however, is the only one authorized by the late singer's estate. This 2018 film is as candid as can be, as archival footage and interviews with Whitney's loved ones try to showcase the work that Houston produced, while not shying away from all the struggles and terrible things she faced during her life. This is as much a portrait of a star taken by a disease as well as a celebration of her music.
Your guide to thriving in
this
strange new world.
Share this story with your friends!
---
Help us make Spot.ph better!
Take the short survey
Load More Stories