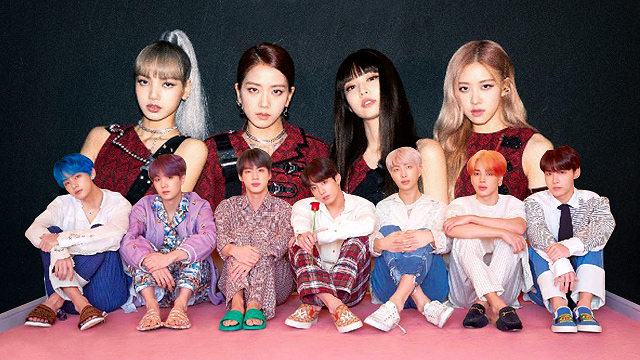 (SPOT.ph) Back in 2009, most Pinoys only knew three K-Pop songs. Those were "Sorry, Sorry" by Super Junior, "Nobody" by Wonder Girls, and "Gee" by Girls Generation. All three shot to viral fame before the term was even part of our collective vocabulary, with their catchy and addictive melodies and easy-to-imitate choreographies that had fans filming their very own dance covers.
ADVERTISEMENT - CONTINUE READING BELOW
Fast forward to 10 years later and K-Pop, bolstered by the power of social media, has become a mainstay in the international music scene. There are more groups debuting than ever and, sometimes, it becomes challenging to put a face to the song especially when you're only a casual listener. But unless you've been living under a rock, there really is no escaping K-Pop anymore. We're pretty sure you've recently heard their songs on the radio at your go-to samgyupsal joint, or in the car during long commutes across the Metro, and here are some of them.
These are the 10 K-Pop groups with LSS-inducing songs to keep on your radar:
BLACKPINK
Arguably the most popular and influential girl group right now, BLACKPINK recently made history for being the first K-Pop girl group to play Coachella. But before they made their U.S. debut, the girls have been dominating South Korean and global charts ever since they first hit the scene in 2016 with a string of bangers like "Boombayah," "Whistle," "Ddu-Du Ddu-Du," and, most recently, "Kill This Love." Last year, they collaborated with Dua Lipa for "Kiss and Make Up."
ADVERTISEMENT - CONTINUE READING BELOW
Recommended Videos
BTS
By now, even non-K-Pop fans would have already heard of BTS, dubbed the biggest K-Pop boyband today. Formed in 2013, this seven-member group is often praised by the media for penning socially relevant lyrics, while sporting slick style. While you may know them best from their recent collabs with Nicki Minaj, Steve Aoki, and Halsey, fans have long been bopping to classic BTS hits such as "Dope," "Fire," and "I Need U."
EXO
EXO has been on a break since promotions for their latest release "Love Shot" ended last December 2018, but the group nevertheless remains one of the most formidable forces in Korean music. The boys debuted in 2012 and have since been known for their powerful vocal line and synchronized choreography, which are on full display on chart-toppers like "Growl," "Ko Ko Bop," and "Tempo."
iKon
Seven-member group iKon was a product of two reality survival shows: WIN: Who Is Next (which produced labelmates WINNER) and, later, Mix & Match. The band debuted in 2015 with the album Welcome Back, which produced the hits "Rhythm Ta" and "My Type." In 2018, they released "Love Scenario," a slightly upbeat tune that might be their most familiar song to some.
ADVERTISEMENT - CONTINUE READING BELOW
KARD
Co-ed groups in K-Pop are a rarity. Thankfully, there's one that's active in the scene right now: KARD. With unmistakable vocals and powerful dance moves, the quartet has been around since 2017, with Hola Hola marking their official debut. In 2018, members Somin and Jiwoo collaborated with Super Junior for a special version of "Lo Siento," with the girls singing in Korean the lines of original SuJu collaborator, Leslie Grace. In March this year, KARD released single "Bomb Bomb," their first digital single.
MOMOLAND
MOMOLAND first won the hearts of most Pinoys with their viral 2018 hit "Bboom Bboom." Like iKon, this nine-member group was formed in 2016 through a reality show titled Finding Momoland. Following "Bboom Bboom," the girls came out  more danceable tracks including "BAAM" and "I'm So Hot," which they recently wrapped up promotions for.
Red Velvet
First things first: Red Velvet isn't named after a cake flavor. Instead, it's a nod to their so-called dual concept: on one hand is "red," their bright and youthful side; on the other, "velvet," or their more mature side. The girls' disco- and videography, from their debut in 2014 up to the present showcases their versatility with chart toppers like "Red Flavor," "Dumb Dumb," and "Bad Boy." In April, Ellie Goulding released a Red Velvet remix of her highest-charting US single since 2015, "Close to Me," which also featured Diplo.
ADVERTISEMENT - CONTINUE READING BELOW
SEVENTEEN
SEVENTEEN has been praised for composing and producing their own songs. They have three sub-units within the 13-member group, which highlights each members' individual strengths. So there's the four-member Hip-Hop Unit, composed of all the lead rappers; the five-member Vocal Unit, composed of all lead vocalists; and the four-member Performance Unit, composed of all lead dancers. Since making their debut in 2015, the group has released two full-length albums and a handful of EPs and singles. Standout bops include "Pretty U," "VERY NICE," "Don't Wanna Cry," and "CLAP."
Stray Kids
Stray Kids, like iKon and MOMOLAND, were likewise formed through a reality show in 2017. In a short span of time, they're already proving to be one of the most promising in the vast pool of new idols. Last year, Stray Kids swept all Best Rookie and Best New Artist awards by music award-giving bodies in South Korea. The nine boys were recently in the country for the Manila leg of their concert tour dubbed "Stray Kids Unveil Tour 'I Am…" in which they performed tracks like  "District 9," "My Pace," "I am YOU," and their latest release, "MIROH."
ADVERTISEMENT - CONTINUE READING BELOW
Twice
Nine-member girl group Twice also comes from the same label as Stray Kids, and is also a product of a reality show. They are well-known for their bubblegum bops, starting with their 2015 debut track "Like OOH-AHH." Since then, Twice, which at one point held the distinction of being the "Nation's Girl Group," has churned out one number-one hit after another. The list includes "CHEER UP," and "What Is Love?" The girls made their comeback just last month with "FANCY."
Share this story with your friends!
---
Help us make Spot.ph better!
Take the short survey
Load More Stories