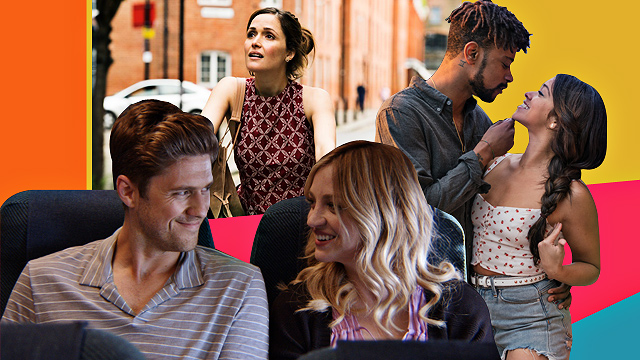 (SPOT.ph) We all love a good rom-com—with the too-good-to-happen meet-cute, cheesy lines, and (usually) heartfelt declaration of love, it's hard to resist its charms even if you've seen it all before. You've probably ticked all the must-watch rom-coms on your list, but we found some hidden gems you'll want to watch on your next movie marathon.
Here are 10 romantic comedies you probably haven't heard of but should definitely check out:
Someone Great (2019)
Jane the Virgin may be in its fifth and final season, but we haven't seen the last of Gina Rodriguez just yet. Rodriguez plays Jenny, a music journalist living in New York with Nate, her boyfriend of nine years. She gets her dream job and has to move to San Francisco, but Nate is nowhere near as excited and devastatingly breaks up with her. She calls up her best friends Erin (DeWanda Wise) and Blair (Brittany Snow)—who are also dealing with love problems of their own—for one last crazy night before she leaves for the West Coast. Usually the heartbreak comes later in the movie, but Jenny's story revolves around how she navigates her life without a long-term relationship holding her back, proving that Someone Great could be the anti-romantic rom-com film we all just might need.
ADVERTISEMENT - CONTINUE READING BELOW
The Incredible Jessica James (2018)
Jessica James (Jessica Williams) is the epitome of a strong, independent woman, except she may kind of need a man. She recently split up with her boyfriend, Damon, and goes out on a date with Boone (Chris O'Dowd). Their date almost turns sour with her no-filter attitude and frank disposition—except it doesn't, and Boone ends up liking her anyway. Unlike the damsels-in-distress and manic pixie dream girls in rom-coms, Jessica's strong personality and spunky attitude will make single ladies want to stay unapologetically true to who they are.
Better Off Single (2016)
Dating in a big city is tough, especially when Charlie Carroll (Aaron Tveit) finds himself both single and unemployed. He isn't ready to jump into the dating scene again, even as he puts himself out there to meet different women. On top of that, he gets hallucinations that drive him crazy, which makes him question: Is there really such a thing as "The One," or are we all just meant to be alone? 
Sleeping With Other People (2015)
Jake and Lainey (played by Jason Sudeikis and Alison Brie, respectively) are two old college friends that can't stop sleeping with other people even while they're in their own respective relationships. They meet again, reconnect, and there's so much chemistry going on, but they swear to not sleep with each other this time. And so, they continue seeing (and sleeping with) other people, but soon enough they start wondering if they're really meant to be just friends.
CONTINUE READING BELOW
Recommended Videos
Maggie's Plan (2016)
Greta Gerwig of Lady Bird fame stars in Maggie's Plan as the titular character; a woman who gets married to John (Ethan Hawke), who's fresh from a divorce from Georgette (Julianne Moore). Eventually, Maggie realizes that she and John might not be right for each other and that maybe he was meant to be with Georgette after all. She then devises a plan with Georgette to help get them back together for the second time around. Watch as an ex-mistress and ex-wife get along well even after a troubled start.
Everybody Loves Somebody (2017)
Karla Souza (a.k.a. Laurel from How to Get Away with Murder) plays Clara, a successful physician who has to travel back to Mexico for her parents' wedding. Sick of being constantly teased by her older sister for her singleness, she enlists her co-worker Asher (Ben O'Toole) to pose as her boyfriend over the weekend. Trouble ensues when her ex Daniel (José María Yazpik) shows up to the wedding. If you're tired of the "May boyfriend ka na ba?" questions from relatives at family gatherings, you're sure to relate to Clara's dilemma of having to find the right boyfriend ASAP.
Table 19 (2017)
Eloise (Anna Kendrick) backs out from being the maid-of-honor at her oldest friend's wedding after her boyfriend—and the wedding's best man—Teddy (Wyatt Russell) breaks up with her via text. And so, she has to sit at Table 19 or "The Table That Could Disappear in the Middle of the Wedding and No One Would Even Notice" with a mixed bag of oddball characters, including the bride's ex-con cousin. This film shows that love may not be around the corner for now, the journey might spring a few delightful relationships ahead.
ADVERTISEMENT - CONTINUE READING BELOW
Half Magic (2018)
Heather Graham (who also wrote and directed the film) plays Honey alongside Eva (Angela Kinsey) and Candy (Stephanie Beatriz)—three women who have fallen into the habit of settling for a string of bad, inadequate men. They promise to start dating "good guys" in the hopes of finding real love and feeling empowered in a male-dominated world. If you've ever found yourself falling into the trap of "bad boys," this film might just get you to finally see the light.
Juliet, Naked (2018)
For years, Annie (Rose Byrne) has been in miserable relationship with Duncan (Chris O'Dowd), who's been obsessed with a mysterious rock musician named Tucker Crowe (Ethan Hawke). Crow's demo entitled Juliet, Naked arrives in the mail and Annie's dislike of both Duncan's obsession and the album fuels her to write a negative review online. Much to her surprise, the real Tucker Crowe stumbles upon her review, is pleased by it, and asks to meet her on his next trip. Their surprise relationship is enough to melt anyone's heart, and who doesn't want to date a musician in real life?
Destination Wedding (2018)
Lindsay (Winona Ryder) and Frank (Keanu Reeves) are two strangers who are invited to the same wedding in this atypical rom-com. Both of them share more than just a train ride to a destination wedding in sunny California: they're cynical about love and the world around them. In turn, they form a surprising friendship and start liking each other. Frank may believe that "There is nobody for anyone," but watching their uncanny friendship bloom will make you believe otherwise.
ADVERTISEMENT - CONTINUE READING BELOW
Share this story with your friends!
---
Help us make Spot.ph better!
Take the short survey
Load More Stories