(SPOT.ph) It should be safe to say it by now—but just in case, spoiler alert!—Iron Man (Robert Downey Jr.) is dead. After snapping half of the universe back into existence in Avengers: Endgame, the world is left mourning his loss, but also confused. After all, people suddenly came back exactly how they left—an event everyone somewhat adorably calls "The Blip." Meaning to say, those who vanished didn't age at all, while those who survived have aged five years.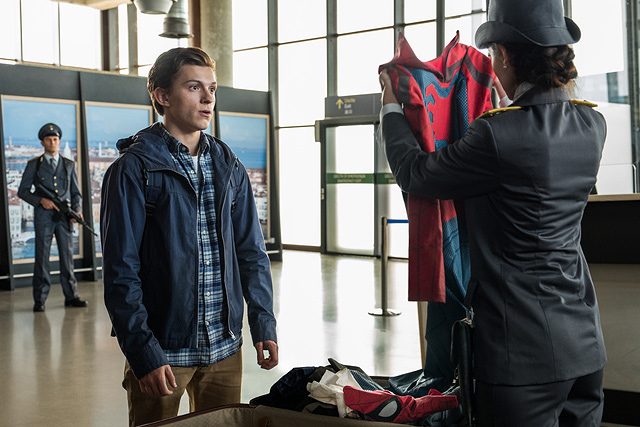 One of the people taking it all the hardest is, of course, the still 16-year-old Peter Parker (Tom Holland). Even if things are relatively easier now that Aunt May (Marisa Tomei) knows and is supportive of his secret identity, he wants to take a break from his alter ego in Spider-Man: Far From Home. People have been asking non-stop about who the next Iron Man is going to be and he just doesn't see himself living up to him. He sees his class trip to Europe as the perfect escape, especially since he'll be with his best friend Ned (Jacob Batalon) and he can make the moves on his crush MJ (Zendaya).
ADVERTISEMENT - CONTINUE READING BELOW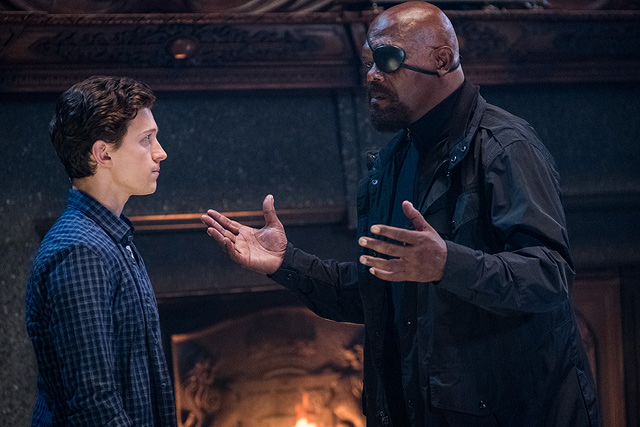 Peter tries to ditch the suit and "ghost" (read: ignore) Nick Fury (Samuel L. Jackson) by not picking up his calls. Not one to take no for an answer, Fury shows up at Peter's school trip and tells him about a mission to help Quentin Beck (Jake Gyllenhaal), a hero from another dimension of Earth who followed creatures called "Elementals" to this dimension. As the only available Avenger—Thor is off-world, Doctor Strange is unavailable, Captain Marvel's needed in other planets, too—Spider-Man is tasked to help Quentin a.k.a. Mysterio, stop the Elementals from destroying this world like how they did his. When Peter says no, Fury hi-jacks his school trip to make sure they go wherever the Elementals are expected to appear. 
There's a lot to live up to when you're following up the three-hour blockbuster and 10-year culmination film that is Avengers: Endgame. With great hype comes great responsibility, and it's safe to say that Spider-Man: Far From Home can hold its own. 
CONTINUE READING BELOW
Recommended Videos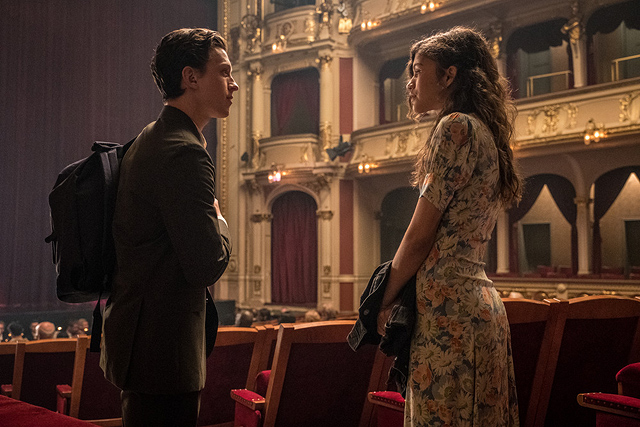 Spider-Man: Far From Home shows Peter Parker in a way we haven't seen him before—and we all know we've seen a lot of versions of him. Up till now, the Marvel Cinematic Universe's Spider-Man has been that kid from Queens who gets way ahead of himself in an effort to impress Iron Man and show him that he's good enough. Now, we see a lost Peter Parker who's only trying to find his place in the world not only as a celebrity hero, but also as a teenager who just wants to do normal growing-up stuff, like tell the girl of his dreams that he likes her at the top of the Eiffel Tower. By the end of the movie, you'll see Peter Parker in a new light—smart, charismatic, and a leader only made more charming by his teenage awkwardness. 
ADVERTISEMENT - CONTINUE READING BELOW
Building up on the love angle isn't usually the strong suit of superhero blockbusters, but director Jon Watts (who helmed Spider-Man: Homecoming) does a fairly good job in the romance department. There's the totally smitten Peter with his shy high-school flirting with MJ that's made more frustrating by Peter having to ditch her every time a new monster attacks the city they're in. After planning to be an American bachelor on a European vacation, Ned finds himself in a whirlwind relationship with the pretty blonde Betty (Angourie Rice). Then there's the what-are-they-dating situation between Aunt May and Happy Hogan (Jon Favreau), which also draws some laughs throughout the film. It's nice to see everyone with their own respective arcs without any of them feeling forced or done just for the sake of it.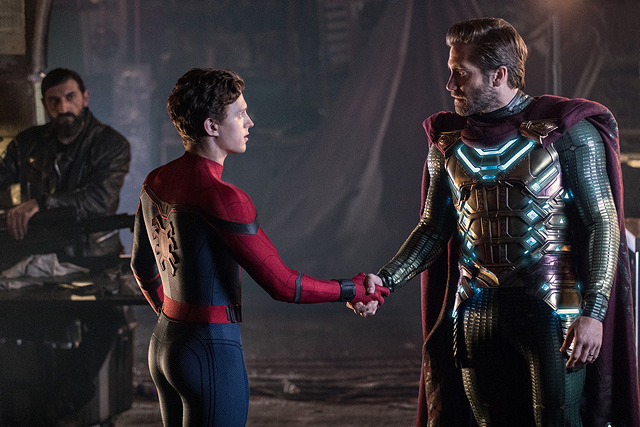 Aside from the romance, there's also the small moments between the characters that remind you that they've already been through so much. One scene in particular between Peter and Happy will tug at your heartstrings and remind you that everyone is dealing with their grief in one way or another. The desperate and mentor-less Peter also finds himself confiding in Mysterio, who, by the way, is deftly played by Gyllenhaal despite him being in what looks like a gas-filled fishbowl when in full battle costume. 
ADVERTISEMENT - CONTINUE READING BELOW
Writers Chris McKenna and Erik Sommers (also making a return after Homecoming) have the daunting task of introducing the audience to a world post-Blip. But while you might expect to be bombarded with brand-new information, you'll instead find yourself tagging along on Peter's adventure while picking up on how the world is like now. There are murals of Iron Man in different corners of the world, people now homeless because of being displaced by the Blip, and people believing whatever they see on the news and on the Internet. It's hard not to miss the thinly veiled commentary on the last one, but McKenna and Sommers make on-point and timely remarks about illusions and people being tricked into thinking it's the truth.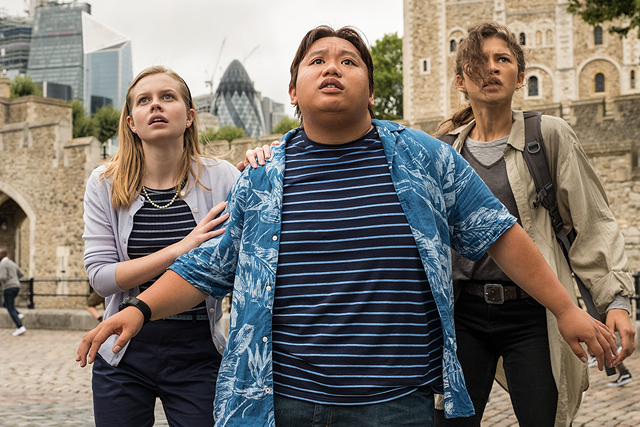 Still, there are times when the story, while full of twists and turns, gets predictable. At one point, you'll just have to wonder how Peter can be so intelligent, but also so damn gullible at the same time. The same can be said for his supposedly smart teachers and classmates (except MJ, who figures things out on her own) and even Nick Fury and Maria Hill (Cobie Smulders). The storyline might also feel like a rehashed and longer version of the kids' trip to Washington in Spider-Man: Homecoming what with Peter putting his friends' lives in danger while he fights the bad guy.
ADVERTISEMENT - CONTINUE READING BELOW
Tony Stark's quick-wit and sarcastic banter is also noticeably missing, but one could argue that it's one of the ways you know this is a different post-Robert Downey Jr. world now. The characters' chemistry makes up for it though. It's not the same dry humor only Downey could deliver, but the comedy brings a sense of community that's much needed in a world without Iron Man.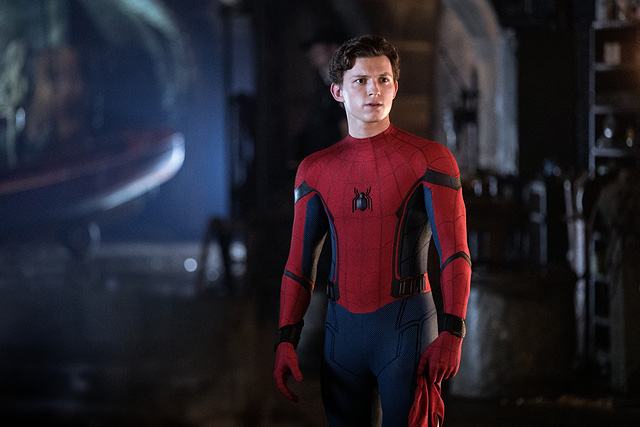 Compared to its predecessor, there's no doubt that Spider-Man: Far From Home delivers on the action. While relying more on CGI, the sequences are bigger, more destructive, and to quote Gyllenhaal's Mysterio, "Avengers-level." Far From Home borrows a page from Spider-Man: Into the Spider-Verse's visually stunning book in that the effects will leave you in a certain state of awe. They're not nearly on the same level, but there are a couple of scenes—one before and one during the climactic final battle—that'll have you tripping out and trying to figure out how all of this could be possible in real life.
ADVERTISEMENT - CONTINUE READING BELOW
There are two post-credits scene after the film, with the first one featuring a modern reincarnation of a fan-favorite from the Tobey McGuire-era Spider-Man movies. It's yet another chapter of Peter Parker we haven't seen before. The second post-credits scene, meanwhile, will have you questioning everything you just watched. 
Spider-Man: Far From Home gives you a close and personal look into Peter Parker's life after Tony Stark while also giving you a bigger scope of what life is like around the world after Avengers: Endgame. The small, heartfelt moments seamlessly woven into the webslinging action make Far From Home a worthy follow-up to Endgame—and more importantly, it makes Spider-Man more than worthy to lead the MCU.
RATING: 4 out of 5 Spots
Spider-Man: Far From Home opens in cinemas on July 3.
Photos courtesy of Columbia Pictures
Share this story with your friends!
---
Help us make Spot.ph better!
Take the short survey
Load More Stories