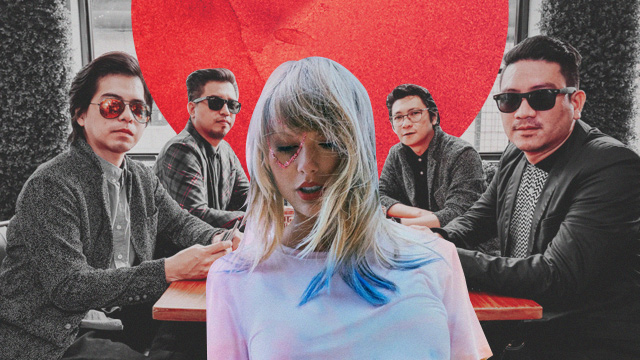 (SPOT.ph) We're entering the second half of 2019. Are you still good? Keep your energy going and stay motivated to conquer the rest of the year with these fresh music selections. Hear Shawn Mendes and Camila Cabello's sultry single, Taylor Swift's bubblegum-pop ditty, Tove Lo's empowering breakup anthem, Ed Sheeran and Khalid's inspiring collab, and Little Mix's sassy single. Locally, we bring you the newest from BRWN, syd hartha, Orange & Lemons, The Bloomfields, and Mayonnaise. Enjoy!
Here are new tracks to get you motivated for the rest of 2019:
"Señorita"
Artists: Shawn Mendes and Camila Cabello 
Everyone's loving not just pop favorites Shawn Mendes and Camilla Cabello, but also their steamy new single, "Señorita." The seductive track features Cabello's sultry, husky vocals and Mendes' smooth crooning against some slow, sexy beats. It's the kind of chill pop track you won't get tired of putting on repeat.
Fun fact: This is Mendes and Cabello's first collaboration since the 2015 hit "I Know What You Did Last Summer."
ADVERTISEMENT - CONTINUE READING BELOW
"Too Many Reasons" 
Artist: BRWN
Pop-R&B act BRWN is out with a groovy new single. "Too Many Reasons" will captivate you with its funky guitar arrangement and sleek vocals. It's a feel-good track with a positive message to boot. Play this one when you're feeling down and need a quick pick-me-up.
Fun fact: BRWN is made up of Max Antonio Guerrero (vocalist and composer), Migs Raneses (guitarist and musical arranger), Oman Peradilla (keyboardist, bassist, and musical arranger), and Stanley Seludo (drummer).
"You Need to Calm Down" 
Artist: Taylor Swift
Pop star Taylor Swift's anti-bullying anthem received mixed reactions upon its release. While some applauded her for finally being more vocal about today's issues, some criticized her for either monetizing people's struggles or playing it too safe. The track itself is just an easy ditty, but it's cute and colorful enough to keep you entertained.
Fun fact: The song is off Swift's forthcoming album, Lover.
"ayaw"
Artist: syd hartha
Up-and-coming singer-songwriter syd hartha makes a statement with her new single, "ayaw." The 17-year-old songstress takes a stand against violence against women in this impactful folk-pop-blues offering. Here, she showcases her rich vocals and a maturity that's beyond her years.
Fun fact: "ayaw" is syd hartha's third single and her first official release under Sony Music Philippines.
"Glad He's Gone"
Artist: Tove Lo
In "Glad He's Gone," solo artist Tove Lo plays the role of the supportive best friend to a grieving pal. The empowering breakup track opens with a gentle acoustic guitar and later on introduces some snappy, catchy beats that are difficult to resist. Lo does a fine job of storytelling here, as well as providing solid advice to let go, be free, and enjoy the single life.
Fun fact: Tove Lo is Swedish singer-songwriter Ebba Tove Elsa Nilsson.
"Pag-Ibig Sa Tabing Dagat"
Artist: Orange & Lemons
Soothe your weary heart with Orange & Lemons' sweet-sounding single. Let the gentle vocals of this relaxed love song take you to a faraway beach and reminisce about lazy days by the sea. It's the same old Orange & Lemons sound we've all come to love, so you can't really go wrong with it.
Fun fact: The band's influences include The Beatles and The Smiths.
"Beautiful People"
Artists: Ed Sheeran and Khalid 
Pop masters Ed Sheeran and Khalid team up for this laid-back tune. In "Beautiful People," the two reject the glitzy and glamorous Hollywood Life and remind everyone to stay true to who they are. It's a very relaxed track with still some powerful moments, thanks to Sheeran's impressive vocals.
Fun fact: "Beautiful People" is part of several collaborations in Sheeran's forthcoming album, No.6 Collaborations Project, which will also feature artists Justin Bieber, Bruno Mars, Travis Scott, and Cardi B, among others.
"One Time Nevermind"
Artist: The Bloomfields
Local rock band The Bloomfields is out with the edgy "One Time Nevermind." The track clearly showcases the band's '90s Britpop, '60s rock, and psychedelic influences. Let this music take you back to the good old days of rock, and enjoy the kick-ass guitar solo toward the end of the song.
Fun fact: The Bloomfields' all-original fourth full-length album, A Drop Into the Blue, was released on June 15.
"Bounce Back" 
Artist: Little Mix
U.K.'s top girl band Little Mix will give you life with their danceable release, "Bounce Back," which awesomely samples Soul II Soul's "Back To Life." The girls have put their own flavor into the sample, which is enhanced by modern club beats and strong female vocals. This one's a definite bop.
Fun fact: Little Mix is composed of Perrie Edwards, Jesy Nelson, Leigh-Anne Pinnock, and Jade Thirlwall.
ADVERTISEMENT - CONTINUE READING BELOW
"Wag Mo Akong Iwan"
Artist: Mayonnaise
You can count on Mayonnaise to bring some sincerity to sentimental music. In "Wag Mo Akong Iwan," the band reflects on our vulnerability in love. The slow-tempo love tune will keep you company as you nurse a heartbreak, but it can also inspire you as you move on to bigger, brighter things.
Fun fact: The band recently held a concert titled Akalain Mo Yun: Mayonnaise Live at the Music Museum to mark their 17 years in the music industry. 
Share this story with your friends!
---
Help us make Spot.ph better!
Take the short survey
More Videos You Can Watch
Load More Stories