10 Most Memorable Portrayals of Joker
Because every actor has his own touch.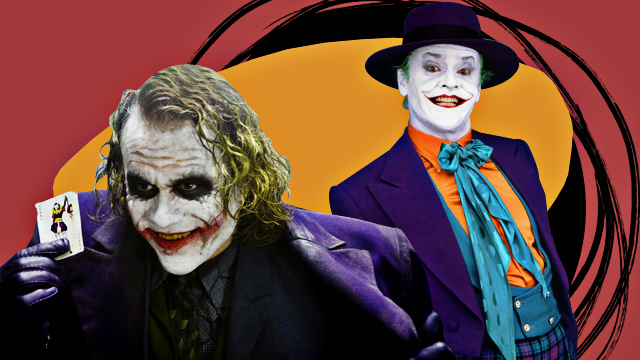 (SPOT.ph) A story and its hero are only as good as its villain. While some bad guys are great in their own right, some stand above the rest. But an antagonist's effect is tied to the actor's delivery: It's what makes a character on paper come alive, effectively turning an idea into a fleshed-out individual meant to spread chaos. Batman may be one of the most recognizable characters in pop culture, but his arch nemesis, the Joker, could give him a run for his money. Many have given life to the menacing clown and so we list down 10 actors and characterizations that cemented the Joker's reputation as one of the most memorable and well-known villains to grace our screens.
Here are our picks for the 10 most memorable Joker portrayals:
Cesar Romero in Batman (1966)
Before even crossing over to TV shows, movies, video games, and more, the Joker was only seen in the comic books until the first-ever live adaptation. Cesar Romero is the first person to play the Joker opposite Adam West's Batman. More recent iterations of the villain have given him a backstory and depth, but the OG Joker in this TV program foiled all of Batman's plans with clever tricks that laid the groundwork for future Jokers to come.
ADVERTISEMENT - CONTINUE READING BELOW
Jack Nicholson in Batman (1989)
The first movie Joker comes in the form of Jack Nicholson's portrayal of the wicked clown. Often referenced by other actors as well, Nicholson's version shows the Joker engaging in his bizarre theatrics without even flinching. Committing crimes and murders while maintaining a jolly demeanor then erupting into a hysterical laugh afterward? He's got it. There's a certain refinement to Nicholson's Joker and it's what sets his performance apart from the rest.
Mark Hamill in Batman: The Animated Series (1992)
You might know the actor as Luke Skywalker in the Star Wars franchise, and you're probably wondering if he ever played the clown. Mark Hamill never actually played the Joker, but he did voice the clown. His performance in the first Batman animated series is so chilling, effective, and on point, that other actors use his version of the Joker as a reference. He was even tapped several times to keep voicing the villain for several shows and video games. Just the right mix of cheeky and conniving, his credits related to the Joker are indicative of how well he plays the villain with just his voice.
John DiMaggio in Batman: Under the Red Hood (2010)
Animated versions of the Joker are reliant on effective voice actors, and in the case of John DiMaggio, his Joker is made more cold and calculating than usual. His voice lends an intelligence to the clown and is arguably one of the more straight and serious performances of the villain. He still descends  into madness, but only at the right time, making his portrayal twice as distressing. Fun fact: This guy voices Jake the Dog from Adventure Time!
CONTINUE READING BELOW
Recommended Videos
Troy Baker in Batman: Arkham Origins (2013)
Originally a role meant for Hamill, Troy Baker had big shoes to fill in this portrayal. This video game focuses on Batman's origin story and had to feature a younger Joker. His version borrows heavily from Hamill's performance and he sounds believable as the younger version of Hamill's Joker. Though inspired by the original, his take on the clown is still his own and it left room for his own characterization to shine through.
Cameron Monaghan in Gotham (2014)
Though not explicitly called "The Joker," everyone watching knows that the signature clown makeup and menacing ideas could only belong to one villain. This series is another Batman origin story and since the Joker's story is tightly intertwined with Bruce Wayne's, he took a lot of liberties with this portrayal. He studied Ledger's and Nicholson's performances to get a good grasp of how to get the tricks and gestures right, but he especially noted Hamill's voice performance to get the signature Joker tone. What he delivers is a mix of all three with an extra dash of madness that will leave you disturbed.
Zach Galifianakis in The Lego Batman Movie (2017)
A scary clown in the form of a tiny toy figure doesn't seem too intimidating and that's perhaps why this version of the Joker is memorable—it deviates from the usual cynical and sinister portrayals of the clown. Though not as dark as the rest, it does stand out, and you have to commend Zach Galifianakis for adding a comedic touch to inconveniencing the supposed hero of Gotham.
ADVERTISEMENT - CONTINUE READING BELOW
Kevin Michael Richardson in The Batman New Adventures (2004)
Taunting and full of contempt, this Joker provokes Batman like no other, but even if you close your eyes, the derision drips from Kevin Michael Richardson's voice. The cartoon adds to the overall image of the Joker, but what really makes it is the unusual quality of Richardson's delivery that differentiates itself from the other Jokers.
Heath Ledger in The Dark Knight (2008)
This list wouldn't be complete without Heath Ledger's subtle and nuanced portrayal of the sinister clown. The actor had his fair share of crazy scenes, but he lent humanity to the Joker and made audiences appreciate the character's complexity and writing. Considered the best live-action Joker, Ledger's performance is arguably the standard for all other Jokers. This role won him an Academy Award for Best Supporting Actor in 2009.
Joaquin Phoenix in Joker (2019)
The unmistakable clown is based on the comic-book character, but this origin story for the Joker deviates entirely from the original storyline and starts from scratch to breathe new life into a familiar character. Though the look is accurate, Joker's story and thoughts are the star in the movie. Mentally afflicted and suffering from a series of misfortunes, Phoenix humanizes the Joker in ways that will give you chills to last for days.
Share this story with your friends!
---
Help us make Spot.ph better!
Take the short survey
Load More Stories