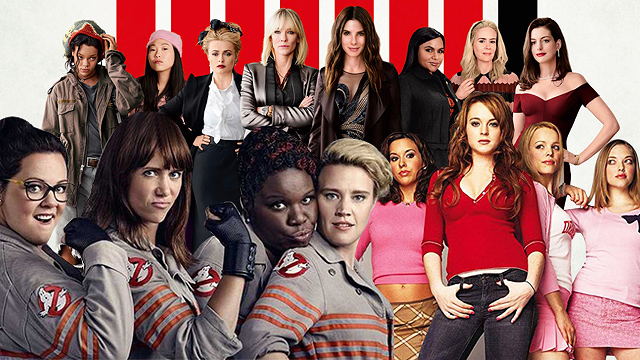 (SPOT.ph) Female friendship is a beautiful thing—you get a solid support system, a 24/7 helpline, and free fashion advice all in one. Oftentimes, female friendship circles look to movies for style inspiration and some memorable #SquadGoals moments. You know by now that every woman is powerful in her own way, but it's inspiring to look to women whose cool and sleek appearance is directly proportional to their grit, determination, and overall badassery. Yes, strong women can coexist, and there's plenty of proof. We round up a few from empowering movies that feature these admirable female characters.
ADVERTISEMENT - CONTINUE READING BELOW
Here are 10 cool on-screen girl gangs who know how to get down to business:
Ocean's 8 (2018)
There will always be room for a good heist film, but eight sassy and distinctive women fulfilling their respective roles to accomplish the herculean task of stealing prized jewels on fashion's most dazzling night is on a whole other level. A spin-off from the successful Ocean's trilogy, this film follows Danny Ocean's newly paroled sister Debbie Ocean (Sandra Bullock), who contacts her former partner-in-crime Lou (Cate Blanchett) to organize a team to steal a ridiculously expensive Cartier necklace. Jeweler Amita (Mindy Kaling), fencer Tammy (Sarah Paulson), hacker Nine Ball (Rihanna), fashion designer Rose Weil (Helena Bonham Carter), and pickpocket Constance (Awkwafina) work together behind the scenes to loot the necklace, while using actress Daphne Kleuger (Anne Hathaway) as a mule.
Ghostbusters (2016)
If you've ever had the cheeky—and later regrettable—idea of entering a haunted house with your friends in search of ghosts, the gals of Ghostbusters could school you on a thing or two about the ghostbusting business. Physicists Abby Yates (Melissa McCarthy) and Erin Gilbert (Kristen Wiig) investigate paranormal activity with no hope of ever finding actual evidence, only to have a malevolent ghost make an unfortunate appearance. Together with engineer Jillian Holtzmann (Kate McKinnon) and New York subway employee Patty Tolan (Leslie Jones), they study patterns and create equipment that can effectively help them catch the ghosts that roam the city's streets.
Hustlers (2019)
Providing for a sick mother and a growing child at the same time could burn a hole in the pocket, and stripper Dorothy (Constance Wu) just wants a shot at a better life. Under the guidance of seasoned stripper Ramona (Jennifer Lopez), she forms a team with fellow entertainers Mercedes (Keke Palmer), Annabelle (Lili Reinhart), Liz (Lizzo), and Diamond (Cardi B) to devise a scheme to scam their rich clients from Wall Street. More than just stealing loads of cash and looking good while doing so, the girls learn to help each other and begin to trust a makeshift family that always has each other's backs.
Sucker Punch (2011)
Lines are blurred in this action-fantasy film starring Emily Browning, Abbie Cornish, Jena Malone, Vanessa Hudgens, and Jamie Chung. Babydoll (Browning) is taken to a mental institution for a lobotomy in order to alter her memories about her sister's death. She fantasizes that she is in a brothel working with the other patients, who are dancers in her imagination. Together, they plot an escape filled with foreign settings, killer weapons, and elaborate fantasies. The girls have no one else but themselves and no matter what the fantasy or the situation, they go against all odds in order to escape the institution together.
ADVERTISEMENT - CONTINUE READING BELOW
Hidden Figures (2016)
Who says the academe and science can't be badass? Based on the 2016 novel of the same name by Margot Lee Shetterly, this film follows three black female mathematicians who worked at the National Aeronautics and Space Administration. Aside from fighting against racial discrimination, they also have to assert their right to be in a workplace dominated by men. Taraji P. Henson plays Katherine Johnson, a mathematician who manually calculates flight trajectories for safe lifts-off and landings. Her skills shine and her calculations are instrumental to the missions' success. Janelle Monáe plays Mary Jackson, National Aeronautics and Space Administration (NASA)'s first black female engineer in history. Female supervisor Dorothy Vaughn, played by Octavia Spencer completes the trio and looks after a segregated company of black women who conduct research and calculations for the space missions. They fight tooth and nail to keep their place and together, they help those "giant leaps for mankind" succeed.
ADVERTISEMENT - CONTINUE READING BELOW
Set It Off (1996)
Francesca "Frankie" Sutton (Vivica A. Fox) is a bank teller who is fired after a robbery and then works for a janitorial service with her three best friends, Lida "Stony" Newsom (Jada Pinkett-Smith), Cleopatra "Cleo" Sims (Queen Latifah), and Tisean "T.T." Williams (Kimberly Elise). Tired of the meager pay and horrible treatment, Frankie proposes they rob a bank. Though all were originally reluctant to do so, the three girls lose their loved ones to crime and the law and are compelled to commit the crime for their own reasons. Now, we're not telling you to rob a bank to solidify your squad's sisterhood, but the women in this film do stick it out for each other, and we can imagine you'd do the same for your girls.
Mean Girls (2004)
High school is dramatic and you know how tiring it can all be, but it still feels great to reminisce about it once in a while, especially if you don't have to go through it yourself. The Plastics—made up of queen bee Regina George (Rachel McAdams), ditzy Karen Smith (Amanda Seyfried), and wealthy Gretchen Wieners (Lacey Chabert)—rule the school. For newcomer Cady Heron (Lindsay Lohan), fitting in is all that matters and getting into—and staying in—The Plastics is the number-one goal. Prom, grudges, and crushes were extra in this version of girl world, but you have to give it to them for hustling hard to get what they want. Sure, the theatrics and backstabbing are not at all #goals when it comes to female friendship, but it is the lessons learned after the drama that really stick with you: body positivity, a sense of self-worth, opening up to your friends, and being humbled by a dangerous situation. This movie also birthed countless quotable quotes and Pink Wednesdays, so really, how can anyone not remember it?
ADVERTISEMENT - CONTINUE READING BELOW
Pitch Perfect (2012)
Sisterhood brought about by a common interest and the shared desire for excellence? The Barden Bellas know all about that. Beca Mitchell (Anna Kendrick) has no interest in going to college or joining extracurricular groups, but she's roped in by Aubrey Posen (Anna Camp) and Chloe Beale (Brittany Snow) to join the Barden Bellas, Barden University's official all-female a cappella group, after they discover that she can sing. Beca isn't exactly thrilled, but she ends up enjoying performing with the other members,  namely Cynthia Rose Adams (Ester Dean), Stacie Conrad (Alexis Knapp), Lilly Onakuramara (Hana Mae Lee), and Patricia "Fat Amy" Hobart (Rebel Wilson). They might not be the most skilled in the beginning, but they eventually find their groove and rhythm as a group.
Sex and the City (2008)
Bold fashion choices? Check. Heart-to-heart conversations? Check. In the city that never sleeps? Check! Daring Carrie Bradshaw (Sarah Jessica Parker), adventurous Samantha Jones (Kim Cattrall), romantic Charlotte York (Kristin Davis), and career-driven Miranda Hobbes (Cynthia Nixon) navigate the streets of New York with the mindset of settling down and staying committed to their partners after their explorations in the Sex and the City TV series. With things changing too much and too fast, the girls turn to one other for help and support. Honestly, who wouldn't want to live the life of a Sex and the City gal? You and your squad have probably dreamed up that fancy New York trip–you can take cues and inspo from these ladies.
ADVERTISEMENT - CONTINUE READING BELOW
Charlie's Angels (2000)
The Angels—Natalie Cook (Cameron Diaz), Dylan Sanders (Drew Barrymore), and Alex Munday (Lucy Liu)—are three skilled, attractive women who work as private investigators for unseen billionaire Charlie. Make no mistake, they've got badass moves behind those coy looks and dazzling smiles. From high-profile missions to risky undercover operations, these ladies work together to secure the safety of thousands of people—with the help of advanced technology, their professional martial arts training, and their sultry disguises, of course. Bosley (Bill Murray) might not be included in the girl gang, but hey, a good ally deserves a shoutout.
Share this story with your friends!
---
Help us make Spot.ph better!
Take the short survey
More Videos You Can Watch
Load More Stories