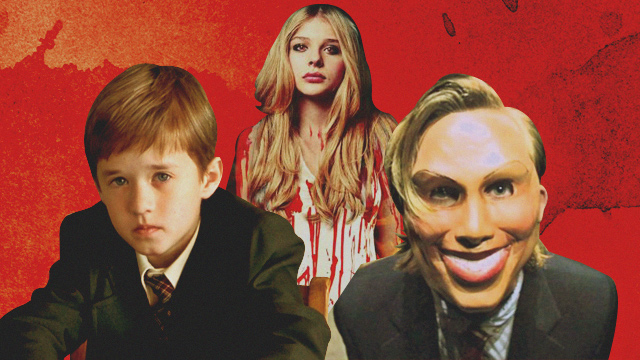 (SPOT.ph) Not everyone can sit solo through a horror movie. There's the trepidation of going home alone and being attacked by the supernatural with no one having a clue as to what happened to you (yes, that fear is very real). When you watch in a cinema, you at least have the comfort of knowing you're not alone, and the fear is divided with the entire audience. But hey, if you're feeling brave and in the mood to be spooked, you can still watch horror films in the comfort of your own home on your gadget of choice. (Or you can invite your friends for an impromptu Halloween party!) Regardless of your purpose, you don't have to look far because horror films these days are right at your fingertips.
ADVERTISEMENT - CONTINUE READING BELOW
Here are 10 of the scariest horror films you can stream on Netflix:
The Conjuring (2013)
Loosely based on the real-life hauntings and cases investigated by American paranormal investigators Ed (Patrick Wilson) and Lorraine Warren (Vera Farmiga), the first film in the Conjuring franchise follows the life of the Perron family (Lili Taylor, Ron Livingston, Shanley Caswell, Hayley McFarland, Joey King, Mackenzie Foy, and Kyla Deaver) on haunted grounds. They move into a beautiful home only to be subjected to eerie events brought about by a witch who cursed the land on which the home stands. Filled with devils, demons, and exorcisms, the film uses old-school scares to deliver horror that will stick with you, even while the sun's out.
Insidious (2010)
Another Wan-directed film featuring a family moving into a new house, this one zeroes in on Dalton (Ty Simpkins), a boy who wanders into the attic and falls into a coma. After three months of treatment and no signs of improvement, his parents Elise (Rose Byrne) and Josh (Wilson) bring him home—that's when paranormal activity plagues the house. With the help of a supernatural investigators and a seance, they discover that Dalton has the ability to travel astral planes mentally, but that his true soul has been trapped in the Further, leaving his body free for tortured and evil souls to occupy. Desperate to get him back and make it out alive in one piece, his parents look for ways to enter the Further.
ADVERTISEMENT - CONTINUE READING BELOW
Recommended Videos
Carrie (2013)
Gory encounters are scary enough on their own, but adding teenage angst makes it an entirely different ballgame. The film is based on Stephen King's novel of the same name and is a remake of the 1976 original starring Sissy Spacek. Carrie follows reserved Carrie White (Chloë Moretz), who is bullied by classmates at school and taunted by her overtly religious and conservative mother at home. When supernatural phenomena occur, she suspects she's got powers. It's just the right confidence boost she needs to go to prom with the cutest boy in school, but let's be real—this is high school, and nothing ever goes right. 
The Texas Chainsaw Massacre (2003)
This film is both a remake and the sequel to the 1974 film of the same name. Friends Morgan (Jonathan Tucker), Andy (Mike Vogel), Pepper (Erica Leehrsen), Erin (Jessica Biel), and her boyfriend Kemper (Eric Balfour) are on the road to watch a concert. On the way there, they stumble upon a panicked hitchhiker who struggles to clearly tell them what's going on. After the mysterious girl mentions the existence of a "bad man," she pulls a gun and shoots herself. As they report and investigate the case themselves, they're led into an abandoned mill where a masked man devises different ways to kill them off: by skinning them alive, gunning them down, contorting the body in ways you wouldn't want to imagine—you know, the works.
ADVERTISEMENT - CONTINUE READING BELOW
The Purge (2013)
We all imagine a world where crime is non-existent, but in this film, all criminal acts are allowed once a year on a day called the Purge. It's all fair game here—killing off neighbors you're jealous of, looting the house of a rich person, and any horrible thing you can imagine is accepted. The Sandin family (Ethan Hawke, Lena Headey, Adelaide Kane, and Max Burkholder) lives in a well-protected mansion and are certain that their own home's security technology will keep them safe during the Purge. When those safety measures fail, purgers break in, and the family is subjected to crime, horror, and cruelty.
Gerald's Game (2017)
Spicing it up in bed from time to time can do wonders for a relationship, but when Jessie Burlingame (Carla Gugino) is left alone and handcuffed to a bed in the middle of a forest, she's convinced there's no chance of escape. After her husband Gerald (Bruce Greenwood) dies in the middle of something steamy, the voices in her head begin to take over and she struggles to escape from a man who threatens to kill her. 
ADVERTISEMENT - CONTINUE READING BELOW
I Am The Pretty Thing That Lives In The House (2016)
Live-in nurse Lily Saylor, played by Ruth Wilson, takes on the job of caring for retired horror writer Iris Blum (Paula Prentiss), who only refers to her caretaker as "Polly." As Lily familiarizes herself with the old house and her employer, she begins to notice odd occurrences and is subjected to nightly visits from mysterious figures. The longer she stays in the house, the more secrets she uncovers, along with the shocking truth about Iris and the real Polly.
Hush (2016)
Maddie Young (Kate Siegel) is a deaf woman with aspirations of becoming an established author. In order to do this, she lives in the woods with her cat, focused solely on her goal. Her neighbor Sarah knocks on her door to return a book, only to be slain by a mysterious killer. As Sarah's murder unfolds, Maddie is unable to hear her pleas for help and she goes on about her night. The man sees her, discovers her condition, and plots to take her down next.
ADVERTISEMENT - CONTINUE READING BELOW
Shutter (2008)
A remake of the 2004 Thai film of the same name, this film follows Ben (Joshua Jackson) and Jane (Rachel Taylor) as the couple moves from New York to Japan, but accidentally runs over a girl once they've settled in the countryside. They check to see the body and find nothing, but begin to experience strange phenomena, along with flashes of lights in their photographs. As Jane gets visions and Ben is haunted by a girl named Megumi (Megumi Okina), stories unravel, and Jane finds out the ugly truth about Ben and his friends.
The Sixth Sense (1999)
No one does a plot twist and a surprise ending quite like director M. Night Shyamalan. If you're up for a shock, this one's for you. Child psychologist Malcolm Crowe (Bruce Willis) failed a patient in the past, to make up for it, he feels compelled to help  his new patient Cole Sear (Haley Joel Osment), who says he can communicate with the dead. Malcolm encourages him to be a mediator between the living and the dead, and in turn fulfills his goal of successfully helping another patient. Seeing dead people isn't enough of a twist for this film, and you'll want to stick until the end to see what's up.
ADVERTISEMENT - CONTINUE READING BELOW
Your guide to thriving in
this
strange new world.
Share this story with your friends!
---
Help us make Spot.ph better!
Take the short survey
Load More Stories