(SPOT.ph) Back in the day, listening to music meant buying CDs or cassette tapes and using a portable player to hear your fave tunes. Technology progressed, and devices meant solely for music listening became popular, along with buying extra memory to accommodate all those tracks. Fast forward to today and streaming has become the name of the game. Chances are, you've already got at least one streaming app installed on your phone. More and more platforms are emerging to deliver content to listeners, the latest of which being YouTube Music, the music-streaming app of online video site YouTube.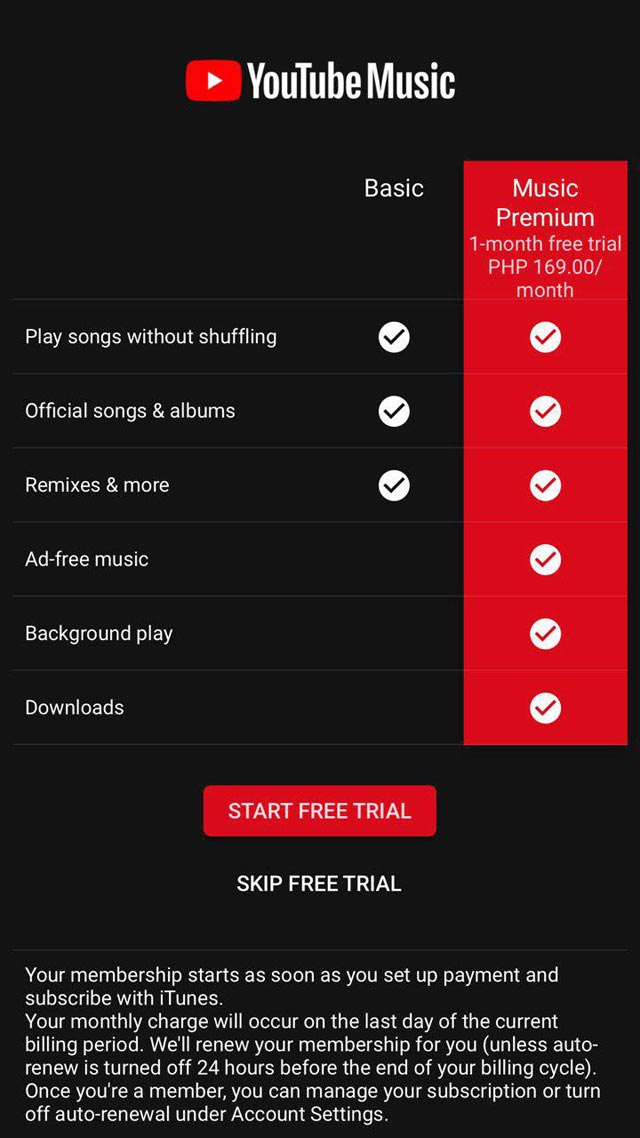 The free version of the app offers access to official songs and albums, and continuous play without shuffle. The app offers a one-month free trial, and should you choose to remain subscribed, a month's premium subscription costs P169. If you're a family or a big group, YouTube Music offers a family package for P199 a month, which allows up to six users on one account. The premium subscription gives you ad-free music, allows you to play music in the background while you're using a different app (or while your phone's locked), and lets you download music to your phone so you can listen to tracks offline. We went for the free trial (although you'll be asked to supply payment details, in case you want to proceed with your subscription after your free trial).
ADVERTISEMENT - CONTINUE READING BELOW
Your YouTube Music account is automatically linked to your Google or Gmail account. First off, you'll be asked to choose which account you plan to use, if you have several.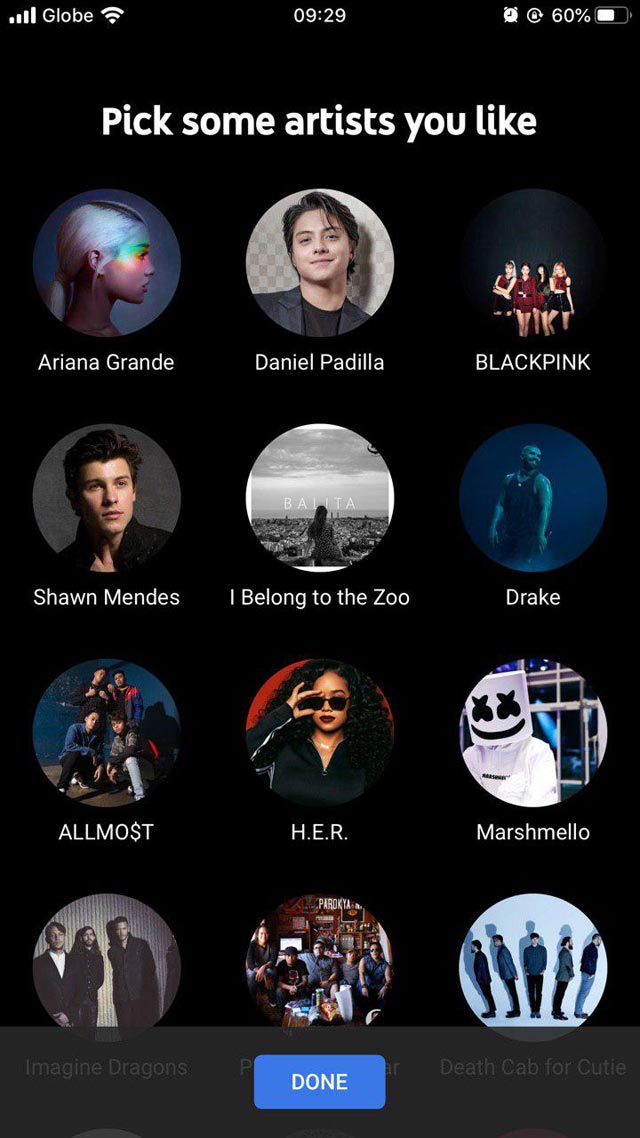 Now let's get to the music, shall we? The app will ask you to select artists you're into. Click one and it will reveal more artists in the same genre, or artists you might be into based on your initial choices. You can choose as many as you want—the selection covers rock, pop, R&B, and electronic, along with OPM artists and even K-Pop.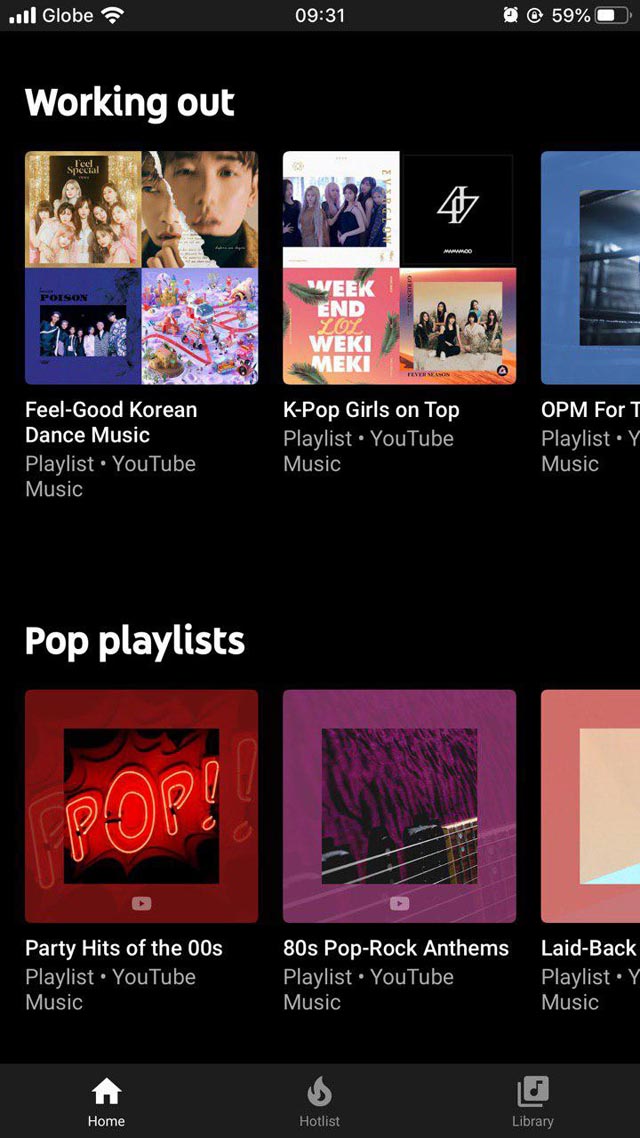 ADVERTISEMENT - CONTINUE READING BELOW
Recommended Videos
The app has three main parts—Home, Hotlist, and Library. Home contains music recommendations based on the artists you've chosen or tracks you frequently listen to. The homepage contains songs, artists, albums, official music videos, and even live performances from your fave artists and performers. Contents of the homepage change as you continue to listen to more music. It aso has specific and curated playlists, should you need them: for working out, for relaxing on a slow day, or genre-based ones like a pop playlist or a rock playlist.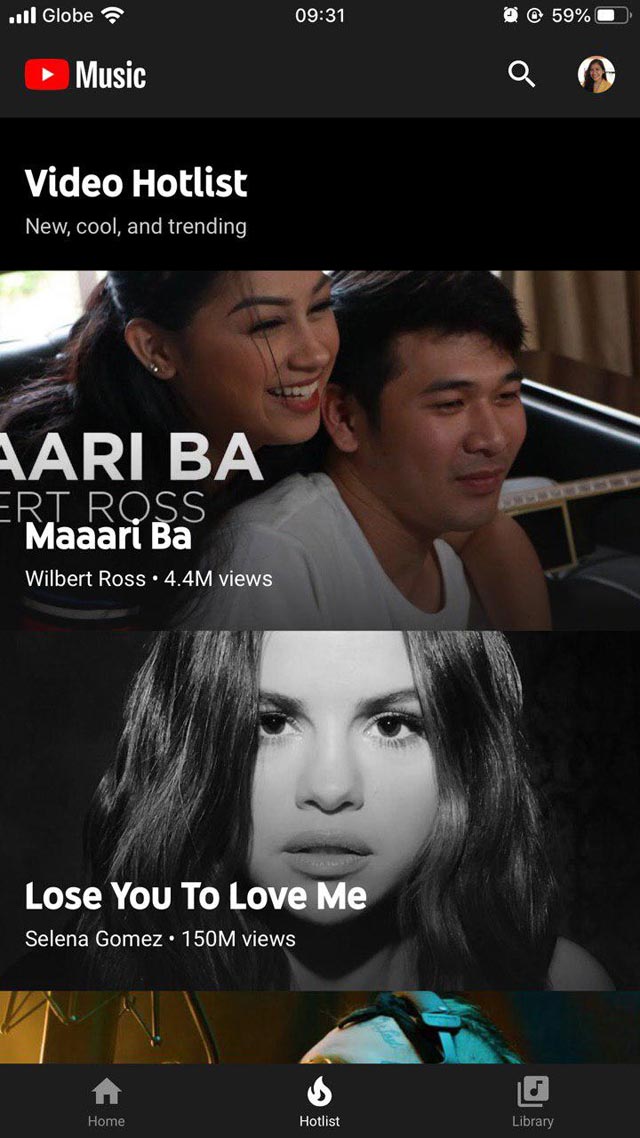 Hotlist contains videos that are new, cool, and trending. It's a mix of local and foreign releases. Keep in mind though that your listening patterns dictate what's on this page.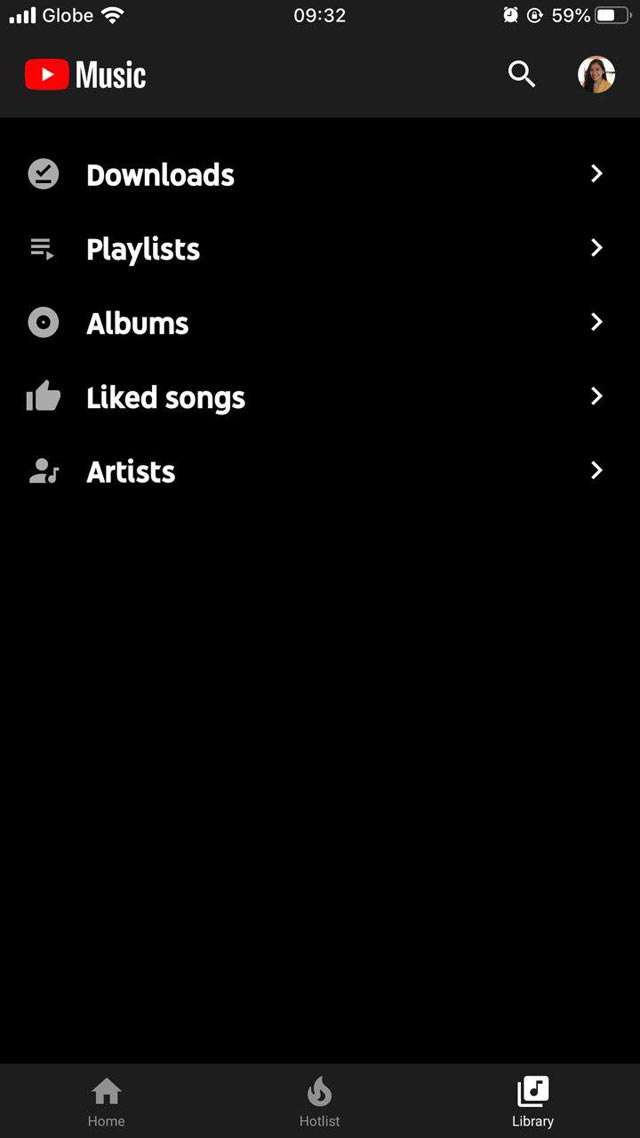 ADVERTISEMENT - CONTINUE READING BELOW
Library holds all of your downloads, playlists, albums, liked songs, and liked artists. If you actively use your YouTube account, all of your stuff will be saved here, too. If you've got a video playlist of Christmas songs on your YouTube account, you can play them in-app. Unfortunately, you can't replay your other favorite YouTube videos (think recipe videos or explainers), as the app only carries music and songs. If you liked songs from an artist's official YouTube account, it will also reflect in the app. Should you choose to download a song, this is where you'll find it.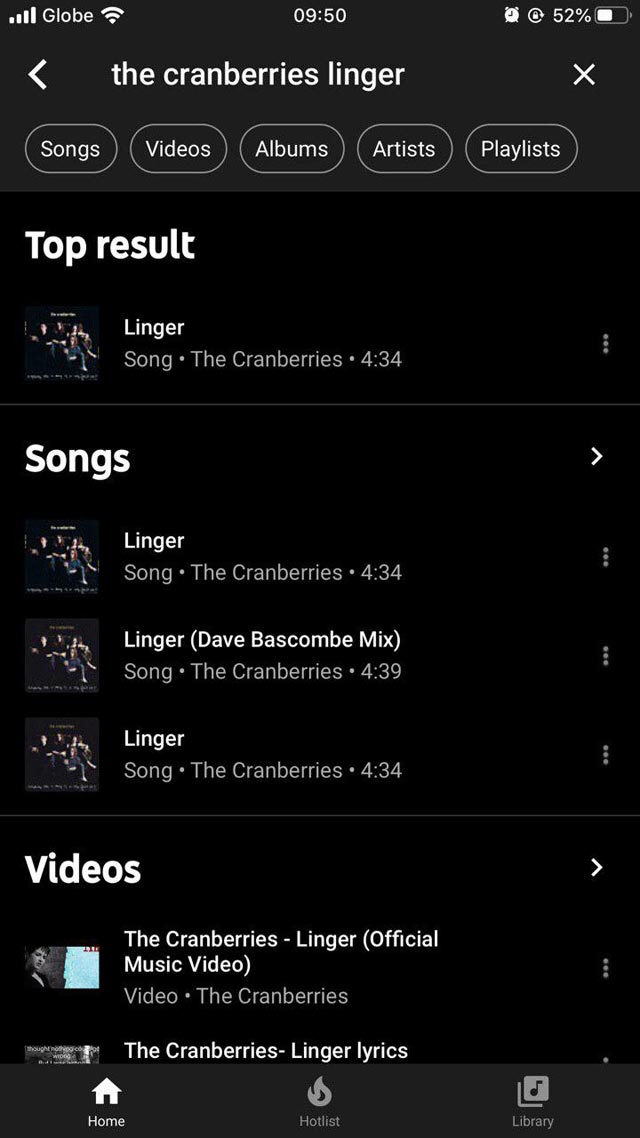 In all three sections, you can search for any song or artist by hitting the magnifying glass at the upper-right corner of the screen. It will show songs, official music videos, and albums.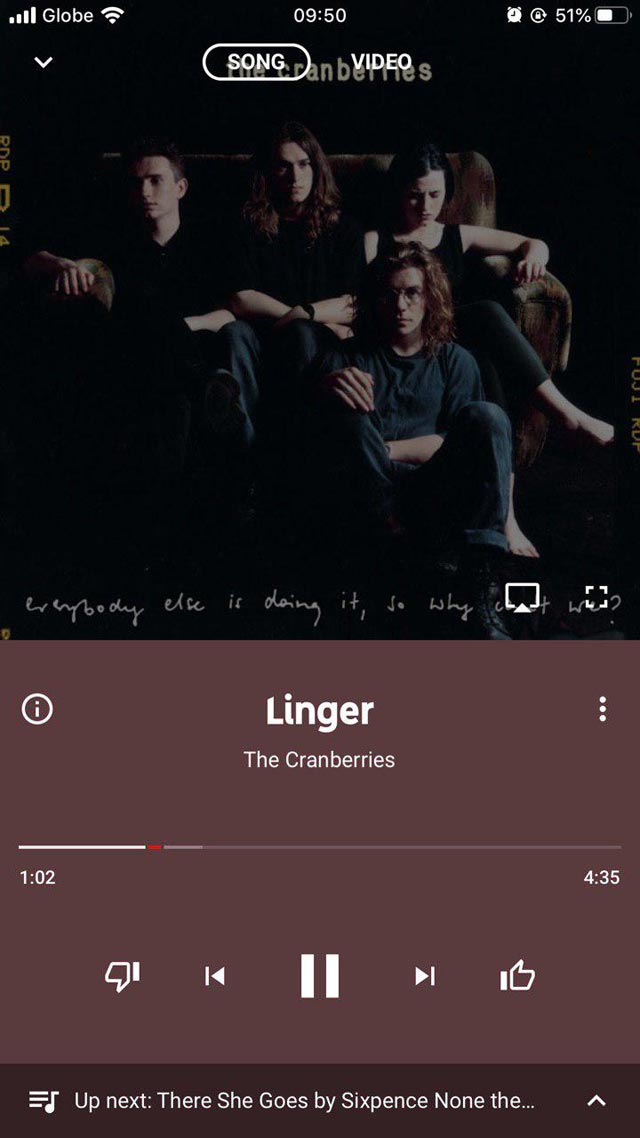 ADVERTISEMENT - CONTINUE READING BELOW
For this trial, we played "Linger" by The Cranberries. We chose to play the video first, and the app offered a switch option—you can switch to just the song in an instant. We thought the track would start from the very beginning once we switched from video, but the song picks up right where the video left off so even if you decide to switch in the middle of listening, the track doesn't stop or skip. The same thing happens when you switch from song to video. You can still look around the app while the song plays: The song you're currently playing will appear at the bottom should you want to back to it.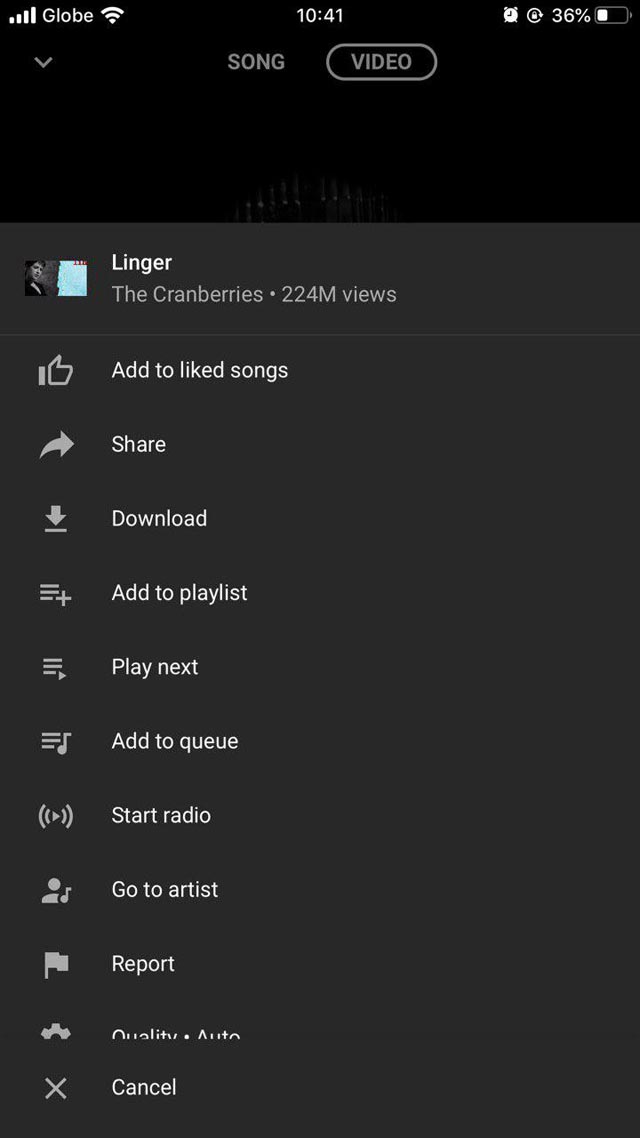 You can also add the song to your queue, to a playlist, to your liked songs, or download it. If you're watching a music video, you can adjust the quality and turn captions on by clicking the three dots on the right. You're also given the option to connect to other devices like a television screen or Bluetooth speakers, but this is tied to your phone's Bluetooth capabilties.
ADVERTISEMENT - CONTINUE READING BELOW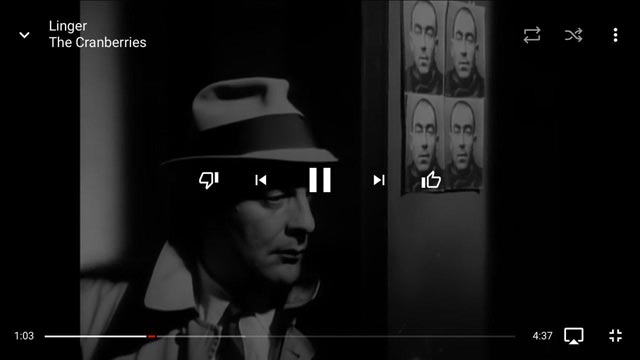 Overall, the listening experience was a breeze. We didn't have to search how to find certain functions or have a hard time figuring out how the app works, so plus points for how intuitive the user interface is. We're probably yet to discover other fun functions in the app, but if you're after listening to a song or watching a music video, YouTube Music lets you do so without a hitch. While YouTube Music is a lot like the other music streaming apps already available, we'd say the video feature gives the platform an edge. We won't say no to watching an entertaining music video in the middle of a long commute.
Share this story with your friends!
---
Help us make Spot.ph better!
Take the short survey
Load More Stories