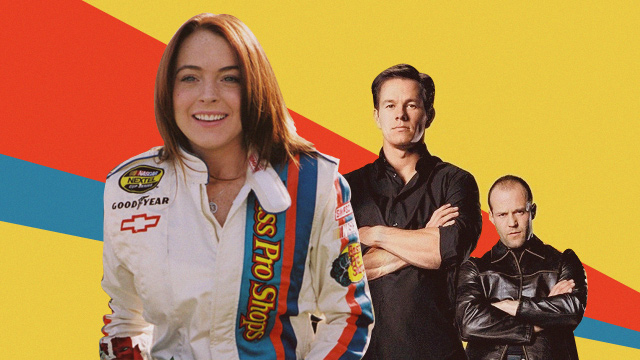 (SPOT.ph) You've had your horror, rom-com, and even sci-fi, but there's a very specific movie genre dedicated to cars and the need for speed. The latest is Ford v Ferrari, a film that goes into how these two car brands came out on top of the car racing and manufacturing game. If you're in dire need of more films that take cars seriously, we've got you covered. From elaborate road-chase scenes and exhilarating race sequences to luxury branded cars and geeking over mechanics, these films will have your hands clutching the steering wheel, ready for the next drive. 
ADVERTISEMENT - CONTINUE READING BELOW
Here are 10 car films that transform usual drives into adventures:
Gone in 60 Seconds (2000)
One luxury car is cool, but 50? Even better. Kip Raines (Giovanni Ribisi) is set to steal 50 high-end cars for British gangster Raymond Calitri (Christopher Eccleston). In the middle of stealing a Porsche 996, Kip gets involved in an impromptu car race that attracts the attention of the police, and they must abandon their warehouse of stolen cars to escape. Kip's older brother and former car thief Memphis (Nicolas Cage) steps in to retrieve the cars with his old gang: driving instructor Donny Astricky (Chi McBride), mute mortician Sphynx (Vinnie Jones), and mechanic-bartender Sara "Sway" Wayland (Angelina Jolie). 
Speed Racer (2008)
Based off the anime and manga series of the same name and directed by the Wachowskis, Speed Racer stars Emile Hirsch as the titular character whose life and love are racing. With a natural gift for the sport, Speed climbs the ladder, but only hopes to be as good as his older brother Rex (Matthew Fox), who left the family to race for a big corporation, only to die at the Casa Cristo 500, one of the most dangerous cross-country racing rallies. As he gets more attention from moneyed conglomerates, Mom (Susan Sarandon), Pops (John Goodman), and his girlfriend Trixie (Christina Ricci) worry that he may suffer the same fate as Rex. 
Transporter (2002)
Frank Martin (Jason Statham) will deliver anything to anywhere, no questions asked, as long as you can pay the price. There are only three rules: All deals made are final, no names involved, and never open the package. It's all smooth sailing for Frank in his BMW 735i, but when he discovers a girl (Shu Qi) tied up as a package and his client, Darren Bettencourt (Matt Schulze), plays him, Frank breaks the rules and takes matters into his own hands—all in a luxurious Mercedes-Benz S-Klasse, of course.
The Fast & The Furious (2001)
You've heard the name before (along with the many sequels and spin-offs), but this is the film that started it all. Former racer Dominic Toretto (Vin Diesel) and his gang composed of math expert Jesse (Chad Lindberg), Leon (Johnny Strong), and Vince (Schulze) drive three modified Honda Civics and hijack a truck carrying electronic goods, which prompts the police to look for them. Los Angeles Police Department officer Brian O'Conner (Paul Walker) joins one of Dominic's races for a lead on his investigation, only to realize that catching the criminals is not as black or white as it seems. If you're looking for modified cars and geeking out over parts and specs, this one's for you.
ADVERTISEMENT - CONTINUE READING BELOW
Baby Driver (2017)
Ansel Elgort plays getaway driver Baby (yes, that's the character's name) who ferries robbers assembled by criminal mastermind Doc (Kevin Spacey) in order to pay a debt. Baby's true passion, though, lies in music, and in his spare time, he remixes snippets of recorded conversations. As soon as he's free from debt, he begins anew by delivering pizzas and seriously dating Deborah (Lily James). It's not all quiet times and long drives for Baby, as Doc returns to his life with a heist offer he can't refuse. Jamie Foxx, Jon Hamm, and Eiza Gonzalez also star in this film.
The Italian Job (2003)
When you're in the business of stealing goods, it stings to know a former associate played you and stole more from you. A remake of the 1969 British film of the same name, the 2003 film The Italian Job stars Mark Wahlberg as professional thief Charlie Croker, the heist leader who reassembles his old team years later to exact revenge on Steve Frazelli (Edward Norton). Computer expert Lyle, driver Handsome Rob (surprise, it's Statham again!), mechanic Wrench (Franky G), and explosives expert Left Ear (Mos Def) are all game for the mission. Charlie also approaches his fallen comrade's daughter Stella Bridger (Charlize Theron), a safecracker, for a chance at avenging her father's death. If driving through the tunnels of Venice, traversing its canals, and escaping capture via getaway car is your idea of an adventure, this one's for you. Oh, and did we mention sleek, modified Mini Coopers being the preferred mode of transport in this film?
ADVERTISEMENT - CONTINUE READING BELOW
Mad Max: Fury Road (2015)
Racing might be all fun and games and heists may be a great thrill, but add economics and politics to the mix and you've got Mad Max: Fury Road. Set in a post-apocalyptic desert wasteland, resources are scarce and those in dire need of them must battle it out in death-defying chases. This one's not for the faint of heart—its themes of survival and crisis are intense, but so are the car stunts and action sequences. The film stars Tom Hardy, Theron, Hugh Keays-Byrne, Nicholas Hoult, Rosie Huntington-Whiteley, Riley Keough, Zoë Kravitz, Abbey Lee, and Courtney Eaton. This installment from the Mad Max franchise is considered to be one of the greatest action films ever made. It later went on to win six out of 10 Academy Award nominations.
Rush (2013)
Racing and rivalry? Check and check. Based on the real-life rivalry between Formula One drivers, this biographical sports film stars Chris Hemsworth as British racer James Hunt and Daniel Brühl as Niki Lauda. The two are both good at racing, but that's as far as their similarities go—Hunt is hotheaded and self-confident, while Lauda is more cool and calculating in his precise approach. As they win races left and right to climb to the top, events in their personal lives, as well as competition losses, humble and push them to become better racers. You'll also spot Olivia Wilde as Suzy Miller and Game of Thrones actress Natalie Dormer as a nurse in this film.
ADVERTISEMENT - CONTINUE READING BELOW
Herbie: Fully Loaded (2005)
Racing seems to be a family business, but not all films feature a car with its own mind. Maggie (Lindsay Lohan), the youngest in a racing family, has been prohibited to race by her father, Ray Sr. Still, he takes her to the junkyard to buy her a car as a present for her graduation, where she spots Herbie, a beat-up old Volkswagen Beetle that's seen its fair share of races. With the help of mechanic Kevin (Justin Long) and the support of her brother Ray Jr., Maggie sets out to race professionally against established NASCAR drivers. Watch for cameos from legit NASCAR drivers like Jeff Gordon, Jimmie Johnson, Tony Stewart, Dale Earnhardt Jr., and Mark Martin. 
Ronin (1998)
This 1998 action thriller directed by John Frankenheimer is known to have one of the best car chase scenes in the history of cinema. Robert De Niro stars as Sam, a former CIA operative. Along with fellow mercenaries Larry (Skipp Sudduth), Vincent (Jean Reno), Spence (Sean Bean), and Gregor (Stellan Skarsgård), he must retrieve a briefcase upon the behest of Deirdre (Natascha McElhone). Fun fact: Director Frankenheimer tried to avoid using special effects while shooting Ronin. To prepare for filming, actors were enrolled at a high-performance driving school. It also had Formula One driver Jean-Pierre Jarier leading its 300 stunt drivers.
ADVERTISEMENT - CONTINUE READING BELOW
Share this story with your friends!
---
Help us make Spot.ph better!
Take the short survey
More Videos You Can Watch
Load More Stories