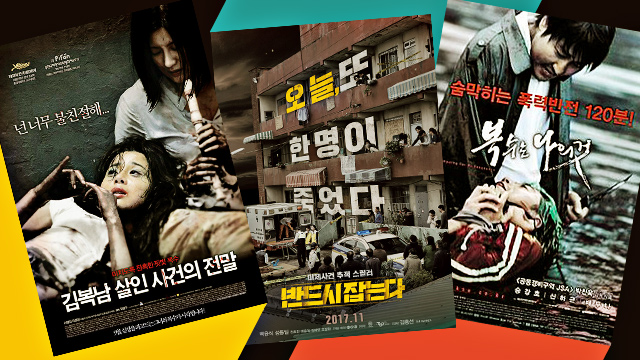 (SPOT.ph) To say that Korean filmmakers are among the masters of the crime genre is no exaggeration. You've probably heard of the more famous ones like Oldboy and The Wailing, or perhaps Mother, Memories of Murder, and Pieta. But that just scratches the surface. If you're a fan of those films, going through lists of Korean crime movies will feel a bit like walking into a candy store. Here are people seeking revenge, getting involved with those in the underbelly of society, or just plain wreaking havoc among the innocent.
We round up 10 Korean crime films for your next binge-watching session:
Joint Security Area (2000)
The movie may be fictional, but the tension between the two Koreas isn't, and so Joint Security Area provides a sobering look at their delicate relationship on two levels: the one between its governments; and the one between its people. One of acclaimed filmmaker Park Chan-wook's earlier works, it uncovers the mystery behind a fatal shooting incident in the Korean Demilitarized Zone. Leading the star-studded cast is Lee Young-ae as Swiss Army Major Sophie E. Jean, who's tasked to interrogate South Korean soldier Lee Soo-hyeok (Lee Byeong-hun) and North Korean soldier Oh Kyeong-pil (Song Kang-ho of Parasite).
ADVERTISEMENT - CONTINUE READING BELOW
Sympathy for Mr. Vengeance (2002)
Yet another movie by Park Chan-wook, Sympathy for Mr. Vengeance is the first off his Vengeance Trilogy, which includes Oldboy and Sympathy for Lady Vengeance. The central character of this movie is a man named Ryu (Shin Ha-kyun), a deaf-mute and well-meaning man who works hard to earn money for his sister's kidney transplant. While his intentions are pure, the same can't exactly be said for his actions—the most crucial one influenced by his girlfriend Yeong-mi (Bae Doona). This leads to a series of unfortunate events and a cycle of revenge, most of which are fatal.
A Dirty Carnival (2006)
This movie by Yoo Ha has two major plot points: that of Kim Byung-doo's (Jo In-sung) ascent through the ranks of his gang, and that of his relationship with an old friend named Min-ho (Namkoong Min), a filmmaker who wants to make a gangster movie based on Byung-doo's experiences. There's also his relationship with Hyun-joo (Lee Bo-young). There's trouble brewing for Byung-doo on all fronts—let's just say things don't turn out too well for him.
I Saw The Devil (2010)
Kim Jee-woon's I Saw Devil shows what happens when a heartless serial killer crosses paths with a man out for cold-blooded revenge. The movie wastes no time as it starts with the murder of a woman named Jang Joo-yun (Oh San-ha), National Intelligence Service secret agent Kim Soo-hyun (Lee Byung-hun), and daughter of Squad Chief Jang (Jeon Gook-hwan). Soo-hyun proceeds to get to the bottom of the case and track the serial killer, a man called Jang Kyung-chul (Choi Min-sik), although he decides to take matters into his own hands and seek vengeance on his own terms.
The Man From Nowhere (2010)
This Lee Jeong-beom film follows the life of Cha Tae-sik (Won Bin), a mysterious pawnshop owner who keeps to himself but has a friend in the person of a child named So-mi (Kim Sae-ron). His quiet existence becomes shattered, however, when he gets tangled in the affairs of Somi's heroin-addicted mother and a gang she attempted to hoodwink. When So-mi gets kidnapped, Tae-sik reveals his true identity in a revenge-fuelled attempt to rescue her. The Man From Nowhere is an example of how Korean filmmakers masterfully inject heart even in their most brutal works. When the dust has settled, this particular movie ends on a poignant note and will tug at your heartstrings.
ADVERTISEMENT - CONTINUE READING BELOW
Bedevilled (2010)
Like Ryu in Sympathy for Mr. Vengeance, the central character of Jang Cheol-soo's film is a woman named Bok-nam (Seo Young-hee), who, throughout her life, has been taken advantage of by the people around her. Her only comfort is her daughter—but Bok-nam ends up losing her, too.  Bok-nam snaps, and it's when the movie takes a really, really wild turn, with Bok-nam seeking revenge against everyone who wronged her—including a childhood friend named Hae-won (Ji Sung-won). 
Coin Locker Girl (2015)
Han Jun-hee's Coin Locker Girl follows the story of Il-young (Kim Go-eun), a girl abandoned as a baby in a coin-operated locker in a train station in Seoul, who ends up working for a female loan shark called Mother (Kim Hye-soo). Everything goes fine (and by "fine," we mean Il-young, Mother, and the rest of Il-young's "siblings" carrying on with their crimes) until Il-young grows a heart, leading to broken bonds and bloody deaths. 
ADVERTISEMENT - CONTINUE READING BELOW
Forgotten (2017)
In Jang Hang-jun's Forgotten, not everything is as it seems. On the surface, it's the story of teenager Jin-seok (Kang Ha-neul) witnessing the abduction of his older brother Yoo-seok (Kim Mu-yeol) shortly after they move into their new home with their parents. But when his brother returns with no recollection of what happened while he was gone, things start to get strange for Jin-seok. When his brother and parents start acting odd, he sets off to find out the truth. If you want a film that makes you question who you're really rooting for, this one is a must-watch.
The Chase (2017)
This film by Kim Hong-sun focuses on old and grumpy landlord Shim Deok-su (Baek Yoon-sik) and a no-fuss former detective named Park Pyung-dal (Sung Dong-il). The duo teams up to solve a string of deaths in their town, which they believe to be the work of a serial killer. Their quest for the killer's identity comes to a grinding halt, though, when the policeman's true identity is revealed. 
ADVERTISEMENT - CONTINUE READING BELOW
Jo Pil-ho: The Dawning Rage (2019)
Jo Pil-ho (Lee Sun-kyun) is a foul-mouthed, violent, and corrupt homicide detective. When a heist goes downhill, Sun-kyun finds himself hounded by internal affairs. He uncovers collusion between the higher ranks and a powerful conglomerate, and so he attempts to reveal the truth with unlikely help coming from a teenage girl named Mi-na (Jeon So-nee). Somewhere in the middle, Pil-ho turns from an anti-hero to a protagonist. But that's not to say director Lee Jeong-beom glorifies evil here. Jo Pil-ho: The Dawning Rage ends on a rather heavy note, but offers consolation through glimpses of hope and heart from the characters.
Share this story with your friends!
---
Help us make Spot.ph better!
Take the short survey
More Videos You Can Watch
Load More Stories