(SPOT.ph) Director Bong Joon Ho is no newbie to the acclaim—with Snowpiercer, Netflix's Okja, and The Host, South Korea's best-selling film of all time, under his belt, it only makes sense for people to anticipate what his next move will be. There were predictions that he would win his first Cannes award in 2017 with Okja, but the film faced a few problems getting nominated as an official entry. It turns out the universe had other plans: Bong would find himself at the Cannes two years later, this time to win the Palme d'Or, for Parasite.
There's been hype around it, but is it really so good? And can it live up to the standard Bong's previous works have set?
Parasite starts off lightheartedly enough, with siblings Ki Jung (Park So Dam) and Ki Woo (Choi Woo Shik) of the Kim family holding their phones up in every direction to get connected to free WiFi in their basement home located in a poor remote area. Cramped with them in the tiny living space are their jobless parents Ki Taek (Song Kang Ho) and Choong Sook (Jang Hye Jin), willing to take any offers if it means living another day. Min (a cameo appearance from Park Seo Joon), a college student, offers Ki Woo a tutoring job at the Park mansion while he goes off to study abroad. Not having any credentials to his name, he asks his sister to forge documents to impress the employer.
ADVERTISEMENT - CONTINUE READING BELOW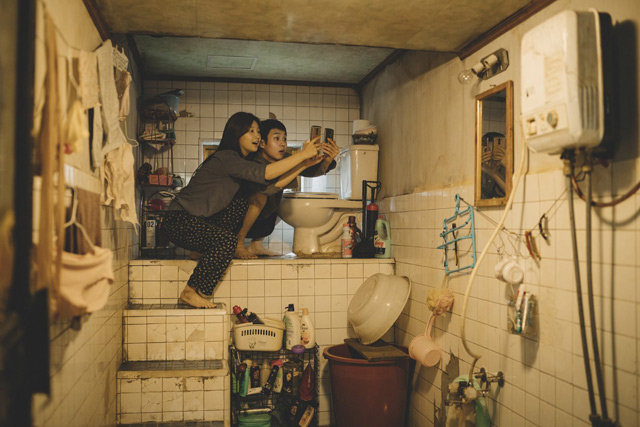 Upon arrival, an automatic gate greets him along with sprawling lawns and a spacious modern home and while Ki Woo can only hope to be employed to teach the family's daughter (Jung Ji So), it also shows how different this environment is from Ki Woo's environment, and how out of place he actually is. Despite the obvious gap, financially, between the the Kims and the Parks, Ki Woo devises a convoluted web of lies to get his entire family to work for the affluent household. The lady of the house, Mrs. Park, played by Cho Yeo Jeong, is naive enough to believe this chain of trusted recommendations, and even kicks out longtime household helper Moon Gwang (Lee Jung Eun), which later moves the plot forward.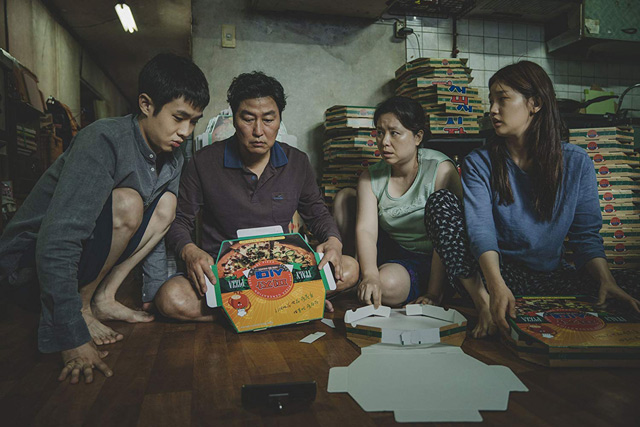 Everything seems to go well...until it doesn't. The start seemed too easy, with one thing sliding into the other too fast and too quickly, that the sudden shift into unfortunate events jolts you, unprepared and surprised that something so well-orchestrated and executed falls apart in a snap. There's no time to recover from the fall—once it crashes down, all of it burns. While it feels wrong to see the Kims suffer their fate, a part of you whispers that morally, a part of it is right.
ADVERTISEMENT - CONTINUE READING BELOW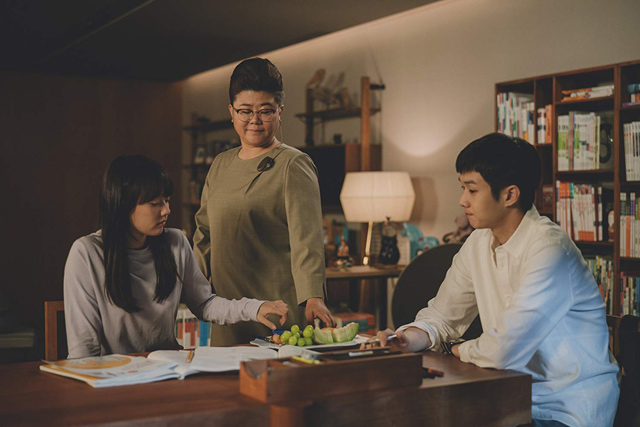 The movie does its sufficient share of showing and not telling, dropping little clues to help keep you up to speed, but the details in the dialogue make the future revelations more disturbing when realization sets in that everything has been set in place earlier on.
ADVERTISEMENT - CONTINUE READING BELOW
Upon closer inspection, the film utilizes two main locations and only 10 main actors. There are no extremely elaborate schemes and shenanigans, and there's no intense effort placed in trying to scare, it's simply chilling in a natural way. Overall, the plot is simple, but far from simplistic, and this is the movie's greatest strength. It places faith in its dialogue, its direction, its cast, and most of all, in its moral dilemma, to deliver a compelling story that will make you reevaluate your life, your choices, and where you stand.
Much like with Bong's previous work discussing matters like class differences, greed, human desire, morality, and ethics, Parasite delves deep into the divide that keeps the poor in their basements, and the rich atop their shiny pedestals. It's the everyday reality that's been maintained for years, but seeing a film examine and dissect this gap makes you feel small, and almost powerless.
ADVERTISEMENT - CONTINUE READING BELOW
Paralysis sets in as the credits roll and if you're left wondering what to do and where to stand afterwards, it's only a manifestation of how effective the film is in questioning your comfortable reality.
Yes, it does deserve that Cannes award.
Rating: 4.5 out of 5 Spots
Parasite is out in SM Cinemas starting August 14. Photos courtesy of CJ Entertainment.
Share this story with your friends!
---
Help us make Spot.ph better!
Take the short survey
More Videos You Can Watch
Load More Stories