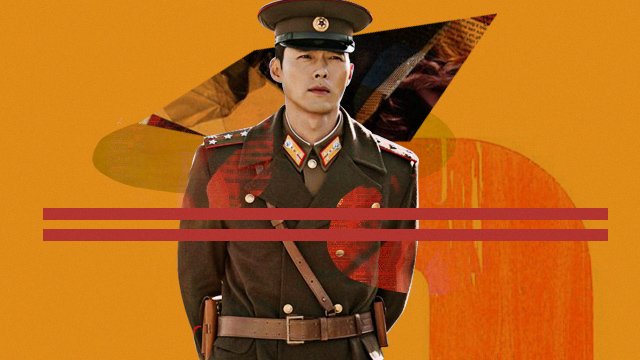 (SPOT.ph) If you're a Korean drama fan, then you've probably found yourself watching Crash Landing on You, where Hyun Bin plays captivating leading man Captain Ri Jeong Hyuk. A veteran actor, Hyun Bin has been breaking hearts for the past 16 years with a parade of dramas and films of different genres. Romantic comedies, melodramas, action thrillers, period films—he's done them all. Here, we round up our favorite shows and movies that feature Hyun Bin, for those looking for something to fill the Crash Landing on You void.  
ADVERTISEMENT - CONTINUE READING BELOW
Also read:
The Stars of Crash Landing on You Talk Roles, Destiny + More
Here are Korean shows and movies starring Hyun Bin:
My Name Is Kim Sam Soon (2005)
Insecure but talented pastry chef Sam Soon (Kim Sun Ah) is unlucky in work and love: her boyfriend is a cheater and she just lost her job. Hyun Bin's character, Jin Heon, is a rich man who hires Sam Soon as a pastry chef for his luxury restaurant—and eventually, as his fake girlfriend. The two have a love-hate relationship that escalates into real love, but it's a "you and me against the world" scenario as meddling mothers and ex-girlfriends get in the way. This rom-com is a classic that enjoyed high ratings in Korea and is considered Hyun Bin's breakout drama.
A Millionaire's First Love (2006)

While Hyun Bin has starred in films before this one, he bagged his first leading man role in A Millionaire's First Love. Meet high school boy Jae Kyung: He's rebellious and egotistical, and he'll inherit his grandfather's fortune when he turns 19. But before he can get his inheritance, he has to move to rural Gangwon and graduate from high school there—all without access to his cars and credit cards. There, he meets plucky Eunhwan (Lee Yeon-hee), a girl who doesn't bend to his whims.      
The Snow Queen (2006-2007)
This poignant melodrama flew under the radar when it aired in Korea, but it's a must-see for Hyun Bin fans. He plays Tae Woong, a boxer with a troubled past; he feels guilty after his friend, Jung Kyu, committed suicide back in high school. Now an aimless adult, Tae Woong meets rich and unfeeling Bora (Sung Yuri), and becomes her family's chauffeur. As the story unfolds and they start falling for each other, their complicated past unravels.  
The World That They Live In / Worlds Within (2008)
A drama that revolves around making dramas, The World That They Live In tells the story of Ji Oh, an accomplished K-Drama production director, and Joon Young (Song Hye Kyo), a newbie producer making her way into the world. They're old flames from college who eventually rekindle their relationship, but things start going awry when they realize they're too different in many ways. Hyun Bin and Song Hye Kyo had amazing chemistry on the show, and they revealed their off-screen romance in the same year. 
ADVERTISEMENT - CONTINUE READING BELOW
Secret Garden (2010-2011)
Hyun Bin became a household name in Korea after starring in this hit drama. He plays Joo Won, an arrogant department store owner, who falls for hard-working stuntwoman Ra Im (Ha Ji Won). After stumbling upon a strange restaurant called "Secret Garden," the two leads wake up in each other's bodies the next day. The drama also features Lee Jong Suk, who was still a rising star back then, playing the role of young gay musician Taesun.   
Hyde, Jekyll, Me (2015)
This was Hyun Bin's comeback drama after returning from military service. In this quirky show, he plays dual roles: emotionless Seo Jin, director of a theme park called Wonder Land, and his kind alter-ego, Robin. Hana (Han Ji Min) is the new circus master at the park, and she strives to turn the circus' abysmal performance around, while Seo Jin tries to get their show cancelled. Things get complicated when Hana meets Robin and starts falling for him. 
ADVERTISEMENT - CONTINUE READING BELOW
The Swindlers (2017)
In this crime-action film, Hyun Bin plays charismatic Ji Sung, a swindler who only targets other swindlers. To catch big fish Jang Doo Chil (Heo Sung Tae), he gathers a team of swindlers, among them Park Hee Soo (Yoo Ji Tae), a prosecutor involved with Doo Chil, hell-bent on catching him to save his own skin. The all-star cast also boasts names like Park Sung Woong (Man to Man, Life on Mars) and Nana (Kill It, Justice; formerly of girl group After School). 
Confidential Assignment (2017)
His role in Crash Landing On You is not Hyun Bin's first portrayal of a North Korean character. In Confidential Assignment, he plays North Korean officer Im Cheol-ryung, who, together with his special investigation team, seizes a factory that has master plates for printing counterfeit money. There, he discovers his superior, Cha Ki-seong (Kim Joo Hyuk) to be involved in a heist. Ki-seong goes rogue and flees to South Korea (sounds familiar?) and Cheol-ryung has to bring him back to the North in three days, under the watchful eye of South Korean detective Kang Jin-tae (Yoo Hae Jin).
ADVERTISEMENT - CONTINUE READING BELOW
The Negotiation (2018)
Hyun Bin and Son Ye Jin (Yoon Se Ri in Crash Landing on You) first worked together in this crime thriller (while, notably, not sharing the screen together). Hyun Bin shows that he has the acting chops to play ruthless villains with his turn as Taegu, an illegal weapons dealer out for blood after his sister's death. He stages a hostage situation and calls on cool and calm Hae Chaeyoon (Ye Jin) to become chief negotiator.  
Memories of the Alhambra (2018-2019)

Hyun Bin conquers new frontiers in this unique, action-packed drama that revolves around augmented reality. He plays Jin-woo, an investment company CEO who heads to Spain to meet Se-joo (EXO's Park Chanyeol), the mysterious creator of an AR game he wishes to buy. But when he gets there, Se-joo is gone and he can only meet Se-joo's elder sister, Hee-joo (Park Shin Hye), at a rundown hostel. As Jin-woo starts playing Se-joo's game, the boundaries between reality and AR start to blur. 
ADVERTISEMENT - CONTINUE READING BELOW
Share this story with your friends!
---
Help us make Spot.ph better!
Take the short survey
More Videos You Can Watch
Load More Stories