Katy Perry Surprises Pinoy Fans at an Online Fan Event
Wondering what went down during the singer-songwriter's surprise appearance?
(SPOT.ph) With travel restrictions in place, we're left to daydream about that time when we can once again see or meet our favorite artists and celebrities. All over the world, concerts and fan events have been canceled or postponed because of the pandemic, and the most we could do is to connect to our faves via their online channels, at the very least, whether by scrolling their social media feeds, watching their videos, or listening to their songs.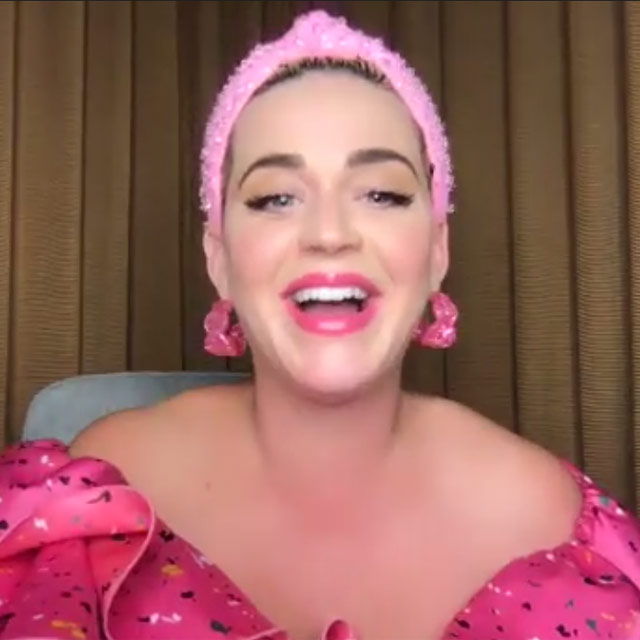 But it doesn't have to stop there, or at least that's what singer-songwriter Katy Perry proved today, August 12, as Pinoy fans got the chance to have a chat with the "Teenage Dream" singer via an online fan event mounted by MCA Music. Here's the thing: The Pinoy KatyCats had no idea that Perry would join them in the video call; they were invited under the guise of being interviewed by select Philippine media, which included SPOT.ph.
ADVERTISEMENT - CONTINUE READING BELOW
Here's how it all went down:
The "Daisies" music video plays after fans answer a couple of questions from the media. Out of the blue, Perry appears on the screen, clad in an all-pink ensemble. The moment fans noticed what was happening, there was nothing heard for a full minute but squeals and shrieks. There were several versions of "Mahal kita, Katy!" and "I'm crying now" from the lucky KatyCats.
"It's nice to see you and see some of you that I recognize from your social media. Thank you for being so patient and adorable," Perry starts, before prompting the start of the short question-and-answer session. "Don't ask me anything that you already know, ask me the hard ones, honey!"
CONTINUE READING BELOW
Recommended Videos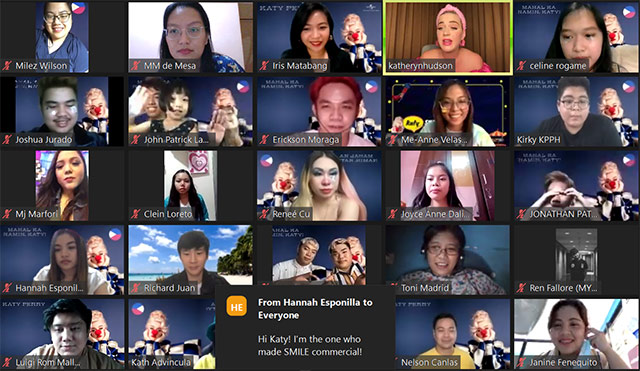 One of the fans gets the ball rolling and asks which tracks off Perry's upcoming album are dedicated to KatyCats, to which the singer-songwriter responds with two picks: "Daisies" and "Teary Eyes." Of the former, she relates how she wants "to hear stories about you guys in 10 years...checking off the boxes of life, and like living your best life and more fulfilled lives, and following your dreams, no matter whatever situation."
ADVERTISEMENT - CONTINUE READING BELOW
Perry drops a line from "Teary Eyes" that goes, "Have you ever lied? And just replied, I'm fine." "It's a lyric that I think we all go through and the chorus says just keep on dancing through those teary eyes... so it's kind of like, fuck 2020. I'm gonna just keep dancing." She continues to describe the song, "I may be crying, but I'm okay, just because I'm crying doesn't mean I have forfeited my life. I'm going to still press on, you know."
When asked about the song she's most excited to perform live, she once again mentions "Teary Eyes" and another track called "Cry About It Later." "Those two songs have this kind of European '90s [feel], a little bit of Britney [Spears], a little bit of like, Robyn," Perry describes. She adds, "I like to always like write songs that have good messages in them but sometimes I want to write music that I could just drink to because all of this thinking makes me want to go have fun with my friends."
This gets Perry thinking back to those times on tours. "I love the moments where we connect on tour, and we sing to each other. And we have this acoustic moment but I just also love like being in my zone with my friends, or looking over to a stranger, not knowing that stranger but feeling connected to them, like, that's the coolest thing about concerts is like, I don't know you, but we are on the same vibe, and that was great."
ADVERTISEMENT - CONTINUE READING BELOW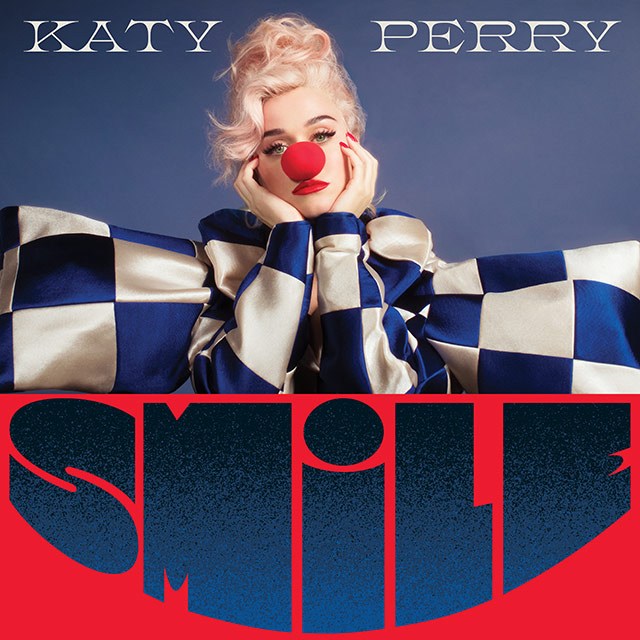 As for the upcoming album, Perry shares that she came up with Smile's theme before COVID-19, "before everything was going to get shut down. I was trying to bring the frickin' circus to town with a K" but guarantees that "it doesn't mean it can't come next year, or it can expand in a different way in 2021, you know." Perry has been to Manila four times; the latest was in 2018 for the Witness: The Tour at the Mall of Asia Arena.
Perry, who is expecting her first child with fiancé Orlando Bloom, also shared bits about her pregnancy during the call. Aside from revealing that the baby's room will be all decked in pink, she also mused about motherhood. "I don't know if anyone has any children, but they are a lot of work. But thank God I like to work, and anyone that says that I don't promote...Honey, don't come for me. I'm nine months pregnant and I'm promoting, okay?" With how engaging and energetic Perry was during the Zoom fan session, we've got to tell you, she is promoting her new stuff with heart.
ADVERTISEMENT - CONTINUE READING BELOW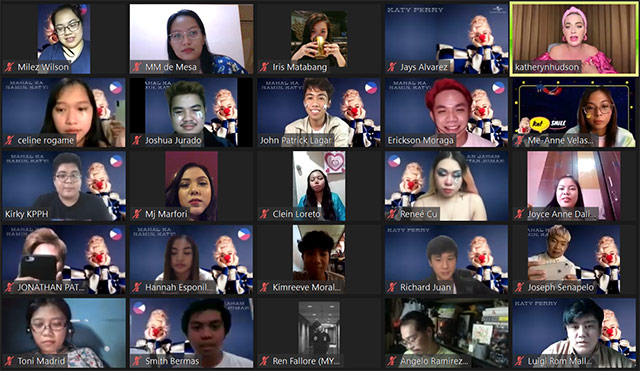 At the end of the call, she leaves a message for her Pinoy KatyCats: "Thank you for everything, and I hope to see you in the Philippines, again, soon, and see your creativity come to life."
Main image from Katy Perry's Instagram.
Screenshots of the video call have been added on August 15.
Share this story with your friends!
---
Help us make Spot.ph better!
Take the short survey
Load More Stories