10 Fun '80s References in The Karate Kid Spinoff Cobra Kai
"Wax on, wax off."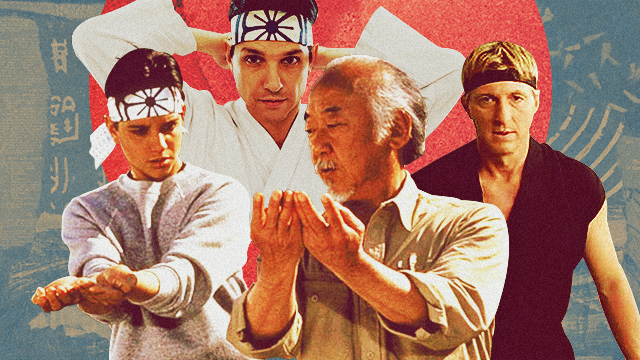 (SPOT.ph) Most '90s kids are all too-familiar with the phrase "wax on, wax off"—even those who haven't watched The Karate Kid, the 1984 film where it was first said. It follows the story of Daniel LaRusso (Ralph Macchio), who discovers karate through an Okinawan immigrant named Mr. Miyagi (Pat Morita). He is often harassed by school bully and arch-nemesis Johnny Lawrence (William Zabka), who is also the top student of the more vicious "Cobra Kai" dojo headed by John Kreese (Martin Kove).
ADVERTISEMENT - CONTINUE READING BELOW
The movie became such a big hit that it was followed with three sequels in 1986, 1989, and 1994. In 2010, Will Smith wanted to bring the story to a new generation through a remake starring Jackie Chan and Jaden Smith, with a different setting (China instead of California) and different names—but still with martial arts at the center.  
Eight years after the Smith-produced movie, The Karate Kid continued the narrative exactly 34 years after the original story started through the television series Cobra Kai. This time, Daniel and Johnny (still played by Macchio and Zabka) are all grown up with lives of their own—one owns a chain of car dealerships and the other is a handyman who's fallen on hard times, but both eventually find their way to karate. 
CONTINUE READING BELOW
Recommended Videos
The first two seasons were launched on YouTube Red (now YouTube Premium) in 2018 and 2019, but it wasn't until it was released through Netflix in June 2020 that the show gained worldwide attention. It was a major throwback not only to the story of Daniel LaRusso, Johnny Lawrence, Mr. Miyagi, and John Kreese; but also a walk down memory lane to the glory of the 1980s. 
ADVERTISEMENT - CONTINUE READING BELOW
We list the '80s references on Cobra Kai that caught our attention: 
"Wax on, wax off"
In the original The Karate Kid, Mr. Miyagi's classic phrase "Wax on, wax off" is uttered when the karate master is trying to teach Daniel Larusso in the most unorthodox way. Instead of chopping blocks and kicking in the air, the young padawan is tasked to "wax on" and "wax off" a fleet of cars, paint the fence, and sand the floor. 
In Cobra Kai, Johnny's student, Miguel Diaz, asks if he should clean the windows a certain way (a reference to "wax on, wax off"), but the Cobra Kai dojo owner replies "I don't give a sh*t." Daniel, however, uses Mr. Miyagi's technique in teaching his student Robby. 
Iron Eagle (1986)
In Cobra Kai's first episode, we see Johnny doing nothing about his life except watch movies at home and day-drink. Zoom in to the film he's watching: Iron Eagle, which is a 1986 military action film that's a lot like Top Gun (1986). Coincidentally, Zabka's co-actor in the OG film—Larry B. Scott—also made an appearance in Iron Eagle. 
ADVERTISEMENT - CONTINUE READING BELOW
Miniature golf
Miniature golf may have been popular in the U.S. in the '60s and '70s, but it wasn't until the '80s that they were put up alongside video-game arcades. In The Karate Kid, Daniel and Ali (Elisabeth Shue) go on a first date at Golf N' Stuff; and in Cobra Kai, Miguel and Samantha (Mary Mouser) have their non-date date at the same spot (but actually a different setting in real life, of course). 
Super Chexx bubble hockey game
The Chexx bubble hockey game was all the rage when it was first released by Innovative Concepts in Entertainment, Inc. in 1982. It was quickly seen in most arcade game centers during that decade, and was later improved and renamed Super Chexx in 1988. Cobra Kai may be set in 2018, but that didn't stop the production team from playing around with the '80s vibe. During Miguel and Samantha's date, they used the same Super Chexx machine from the 1984 movie. 
ADVERTISEMENT - CONTINUE READING BELOW
"Head Games" by Foreigner
Johnny just loves the '80s, especially the soundtrack from that decade. In one of the scenes, he amps up his car speakers and plays "Head Games" by Foreigner while drunk driving in his Pontiac Firebird. Foreigner was a British–American rock band formed in 1976. They came out with their third album, Head Games, in 1979, and the track "Head Games" reached number 14 on U.S. charts. 
Pontiac Firebird
The Pontiac Firebird was built and produced by Pontiac from 1967 to 2002. In Cobra Kai, we see Johnny driving a red 1991 Pontiac Firebird—a nod to his original shiny red car in The Karate Kid: the 1983 Avanti Convertible. 
San Fernando Valley
Los Angeles' San Fernando Valley, which is the film setting of both The Karate Kid and Cobra Kai (at least some of it), was a popular movie location back in the '80s. This includes Fast Times at Ridgemont High (1982), which was mentioned by Zabka in an Uproxx interview. "There was something about California being the mecca of pop culture and music and films, and everything's just coming out of here. So I think it was just easy to film in your backyard," he recalls about the time when the Valley was "a lot less congested." There was also Valley Girl (1983), La Bamba (1987), and E.T. (1982). 
ADVERTISEMENT - CONTINUE READING BELOW
The skeleton Halloween costume
First used in The Karate Kid, young Johnny's all-black suit with a white skeleton print in front was a popular Halloween costume in the '80s. It never went out of style, even 34 years later when Miguel wears it. 
Guns N' Roses
"What's Guns N' Roses?" asks Miguel in one of the Cobra Kai episodes. And we can almost hear a collective gasp from the '80s, '90s, and other cool kids of the next generations. Johnny calls out his student for his lame pop-song ringtone and advises him to "Get some Guns N' Roses or something." Miguel, of course, follows his sensei and "ended up going on this whole '80s rock rabbit hole." 
"Get him a body bag!"
The Karate Kid line "Get him a body bag!" is as immortal as "Wax on, wax off." Tommy (Rob Garrison), one of Johnny's fellow Cobra Kai students back in the '80s, shouts the phrase from the sidelines as his friend fights with Danny during the All-Valley karate tournament. Cobra Kai sees a reunion of the original Cobra Kai members, including a grownup and dying Tommy (still played by Garrison) who ends up getting zipped up in a body bag. Garrison died in real life in September 2019.
ADVERTISEMENT - CONTINUE READING BELOW
Your guide to thriving in
this
strange new world.
Share this story with your friends!
---
Help us make Spot.ph better!
Take the short survey
Load More Stories