10 New Songs for Your Road-Trip Playlist
Or even while working to get the good vibes going.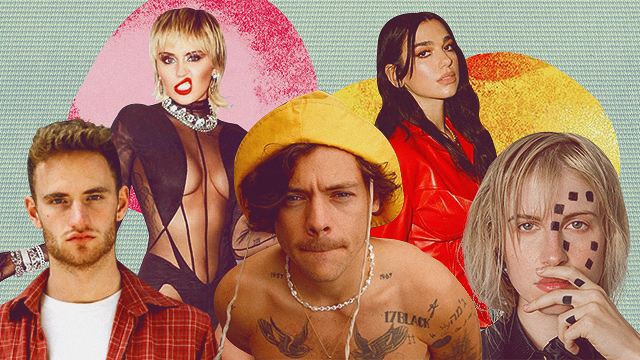 (SPOT.ph) Been stuck at your desk for way too long? We feel you. The next time you manage to take a break and go for a real long drive—destination not required—we suggest you make the most of it and bring along the perfect road-trip playlist. We round up 10 new songs from 2020 that are sure to help you either put the pedal to the metal or breathe easy as you coast along. If you can't break free just yet, well, you can always play these songs in the background for the good vibes.
ADVERTISEMENT - CONTINUE READING BELOW
Also read:
10 Scenic Routes in Luzon for the Ultimate Joyride
10 Scenic Roads in Luzon to Go Cruisin' on This Summer
10 Scenic Luzon Routes to Take If You Want to Make the Most of the Cold Weather
10 Cool Local Podcasts to Listen to Right Now
Play these new tunes on your next road trip:
"Gimme Love" by Joji
While it pains us to have to say goodbye to Filthy Frank, we're definitely into everything Joji is up to next. "Gimme Love" from the Nectar album is arguably one of the best tracks from the entire album. It starts with a fast-paced and highly addictive drum beat, overlaid by Joji's chill vocals—we doubt you'd be able to stop singing along to "Gimme, gimme love"—before ending soft, mellow, yet somehow still powerful, with violins and a choir. It's the type of song you drive fast to, only to end up smoothly coasting on low gear.
ADVERTISEMENT - CONTINUE READING BELOW
"Nightrider" by Tom Misch and Yussef Dayes featuring Freddie Gibbs
Go slow and easy with this hypnotic tune courtesy of Tom Misch's guitar strings and vocals, Yussef Dayes's drum beats, and Freddie Gibbs' verses. The three creatives came together to give us this easy audio ride that's sure to set the mood on a particularly smooth stretch of road. "Nightrider" is the type of chill song that helps you enter the autopilot zone; crank up the volume and just coast along to this absolute vibe.
"Levitating" by Dua Lipa featuring DaBaby
Dua Lipa opens this song by asking if you'd like to run away with her—and TBH, who wouldn't be down to join her for a ride? This track is from her Future Nostalgia album, so yes, get ready to boogie along to throbbing bass lines, rocking synths, and an overall banger of a song. This track is an amped-up callback to the disco music of your titas and titos with a hefty mixing in of Lipa's signature vocals. Warning: You may struggle to keep both hands on the wheel and away from pulling a Travolta move when this song plays.
ADVERTISEMENT - CONTINUE READING BELOW
"Golden" by Harry Styles
Okay, so this may just look like an excuse to watch Harry Styles' latest music video again—as if anyone needs a reason—but trust us, this upbeat song is the perfect track to play as you drive off into the sunset. With guitars and harmonies building up the soft-rock tune, the melody is enough to make you feel a tinge of hope; we imagine it playing at the end of a movie as the protagonist drives off into a good future.
"Good Company" by She's Only Sixteen
Play this as a bit of a hint the next time you find yourself on a road trip with a person you fancy—or simply think they really do make good company. She's Only Sixteen's latest track comes off their upcoming EP and blends R&B with good old '80s soul. The chill track takes you on for a good ride, accompanied by the band's smooth sounds, vocals, and a slow-slash-dreamy guitar solo near the end. Plus, neo-soul artist August Wahh's vocals can also be heard on this track.
ADVERTISEMENT - CONTINUE READING BELOW
"Bet You Wanna" by BLACKPINK featuring Cardi B
Crank up the music again with this BLACKPINK banger. We could have easily chosen the addictive "Lovesick Girls" but we think this track deserves more of the limelight. It is another one of their English tracks from The Album and features their first ever rap verse by someone outside of the idol group: Cardi B herself. This upbeat hip-hop track is a fun one to put on in case you need to get your blood pumping while on a long drive—or just need an excuse to start a dance party in the car.
"Orbit" by Cosmic Misfits
Here's another OPM band to keep tabs on. Cosmic Misfits first got people's attention with the release of "Sangang Daan," a soulful track with just the right amount of funk, and their recently released track, "Orbit," isn't one to miss either. "Orbit" starts off stripped back with a guitar strumming sweetly and slowly builds up to the full band—with lead vocalist's Gia Dacillo's full and caramel-like voice front and center the entire way. The song easily switches from high energy to deep soul—taking you on for an emotional ride (the kind that actually wants to make you feel).
ADVERTISEMENT - CONTINUE READING BELOW
 "smile more smile more smile more" by HONNE
So first things first: remember the game-changing semi-song, semi-speech "Wear Sunscreen" from the soundtrack of the late '90s to early aughts? The tale goes that the words come from a 1997 Chicago Tribune column written by a certain Mary Schmich; it was entitled "Advice, like youth, probably just wasted on the young" and was written as a supposed commencement speech were the author ever made to give one. The song version was created in 1999 and is credited to Baz Lurhmann.
HONNE's last track on their no song without you album follows that tradition (Read: seemingly random but undeniably poignant bits of wisdom said as spoken word and set over ambient beats). With a low voice and a truly chill beat, the duo drops some really great advice to live by: "Respect the ground you walk on," "love your body," "just smile more," all without being pedantic or preachy. "smile more smile more smile more" is the best track to play as you near the end of your road trip, swinging along a few more corners to find yourself home–right as you center yourself with this song.
ADVERTISEMENT - CONTINUE READING BELOW
"Midnight Sky" by Miley Cyrus
Pop this into your stereo—digitally speaking—when you're finally on the way home, heading straight into the midnight sky. Miley Cyrus blessed us all with the album Midnight Sky in August, and the title track is an absolute sing-along banger. With loud synths and drums led by Cyrus' new rocker vibe, this is the perfect song to speed to (but also, don't go over the limit!). So roll down your windows and scream it into the cold night: "I don't need to be loved by you!"
CONTINUE READING BELOW
Recommended Videos
Share this story with your friends!
---
Help us make Spot.ph better!
Take the short survey
Load More Stories