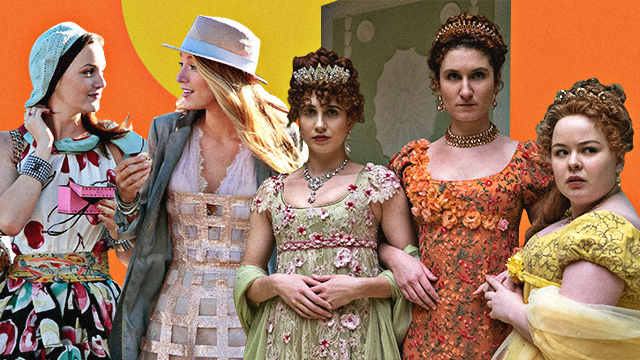 (SPOT.ph) Please, let us live. And by live we mean watch rich people have crazy rich people problems, complete with some juicy drama courtesy of an all-seeing eye. Yup, we're talking about the pop-culture staple of the 2010s, Gossip Girl—and the upcoming Bridgerton series courtesy of Shondaland on Netflix which hits the streaming platform on December 25! The new series, based on the uber-popular book series by Julia Quinn, has been inciting whispers about being a new Gossip Girl-esque show, which begs the question: Will it just be another iteration of the old storyline, or will it be a worthy new guilty pleasure?
ADVERTISEMENT - CONTINUE READING BELOW
Both drama series are based on novels from the early aughts: Gossip Girl by Cecily von Ziegesar, first published in 2002, and the Bridgerton series by Julia Quinn, first published in 2000. Both cover content you probably shouldn't have read back in high school—but totally did anyway. And as for the series? Well, we're sure you devoured (and will devour) them with just as much, erm, vigor.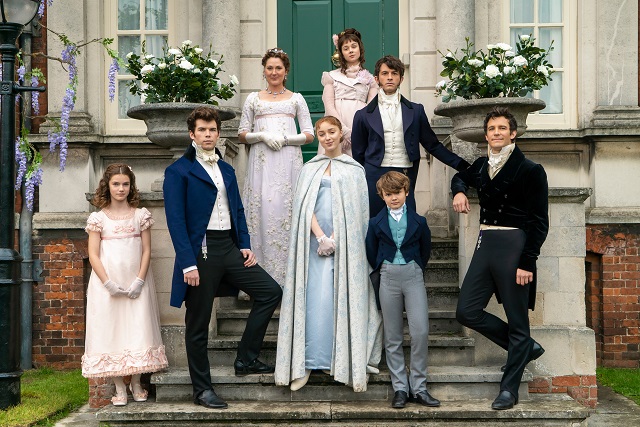 "I love Gossip Girl and I love period pieces. Mix them together and I think you've got the dream show," shares Phoebe Dynevor, who plays Daphne Bridgerton in the series, in a roundtable interview with SPOT.ph. Daphne is a lady of the Ton, a.k.a. the tippy-top of early 19th-century English society, who happens to be at the marrying age. This means that her mother is determined to make a match—leading her to strike a plan with the most eligible bachelor of the moment: the absolute rake Simon Basset, Duke of Hastings (Regé-Jean Page). The Duke is determined not to marry, but him showing interest in Daphne will keep the marriage-happy mamas off his back while making her irresistible to other potential suitors; a perfect plan, until, of course, things begin to go south.
Since the Bridgerton series hasn't dropped just yet, we talked to the cast about what we should expect! And if you somehow managed to move through the 2010s without watching Gossip Girl, then be wary of spoilers below.
ADVERTISEMENT - CONTINUE READING BELOW
Also read:
Smackdown: Nam Do San vs. Han Ji Pyeong of Netflix's Start-Up
Smackdown: Emily in Paris vs. The Devil Wears Prada
So, Gossip Girl vs. Bridgerton? Here's a scandalous smackdown:
Setting: English Regency vs. Upper East Side
We're off to a difficult start. Gossip Girl is set in the upper east side of Manhattan, with penthouses and mansions galore—not to mention the Met steps where "Queen B" Blair Waldorf (Leighton Meester) ruled her court of preppy private school girls, sometimes alongside number one frenemy Serena van der Woodsen (Blake Lively). Spanning six seasons, the show took us through all the New York boroughs to Paris and more. It was every modern viewer's dream.
ADVERTISEMENT - CONTINUE READING BELOW
Meanwhile, Bridgerton is set in regency-era England, with a literal court ruled by Queen Charlotte (Golda Rosheuvel). "It was such a time of fascinating excess, and beauty; it was over-the-top and there was this decadence to everything," shares showrunner Chris Van Dusen. If the trailer is anything to go by, Bridgerton took every chance possible to show off its rich setting. And the time period definitely gets plus points for being so, well, far away. "What makes the Regency era so popular," says Page, "is that we get to remove ourselves from the situation in order to see ourselves better."
Winner: We will never be able to visit Regency England so this kind of wins by default. At least we can someday end up on the Met steps and channel our inner B and S.
      This isn't just a battle between literal space but time as well so we're being highly subjective here! The old regency period just has a grandeur that we can't get enough of.
      The chances of us going back in time to experience the same places as they are on screen are nil, which only makes Bridgerton more magical.
ADVERTISEMENT - CONTINUE READING BELOW
Fashion: Overt period drama vs. Prime 2010s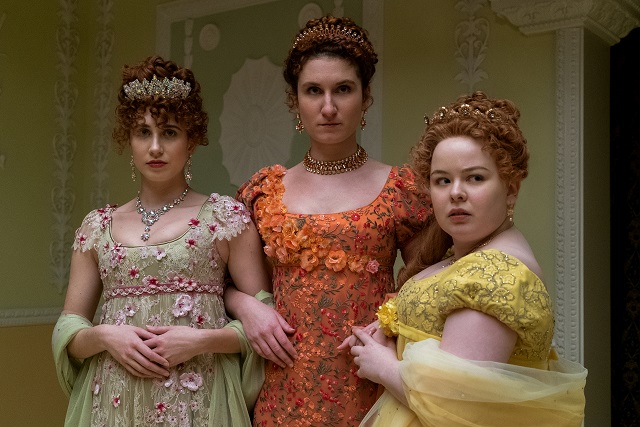 Historical accuracy wasn't the main goal when the Bridgerton series was made—which may leave a foul taste on the tongues of a few. The first pictures we've seen of the Regency era are a far cry from the muted romantic tones of popular takes of the same period (think Pride and Prejudice, basically all time-appropriate versions), a move that was taken from the books. It really was part of the story that the Featheringtons outfits are, well, hideous; "It's funny because they're meant to be quite tacky and over the top but I loved them," shares Nicola Coughlan, who plays Penelope Featherington, the youngest of a family of three daughters.
ADVERTISEMENT - CONTINUE READING BELOW
"I thought they were all beautiful because every single thing you see on screen has been custom made for that actor and that's a really rare thing. You can see what these amazing creative people can do when given free rein, with all the feathers and the bright colors and yellows and greens and pinks," she adds.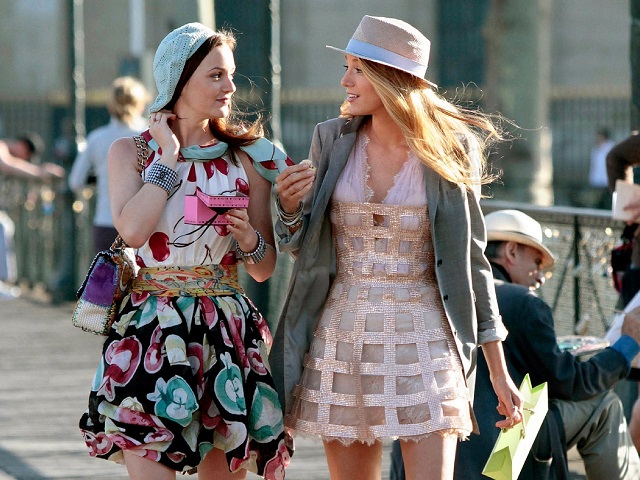 ADVERTISEMENT - CONTINUE READING BELOW
Gossip Girl, on the other hand, pretty much made the fashion of the 2010s. Remember when everyone started wearing Blair's trademark big-bow headband or some leg-baring outfit a la Serena? Even Jenny Humphries' (Taylor Momsen) emo look was before its time. Gossip Girl is up there with all the other titles that defined the fashion of their times and we could list down all the practically iconic outfits they wore, but that's another story.
Winner: Gossip Girl, hands down.
      Bridgerton's wardrobe is wonderful to look at, but we doubt we could make it work in today's setting.
      We would kill just to get inside Blair and Serena's sure-to-be-extensive walk-in closets. We may or may not be exaggerating.
Scandals: 19th-century realness vs. Modern drama
"Be it 100 years ago, 200 years ago, thousand years ago, humans will always have the same basic needs: we want to love, we want to know who we are, we want to know how to be better," shares Page. That alone should give you a hint as to the drama of Bridgerton—and so would the huge popularity of Quinn's acclaimed books.
ADVERTISEMENT - CONTINUE READING BELOW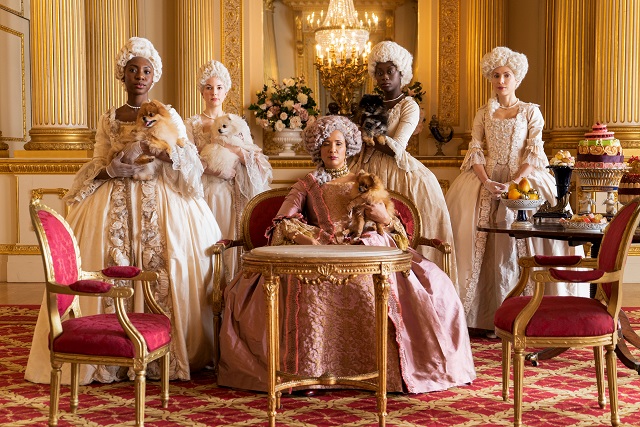 You may have noticed from the trailer that the Shondaland-produced series adds in a racial storyline to Quinn's novels—but the series is not colorblind. "Color exists in the show and people exist in the show exactly as they are. And I find that delightful," adds the actor. Queen Charlotte of Bridgerton was based on a real historical figure—argued to be the first English royal of black ancestry—and is played by Rosheuvel. "I hope that what audiences take from this, beyond anything, is being able to see a woman like Golda inhabit that position in society so effortlessly. And how it feels so, so right on her. I think that that can be inspiring for everyone that watches the show."
ADVERTISEMENT - CONTINUE READING BELOW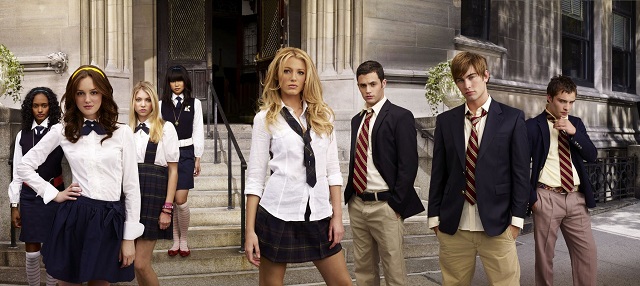 One of the things that kept us undeniably hooked on Gossip Girl were those borderline ridiculous plot points that you never really knew where it would go. It starts off strong on the first season with what is basically murder by "It girl" Serena herself—who, we think it is now safe to say was a truly terrible person, fight us on this—and keeps that high level up throughout. It's no denying they were all incredibly complex characters, to say the least, and they sure got our emotions up. So eyebrow-raising plot points and general terrible characters aside, at least we were always entertained.
ADVERTISEMENT - CONTINUE READING BELOW
Winner: Bridgerton. The series does have an advantage since we have yet to actually see it, but it sure sounds promising!
      You probably thought we were going to talk about the steamy scenes here, weren't you. We're not about to rate those (mostly because the Bridgerton ones aren't out yet).
      Gossip Girl was pure escapism—while Bridgerton is just as much a vicarious experience, it does have a storyline that changes things up.
The All-Seeing Eye: Lady Whistledown vs. Gossip Girl
Don't lie: The real identity of Gossip Girl was a bit of a let down! It was a little creepy too,  since Serena ended up marrying someone who basically stalked her for most of her life. Still, there's no denying that XOXO bit was so much fun to say; kudos to Kristen Bell and her sassy sleek narration—unfortunately for her, her competition here just so happens to be Dame Julie Andrews.
ADVERTISEMENT - CONTINUE READING BELOW
Gossip Girl was a peak 2010 example of the power of blogs (and you knew they were rich because they were using the Internet on their phones!). The dangerous blog was used as a narration throughout most of the series but sadly, kind of rarely had any effects on their decision. Except of course, for that time, Serena used it to destroy someone else's career because once again, she is a terrible person.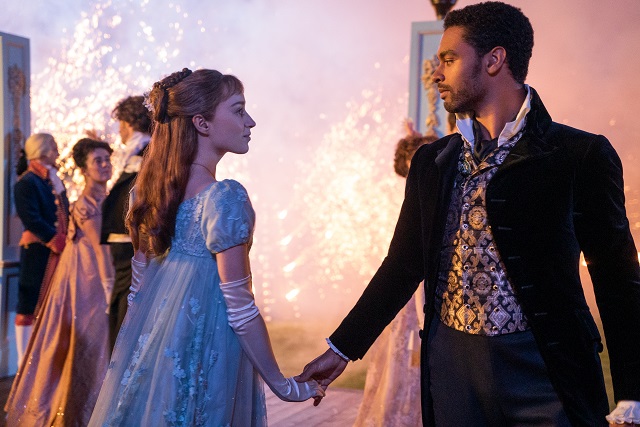 ADVERTISEMENT - CONTINUE READING BELOW
Rewind a couple hundred years and yup, a gossip sheet can still make or break a person's status in society. Lady Whistledown is the persona behind a regular publication detailing, somehow, all the juicy details from the Ton—and seeing as there isn't even internet yet, you can see why people hang on to her every word.
Winner: Lady Whistledown, with apologies to Bell.
      While we know who the real Gossip Girl is, we have our eyes peeled for Lady Whistledown's true identity!
      At this point, it's really only because of Julie Andrews.
Grand Champion: Bridgerton!
Disclaimer: The series isn't out yet but based on the four categories above, it's pretty clear that Bridgerton would be hard to beat. There's no denying the many reasons to be excited for Bridgerton. At this point, the gossip angle is the only thing that ties the two together; it's safe to say they both stand pretty well on their own. 
ADVERTISEMENT - CONTINUE READING BELOW
Your guide to thriving in
this
strange new world.
Share this story with your friends!
---
Help us make Spot.ph better!
Take the short survey
More Videos You Can Watch
Load More Stories