Lana Condor, Noah Centineo, Ross Butler: On Love Letters, Life Lessons, and Going to Prom
And why the "threequel" will always have a place in their hearts.
(SPOT.ph) To All the Boys: Always and Forever is undoubtedly one of Netflix's much-awaited movies of 2021. It all started with To All the Boys I've Loved Before, a best-selling young-adult novel by Jenny Han, which was adapted into the small screen in 2018. The film centered around a relatable head-in-the-clouds heroine, Lara Jean Covey (played by Lana Condor), and her fake-turned-real boyfriend, Peter Kavinsky (played by Noah Centineo). It gained a massive global following because of the palpable chemistry between the leads, the swoon-worthy scenes (how many times have you replayed this steamy scene?), the heartfelt conversations, and the brilliant soundtrack. 

Fast forward to February, 12, 2020: Audiences were forced to choose sides between Peter and John Ambrose McClaren (played by Jordan Fisher) through the sequel, To All the Boys: P.S. I Still Love You. But who were they kidding, right? It was LJ and PK all the way! Now, exactly one year after the sequel's release, Netflix plans to drop the "threequel" on the same day and show how the young couple navigates their way through senior year and makes choices for their future. 
SPOT.ph sat down with Lana Condor, Noah Centineo, and Ross Butler (who plays Trevor Pike, PK's best friend) to chat about the final installment. 
Going Back to Where You're From
Since To All the Boys: Always and Forever was shot consecutively with the sequel before the COVID-19 pandemic happened, the three actors had the opportunity to shoot freely in different parts of the globe. Centineo cites his top three moments on set, sharing, "Spending time with the cast and with the crew is definitely number one for me. Two is being able to revisit Peter. I love Peter, and I love being able to go and do him. Three, I love Vancouver [which was where the movies were filmed], and I love that we got to travel to New York. Those are two very special places, and I feel so fortunate to be able to travel for my job." Butler echoes his co-star's sentiments about the two cities, and adds, "Madeleine [Arthur], who plays Chris, is from Vancouver. She was like our national tour guide. We got the insider scoop on Vancouver, and we got to go to the best restaurants, so that was great." 
ADVERTISEMENT - CONTINUE READING BELOW
Condor was the luckiest among the three, getting the chance to travel across the world and see the sights of Seoul, South Korea, with her onscreen family. She reveals how the story arc closely mirrored her own life, saying, "In To All The Boys: Always and Forever, [the Covey] family goes to Korea. Basically, their purpose there was to see where they came from. [Since] their mom had died when they were children, [they wanted] to kind of walk in her footsteps, learn about the culture, and learn about themselves through this trip. Right after we shot the Korea sequence [and] wrapped the film, I went with my family to Vietnam, which is where I'm from. I was adopted at a young age from Vietnam and brought to America. It was my first time going home. It was just such a wildly parallel storyline between Lara Jean and myself, going back to where you're from for the first time, and learning about your identity." 
CONTINUE READING BELOW
Recommended Videos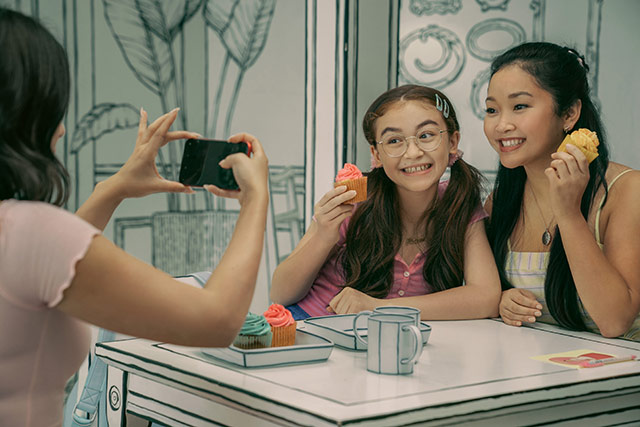 ADVERTISEMENT - CONTINUE READING BELOW
Forming Unbreakable Bonds
But more than just getting to travel for work, what the trio enjoyed most was playing the same likeable characters opposite the same supportive co-stars and with the same trusted crew. Working together for more than three years, Centineo raves, "It was such a family. It felt very magical and fun when we were on set, so I'll miss that." Butler, who was already friends with Centineo before signing on for the second and third installments, also appreciated the fact that the cast had enough time to get to know each other better. "By the time the third movie came along, we just knew each other's sense of humor, so improvising was so much easier." 
Centineo has nothing but good words to say about the 13 Reasons Why star who played his onscreen best friend, revealing, "I love [Ross]. He is constantly evolving. It's motivating how much he's trying to learn and grow as an individual. I just feel like we're closer now than we were then because of the fact that we got to work together, train together, and just be two humans that are friends together."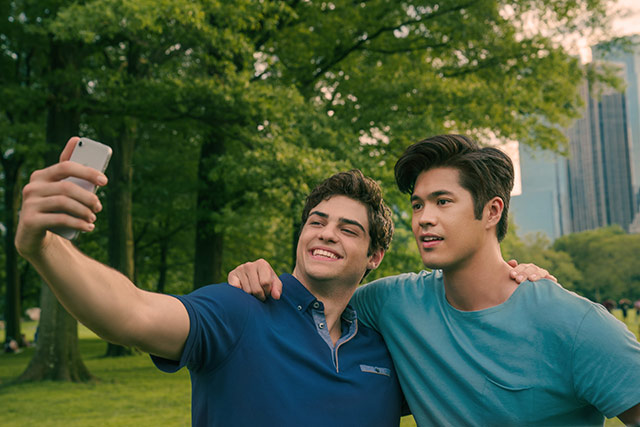 ADVERTISEMENT - CONTINUE READING BELOW
Of course, who could forget the close relationship that formed between Centineo and Condor, which made PK-LJ shippers wish they were dating in real life? Centineo stayed tight-lipped about the letters he exchanged with Condor after the final film wrapped up, but he didn't shy away from saying, "We have each other's back. There's just such a strong familiarity between the two of us. It's really, really cool how far we've come through this entire process, and we're closer than we ever have been before."
When asked about the letters, Condor openly claims that hers were waaay better than his. "I poured my heart out. I was witty. I was thoughtful. I was emotional. His was more exactly probably what you would think is. It was just funny, and kind of inappropriate. He brought up things that he knows annoys the heck out of me about him... But he did say that he has a lot of joy working on these films, and has loved the relationship that we cultivated, and the friendship that we have. He knows that I always have his back no matter what." 
Growing With Their Characters
Filming To All the Boys: Always and Forever also gave some of the cast members an opportunity to experience or relive important moments in high school. Centineo confesses, "I actually never had a prom. I finished sophomore year in high school, and then I stopped going to a public school and did [independent studies] at home. So no, I had no prom. It's nice to relive it with the film." 
ADVERTISEMENT - CONTINUE READING BELOW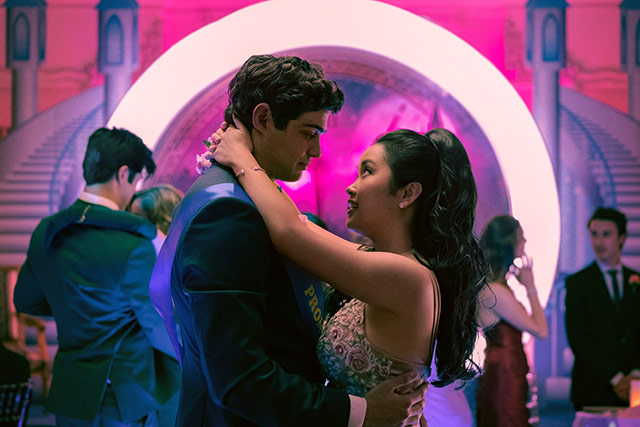 On the other hand, Butler got to attend his prom, but not in the way he had imagined. "The thing is, I don't think [the person that I asked to prom] wanted to go with me. It was an awkward thing where the second we got there, we kind of went our own different directions. The one similarity between [my prom and Trevor's prom] is that I also breakdanced at my own prom, very much like that one [in the movie]."  
But more than just showcasing fun highlights—promposals, field trips, and graduation—in a senior student's life, the final TATB movie also delves into making difficult decisions, such as deciding which course to take in college, sending out applications (and waiting for acceptance letters to arrive!), and following your heart even if it leads you miles away from your loved ones. 
ADVERTISEMENT - CONTINUE READING BELOW
In the last installment, the actors were given the opportunity to show their acting chops and dive deeper into their characters. Without giving much away, Centineo shares, "There's a scene in the third film. It's the first time you'll ever see Peter without LJ. I'm really proud of [Peter's] growth, specifically with his letting go of certain fears or embracing certain fears—surrendering to them almost. I'm very proud of just being able to show a side to Peter that's really struggling. It's always good to make characters more multidimensional. I think it only adds to the overall plot." 
Butler continues to provide laughs by portraying PK's best friend and Chris's love interest. But more than just being the funny but gorgeous second lead, he describes Trevor as "an anchor. Peter is kind of the one that has to deal with all the issues, and Trevor is always there to talk to him and always be his friend." He adds, "[I can relate to his] playfulness and love for life. Honestly, I think that's the common thread of all happy people: being able to see and just fall in love with the small things in life. That's kind of what you see in Trevor. He's excited about everything, even if it's a tiny thing." 
Condor shares learning so much during her first stint as lead actress, from technical things (such as which camera angles look the best for her and what lighting works the best for her skin tone) to setting the mood on set (such as always turning up with a positive attitude and conserving her energy for 16 to 17-hour shoots). Despite all the set skills she picked up, she funnily confesses to swiping random things from LJ's bedroom on the last day of reshoots: a turquoise frame with LJ and PK's photo in it, little notes Noah had written as Peter, and some of LJ's clothes. Condor reveals, "I took so much! Lara Jean says, 'I'm a person that saves things. I'll hold on forever.' That's very much like me. I love saving little knickknacks."
ADVERTISEMENT - CONTINUE READING BELOW
Saying Goodbye to the Series
In the off-chance that Netflix decides to make a fourth TATB installment, will author Jenny Han disclose how she imagined PK and LJ would be as college students or perhaps share details about them five or 10 years into the future? Centineo suggests a plotline for the fourth movie, saying, "Maybe [they can be] in their 40s. Maybe they've been separated for a little while. They both got married, had kids, [been] recently divorced or something. And they meet and they're like, 'Oh my God, we had this incredible love while we were younger. Is it still there?'" 
Faced with the realization that she won't be able to play Lara Jean anymore, Condor conveys mixed emotions by blowing a raspberry, laughing, and screaming in one breath before saying, "I feel horrible. It is overwhelming. There's a [voiceover] line at the end of the movie, and she says, 'I never knew that you could feel this sad and this happy at the same time.' And that is exactly how I feel. These movies have been a huge part of my life [and] my development as a young woman. I have dedicated hours to this world, and to Lara Jean, and put everything I could into this. Saying goodbye to [the role] feels like I'm saying goodbye to a piece of myself. It feels really emotional to know that we're saying goodbye to her because she's been such a joy [to play]. She's opened up different doors and opportunities that I never thought I would ever, ever in my wildest dreams get."
ADVERTISEMENT - CONTINUE READING BELOW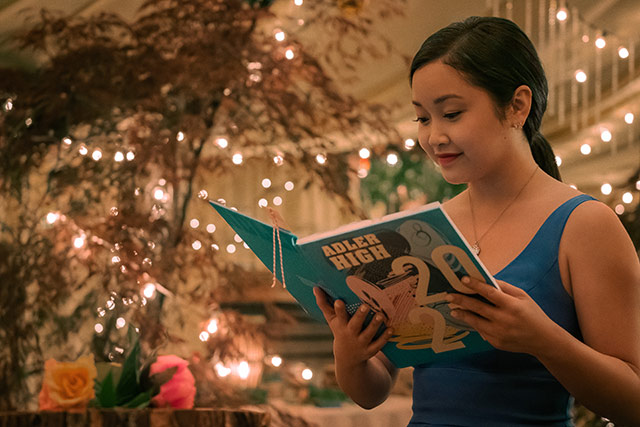 For audiences gearing up to watch To All the Boys: Always and Forever, Condor hopes you'll take away these important lessons. "[I want you] to make choices for yourself, [to] choose you, and [to] choose what makes you feel alive. Regardless of whether or not it's going to be received well by those around you… I want people to choose their dreams because I do believe anything's possible." 
Looking back on the past three movies, Condor says, "I think the biggest thing out of all three films has been showing that love is the best part of the world. No matter how stone cold you might feel in your heart, I think ultimately, universally, people want to be loved and they want to give love. And so I hope that they're inspired by these movies, and I hope that they choose to love in the same way Lara Jean does. It's what drives her every action every day." 
ADVERTISEMENT - CONTINUE READING BELOW
To All the Boys: Always and Forever will stream on February 12 on Netflix. Photos courtesy of Netflix.
Hey, Spotters! Check us out on Viber to join our Community and subscribe to our Chatbot.
Your guide to thriving in
this
strange new world.
Share this story with your friends!
---
Help us make Spot.ph better!
Take the short survey
Load More Stories