10 Unbelievable Metro Manila House Tours
Imagine a master bedroom so huge, it has its own kitchenette.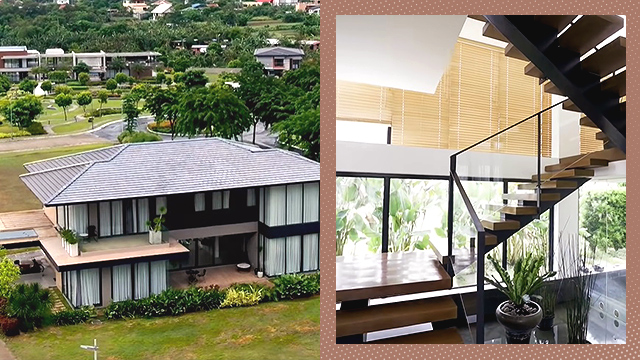 (SPOT.ph) There's something in the air recently—and we're not just talking about the general end-of-the-world anxiety. If you've randomly found yourself sucked into the black hole of house tours online, know that you are definitely not alone. Room tours, closet tours—and the absolute pinnacle of quarantine watches—house tours, have become our go-to escape these past few months.
Whether you're actually in the market to buy or just want to dream for the future doesn't matter; It's just a fun thing to watch at times. Not all houses are built the same, of course, so we round up a couple of the most impressive (Read: borderline ridiculous) ones you probably didn't think existed in Metro Manila. From unique themes to incredible luxuries, these homes featured on Presello.com had our attention.
Also read:
What to Do When Getting Your Own Place, According to a 20-Something City Dweller
Virtual Tours Are Changing the Way We Buy Homes
10 Unexpected Things We Spotted in Celebrity House Tours
ADVERTISEMENT - CONTINUE READING BELOW
Forget Beverly Hills, these 10 cool Metro Manila house tours can't be beat:
An Ultra-Modern Home Dubbed "The Blak Heim"
Somewhere in Ayala Alabang Village, Muntinlupa, sits this absolute monster of a home (and we mean that in the best way possible). It has all the cool amenities one would expect from a house that has a price tag of P190 million. Think pool, high ceilings, a glass elevator with marble frames for each floor's port, and a master bedroom which has an anteroom bigger than the standard studio unit—and a bi-level bathroom-slash-walk-in-closet. Seriously, we could live in the master bedroom alone. Plus, we can't even count all the nifty little features—from a plug port that lifts out of the kitchen island to cabinets that open kind of like Lamborghini doors do—of this modern home.
CONTINUE READING BELOW
Recommended Videos
Detail to watch for: A main entrance door made with 500 kilograms worth of narra wood. 
A "Japanese" House in Quezon City
You know how sometimes it feels like Japanese houses have fixtures or furniture that solve problems you didn't know you had? Well, that feeling becomes literal in this house built by a Japanese firm and chock-full of items brought in from Japan. Each nifty little detail—whether meant to help the house last or just make living a little easier—throughout this house tour had us wondering why we couldn't have nice things, too.
Detail to watch for: There's a whole slew of tiny little details that were clearly very well thought-out, from the placement of the mirror in the entryway to slam-proof drawers and sliding doors.
ADVERTISEMENT - CONTINUE READING BELOW
A "Muji" Townhouse
If you feel like there's a part of you that connects to Japanese culture, especially the minimalist concept of the global brand Muji, then this townhouse in Quezon City will definitely speak to you. The sleek four-storey townhouse may only cover a relatively modest 192 square-meter floor area but the simple design sure makes it feel much more spacious. Peep the running light-wood furniture that runs across the entire home—not to mention the super useful and aesthetic fixtures!
Detail to watch for: We're in love with the bedframe and desk unit built into the smaller bedrooms.
A Tropical Modern House with Killer Panoramic Views
This house definitely wouldn't look out of place in a K-Drama; we can already imagine the antagonist plotting someone's demise while staring broodily into the Zen pocket garden! Aside from a sleek design with an Asian touch, the house gets major plus points thanks to balconies that almost wrap around the house and gives you an amazing view of the mountains.
Detail to watch for: We don't think the chickens will come with the house but hey, wouldn't that be cool?
An Insanely Spacious Penthouse with Even More Killer Views
With condo-unit square-meters selling by the hundreds of thousands, finding an actually spacious one is already difficult—but how about a two-level penthouse with 435 square meters' worth of space? Yup, it exists. From the Zen foyer alone, you can tell this massive home has a lot of character. Check out the massive cement accent wall, the secret doors in the master's bathroom, the cinema room, and all the stuff you wouldn't find in any other condo.
ADVERTISEMENT - CONTINUE READING BELOW
Detail to watch for: We don't know about you but the only thing we liked more than the bay window's views on the lower floor was the view in the onsen-like master bathroom.
A Modern Alabang Mansion with Way More Space Than the Typical Shopping Center
How about a three-storey house with an elevator? This massive home in Ayala Alabang may look like a gigantic monolith from the outside but trust us, it is far from being a boring old rock. With a floor area of 1,200 square meters, this mansion hides several huge entertainment areas, a spacious pool area, five expansive bedrooms—even the pantry is bigger than average—and a two-level master walk-in closet. And with a P230-million price tag, we expect no less.
Detail to watch for: We don't know what it is about narra but this house also has a wooden door weighing 700 pounds. 
A Townhouse With Major Evil Lair Vibes From Outside
The word "townhouse" doesn't usually bring to mind images of luxury but this unit in San Juan City proves that it can be just that. It is called a "million-dollar townhouse" so we suppose it should hold some claim to the name! We're loving the sleek and industrial façade—with a touch of green from plants—and the inside just feels like a five-star hotel complete with high-class fixtures. Peep those high ceilings with full windows and that insanely gorgeous kitchen.
Detail to watch for: Ever seen a townhouse with a walk-in-closet and ensuite master bathroom this big?
ADVERTISEMENT - CONTINUE READING BELOW
An Alabang Glass Mansion
This house is what happens when you tell your architect you're obsessed with windows. Situated in an expansive field, this modern Asian home has massive floor-to-ceiling windows on practically every side to allow in all that natural light. We can't not mention that incredible double-height ceiling of the family room either—still with the huge windows. This is definitely not the type of house you can play ball in. 
Detail to watch for: A small pond that is both inside and outside your house. Just because.
A Mansion You Could Literally Get Lost In
There are times when your bed is too comfy for you to go to the kitchen—well that problem will definitely be a lot worse if you live in this massive 2,000-square meter mansion in Valenzuela City. Going for around 190 million, this is the type of mansion you think only exists in telenovelas. Baby grand piano under the central staircase? Check. A lanai that wouldn't look out of place in an old FPJ movie? Double check. A home theater? Triple check. Maximalists will love the old-school opulent fixtures and expansive layout.
Detail to watch for: The master bathroom has its own kitchenette. Problem solved.
UPDATE (April 14, 2021, 12:35 p.m.): The original version of this article was published with no mention of Presello.com, the website in which the house tours were featured. It has been updated to reflect that.
Hey, Spotters! Check us out on Viber to join our Community and subscribe to our Chatbot.
ADVERTISEMENT - CONTINUE READING BELOW
Share this story with your friends!
---
Help us make Spot.ph better!
Take the short survey
Load More Stories